Social Media Apps: What They Do and Why They Matter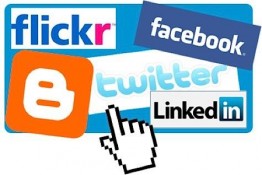 Social media is all the rage these days. If you're a business owner, you probably know by now that it's vital for your company to have, at the very least, a Facebook page. Twitter and Youtube accounts definitely don't hurt either. Of course, just as with any aspect of modern technology, there are right ways and wrong ways to use social media.
Fortunately, your Utah social media experts at Oozle Media have had years of experience in the field, and we are here to guide your journey into the wild and wonderful world of social media marketing.
A Wrong Way and a Right Way
The first thing to know is that it's not enough to just haphazardly throw together a Facebook page and expect business to come rolling in. You need to optimize your use of social media, and find out which elements of your marketing campaign work and which do not. This is where apps (short for applications) come in. Social media apps are programs that allow you to get the most out of juggernauts like Facebook, Twitter, and Youtube. Some apps provide useful statistics about your social media followers, while others allow you to easily create exciting new content for your Facebook and Twitter pages.
While there are twenty-bajillion (that's an exact number) apps out there, some are better than others, and some are especially helpful for businesses. The best social media apps for businesses provide added value for your potential customers and help increase your revenue.
Oozle Apps Bring Your Business to the Next Level
Oozle Media's awesome team of programmers and social media experts have combined their extensive experience to put together three different apps:
The Refer-a-Friend App is "designed to identify, reward, and generate new 'brand advocates' for businesses of all sizes and industries." Built on the premise that word-of-mouth reviews are the most effective form of marketing, the Refer-a-Friend app offers an opportunity for advocates to share their experiences with local companies and gives prizes for those whose reviews lead to referrals.
The Sweepstakes App allows you to easily create and upload sweepstakes that offer prizes to your company's social media followers. This helps keeps your client base engaged and excited about your business.
Our Photo App lets you manipulate and quickly upload photos to Facebook. You can use photos of new products, events, and other items related to your business to increase awareness of your company and what it offers.
Each app offers unique functionality and uses state of the art programming to help you get the most out of your social media usage.
Other Useful Apps
Besides the aforementioned apps, here are a few other useful programs that will get your business started on the road to social media success:
As you can tell, there are many different apps for many different purposes—the trick is to find out which ones are right for your business, and then get started optimizing your company's social media usage.
Social Media is the Key to Online Success
Don't be left out in the proverbial cold by failing to take advantage of these fantastic new marketing opportunities. If you have any questions about how social media can be used to help your business, contact Oozle today—we are your experts in Utah social media marketing.
-Tim Crain