Should I Use Pinterest To Market My Beauty School?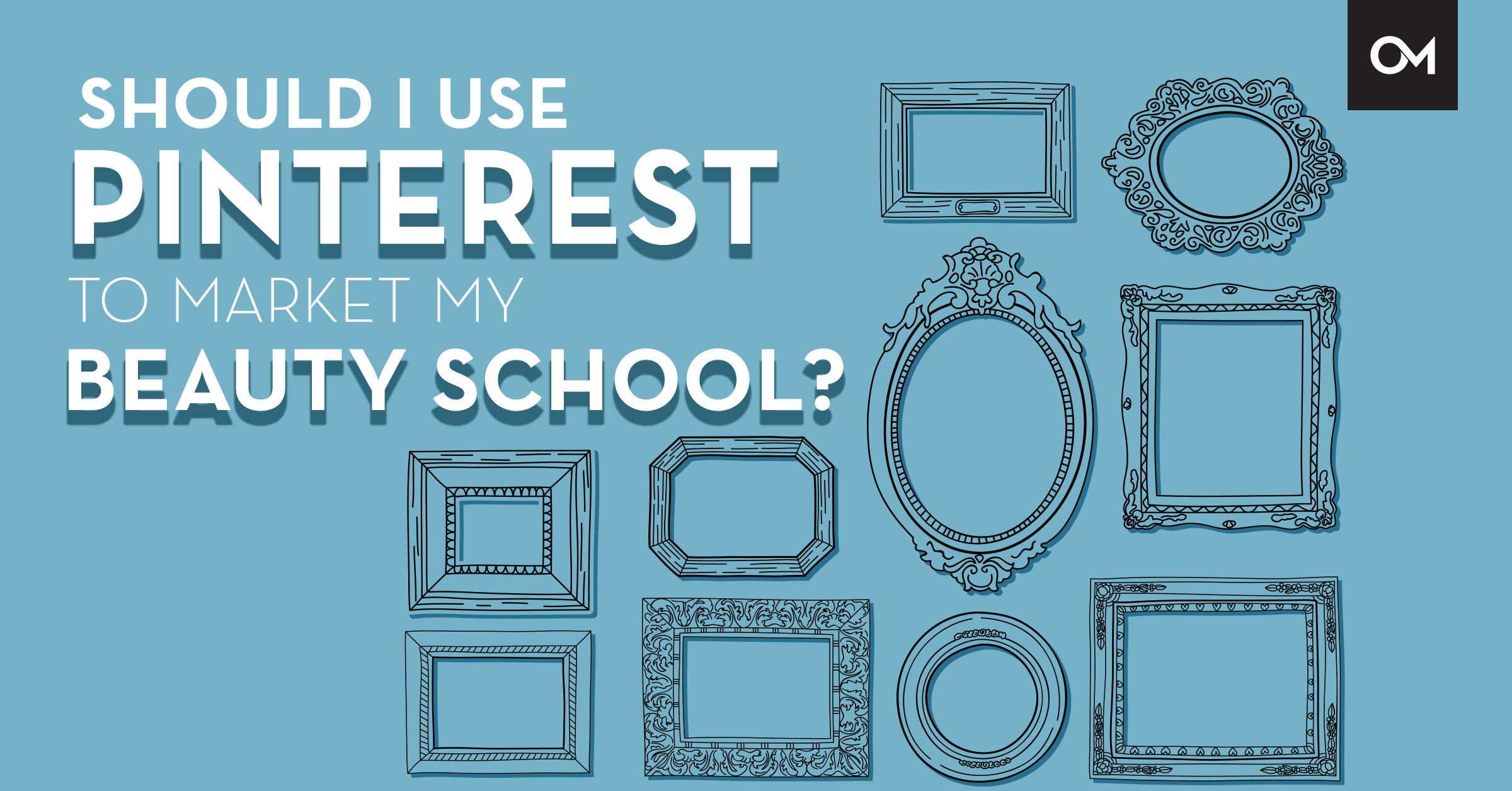 Have you ever wondered if you should be using Pinterest to grow your beauty school? With so many different marketing mediums and social platforms trending from day to day, it can be hard to decipher where you should focus your time and money. Will Pinterest offer your school a good ROI? Is there a way to know before making an investment?
At Oozle Media, we specialize in marketing beauty schools like yours, and we've seen the data behind using Pinterest. If you want to know what works (and what doesn't!) to move the bottom line in your business, keep reading. We will show you how Pinterest influenced the marketing outcomes of one of our client schools, and give you our best-practice recommendations. By the end of this blog, you will know:
Let's get started.
What Is Pinterest and Who Uses It?
Pinterest is a social media platform where users can save useful content by "pinning" it to boards they create.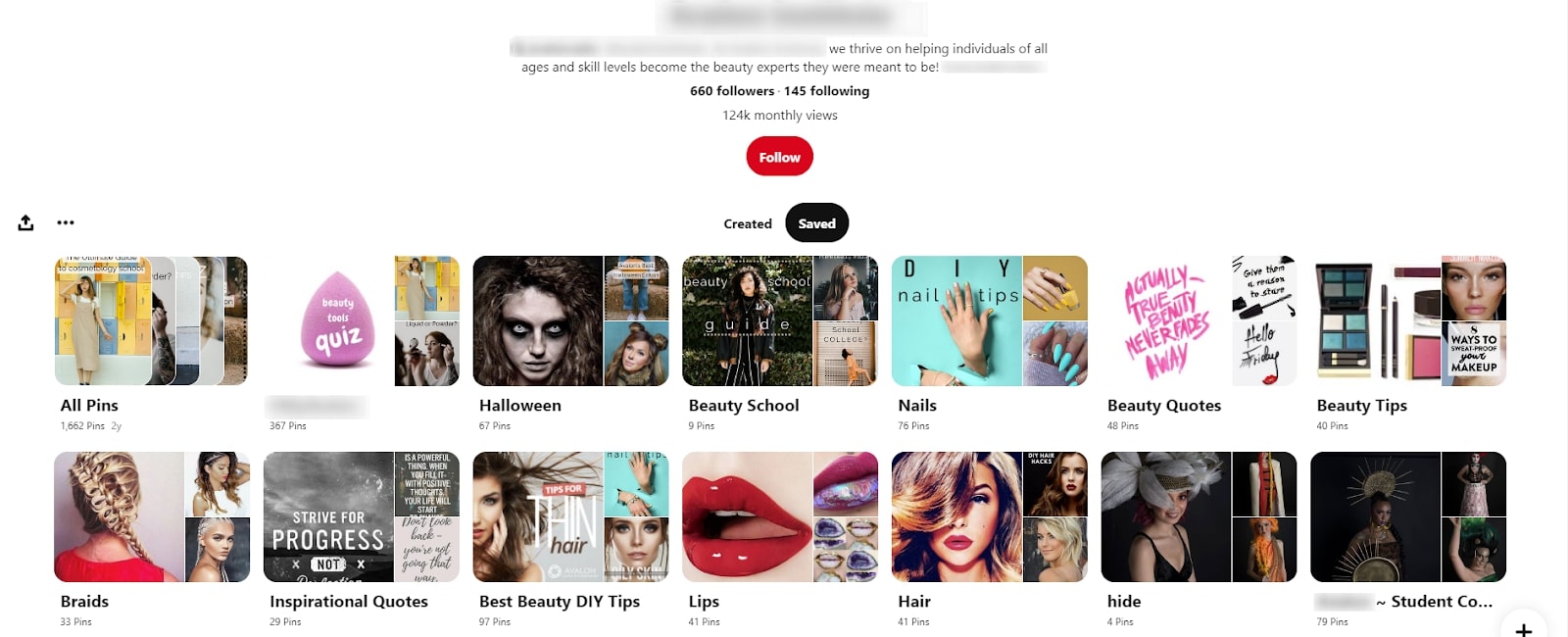 Here you can see one of our clients using these boards to organize content into categories potential students may find interesting. If followers are looking for beauty inspiration or how-tos, they may look at the "braids," "hair," or "best beauty DIY tips" boards. Or, if they are wondering whether beauty school may be right for them, they may click on the "beauty school" board.
Users on Pinterest can choose to follow accounts directly or follow general categories like "health," "fashion," or "beauty." As a school, this gives you multiple opportunities to have your pins viewed by users. So, who exactly are Pinterest's users?
Key Demographics
The users on Pinterest are highly in line with the target markets of most beauty schools. This means they skew toward younger, female, and beauty-obsessed populations:
With such an ideal audience, Pinterest may have you wondering what you can do to catch these users' attention. Ready to find out how Pinterest can benefit your beauty school marketing strategy?
What are the Benefits of Using Pinterest in Your Marketing Strategy?
While pinners may use Pinterest to save useful content or find inspiration, businesses can reap many marketing benefits from the platform as well. With the right parameters (we will delve into what these are later!), Pinterest can be a powerful part of your marketing strategy to:
These are all important parts of your marketing funnels to find, nurture, and convert leads. Let's dive deeper into what each of these means for your school.
Increasing Awareness with Pinterest
We know it can be tempting to spend most of your budget on bottom-of-the-funnel, converting techniques like Google Ads. While these are important to your overall marketing strategy, they aren't the only tactics that can help you move the needle in your business!
Data shows that 71% of consumers prefer buying from a brand name they recognize. This means increasing awareness of your brand should be a key part of your marketing strategy if you want more sales (or more students to enroll). Of course, brand awareness can help grow not only your enrollments, but also the number of potential students who fill out a form or call your school. Users are more likely to convert if they recognize your brand. With over 450 million monthly active users, Pinterest has plenty of eyes to get in front of.
You can show potential students who you are and what your school is all about by
Creating Boards for Them to Browse
Sharing Original Content
Repinning Relevant Content
Group boards are not only a great way to interact with users, but also to get users to interact with you. This could be a great way to further lead potential students into your community circle and solidify awareness. As users pin to your boards or re-pin your original content, you will also gain the added benefit of pin longevity.
According to data from Copypress, the average post on Facebook has a lifespan of about 5 hours. Instagram posts are only slightly better at 48 hours. On Pinterest, though, pins can show up in users' feeds for up to a year or longer after they were originally posted. That's a long time to have your content working for you.
By creating a visual representation of your brand through boards and pins, interacting with followers, and making your content work for you, using Pinterest can be a great way to increase awareness by helping potential students find, follow, and engage with you.
Building Trust and Reputation With Pinterest
It isn't enough for potential students just to know you, though. Once they find you, they need to find your brand trustworthy and valuable to stick around. You can do this by creating and sharing content that your users find helpful, interesting, or otherwise relevant. On Pinterest, this could look like
Blogs
Infographics
How-Tos
Tutorials
Quizzes
Hair/Beauty Inspiration
In our client's "beauty school" board, we can see potential students are directed to blogs they may find interesting on the school's website: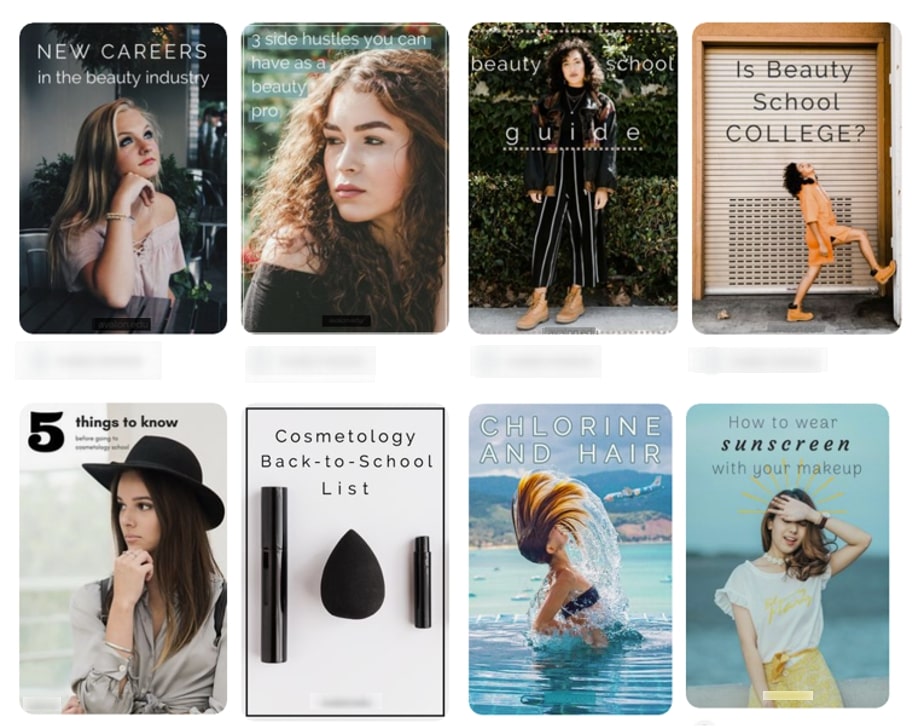 These article pins automatically display title, author, and a description with a "Read It" button that encourages users to follow through to your site. Potential students who find your pin, follow through to your blog, read it, and find it valuable are much more likely to return to your brand as a reputable beauty source in the future.
Because Pinterest is highly visual, infographics also tend to do especially well on the platform. If you have a blog that is performing well, consider repurposing the content you already have into an infographic to share on Pinterest.
By sharing these types of content, you are giving your users free value and education before they ever commit to you. This helps them build interest, trust, and loyalty in your brand and primes them to convert later on.
Possibly Boost SEO
SEO (Search Engine Optimization) is all about getting your brand to show up higher on Google search results. Sure, you can buy an ad to appear on the first page (something we still recommend!), but data shows that organic results get over four times more clicks than ads. Showing up organically is a long-term marketing strategy for your business that can pay dividends in the end.
Pinterest typically accounts for many of the top image results on Google. You can see in this search for "makeup inspiration," over one-quarter of the image results are from Pinterest:
If your images are appearing in Google's top image results, you are likely to get more clicks to your website, and clicks are part of Google's ranking algorithm. This is because clicks have to do with site traffic. If more people find your page and stay on it (find it valuable), Google's algorithm notices.
There are many more techniques to move the needle with your SEO strategies, but it's possible that pinning could be one way to give you a boost!
Driving Traffic With Pinterest
Whether it's from image-result clicks or pins directly leading followers to your site, Pinterest can be a powerful way to drive site traffic. Unlike Instagram, posts on Pinterest can include working links. This makes it easy for users to be funneled to your website.
By driving more traffic to your website, you continue to nurture new leads by furthering their relationship with your school. This can in turn boost the chances of them signing up for your email list, booking a tour, applying, or enrolling in your program.
Driving more traffic was a key benefit our client school saw from including Pinterest in their marketing strategy. In fact, data from Google Analytics shows that Pinterest became one of the top ten highest driving factors in their site traffic, even ranking above Instagram:
If you are looking to increase awareness of your brand, build your reputation, boost SEO, and drive traffic (all while marketing toward users in line with your demographic!), Pinterest seems to be a top contender. Don't jump just yet, though! Let's take a look at some of the drawbacks of integrating Pinterest into your marketing strategy.
Drawbacks of Pinterest
While Pinterest has several benefits, it has several drawbacks as well. In our experience, you will likely find yourself struggling with a few, or all, of these limitations:
Keep reading to take a deeper look at each of these issues and how they affect marketing beauty schools specifically.
Local Targeting Is Difficult, if not Impossible
Getting more leads sounds great, but these leads are useless if they aren't qualified. Some students may travel to different states, or even countries, to attend beauty school, but most won't. This means your school needs to be targeting local traffic as a key part of your strategy. Unfortunately, targeting local is not something Pinterest does well.
Let's take a look at what kind of traffic Pinterest brought to our client school. We mentioned earlier that Pinterest became a top-ten driver of web traffic for them. Was this traffic producing qualified leads, though? This school has campuses based in Arizona, Nevada, Colorado, and Utah. Here is what the data shows about where Pinterest traffic was coming from:
Pinterest was sending our client traffic based out of Illinois, Texas, Georgia, even Greece, and Russia. While it is possible that someone based in Athens, Greece could find them through a pin, research the school, and decide to move internationally to enroll, it is definitely not likely. The traffic Pinterest sent to our client was largely irrelevant from a direct enrollment perspective.
While Pinterest is good for sending the right message to the right people, it is not great at sending that message at the right time or place. Plenty of other better options exist for beauty schools. Let's take a look at what traffic Instagram was sending our client school:
Phoenix, Mesa, Glendale, Tempe, Salt Lake City… these locations are much more relevant for our client. In fact, nine out of the top 10 sources from Instagram are in or around areas where their schools are based. This traffic is much more likely to produce conversions.
We can confirm this when we look at the backend of the school's Google Analytics. When it comes to conversions, Pinterest sits in spot number five for social network referrals:
Most of our client's actual social-based conversions are coming from Facebook and Instagram. Even Yelp is producing more conversions than Pinterest.
While Pinterest can drive a high amount of traffic to your school, we need to make sure it is the right kind of traffic. Unless your beauty school is based online, you need to qualify your leads by location. In this regard, Pinterest misses the mark.
Traffic From Pinterest Is Often Low-Quality
Location isn't the only way traffic from Pinterest misses the mark. In our experience, traffic from Pinterest also tends to be low quality in some other important analytics: time on page and bounce rate.
If someone visits your website and leaves without taking any action (like clicking on a button), Google says they 'bounced' from your site. Bounce rate is the percentage of users who find your page, see it, don't navigate to any other page, and then 'bounce'. While a 'good' bounce rate will vary from page to page, a high bounce rate is generally a bad thing.
If you have a high bounce rate, you also probably have a low time on page. This indicates that users who land on your page aren't finding it useful for one reason or another: it may be that the webpage has a poor user experience, isn't locally relevant, or may have been clicked on accidentally.
With Pinterest, it is not uncommon for users to accidentally click on a pin while they are scrolling and then immediately click back. This can skew your analytics to show high traffic, but you may also see a high bounce rate and low time on page.
This is the case with our example client. Traffic the school saw from Pinterest spent about 10 seconds on site before leaving, and 91% of that traffic left without taking any action.
This data shows us that the school's traffic from Pinterest was likely coming from accidental clicks. While traffic may have been high, it wasn't the right kind of traffic. When it comes to producing qualified, local leads, Pinterest leaves a lot to be desired.
It's Time Consuming
Our last drawback to using Pinterest is that it is time-consuming. In order to have a successful strategy on Pinterest, you will need to be pinning constantly. Yes, we mean constantly! Moz, a marketing industry leader, recommends pinning at least once per day, but other experts have recommended pinning up to 35 times per day to see real traction:
"Having played around a lot with Pinterest since it was launched in 2010, we've discovered that the more pins you post, the better results you will get. One of our clients posts 25-35 pins every day. After 6 months, they were getting 700 re-pins every week and traffic is going from strength to strength."
Creating all those pins will take time and budget. If you want to pursue Pinterest, you will likely need to spend hundreds of dollars a month before you begin to see any return. So is it worth it?
Which Beauty Schools SHOULD Use Pinterest?
We've been over how Pinterest can fit into a marketing strategy by increasing awareness, building trust, possibly boosting SEO, and driving traffic. We know the demographic on Pinterest is largely an ideal audience for beauty schools. We also know that while Pinterest can drive a high amount of traffic, it isn't necessarily qualified, local traffic, and pinning effectively will take quite a bit of time and budget. So what's the bottom line?
We at Oozle Media don't typically recommend spending your budget on Pinterest. While there are benefits to using Pinterest, the cons tend to outweigh the pros. Would you rather spend your marketing dollars targeting a broader and less likely to convert audience on Pinterest, or spend it on Google, Facebook, or Instagram ads, where you are more likely to see direct conversions? We for one would rather you see the best ROI possible.
There are some exceptions to this rule. Marketing is all about experimenting, and every school is different. Here are just a few scenarios where a beauty school may find it worthwhile to invest in Pinterest:
Your school has online classes or stores that are income-producing.
You are part of a large brand that has locations across the country.
You have a large budget that can handle being allocated to experimentation with Pinterest ads to grow your marketing influence in your target market.
If budget or location aren't big concerns for your school, you may want to consider trying Pinterest out. Otherwise, we recommend sticking with Google, Facebook, and Instagram. Need help gathering user-generated content (UGC) for your social feeds? Our sister company, Beauty As A Business, developed an entire library of courses to teach your students social media and marketing best practices!
Have Other Beauty School Marketing Questions?
Are you curious about the best marketing strategies for your school? At Oozle Media, marketing beauty schools is what we do. Don't waste your time or money working with agencies who don't know your market. Our method can get you results. Give us a call at (801) 562-8557 or contact us online today. If you're not sure where to start, we can help guide you through what's most important for your business specifically.
Want to learn more strategies for marketing your beauty school? Check out some of our past blogs. These are great starting points to understanding what methods can drive real results in your business:
You can also gain access to our free library of beauty school business and marketing advice by filling out this form! Hear from our team as well as heavy-hitters in the industry like Wynn Claybaugh, Jen Fry, and Jessica Beck on how to take your beauty school to the next level. Happy business building!