Apple iOS Policy Changes, Facebook's Response & What It Means for Our Clients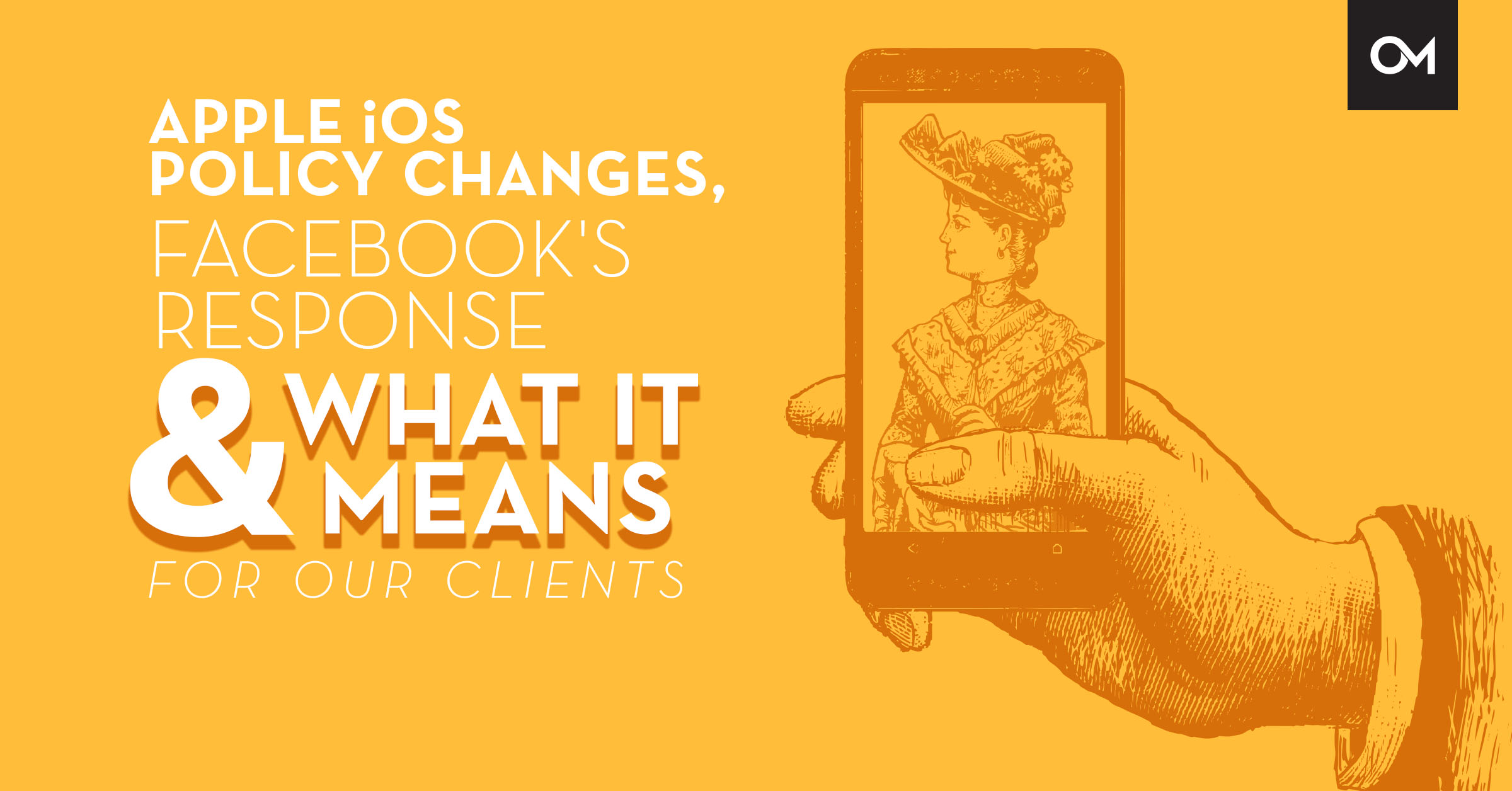 With the latest release of iOS 14.5, Apple has introduced prompts to its app store that will require users to "opt-in" to allow data tracking with each app they download. This generally refers to letting your app link the data it collects from your device to other companies' properties for advertising purposes. This includes the apps for Facebook and Instagram, two major advertising platforms.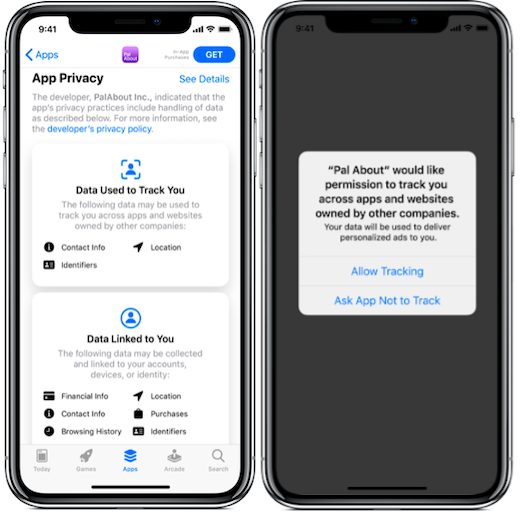 As people choose to opt-out of data tracking, it will have a negative impact on marketers' ability to accurately monitor user behavior, like if someone visits your site or fills out your form, which is a key part of the way advertisers strategize. Without this data, it is much harder for advertisers to deliver the right message to the right person at the right time.
Facebook's Response to Apple's Changes
In response to Apple's changes, Facebook came up with a solution called Automated Event Measurement (AEM). While AEM intends to mitigate the impact Apple's new iOS rollout will have on marketers, it still has to operate within Apple's principles, so it won't completely solve the problem.
If users opt-in to Apple's new required prompt there would be no change to how their data is being shared. However, to keep things consistent Facebook has made their event measurement approach non-specific to iOS devices, so the changes are universal to their platform, regardless of the user's device type.
The data coming from AEM will be "restricted, aggregated, and delayed." This means anyone marketing via Facebook will likely see a decrease in the number of conversions being reported and a change to attribution windows. Ultimately, this new prompt will result in less granular and real-time data. Marketers everywhere are learning what this means for their business and marketing strategy, but as we often say at Oozle, "creativity loves constraint."
What Does This Mean for Oozle Clients?
Since the changes Apple made are in the app store, the majority of the impact is going to be felt by marketers who collect data or advertise within apps. Fortunately for us, most of what we do is on the web and isn't app specific. That being said, we do advertise on platforms that people use on their mobile devices through apps, so we'll likely see some impact.
Here's a list of the main changes that we'll see:
Business Tools Set Up
Facebook is introducing a limit of 8 trackable events per domain (not per pixel). This means that all businesses will need to verify their domains in Facebook ASAP – more instructions on how to do that below.
Then, if you're tracking multiple events you'll need to rank your top 8. Even if you have multiple Facebook pixels on your domain (say, different advertisers for different regions of a national brand), you're only allowed a total of 8 events across your entire domain.
With Apple's update, Facebook will stop serving ad campaigns related to events that are below the 8-event threshold. Verifying your domain will establish your Business Manager account as the one with authority to configure and prioritize the 8 available conversion events for your domain. Without any events configured, you won't be able to run optimized conversion-based campaigns.
Optimization & Targeting
Because of the restricted, aggregated, and delayed nature of AEM, advertisers will likely see an effect on website custom audience sizes. Since the data used to construct your website audiences for targeting on Facebook relies on tracking user behavior, these lists may have fewer users. Because of this, advertisers on Facebook may see declines in performance and challenges with retargeting and prospecting.
Measurement
There is no longer a 28-day attribution window, view-through attribution is now more limited, and there will be no event breakdowns for conversions. Previously, we were able to track conversions in a 28-day window and view the data for those conversions.
With the limit on data, we expect to see fewer reported conversions. We also won't be able to see the breakdown of gender, age, and other characteristics of those who decided to convert through an ad.
However, Facebook will be providing modeled and partial attribution reporting to give insight to this data, but not as much as we had before. This should be made clear in Facebook's Business Manager.
While these changes won't impact ad delivery, they may result in a decreased number of reported conversions. Though it is important to remember that just because we can't see those 28-day conversions anymore, it doesn't mean they aren't happening.
What Do We Do Now?
The first thing is to be aware that things may look different, and all marketers are going through this shift together. Make sure you're working closely with your agency to try out new strategies and stay up to date with what's happening.
The other, perhaps most important, thing to do right now is make sure your domain is verified in your Facebook Business Manager. Facebook recommends this be done in the domain owner's Business Manager. So, if you own your business's website and you have a business Facebook page, you need to connect your website to your Facebook page by verifying your domain in Facebook's business manager.
To help you with this part we've included some instructions on how to get it done.
Log in to your Business Manager.

You may not realize you have a business manager but if you have a Facebook page, you have a Business Manager. You can access this by going to https://business.facebook.com/ while logged in to the Facebook account that created your Page.

On the left hand side, navigate to Brand Safety > Domains.

Add your domain.

Choose a method (the meta tag method is our recommendation for simplicity) and follow the implementation instructions for it on your own site. This step is going to be different for each site, but if you're using WordPress and choose the meta tag method, there are a couple of plugins we've found that should make it pretty easy:

Meta Tag Manager allows you to add meta tags, especially those intended for verification, to the site. The instructions contain screenshots detailing how to use it.
Insert Headers and Footers allows you to add sitewide scripts to the header or footer of the site. There are also screenshots and instructions in the description of the plugin. Just copy-paste the code you're given into the "Scripts in Header" section.

Click "Verify."
Associate your Facebook Page(s) with your verified domain.

Navigate to Domains and select the desired domain. Click "Add Assets."
You should find all of the Pages you have added to Business Manager. Select all the Pages you wish to add to the domain, and click "add."

Choose which pages can edit ad links.

Click on "Domain Access" and then click "Continue."
Choose the Ad Link Editing option you feel is in your best interest.

Click "Apply."

If you have an agency managing your Facebook ads, add them as a Facebook Partner in your Business Settings if they're not already.
Share your domain asset with your agency by navigating back to your domain, clicking "Assign Partners" and entering their Partner ID. You may have to contact your agency for their Partner ID. This part is very important if you use an agency, as it will allow them to help you prioritize the correct events.
Once your domain is verified with Facebook you and/or your agency will be able to create and prioritize the 8 events you can have for your domain. Without these events, you'll be unable to effectively optimize any conversion-based campaigns. And that means fewer valuable leads for your business.
If you need help verifying your domain with Facebook, reach out to your team at Oozle Media to help you walk through the whole process from start to finish!