11 Effective Social Media Posting Ideas for Dentists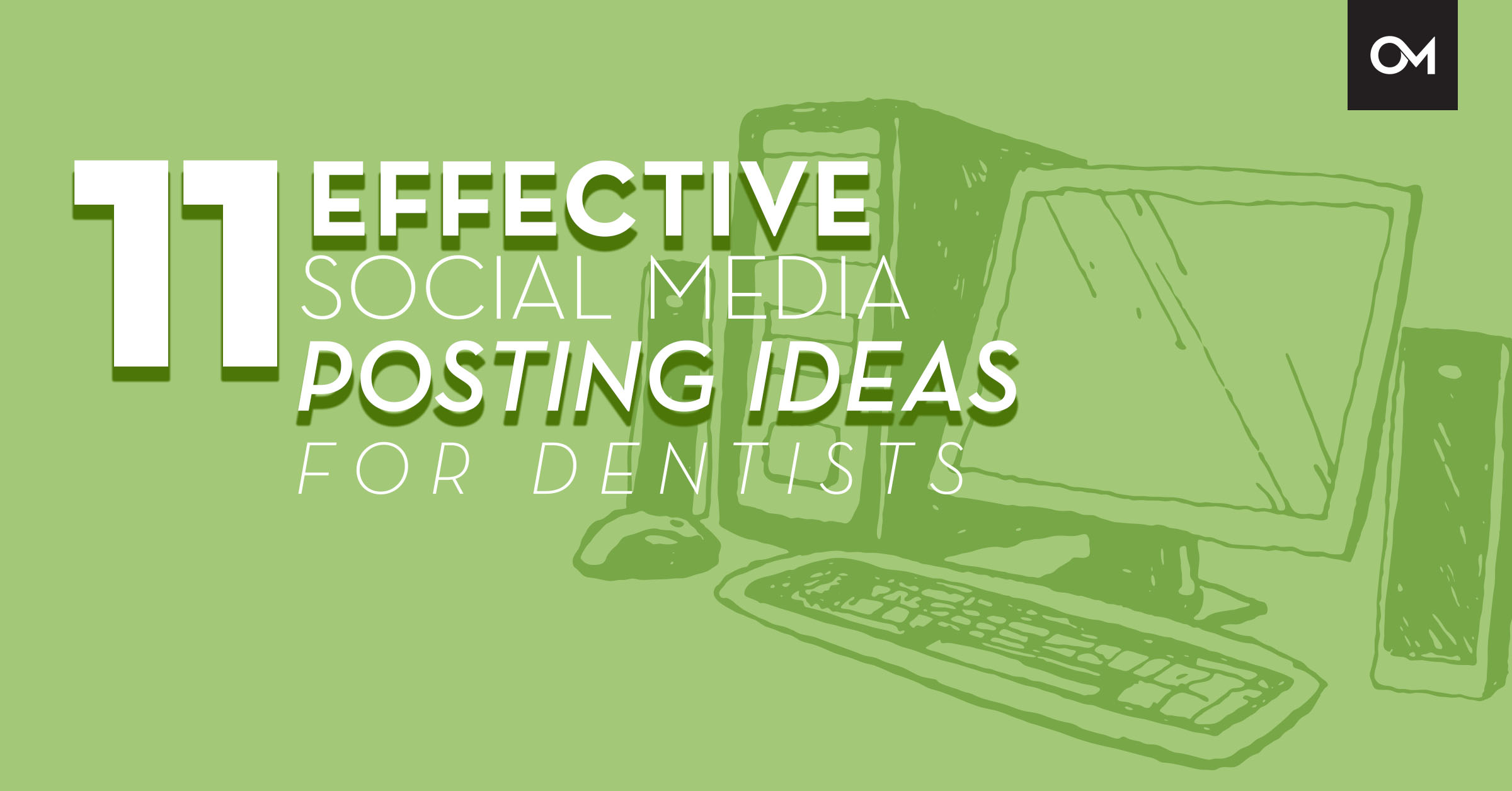 We know that not everyone goes on Facebook and Instagram to interact with their dentist, but that doesn't mean you shouldn't be part of the conversation on social media. Social media platforms like Facebook and Instagram are an effective way to build up your practice!
Is It Worth It To Post on Social Media?
Unlike pay-per-click (PPC) ads that show up when people are looking for a dentist, social media is about getting your name in front of people, even if they aren't currently thinking about scheduling a dental appointment. Social media brings your brand, your practice, and your name to your potential patients.
Think of the journey someone might take when finding a dentist, especially if they don't have one they regularly go to. It might have been a while since they last went. So, when they see an ad on Facebook, the thought process might look something like, "Oh, I haven't been to the dentist in a while. Are they any good?" They might click on your website but probably won't schedule an appointment right then and there.
Then, a few days later, they might look for a dentist on Google because they're now ready to contact your practice. When they search for a dentist, your PPC ad shows up. They click on your ad again and choose to fill out the form or call your practice. While the Facebook ad didn't generate a direct lead right then and there, it played a pivotal part of the conversion process, as someone might not have thought to go to your practice without seeing that ad.

That impact from the Facebook ad is what we report as an assisted lead. It's just as valuable as a regular lead because it wouldn't have happened without the multiple touches with your practice through multiple channels.
It's easy to get discouraged with social media. You may not get much engagement at first, but regularly posting, getting involved in the conversation, and being genuinely interested in what your patients have to say can expand your reach and build your community of patients.
To set your Facebook and Instagram page up for success, here are some posting best practices and posting ideas for dentists and orthodontists!
Follow the 80/20 Rule
Before you start planning your posts, you should understand the goals of posting on social media. The goal of social media is to interact with and engage with your community, not make the sale. When planning your posts on social media, you should use the 80/20 rule:
80% of posts – Focus on engaging and building your community
20% of posts – Focus on the sale and scheduling appointments
While your website and PPC ads are all about you, social media ads are all about your audience. You should be focusing on being genuinely helpful. But, if you're feeling a little stuck, here are 11 effective posting ideas for your dental practice!
1. New Patient Specials
Sometimes people need a little bit of an extra push to get to the dentist. If you can, post about your new patient special or certain deal to get people to show up. For example, you can post about a special event like this:
Or, you can talk about offering a free x-ray for new patients or a $20 cleaning. As a pediatric dentist, you may want to advertise the type of free toys you offer to your younger patients. Many patients look for a dentist that's going to provide them a good deal or good experience, and social media is a great place to showcase everything you have to offer.
2. Staff Features & Get-To-Know-You Posts
People want to find dentists they can trust and relate to. A bad dentist means pain, frustration, and more expensive treatments. A good dentist can be fun, easy to rely on, and dental treatment that lasts years.
When a patient has one good experience, it's likely that they'll keep coming back (with the right reminders). Let people know who they expect to meet at their appointment. That can help people see the face behind the practice and ultimately feel welcome and comfortable.
3. Video, Video, Video
You don't need to hire a professional videographer to create engaging videos! Take advantage of a good phone camera to take unique video content to post on Facebook and Instagram. *Pro tip: film vertically, especially for posting on Instagram stories/reels
Talk through what an appointment looks like at your dental practice. Showcase the fun and silly events that happen at your office, especially on themed days. Show people what actions you're taking to keep your office sanitized and clean.
Want some fun inspiration? Check out the Singing Dentist on Facebook!
Not only does he take fun videos of dental parodies of songs, he also goes live on Facebook to engage with his audience, answer questions, and provide entertainment.
4. Before and Afters
Just like when they're looking for a hairstylist, people want to see the type of work you can do and how people feel about it. If you want to showcase YOUR work, take a before and after of a patient's smile. This is especially effective if you're an orthodontist! People LOVE to see the impacts of braces or clear braces.
Remember, focus your pictures on the patient's whole face, not just their teeth to build trust with potential patients.
5. User-Generated Content
Are you encouraging people to take pictures while they're at your office? You should! People want to see that they're taken care of at the dentist. And, if you have a patient who LOVES their experience at your practice, get them to talk about it! Encourage them to post to a certain hashtag and regularly monitor that tag for any posts and relevant comments.
Consider asking your staff to ask their patients to post about your practice on their own social media accounts. These posts are called user-generated content! Repost their image (with credit) on your dental page and thank them for the kind words. This strategy's benefits are two-fold: you get free reviews and your patients feel heard and noticed.
6. Participation in Community Events
Did you or your staff participate in an event? Did you sponsor an event? While events might be few and far between, make sure to post and recap anything your office did to support your community. Share photos of your staff or your patients showing what impact you made at the event.
Remember: be genuine and authentic. Showcase why you decided to support a certain cause and be willing to talk about it with your patients, because chances are, if it's important to you, it's important to them, too.
7. Helpful Tips and Tricks
The goal of posting on social media is to be genuinely helpful. If you're feeling stuck on what to post, consider doing a bit of research and share what you've found! Think about posting things like:
Fun dental facts
Dental hygiene tips
Dental myth debunking
Memes and trending jokes
Motivational quotes related to teeth or smiling
Keep your posts relevant to your industry or your practice. Most people wouldn't associate your practice with certain memes, but if you can add a dental spin, it might be worth it to post. People go to social media to laugh and connect, so don't be afraid to have a little fun!
A good graphic designer can help you build images to share these posts in a way that looks and feels like your brand visually.
8. Contests & Giveaways
Looking to generate more followers? Host a contest or giveaway on Facebook or Instagram! You can make the prize relevant to your practice, such as giving a nice electric toothbrush or giving a discount at their next dental appointment.
People love entering contests and winning, so get people excited to interact with your practice! This is a good way to generate engagement and reach more people, even if you aren't spending money on ads.
9. Silly Holidays
If your dental practice dresses up for superhero day or you celebrate certain holidays, post about it! We could all use a little fun during the day, so post about the fun holidays you can find, not only holidays like New Year's or Valentine's Day. Find holidays like National Tooth Fairy Day, which is on August 22nd and showcase what your office is doing to celebrate!
10. Testimonials/Reviews
Have people said nice things about your dental practice? Share it on social media! Create an image that tells people what they've said about your practice and use the caption to encourage people to leave their own reviews.
According to BrightLocal, 87% of consumers read online reviews for local businesses. You need to have reviews to build trust with your potential patients, and showcasing what people have to say can build trust with your practice.
11. Blog Posts
If you have a blog on your website, get people to visit your site and read what you posted by sharing your blogs on social media. Consider writing and sharing pieces like:
How to brush your teeth
What to expect at your dental appointment
Why it is important to floss
Pushing these blogs on social media (and putting money behind those posts) can improve your SEO results, along with building your following online.
Read More: Content Marketing for Dentists: How To Build a Great Content Marketing Plan
Posting Don'ts
While you do have the freedom to post what you want, posting certain things can turn people away from your page. Some key takeaways of what not to post are:
Don't post photos of your dental equipment. Most people get stressed or anxious because of drills or certain dental machines. Focus on the people at your practice, not just the services you have to offer.
Don't post graphic or extreme treatments. If the content may be sensitive for some viewers, don't post it! If you regularly post images that are hard to look at, people may choose to hide your page or mark it as inappropriate content, which can hurt your results.
Don't spam posts asking for an appointment every day. Remember to follow the 80-20 rule, and focus on engaging with your audience, not just getting appointments. People don't want to follow your page if you're only trying to get people to schedule an appointment. Focus both on quality and quantity when building your social media strategy.
Don't get too personal or too unprofessional. While it's okay for your patients to get to know you, keep it professional. Keep what you do on your time off on your personal Facebook page, not your business page.
Posting on Facebook vs. Instagram
Save time and money by posting similar content on Facebook and Instagram! However, consider the differences between how the platforms are used and who uses them.
According to the Pew Research Center, the audience on Instagram is much younger than those who use Facebook. Instagram users are primarily female, as well.
There are a few other differences, as Instagram is a visual social media network that uses hashtags to help discover new users, while Facebook does not. Here are a few best practices you can follow for each platform:
Facebook Best Practices
Include an image or visual element in EVERY post. While you can post without an image, it is more likely to catch someone's eye than without one.
Use Facebook analytics to determine best times to post for you, but ultimately, try to post between 1:00 pm to 3:00 pm during the week and on Saturdays.
Post 2-3 times per week. Any more than that, and you most likely won't see a return on your investment, and posting less will make it harder for your posts to be seen by your followers.
Don't use hashtags. While hashtags are searchable on Facebook, they can sometimes break or make the post look cluttered and unprofessional.
Instagram Best Practices
Make sure you're posting on an Instagram business account. This can provide valuable analytics and certain features a personal account doesn't have.
Use up to 30 hashtags in your post's caption or first comment to increase your post's reach.
Update the link in your bio. If you intend to post blogs, you'll need to use the link in your bio to get there, as you can't click links on posts. Later's linkin.bio feature is a great way to keep your link in bio up to date!
Want Better Results? Boost Your Posts
While more people are spending their time online, that doesn't mean they'll see your posts. Posting organically means you'll only reach around 5% of people who "liked" your page (or interacted with your page before).
Social media is a pay-to-play platform, which means if you want to grow your audience, it's best to put money behind your posts to get it in front of the right people with the right message. With the right social ads team on your side, you can control who sees your posts and what message they see.
You can boost your organic posts or invest in a social media ad campaign that drives people from your Facebook or Instagram page to a specific page on your website designed to encourage people to call or fill out a form. This means you can grow your number of followers and number of patients through social media!
Start Building Your Social Media Strategy With the Help of Oozle Media
If you need a little more support figuring out what to post and when, invest in our DIY dental marketing package specifically made for dentists! We'll provide you with the tools and resources you need to take control of your marketing online.
Would you rather leave it to the professionals? Get a free analysis from us to see what you can start doing right now to improve your digital marketing strategy and give you posting ideas for your practice's Facebook and Instagram page.