Content Marketing for Dentists: How To Build a Great Content Marketing Plan
If you want to grow your dental practice, you need to make sure people are getting to your website or Google My Business listing and ultimately calling your office. If you aren't sure where to start, the experts at Oozle Media can help you every step of the way and help you build a content marketing strategy that can help you get the results you need.
You can start taking control of your practice's messaging online, but first have a plan to save you time and money and ultimately, get more patients through your door.
What Is Content Marketing?
Content marketing is the strategy behind writing good content so your dental practice is found on search engines like Google. Marketing is about sharing information with potential patients and being as helpful as you can be without seeing them in person. It's about building trust and adding value to their lives in a way that makes them feel great about picking up the phone and making an appointment.
The goals of a good content marketing strategy are:
Increase your rankings on search engines like Google
Build trust in your practice and your brand name
Answer the most commonly asked questions people have about your practice
Convince those who visited your website to take an action and schedule an appointment
Content is only one part of a holistic marketing strategy. You can get more ideas about how to use marketing to get new patients, or keep reading to dive into specifically building a content strategy.
A content marketing strategy includes:
The blogs you've written
The content on your website like your service pages or location pages
Your posts on social media
Email or text responses to patients
Any content you write with the intent of getting more patients or managing your online reputation
Choosing what you should write is a matter of time vs. money. You should focus on content that is relevant to your practice and your industry, with the intention of helping those who read it. One of the most effective ways to build your brand's reputation online is regularly updating your blog with unique, well-written content that answers the right questions.
Is Blogging Important?
On average, companies who blog can increase their leads by 67% per month, according to DemandMetric.
In the dental industry, blogging is so important because it builds trust with potential patients. Creating content helps answer commonly searched questions and helps establish your reputation as a good dental option.
Think about the last time you might have had a dental emergency case like a chipped tooth or even knocked out a tooth. What do you think someone will do first? They'll go on their phone to search on Google what to do. If your practice comes up first, they're that much more likely to call you for your services compared to your competitors.
Read More: Is Blogging Still a Thing?
Here's how to build a strong content strategy from start to finish!
1. Do Your Research
Before you start doing any writing, you need to know what you should be writing about. It's the core of a good content marketing strategy. There are a variety of ways you can find topics, and there's no one right way to pick topics.
The goal of a good content marketing strategy is to be genuinely helpful to your audience.
Think about the questions that people have about dentistry. They want to know what to expect from their appointment, what services they need, and most commonly the cost of your services. There are a variety of ways you can figure out what you should be writing, but as long as you do the research first, you can save time by finding the most valuable topics to write first.
Here are a few methods you can use to do valuable keyword research.
Ask Your Patients
You can consider asking your office managers, receptionists, or dental hygienists what questions they get asked by patients all the time. You might hear questions like:
How much does it cost to get my teeth cleaned?
What should I bring to my first appointment?
What insurance options do you accept?
I have tooth pain. What should I do?
If someone has called your practice asking those questions, chances are someone might search the same thing on Google! While you won't get an exact number of times that query is searched per month just by asking your staff, your blog can become a library of resources you can share to new or regular patients alike!
Use Google
While Google won't provide the actual number of searches per month, it can give you good inspiration on certain topics. For example, when searching "how to floss", you might consider writing topics like:
How to floss with a permanent retainer
How to floss a bridge
How to floss back teeth
These are all relevant topics that someone is actively searching, because Google only provides queries of topics that have been searched before.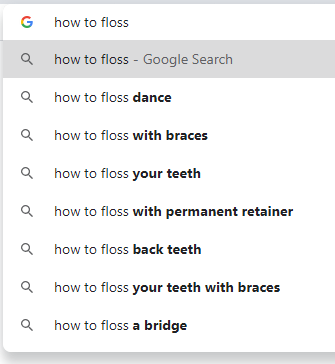 Once you pick a general topic, you can go into a Google search and get more inspiration for topics through the People Also Ask box.

Click on related questions, and Google will populate more questions.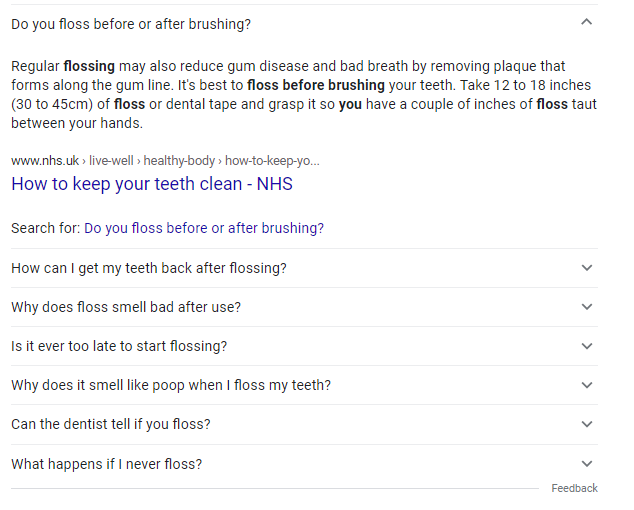 You might consider writing a blog about "Can the dentist tell if you floss" based on these queries. You can do this as many times as you'd like to generate good content ideas!
Paid Keyword Research Tools
Keywords are the "key" to SEO because they are the terms that people are actively searching for. You can perform keyword research with a variety of tools, such as Moz's Keyword Explorer that showcases the most common keywords, plus their average search volume per month.
Think about the things you have to teach patients at their appointment, like how to brush your teeth, how to floss, or even how to tell if you have a cavity. Chances are, if people have been to the dentist, they may search for the answers to these questions online. You can use a base keyword, like "brush teeth" and see what related topics you can write about with Moz: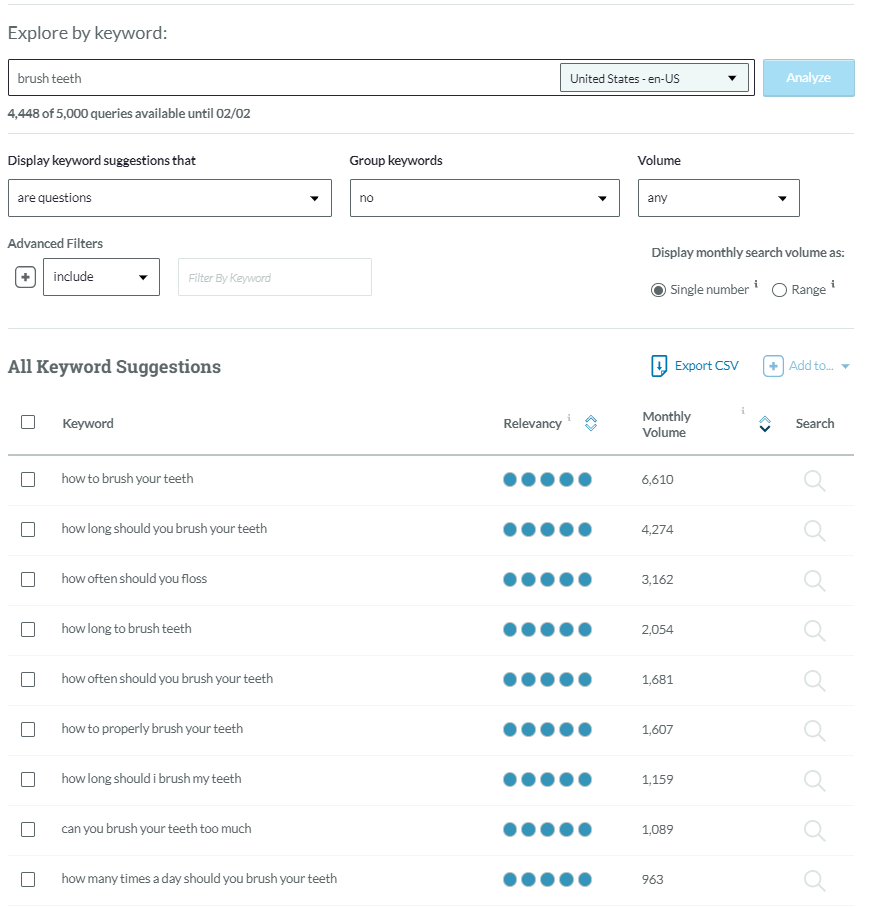 From this search, you can tell:
How to brush your teeth – searched on average 6,610 times per month
How long should you brush your teeth – searched on average 4,274 times per month
How often should you floss – searched on average 3,162 times per month
How long to brush teeth – searched on average 2,054 times per month
The advantages of using a paid tool is that it's much easier to get an idea of a topic's actual value because you can see the average number of searches each month. While you don't necessarily want to write content around keywords with tons of search volume, it is valuable to find terms that are regularly getting searched online.
Not every keyword is going to help you get the most valuable traffic: people in your area. It's important to rank for both more general keywords like "how to brush your teeth" and local keywords like "dentist Utah". Local keywords won't have as many average searches, but they are more likely to attract potential patients because they are more specific and more relevant to your practice.

Building up good content for both local keywords and general keywords can help your overall ranking, too.
Then, as a next step, Google the keywords you found! What shows up? Read the blogs in the top three or four results and think about why they might be ranking high. Does the organization make sense? Do they break up their content with a lot of images?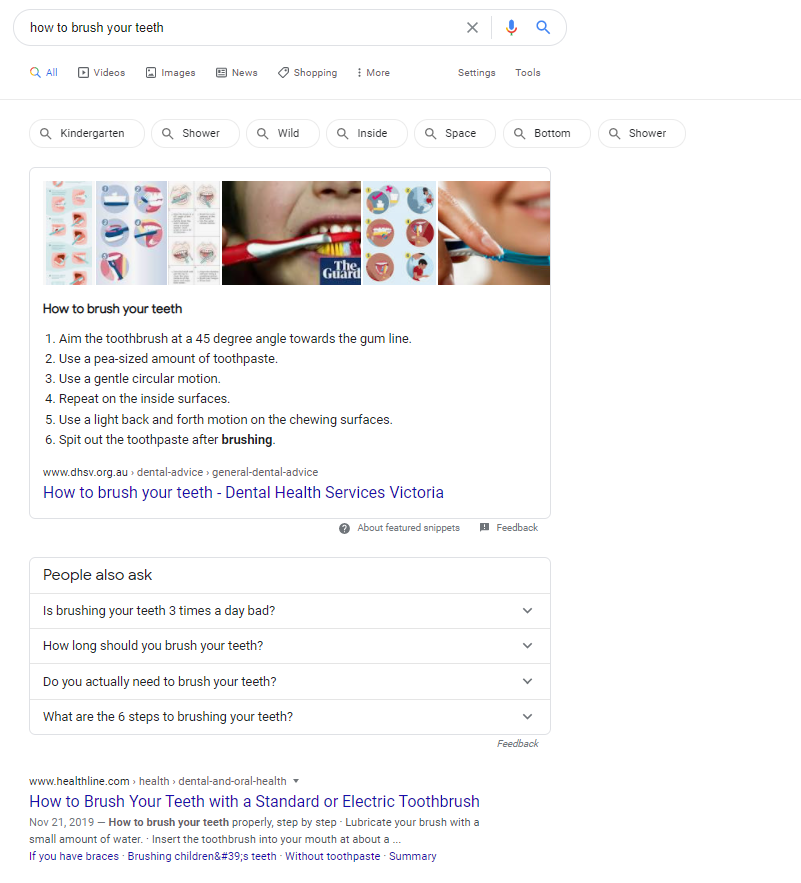 Once you have an idea of what's performing well and why, you can brainstorm ways to make something better than what's already there. Consider getting a professional graphic designer to make an infographic or film yourself answering the question you're answering in your blog and put it on YouTube, social media, and your blog.
2. Build a Content Calendar
Once you get an idea of the topics you want to write, it's time to start building out a calendar and a plan. When thinking of what to write and promote, you have to create content that leads people down the marketing funnel. The marketing funnel is the process in which people make a decision to purchase products or services from a business. There are often three phases.
The top of the funnel is the awareness phase.
The middle of the funnel is the consideration phase.
The bottom of the funnel is the decision phase.
Top of the Funnel Content
The top of the funnel is anything that your persona would want to read that is related to dentistry but not necessarily about your practice. These topics build trust with your brand and can be entertaining/engaging. Think of pieces like:
How to brush your teeth
How often should you floss?
When to brush baby teeth
How often should you use mouthwash?
When to replace your toothbrush
These content pieces aren't meant to sell, they're meant to entertain and inform.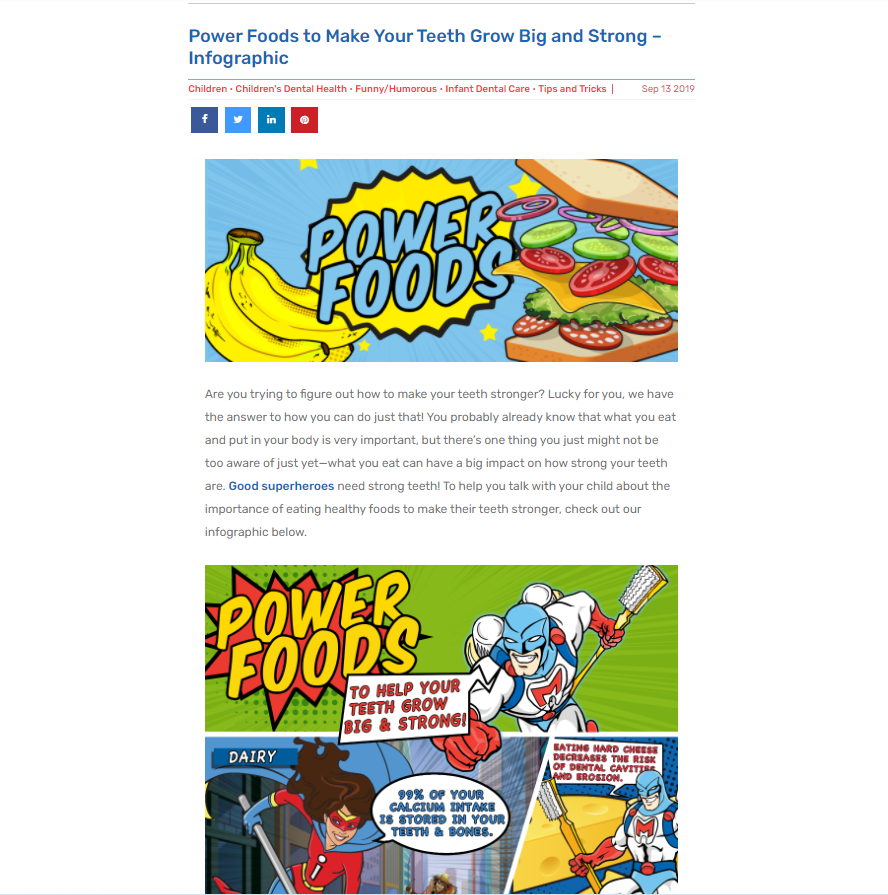 Most top of the funnel pieces perform really well when posted on Facebook or Instagram!
Middle of the Funnel Content
Someone in the middle of the funnel is looking for more information about dental care. Your blogs can help make the decision that you could be the right one for them. These topics are going to be more of looking into who can provide the service they're looking for, how to do it, and why it's so important. Think of questions like:
How to schedule a dentist appointment
Who does root canals?
What is the difference between a dentist and a periodontist?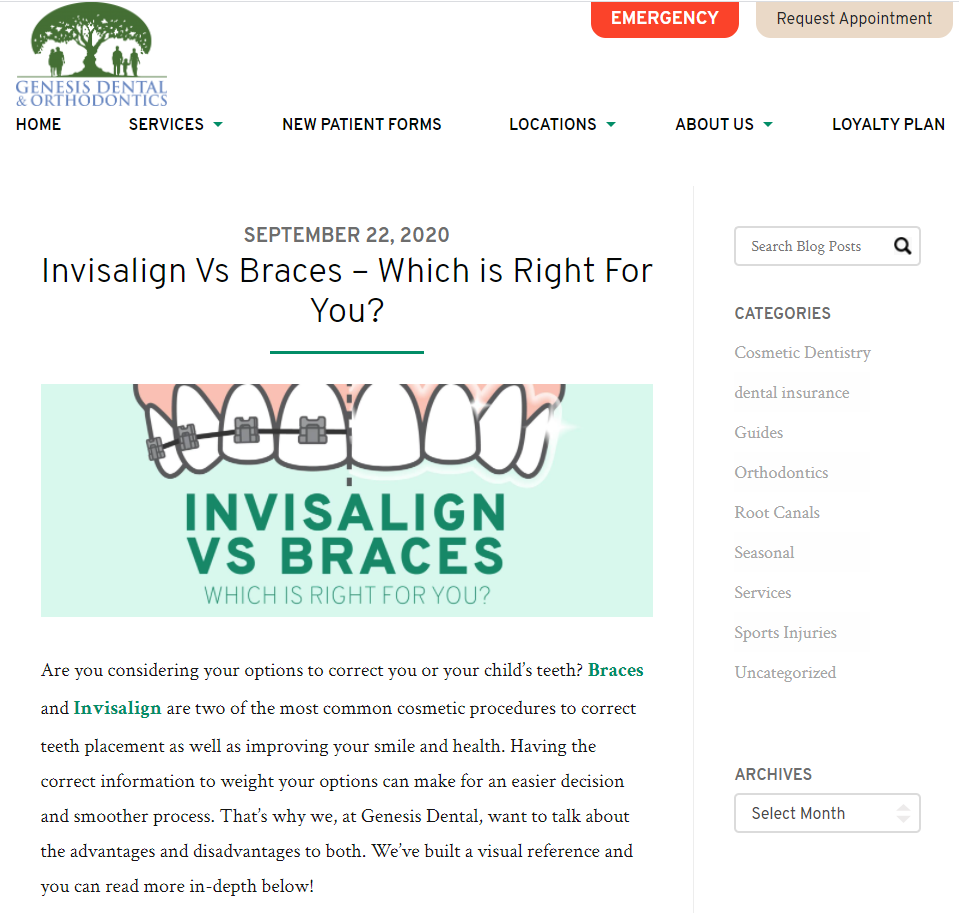 These are often the most valuable topics, as they are directly related to your industry, and are most likely to have high search volume. There's also a higher chance that someone might fill out the form or reach out to your practice at this point, too.
Bottom of the Funnel Content
People at the bottom of the funnel know they need to schedule a dentist appointment, but they're still on the fence about which practice to choose. Pieces for people at the bottom of the marketing funnel might include:
How to choose the right dentist
How to make the most out of your dental insurance
What to expect at your dentist appointment
While bottom of the funnel topics might be the most tempting blogs to write, too many bottom of the funnel pieces can make your practice appear pushy or salesy. Instead, lead people to the bottom of the funnel pieces through engaging and informative top and middle of the funnel content.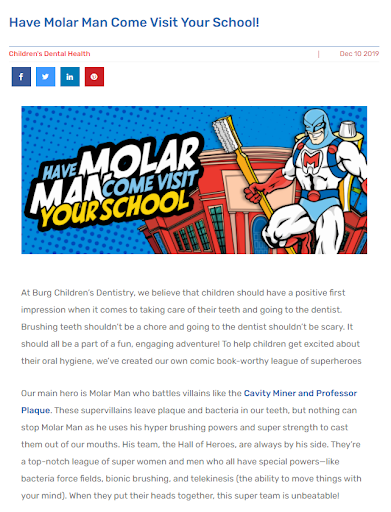 3. Start Writing
When writing for your website, the key is to take the technical jargon, the complex processes you learn as a dentist, and break them down in an easy-to-understand way. Most people aren't going to understand the benefits or disadvantages of a CEREC® crown, but they do know what a crown is. The ones searching for a CEREC® crown would be other dentists, not potential patients, which means it most likely won't help you attract new patients.
Writing a blog is not quite like writing scientific papers. Instead, you should focus on breaking down complex dental concepts into easy-to-understand ways. It may help to first start with an outline of the types of questions you want to answer in your piece, then start writing it out.
Resources To Help You Write
If you need help writing your own blog, Oozle Media has a team of talented writers to help you get started! We can take care of everything, from finding the right topics to writing good, valuable unique content written just for you. Contact us today!
4. Promote, Promote, Promote
While some dentists may not be focused on social media, it can and should be a huge part of your content marketing strategy. Writing good content only means people can find you, while social media puts yourself in front of potential patients.
Take the content you write and make sure to promote it! Some promotion strategies are:
Post a link to your blogs on Facebook and a link in bio on your Instagram
Send an email newsletter to patients
Post on Google My Business
Post a video on YouTube
Invest in PPC
If you can, reach out to schools or community events and participate in or sponsor them! Getting your name in front of the right people makes it much more likely they'll search your name when they need a dentist later. From there, they may run into your blog when searching a question, or they'll see your post on Facebook (with the right ad targeting).
Marketing is all about providing multiple interactions with your brand, as most people aren't ready to make an appointment after the first time they see your name. They may need to think about it further, or look at other dentists before ultimately deciding on your practice.
To set your practice up for success, you need to be creating multiple opportunities for someone to interact with your brand.
Need more promotion ideas? Read the top 14 dental marketing ideas to get new patients!
5. Analyze Your Results
Once you've started implementing your marketing strategy, you need to make sure it's working.
Invest in call tracking early on to get the number of calls you get each month, plus figure out which calls end with an appointment scheduled. Connect your website leads to your practice management software. This makes it much easier to count the number of people who filled out the form on your website and which of those leads ended with an appointment, too!
Then, when you have the number of leads, you can start going through your marketing channels to figure out which channels are actively attracting new patients.
Google Analytics and Google Search Console can give you an idea of what pages of your website are getting the most visits, plus see what types of queries your practice is showing up for.
Social media platforms like Facebook and Instagram often provide analytics to help you see how many people saw your posts and even how many clicks your post received.
Ask your patients where they first heard your name to see if you can link an appointment back to your investment in your community.
When you've gotten the data, it's time to analyze. Are you making more money than you're spending? Getting a good return on investment (ROI) can help you track your success. If you're working with a marketing agency, make sure they provide regular reports and updates to your marketing results. If they aren't getting good results, ask why!
A good marketing agency should be working actively with your team to help you grow your practice and actively get new patients.
The Impacts of a Good Blogging Strategy
At Oozle Media we've been able to help grow our client's brand and site traffic through regularly blogging and creating original and unique content online. Here's an example from one dentist we worked with comparing 2019 site traffic to 2020, we saw a 30% increase in total site traffic, even during COVID-19.
The biggest reasons for that site traffic growth are two blogs:
What does the tooth fairy do with your teeth – increase of 167% from last year
5 foods to grow your teeth big and strong – increase of 161% from last year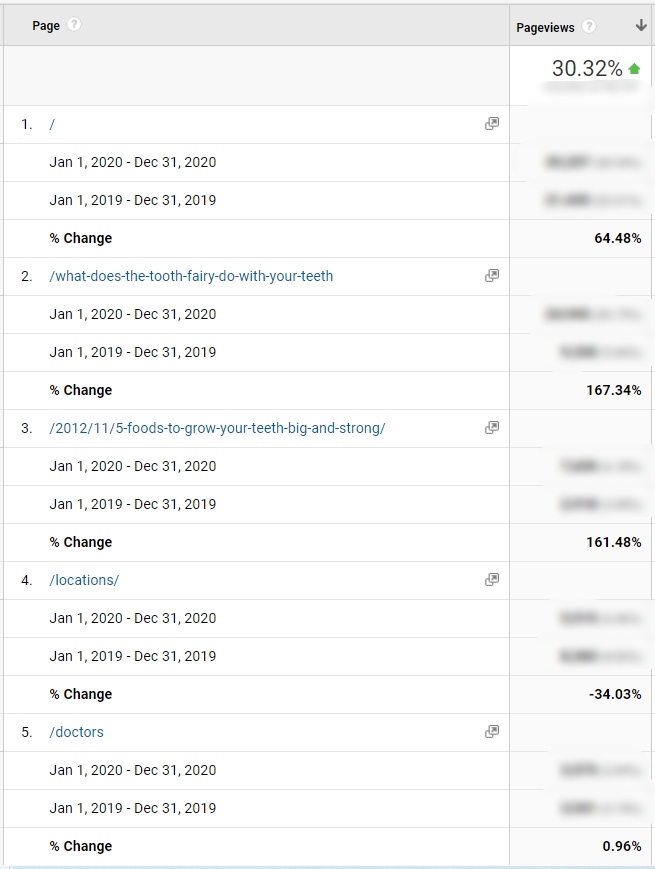 You can see the moment the blog about tooth fairies rose in rankings on Google: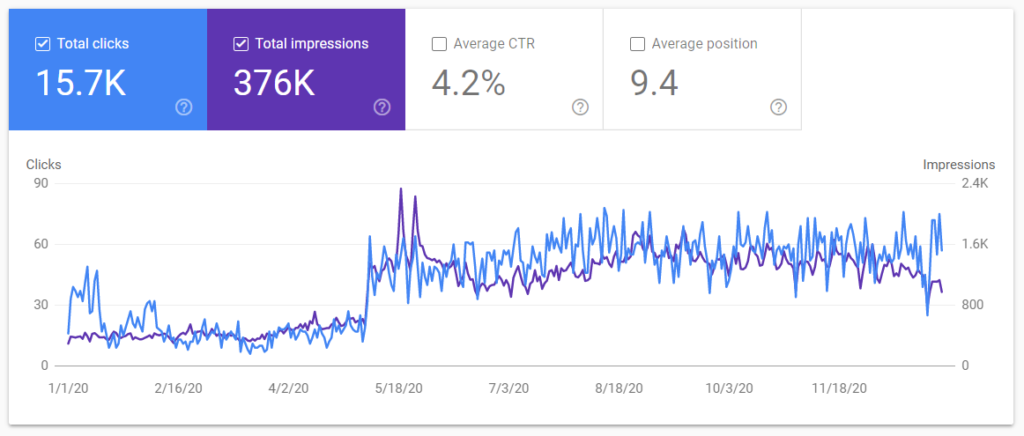 And the better rankings show how much more traffic the blog started getting, too:

With this increase in traffic, the overall number of impressions and clicks this client had increased drastically overall.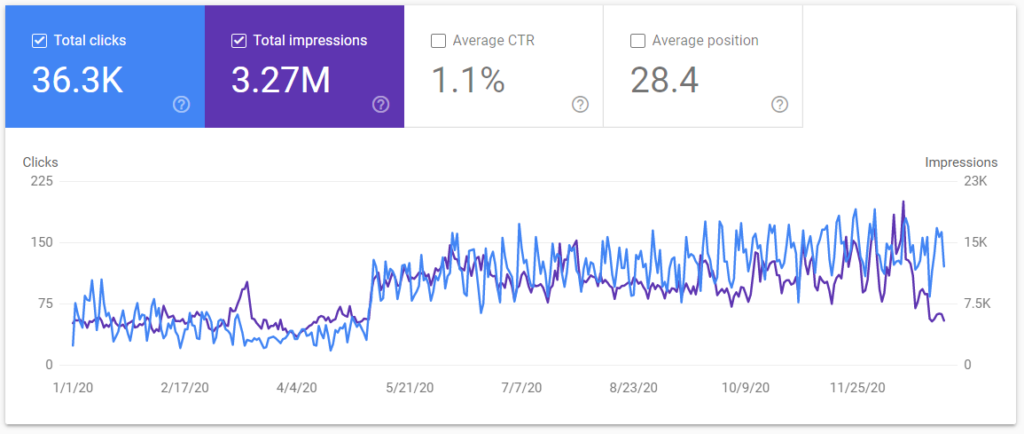 More site traffic can have a big impact on rankings, and also means more changes for form fills and phone calls. For example, just one of the many blogs on the site alone accounts for 2% of organic leads in 2020.
Oozle has significantly helped improve our online performance over the years. To ensure our website consistently ranking high on Google, they track our analytics and provide feedback to ensure ongoing success.

Marci N. – Burg Children's Dentistry
Start Your Content Marketing Strategy Today!
If you need help creating a content marketing strategy for your dental practice and see similar results, reach out to the team at Oozle Media! We have a unique do-it-yourself marketing package to help you build your own content strategy and grow your practice online.
Get the resources you need to tell your story online or request a free analysis from us to help you see what you can be doing right now to improve your digital marketing strategy.