Introduction to Facebook Ads
Why is it important to run social ads? Well, social media contains one of the largest digital audiences in our society today. In the United States alone, there are 190 million users on Facebook in 2021. The social media network is a great place to reach more consumers and one of the best ways to collect important data that will help you grow your business.
Watch The Replay
Let's focus on Facebook as that is where most social consumers are spending their time, and it's what we are most familiar with. We're going to walk through the three basic steps to understanding the ads platform and how to optimize for the best results:
We will learn about the social marketing funnel and how to optimize each section of the funnel according to our campaigns.
We'll take a quick look at the Facebook Ads Manager platform.
We'll go through the analysis of the performance of our social ads and learn to recognize areas for improvement.
Stages of the Funnel
What is the marketing funnel? For social ads, our goal is to grab the attention of new consumers and entice them to convert or purchase our product. There are 3 sections of the funnel:
Upper-funnel campaign. Here, we are introducing ourselves and our brand. We want to educate the consumer on who we are and what we do. We want to invite anyone and everyone that would be remotely interested in what we have to offer.
Mid-funnel campaign. Here we will find those people we have already met previously and invite them to learn more about what we have to offer by visiting our page or website.
Bottom-funnel campaign. We want to invite those consumers who have stayed with us this far to come and enjoy our product or service! We want to see them convert.
Our best practice is to be running a full-funnel strategy with our campaigns. Let's quickly dive into each section of the funnel to understand why each is important!
Upper-Funnel Campaigns
Creating brand awareness is a top-of-the-funnel tactic for social media campaigns on Facebook and Instagram. Here at Oozle, we focus on two types of campaigns for this section of the funnel.
Reach
With a Reach campaign, we are gathering as many users as possible so that we have a larger audience to shuffle down the funnel. But, what do we mean by shuffling users down the funnel? How do we do it?
Our best practice is to use videos here that are educational to your brand. For every user that views your video ad here, we can then build video views audiences to later retarget in the mid and lower funnel campaigns.
Engagement
The second is an Engagement campaign to boost, or promote, organic posts.
A boosted post is a regular post that has money put behind it and has been designed to target certain audiences in specific areas. The goal behind boosting is to get your post in front of more people to help them learn more about you, visit your website, or respond to a particular call to action. We want these consumers to ENGAGE, or interact, with your brand through likes, comments, saves, clicks, etc.
What should we be boosting? You can boost just about any post you'd like. However, you should make a conscious decision about which posts you do promote. Are they informative? Do they link back to your website somehow? Examples of posts we encourage advertisers to boost are:
Testimonials
Videos
Special Offers
New Location Announcements
DO NOT boost posts that link to other websites from your own.
These campaigns are crucial in gathering and developing broader audiences to then re-market to down the funnel.
Mid-Funnel Campaigns
Let's talk about the mid-funnel strategy. We've already built up our broadest audiences with our Reach and Engagement campaigns, now it's time to shuffle those consumers to the next level in our funnel by retargeting those people who watched our video or engaged with our posts.
Here, we recommend utilizing the Facebook Traffic campaign type. The goal of a traffic campaign is to send consumers to your website. Within our ad creative, we want to make sure our ads are inviting the consumer with soft call-to-action messages such as, "Learn more today!" or "Visit our website!"
Bottom-Funnel Campaigns
Lastly, we have our bottom-funnel campaigns. We want these consumers to convert! Here, we are remarketing to those consumers who were first educated by our reach or engagement campaign and later clicked on our mid-funnel ads and visited our website.
See how we have shuffled the consumer down the funnel? When we are creating our bottom-of-funnel ads, we want to use harder call-to-action messaging such as "Apply Today" or "Buy Online" or "Download the App." We want the consumer to buy into our service or product, the end goal.
Because we have talked about shuffling users from the top of the funnel to the bottom, let's take a quick look at how we build those audiences to do so. Within the Facebook Business Manager platform, there are applications to help the user optimize their advertising to the fullest. One of these applications is called "Audiences." Once you are here you'll have a few options:
Custom Audiences
You can build your audience through a variety of different factors:
Web traffic – Website visits tracked from the Facebook pixel
Facebook & Instagram – Based on page/profile engagement, page visits, page likes
Video – Facebook and Instagram video viewers
Customer lists – Emails, phone numbers, zip codes (HIPPA Compliant)
Lookalike Audiences
Lookalike audiences take the information we give them from our current audiences and create new, similar audiences. They do this by matching information and behaviors of people within our current audience and finding new people that fit those same behaviors.
Special Ad Audiences
This audience option is to ensure and promote equal opportunity for people while advertising within these categories. Used/required for specific ads including employment, credit, housing, or social issues.
These audiences can then be included when narrowing your targeting even more with location and detailed targeting (gender, age, demographics).
Facebook Ads Manager
With all of that said, let's dive into the Facebook advertising platforms.
There are two different ways to run advertising through Facebook. In the social advertising world, we would consider the actual Facebook Platform the frontend for the ads. This is where you can find your newsfeed, connect with friends and other businesses, and organically spread your message.
Owners of any Facebook business page have the option to boost posts directly from the frontend of Facebook. However, our options are limited here and not as effective.
The second way to advertise on Facebook is through Facebook Business Manager. This is where the magic happens. Facebook Business Manager is the backend social advertising platform. From Business Manager, we can optimize our ads to the fullest through detailed and narrow targeting, more ad creative options, and campaign organization.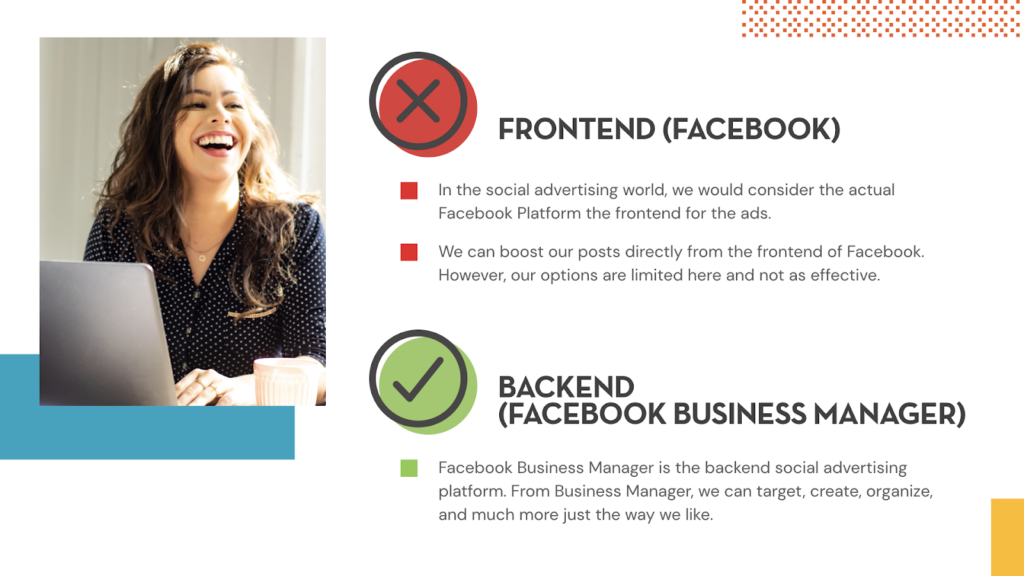 Let's take a look at our Facebook Ads Manager.
How To Use Facebook Ad Manager
Here is a brief step-by-step overview of how to go about creating your first campaigns and getting started:
Go to ads manager: http://business.facebook.com/adsmanager
Create a new campaign.
Create the ad set or ad sets to set up targeting, budgets, and placements
Create your ads!

Name your ad
Make sure you have the correct Facebook and Instagram pages connected
Upload your ad creative (image, text, website link)
Lastly, you'll make sure that your pixel is connected and active on this level.

Preview your campaign and publish!
You got that? Well, why don't we break it down just a bit?
When you get into ads manager, you will be able to view all of the different campaigns you are running in your account. Our goal is to have the three sections of the funnel running:
Boosting engagement
Clicks/Traffic
Conversions
The Campaign Level
As you create a new campaign, a window will pop up where you can choose your campaign objective depending on which section of the funnel you are targeting. For Oozle's recommendations of basic best practice remember that:
Top-of-funnel campaigns are reach or engagement campaigns
Mid-funnel is a traffic campaign
Bottom-of-funnel campaign is for our conversions (purchases, leads, app download, etc).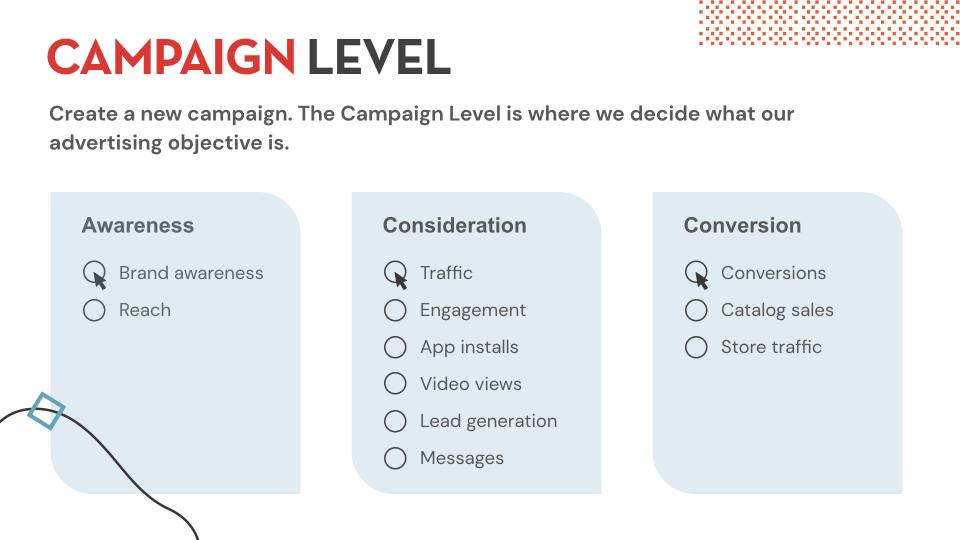 The Ad Set Level
The ad set level is where we determine the logistics of running our ads:
Budget (suggested daily)
Date range
Include custom audiences
Exclude audiences
Location targeting
Detailed targeting (demographics, psychographics, interests, etc.)
Ad placements (automatic placements recommended)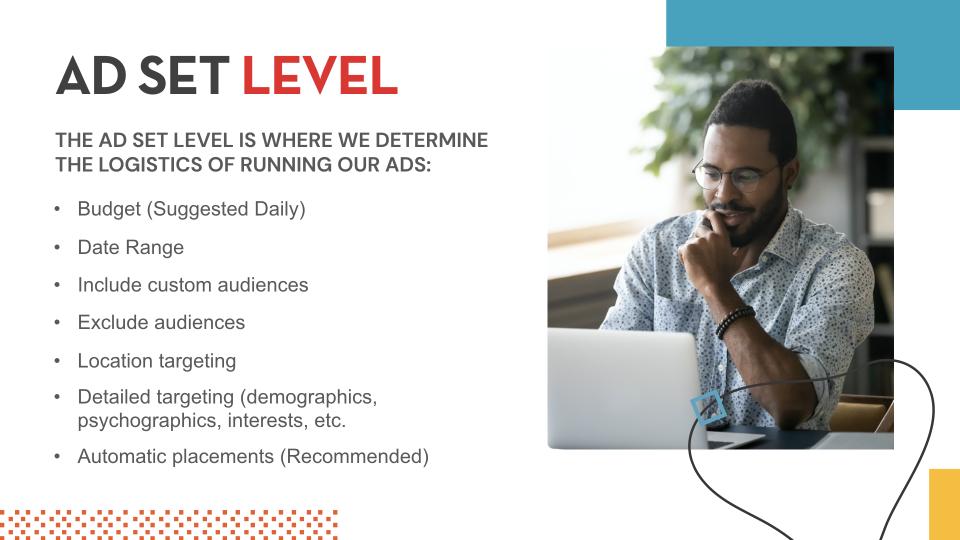 The Ad Level
Finally, we are at the ad level. The ad level is where you get to create exactly what your viewers will see. Here you will:
Select the correct Facebook page and Instagram profile that you would like your ads running for.
Upload the images or videos that have been designed for your ads.
Type in your ad copy, headline, and description.
Insert your website URL with correct UTM parameters – UTM parameters are an extra form of tracking so that when you look in the backend of your site, you can see if a conversion has come from your Facebook ad
Make sure your Facebook pixel is connected and active.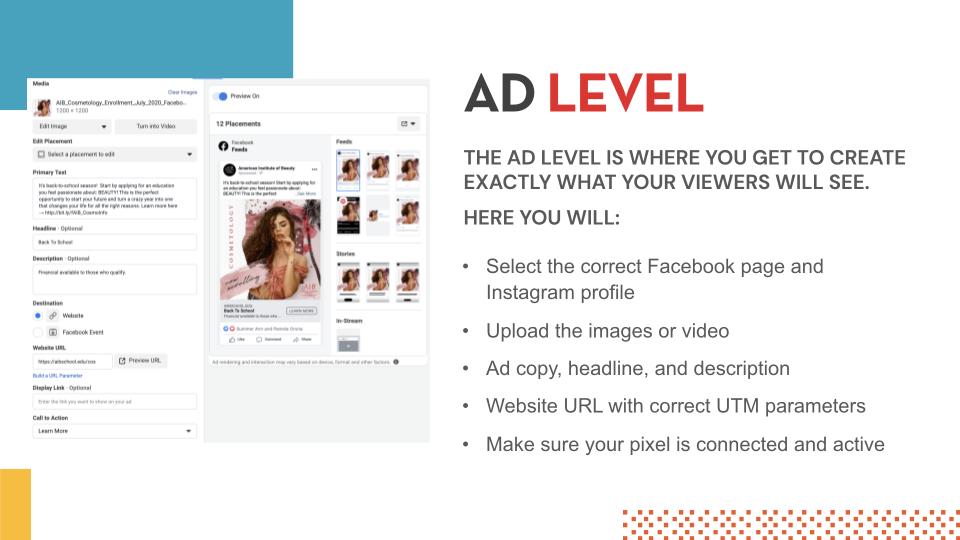 You'll want to review all the levels of your campaign one more time, and publish!
Analyzing the Effectiveness of Your Social Ads
Now that your campaigns are up and have been running for a bit, we can dive into a quick social ad analysis. It's time to learn about what metrics are determining the performance of your ads and what they mean.
When looking at performance, we have the option to compare your results to the previous month, previous period, or previous year. When analyzing, we should ask ourselves a few questions: Are our results increasing? Is the cost per result decreasing? Or are things going downhill? Listed below, we have the most basic, yet telling, performance metrics to look at:
Clicks
Impressions
Landing Page Views
Conversions
Cost Per Result
Optimizing Your Social Ads
Every few months, weeks, or even days (depending on your business or industry) we want to check our results in depth. Have our results tanked, improved, or simply plateaued? Well, there are a few things we can take a look at and even test:
Audiences: Do your audiences align with our funnel strategy? Do we need to update our customer list audience?
Targeting: Can we include detailed targeting? Is our location targeting all the places we want to be?
Placement: Are we delivering to all of the optimal placements we'd like to be in?
Ad Creative: How long has the current ad creative been running for? Is it time to change it up?

Are there start dates?
Have we run the same ad for more than 3-4 months (unless it is performing well)?
Can we implement video?
Is the creative something a viewer wants to stop at?
After asking ourselves these questions and analyzing what might be our best option, we can now begin A/B testing these changes to see what works best.
Need Help Running Effective Social Ads?
If you need any extra help setting up and running ads on Facebook and Instagram, reach out to our team at Oozle Media! We are experts at creating effective ads that ultimately bring people through the marketing funnel. Plus, with a team of paid ads experts and graphic designers, you can get ads that stand out!
Request your free analysis today to see how we can help you get more leads on social media.