Facebook Saves Lives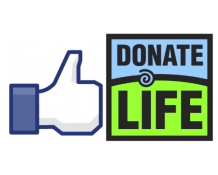 You probably know by now that Facebook is one of the most popular internet sites ever (now with over 800 million active users!), and that it provides a great place to network and connect with others. You may also know that Facebook provides lots of great opportunities to market your company with Utah social media experts. What you may not know is that Facebook is also in the business of saving lives.
Good Deeds
Mark Zuckerberg, founder and CEO of Facebook, recently announced that the site will now include the ability to share your organ donor status. Users will be able to include their organ donor status on their timeline, share a story about why they chose to register as an organ donor, and share that information with their friends.
At first that may not seem like a big deal—but, although organ donations save thousands of lives a year in the US alone, demand for organs always far exceeds supply and many people find themselves on a transplant waiting list for years.
One of the primary reasons for the shortage, according to medical experts, is a lack of awareness of the ability to donate organs. By allowing users to share their organ donor status with their friends, awareness will be increased. The Facebook page will also include links to organ banks, so that an individual who chooses to can quickly and easily register their organ donor status.
Bloomberg Online reports that the move almost immediately resulted in several hundred thousand people announcing their organ donor status on Facebook, as well as huge increases in the numbers of people registering at organ donation centers.
Facebook Philanthropy
Though one may not initially associate the huge corporation (recently judged to be worth nearly $100 billion) with great acts of charity, the site's owners have actually donated hundreds of millions of dollars to various charity funds.
In addition, Facebook users themselves have used the site to do good deeds:
• After the 2011 outbreak of tornadoes in Missouri, those cleaning up after the disaster used Facebook to help find the owners of mementos found in the wreckage.
• Japanese Facebook users used the site to find family and friends separated by last year's earthquake and tsunami.
• Various charity organizations have set up Facebook accounts that provide information on what they do and offer an easy way for users to donate.
Every day, people use the social networking site as a way of helping others and doing good deeds.
Get Connected
If it isn't already clear, Facebook is much more than just a site for updates about one's personal life—it can be used in many different ways and for many different purposes. The ability to help others through the site is just one more reason why you should get connected on Facebook. And if you're a business owner and you want to get in on the many opportunities the site offers for marketing and for helping others, talk to your Utah social media experts.
-Tim Crain