How to Get 78,000+ "Likes" in 6 Months: An Oozle Media Case Study
If you think it's impossible to get 78,000+ "Likes" for your company Facebook page in six months, think again!  We just accomplished this for our client, Half Price Utah.
Why are Facebook "Likes" important for businesses to acquire? What is Half Price Utah? How did we accomplish this seemingly impossible feat? What were the results?
Whoa, slow down there people! One question at a time, please:
Why are Facebook "Likes" important for businesses to acquire?
Since friends don't usually spam their own friends, "likes" are one of the best ways to get referrals.  On that note, the number of "likes" and "shares" a business can acquire directly effects search engine rankings, and smart businesses will seek to turn "likes" & "shares" into conversions.
What is Half Price Utah?
Like Groupon and Living Social, Half Price Utah (HPU) is a deal-of-the-day website that is localized to major Utah based markets. However, unlike Groupon and Living Social, HPU has all the Utah daily deals (Groupon, LivingSocial, KSL Deals, Mega Daily Deals, Your Mom's Deals, etc.) and other exclusive deals in one convenient location.
If you're looking for the best daily deals in Utah, all you have to do is visit HalfPriceUtah.com once the site launches–or your other option is to look through 20+ emails and visit 20+ websites on company time. For us, this is a no brainer!
How did Oozle Media accomplish this?
Offer a great product: First things first: if you want online popularity, you must have a great product. Half Price Utah has not even officially launched their company to the public yet. However, within less than a week they've gained massive online popularity. The main reason behind this is that what they are offering is unlike anything currently on the market.Besides being an aggregated daily deals website, Half Price Utah will also offer Facebook Freebies, Group Container Deals (consumers will be able to get a certain product at a ridiculous price, but will only be able to get it if the container fills up), Done Deal-E-O (which is a daily deal company that allows the business owner to decide the commission payout), and Locked in Deals (consumers can put money down on a deal in order to lock in a desired price, and are allowed a substantial amount of time to pay it in full.).
Since deal-of-the-day companies tend to bring in MANY clients in a very short period of time, Half Price Utah is essentially offering business owners the deal of the century!
Advertise everywhere: This includes Facebook, Twitter, print media, etc. Anywhere you can think of, basically!
Ask for consumer feedback: The best way to find out which incentives will excite your target audience is to ask. This is what we did for Half Price Utah: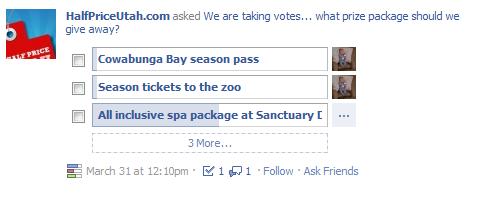 Give your audience what they want: Once you've established what your audience wants, be sure to give it to them! For HPU, our 'Hogle Zoo Giveaway' was a big hit due to the fact that a large portion of their fans are Utah moms.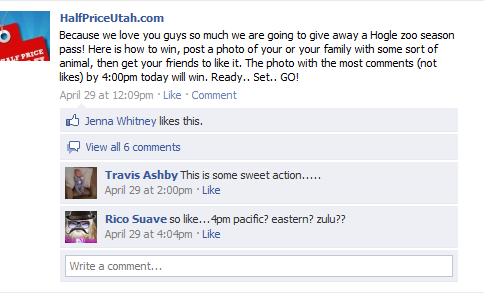 Interact with consumers on a personal level: For HPU, we've made a point to keep our interactions personal and light hearted. This has created quite a fun and unique environment for HPU's Facebook page. Also, we are careful not to post too often or too little, and we try to always respond to fan inquiries. For the post below, we'd asked HPU's fans to share their favorite April Fool's Prank! This brought in dozens of funny responses, which resulted in countless comments and discussions.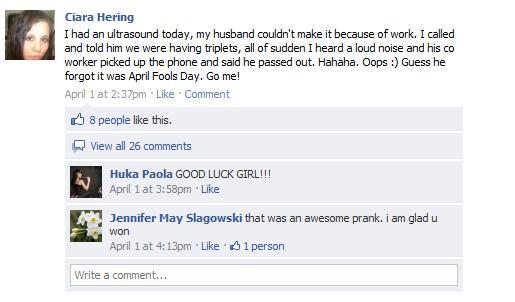 What were the results?
So far, Half Price Utah has 78,000+ "Likes" and counting.  The company has had countless successful giveaways, sweepstakes, and personal interactions with their 'fans' in a matter of a few weeks, and the company hasn't even officially launched yet.  Stay tuned!
Do you want 78,000+ Facebook 'Likes' in 6 months?
If so, it's time to GET OOZLED! We are your Utah social media experts! Our packages are affordable and our contracts month to month. What have you got to lose?