Utah's Own, Best of State Awards 2012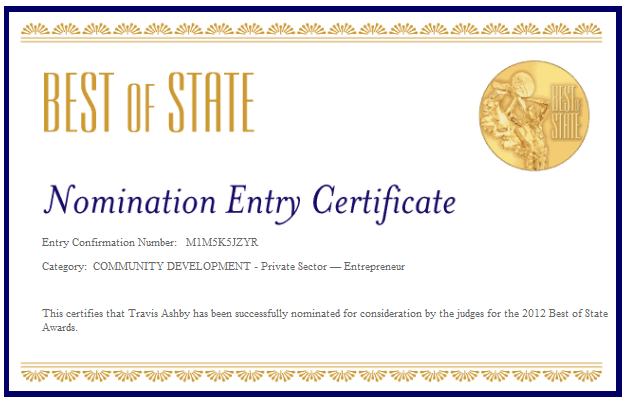 What is Best of State?
The Best of State Awards essentially recognizes the outstanding individuals, organizations, and businesses in Utah. These recipients have showcased and proven to not only be at the top of their respective fields, but also have shown dedication and commitment to making Utah better because of what they do.
This highly esteemed honor and recognition can and will further put your business or organization on the map. Reputations are created and built upon by means of these prestigious awards. Because the residents and professional world alike give so much attention to this event every year, it's easy to see the worth and value in being considered or submitted for nomination.
How does it work?
In order to be nominated, Best of State considers each candidates value based on 3 main criteria:
• Achievement in the field of endeavor – Counting for 50% of the vote, the candidates that are nominated demonstrate superior results and outcomes in what they do. This comes from consumer and peer recognition because of their success in product, service, growth, and expansion.
• Innovation or creativity in approaches, techniques, methods, or process – Weighing in for 30% of the vote, the candidates differentiate themselves because of new and unique ideas or procedures they bring to their fields.
• Contribution to Utah quality of life – These candidates receive 20% of the vote if they continually make Utah a better place to live and do business. Their community service, charitable contributions, family-friendly employment policies, environmentally sound practices or policies, increased employment opportunities, community beautification, education, contribution to a strong economy, and cultural contributions are a few examples of what are weighed by the judges.

What's the big deal?
Best of State carries within itself a lot of clout when it comes to claiming ranking and leadership status among the other competitions or colleagues in their fields. When someone wants to know what the best Italian restaurant is or who is the industry leader in healthcare for the state of Utah, Best of State has those answers.
Because of the high level of respect and recognition received by so many businesses and members of the consumer community, these awards prove worthy of note and consideration when it comes to whom you do business with and why.
Congratulations!
We would like to personally extend heartfelt congratulations to Travis Ashby, President of Oozle Media, for his nomination of Entrepreneur of the Year!
We would also like to mention the great honor of Oozle Media's nomination for excellence in the Private Sector/Small Business Category for their contributions to Search Engine Optimization, marketing and advertising, web development, social media, and promoting success for businesses online.
-Vince McCullam