Joomla vs WordPress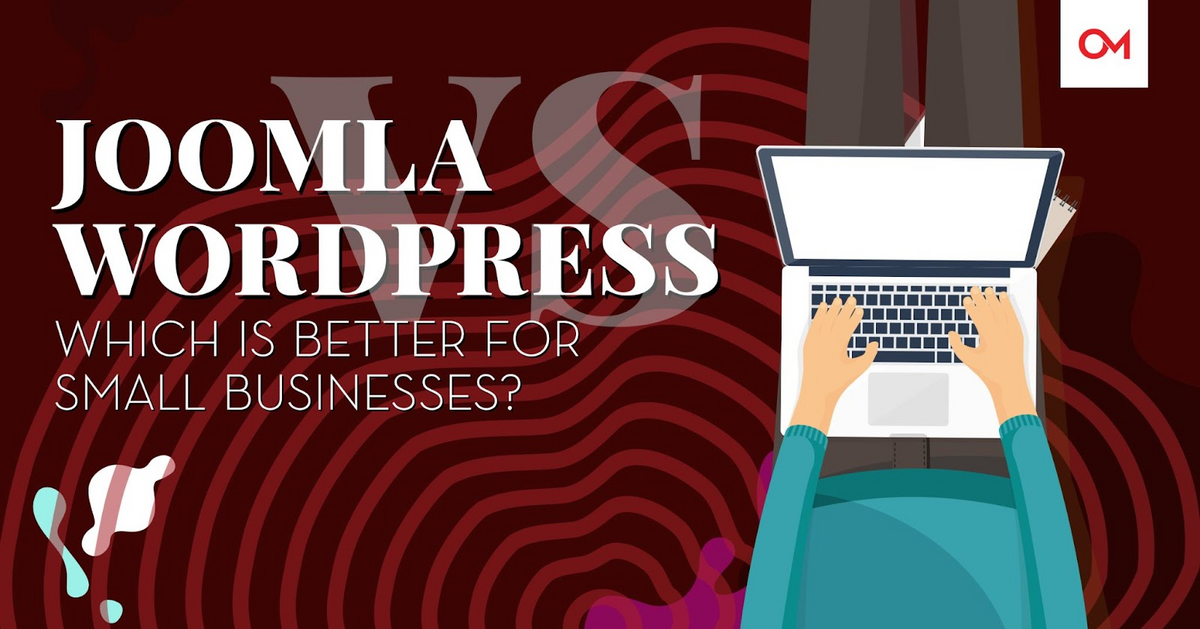 Any small business that wants to be successful needs to have an accessible, SEO-friendly, and simple-to-update website. This allows them to focus on growing their business through a variety of marketing efforts. There are a lot of content management systems (CMS) out there, so it can be tough to know which is the "best". In 2022, the two most frequently used are Joomla and WordPress and so hundreds of searchers look for that answer each month.
The Numbers
Looking at Google trends, one can see a clear advantage in popularity with WordPress being the dominant CMS since 2004 and Joomla experiencing a clear downward trend in popularity and usage since its heyday in 2010.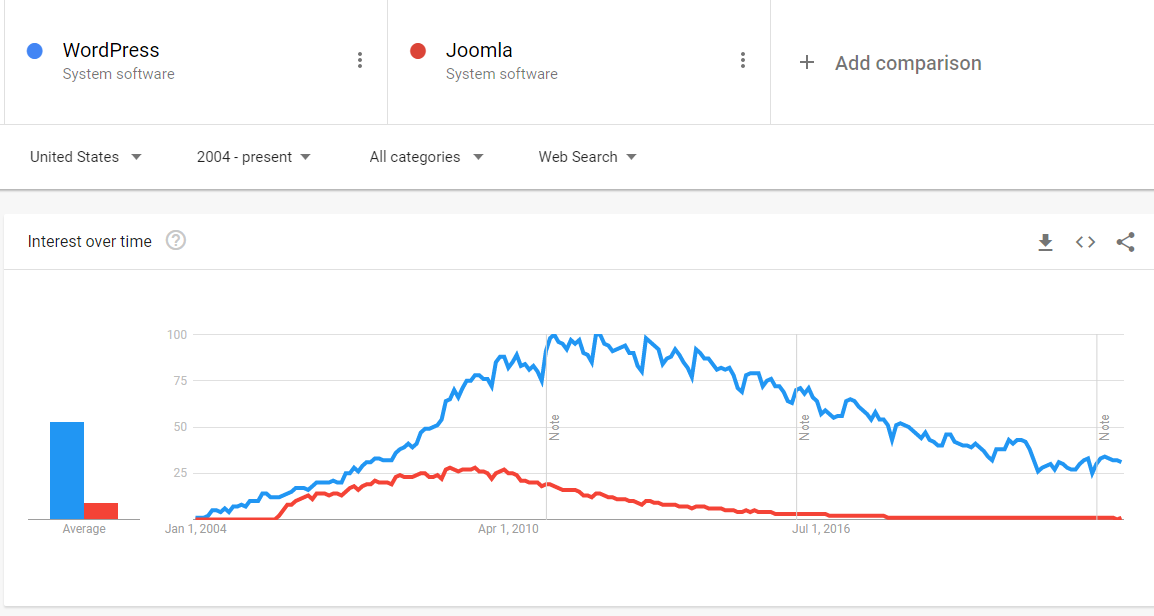 When you look at the numbers even further, the numbers really favor WordPress once again. An estimated 43% or more of all websites on the internet are built on WordPress whereas Joomla comes in at 3%. Clearly more people over time have favored WordPress over Joomla, but why might that be?
Ease of Use
The primary reason most people end up using WordPress as it is generally regarded as being the easiest CMS to use, especially for non-developers. While Joomla may have some more flexibility in customization it usually requires more of a technical background. Developers need a specialized, more expensive skillset and so for most small businesses, it is more cost-effective to use WordPress.
In WordPress, you can see that the backend navigation is extremely straightforward and doesn't contain a lot of technical knowledge to find what you are looking for. It requires less time to understand and almost anyone can manage a site with relative ease.

Joomla has a much more complex user experience, even within the navigation structure itself as shown. It does have a lot of tutorials to compensate for this, but that requires a non-technical user to a) read through those and b) an immediate barrier to entry. There are many areas of Joomla that the average, non-developer user simply would never need to even see, let alone understand.
This over-complication for a non-developer can also introduce the potential for someone who has a limited understanding of the processes to severely handicap a website. Granted, Joomla generally controls this with a more robust user permission base than WordPress but most small businesses have no need for a variety of user permissions, as there is typically a small handful (or sometimes only even one) of users who manage the site.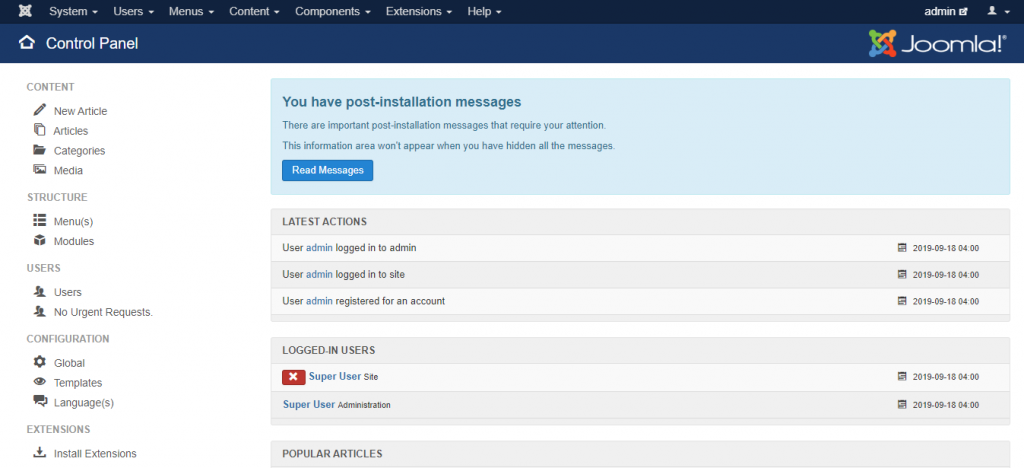 SEO
In their base setup, both Joomla and WordPress offer fairly good built-in SEO, however with a much wider range of SEO management plugins, WordPress once again takes the cake. Famed plugins like All-In-One SEO, Yoast, and others allow non-developers to proactively manage a variety of important SEO settings. Some of these include
Title tags
Meta descriptions
Sitemap.xml
Robots.txt
Indexation
Etc
For small businesses looking for an edge on their competition in SEO, one of those WordPress plugins allows for that capability.
Plugins built for Joomla SEO management simply aren't as robust. EFSEO or Quix can help with some of the same functionalities mentioned above but aren't nearly as time-efficient and beginners likely will need more time to understand the technical aspects that WordPress plugins make simple
Conclusion
Just because the majority of websites are using WordPress does not mean that it is a "one-size-fits-all" solution. Here are the reasons a small business may want to invest in something other than a WordPress site.
You need really advanced user controls (Joomlas excels at this)
Multilingual Support built-in (WordPress can do this via plugins, but Joomla's core is built around it)
You are a smaller eCommerce company (Shopify usually comes out cheaper/easier to use than WordPress)
You need to display non-standard content types (consider a custom site)
With that said, the vast majority of small businesses should definitely look to use WordPress. It offers the simplest way to manage a website for a non-developer. Most small businesses cannot afford a full-time developer or even want to pay a developer rate in order to make small changes to their website. Nor should they, which is why WordPress websites are almost always the most cost-effective way to manage a website efficiently using staff on hand or a fantastic agency partner experienced in WordPress development.
At Oozle Media we firmly believe that the right thing for our clients is that they can take full ownership of their own website and anyone on their team can know how to make simple edits. That is why we've created an extremely user-friendly backend built on years of experience and provide full training upon completion of the site. The backend build is just as important as having a fantastic frontend built with SEO and CRO in mind.
Sources
https://www.hostinger.com/tutorials/joomla-vs-wordpress