Utah's Most Admired Business? CAST YOUR VOTE & WIN TODAY!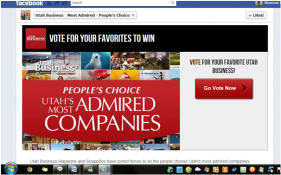 Utah Business Magazine just launched an exciting new contest: People's Choice Utah's Most Admired Companies. The contest was created and is powered by Oozle's new sister company, Soappbox.
You can vote for your favorite Utah based companies and they will thank their loyal fans by giving away over $90,000 worth of prizes! All you have to do is click the link below, vote & win:
Utah's Most Admired Business? Cast your votes today!
CONTEST DETAILS:
Winners: Outside of winning and being advertised on the Front Cover of the July edition of Utah Business Magazine, we expect all participating companies to receive a great boost to their FB fan base.
Contest details: Only Utah companies were eligible to enroll and will compete in a Division with other companies that have a similar "Social Reach". For this contest, "Social Reach" is determined by the number of employees of the company as well as Facebook Fan Base. Participating companies should get creative and use all resources to rally their fans to Vote.
Overall goal: The overall goal is to create brand awareness for your company and grow your Facebook Business Page Fan Base. This is an opportunity to get in front of thousands of voters and show that you're a cool and relevant company that appreciates your loyal fans. We suggest offering a prize(s) to employees and/or fans to encourage them to participate and spread the word, but this is not mandatory.
Top prize: Companies that win their Divisions (receive the most votes) will receive recognition inside of UB Magazine's July issue and one company will be featured on the Front Cover.
The contest began today at noon and will end on Thursday, May 31. Cast your votes today and win!