Oozle Media President to Speak at the 2012 Great Salt Lake Business Expo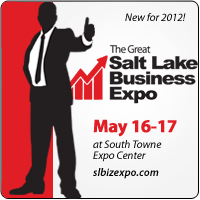 We know you're all dying for a chance to meet our fun loving President, Mr. Scotty Linford, in person. Seriously, who could not love this face? Plus, he's one of the most creative guys in the Social Media Arena. Lucky for you he'll be speaking at this year's Great Salt Lake Business Expo on May 16th at the South Towne Expo Center (Social Media Application Center) between 12-3pm. The topic? How to Monetize Facebook!
What The Great Salt Lake Business Expo is all about:
The Great Salt Lake Business Expo is Utah's premiere business-to-business event. As a renewal of the full-service 2-day Business Expo the show expects to draw between 7-10,000 quality attendees.
Hundreds of Utah's top businesses on exhibit, national keynotes and award luncheons, Exhibitor Connector Breakfast events, food from Utah's Best of State restaurant winners, 1000's of great connections and much more . It's all about getting in front of the right crowd and making connections tht can make a world of difference in business.
"We think it takes more than an e-mail, a tweet or a Facebook page to make success happen. Call us crazy, but business is still done through people you know and like," The Great Salt Lake Business Expo.
Admission is only $5 at the door or free with a ticket from top businesses.
For more information check out: www.slbizexpo.com. We hope to see you there!