Is EdgeRank Holding Back Your Company Facebook Page?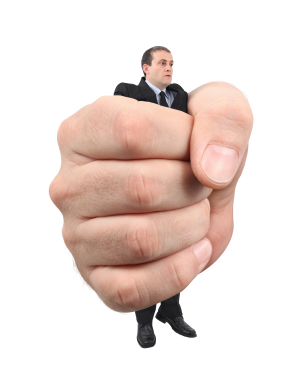 Do you find yourself making constant posts to your company Facebook page without much feedback?
Does it seem like there are less people in your news feed than ever before, even though your list of Facebook fans is growing?
Don't worry, it's not necessarily that what you have to say is boring.  Of course, your company content must be stimulating.  But, if you've never heard of Facebook's EdgeRank and haven't established an EdgeRank Plan of Action, more than likely this is what's holding you back.
What's EdgeRank?
In case you haven't noticed, there are now TWO settings on your Facebook news feed:
Most Recent which shows chronological order of content published by your friends/fans.
Top News which filters content based on EdgeRank and this is Facebook's default setting. In order to appear in a fan/friends Top News feed, you must have a high EdgeRank.
EdgeRank provides every status update, link, photo, video, etc., posted on Facebook with a rank.  This rank determines if it will show up in a user's personal Top News feed.  High ranking posts show up in your 'Top News' feed and low ranking posts may not even show up at all.
A Facebook rank (or EdgeRank) is based on three factors:
Affinity/relationship–this depends on how many interactions you've had with an individual friend/fan.  If you visit someone's page or comment on their posts, they will show up in your Top News more often and vice versa.  Keep in mind that you cannot increase the affinity score for someone else by clicking on their individual posts. A fan must visit your company page for you to show up in their Top News feed.
Interaction —all interactions on Facebook are weighed differently. Activities that require higher levels of user engagement get a higher score than those that don't. For example, commenting on photos takes more effort than clicking the "Like" button.
Timeline-— yesterday's news is always old news.  So, newer objects have a better chance of showing up than older ones.
Why is EdgeRank so important for businesses?
Business owner's looking to promote their services/products via Facebook need to know what they're dealing with.  If you don't understand how EdgeRank works, your fans will be less likely to see your promotional content, period. What your Facebook company page needs is an EdgeRank Plan of Action.
Your EdgeRank Plan of Action:
Publish objects that encourage click-throughs and conversations. Example: Pop quizzes, contests, giveaways, corporate videos, etc.
Create a forum. Since people love to debate and discuss it's a great idea to turn your fan page into a place for constructive discussion on hot industry topics.  Ex: Surveys, Q&A's, etc.
Personalize photos and videos. Add a comment to every photo and image you upload.  This is a sure way to stimulate conversation around these and obtain more views.
Share links! Link back to your website as often as you can. You can also share related promotional content that gets fans excited about your brand, services, and products.  Encourage users to leave comments.
Keep it interesting. Just like social media, hot topics are changing every day.  Make sure your content include the hot topics in your industry in order to stay relevant with your fans.
Here's an example of a successful post we recently created for one of our clients.  It stimulated interaction around their 'first summer giveaway' :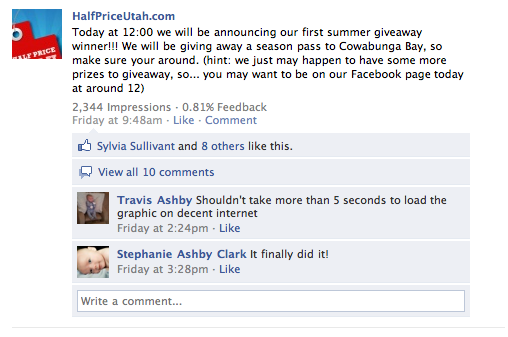 Keep in mind, that it can take awhile for your company Facebook page to gain momentum! Of course, you can speed up the process by hiring Oozle Media. After all, we are your Utah social media experts!