How to "WIN" Internet Popularity like Charlie Sheen without Going to Jail
Can you guess what some of the two most popular searched web images were last week? Pictures of the mayhem in Libya? The earthquake in Japan? No. The first is a picture of Charlie Sheen waving a machete and the second? Charlie Sheen chugging on a can of Tiger's Blood (not the real stuff mind you, but the brand).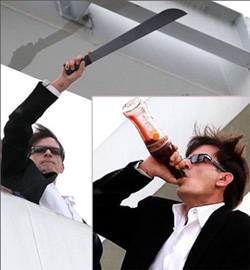 These images are truly life changing, right?
Of course not, but they're extremely popular and in just a span of two weeks Charlie Sheen has not only managed to land  interviews on 20/20, Good Morning America and ABC, he's also broken a WORLD record for gaining the most followers on Twitter in just 24 hours (over 1 million!).
It's rumored that even McDonald's is attempting to jump on the Crazy Sheen Bandwagon as they plan to introduce a new burger called the McWinning (see their Twitter feed if you don't believe us!).
How do business owners create the Charlie Sheen effect without destroying their reputation?
Every smart business owner wants the kind of online popularity that Charlie Sheen just keeps on "winning".  They just don't want to have to wave around a machete, or lose custody of their children in order to do it.  So, the question is how do you do it without ruining your reputation?
It's easy, actually.  Just follow these 5 steps:
Stop being a loser. Look, the internet is just like high school and Google is the Most Popular Kid in School.  If Google likes you, then you no longer have to worry about getting stuffed in your locker and you get to hang out with the 'it' crowd.  If Google doesn't then you're doomed for Loserville.   Hey, we didn't make the rules.  That's just the way it works in high school and that's exactly the way it works with internet traffic. The point is: in order to gain web traffic you have to hang out with the popular crowd and have lots of friends.  How do you do this? See step #2.
Make cool friends. Any company that's serious about online branding must hire an internet marketing PR firm to manage their image and build relationships with the 'cool' people.  Building a fan base requires a variety of search marketing tactics including blogging, link building, conversions, keyword research, etc.  Only an expert internet marketing firm will know how to do this.
Get a serious makeover. So, you've made some friends and word of mouth has brought more cool people to your site.  How do you plan on keeping them there if your website design is so hideous its scares people away, or your content is so boring that it puts your audience into a comma?  Proper web design is crucial in attracting 'friends' and keeping them from bouncing off your site.
Become a jock on a winning team. Look, sports are a big deal all over the world and so if you're not in the game you're missing out on a lot of action.  Just like the rest of the world, when it comes to the internet not only do you have to get involved with athletics, you also have to join the right team.  This is because generating immediate web traffic (or goals) requires a Pay-per-click (PPC) Campaign.  However, in order to make a goal it's vital that you hire a PPC Company that cares if you score (a score in the internet world is turning a kick, we mean click, into a conversion).  The problem is many PPC companies don't give a rat's behind if these clicks don't convert into a phone call, subscription, Facebook 'Like', etc.  An expert PPC Manager will bid on relevant keywords, create ads for these searches in engines like Google, Yahoo, Bing and Facebook, and then send this traffic to relevant landing pages that convert.
Stop avoiding places where the Cool Kids hang out. Ok, we get it.  All you older folk barely know how to text message, so we understand why you're so resistant to join the younger generations on Facebook, Twitter and YouTube.   Well, here's some news: there are more than a billion people on Facebook and Twitter combined, and they aren't just young teenagers updating their status about their personal heartaches.  They are real, legit companies that get that Social Media is the key to building personal relationships with consumers.   Think about it: how can you make more friends if you aren't social?
Quick Summary:
So, if you want to be the next Charlie Sheen without all the drama all you have to do is: stop being a Loser (establish a SEO Campaign), make friends with the cool kids (hire an Internet PR Marketing Firm), get a serious makeover (rethink your web development strategy), get involved in sports (PPC Campaign Management!) and stop being stubborn when it comes to Social Media.
If you want to get GOOGLED you have to get OOZLED first.  At Oozle Media, we can handle all your SEO, PPC, Social Media, and Web Development needs.  So contact us, your reputable Utah web development firm, today!