How to Take Groupon's Popular Advertising Approach & Make it Work for Your Business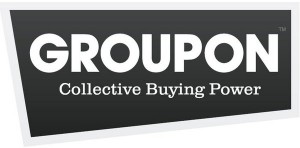 Is it safe to say that if you don't know what Groupon is you have some serious social problems?
Well, here's a quick recap in case you're out of the loop:  Groupon is a deal-of-the-day website that negotiates huge discounts—usually 50-90% off—with local businesses.  The deals are sent to thousands of email subscribers each day which brings in large amounts of new customers/money for local businesses in a short period of time.
Billion dollar company
According to Forbes Magazine, Groupon is "projecting that the company is on pace to make $1 billion in sales faster than any other business, ever". This is a pretty amazing feat to say the least. The good news for business owners is that Groupon's advertising methodology is actually quite simple.  Therefore, you can easily use it in your own marketing campaigns with remarkable Groupon- like- results.
8 key components to Groupon's success
As Groupon's popularity continues to explode around the world consumers are becoming more and more familiar with the company's distinct advertising approach and you know what? They like it! Why? Because their ads have the eight key components that consumers can't resist:
Urgency
Great deals
Limited time
Great value
Exclusivity
Instant access
Easy purchase
Daily opportunities
Oozle Media Case Study
Given the success and simplicity of Groupon's approach we decided to take these 8 characteristics and incorporate them into a deeply discounted deal for one of our clients.  We posted the offer on our client's website, various social media outlets, squeeze pages, and in an email blast.   The results were remarkable:
187 purchases in five days
$16,830 in revenue
561% increase in revenue
593% increase in products sold
Where did the money come from?
Email Blast
2,646 Sent
1,327 Opened
659 Clicks to advertisement
Average Order: $90.00
20 purchases from email blast
Search Engines
Google (organic)  – 59%
Direct – 23.48%
Bing (organic) – 3.92$
Google (Paid Search) – 3.65%
Yahoo (Organic) – 2.99%
It's all about the money.
Look, we're all trying to survive in this difficult economy and believe it or not we actually care if your business succeeds. Small businesses are a big part of every community and we've got to help each other stay alive.  Luckily, we're experts in a variety of skills that will keep your business relevant: search marketing, paid search, web design, social media and call tracking.
We track all of our marketing activities to ensure your allocating your advertising budgets to the campaigns that are giving you the best return on your dollar.  Plus, our contracts are month by month.   What have you got to lose? We're your Utah social media experts! GET OOZLED TODAY!