Fun and Games at the 2012 Oozle Kick-Off Event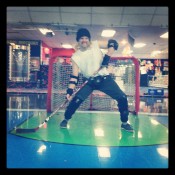 Heart-pounding action and edge of your seat suspense as two sides face off against each other. No, this isn't something from the newest Hollywood thriller. Instead, it's just a typical scene from Oozle Media's 2012 Kick-Off Event.
Roller hockey and kart racing, oh my!
As a part of the event to celebrate our success and to plan for the upcoming year, Oozle's Team Scott (Linford, President) and Team Travis (Ashby, CEO) challenged each other in two intense and dramatic games of roller hockey. It was an exciting experience—there were a lot of crashes, and many points at which it could have gone either way. Ultimately, however, Team Travis just couldn't stand up to the sheer power of Team Scott.
After the games, everyone went kart racing.
If it wasn't already clear, at Oozle Media, Utah's web development experts, we place a lot of value on having fun. We believe that it's important to have a good balance of fun and hard work—and, when possible, we like to combine the two.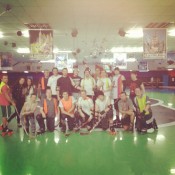 Oozle is excited about the future
To cap off the day, everyone got together for an inspiring and motivational discussion about Oozle's direction for the upcoming year. We established goals for 2012, and created plans to help us fulfill them. We are growing rapidly, and last week we moved into a new and bigger office that can better fit the needs of our rapidly expanding team. Additionally, we recently hired a ton of new people, including a CFO as well as an official sales team.
At Oozle, we are super excited about our future, and our plans for 2012 reflect our optimism. We know that with our incredible team we can meet and exceed all the goals we have created for ourselves.
All in all, our 2012 Kick-Off Event was fun, inspiring, and productive—in other words, it was just another day on the job for the team at Oozle Media, your experts in Utah web development.
-Tim Crain