Marketing Guru,Scott Chynoweth Linford, Speaks at Salt Lake Chamber Today
If you've never had the privilege of being bullied by Oozle Media's trash talking, Foosball lovin' CEO, Scott Chynoweth Linford,  then you're in luck!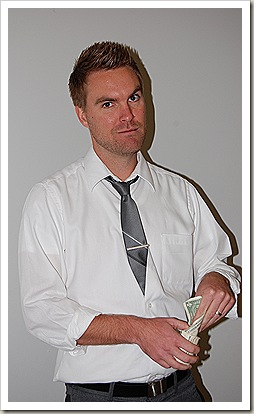 Today, Scott is speaking on How to Make Facebook Profitable at the Salt Lake Chamber, from 3-5pm.  Trust us, he's a marketing genius and you won't want to miss out!
Where: Salt Lake Chamber, Eccles Room
175 East 400 South (University Blvd)
Salt Lake City, UT 84111
Suite #600
Cost: $10 per person and yes, door registrations are welcome!
Who is Scott Chynoweth Linford & why is he such a rock star?
Scott Chynoweth Linford was born in 1980, which is the exact same year that a US hockey team full of amateur players took home the gold at the Winter Olympics in Lake Placid, New York. He thinks this signifies that he was destined for greatness and his Oozle staff definitely agrees!
He's the master mind behind Oozle Media and Half Price Utah:
Scott is co-owner of the internet marketing firm, Oozle Media, which after just three years is now a million dollar company. Oozle Media has over 150 clients, locally and nationwide, and has grown substantially each year, with a remarkable client retention rate.
In 2011, Scott and his Oozle partner, Travis Ashby, created Half Price Utah.com which is an aggregated Utah based daily deals website that will also offer exclusive deals. Within just a couple of months the company's Facebook page is already a huge success, with over 40,000+ "Likes".   At the Chamber event today, Scott will discuss Half Price Utah's remarkable social media success.
Fun Facts About Scotty:
He likes to charge his employees 50 cents for lying. However, his staff has yet to ever pay up.
When it comes to Foosball, he can be a pretty aggressive bully (this must mean he was bullied as a child. Poor little Scotty).
He's a very talented Foosball player, probably even the best of the Oozle Crew (sorry Chris and Travis).
He's known amongst his colleagues and friends as a captivating speaker, a hard working and honest salesman, and an innovative business leader.
Scott mastered his unique sales approach while starting his own business at a young age.
He graduated from Suit University (ever heard of it?) and as a result is quite the Fashion Guru.
While selling print and online advertising for a Nationwide Yellow Page company in Salt Lake City, Scott became one of the top salesmen and established a client base of 300 businesses.
Scott is an devoted triathlete, however he usually loses to his brother Chris.  This is a touchy subject, so please, if you ever meet him DO NOT bring this up.
Scott is your Utah social media expert.  GET OOZLED TODAY!