BREAKING NEWS: Oozle Media Named a 2011 Utah Business Emerging Eight Company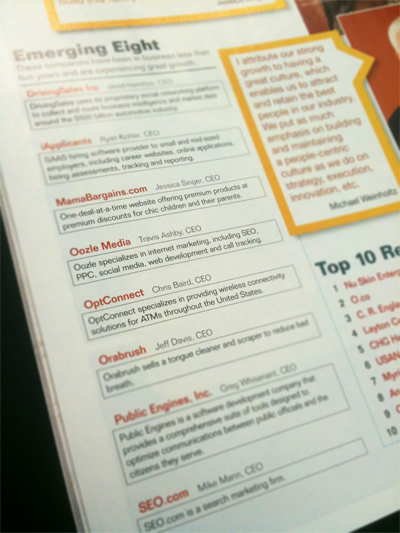 We're pleased to announce that Oozle Media has been named a Utah Business Emerging Eight company. The Emerging Eight program highlights eight of Utah's fastest-growing companies that have been doing business for less than five years. Congratulations to Oozle for this great accomplishment!
Oozle will be highlighted in Utah Business magazine's September issue. For the article, they will interview the Oozle CEO covering the company's biggest success, reasons for such strong growth, plans for the future, and more. This interview will be filmed and presented during a luncheon in honor of the company, along with the other fast-growing organizations. The event will also cover the Utah Business 2011 Fast 50.
Come join us for the celebration!!
When: Thursday, August 25, 2011
Time: Reception: 11:00 a.m. to 12:00 p.m.
Luncheon and awards program: 12:00 p.m. to 1:30 p.m.
Where: The Grand America Hotel
Imperial Ballroom
555 South Main St
Salt Lake City, UT 84111
Cost: Individual tickets – $75.00
Table sponsorships – $1,500.00 (Table for 10 in a prime location, event signage, inclusion in the event video program and printed program.)
This event will sell out so register early!!!
Congratulations again Team Oozle!!! Want to see what all the hype is about? Get Oozled today!!!