BREAKING NEWS: Oozle Media CEO Named one of Utah Business Magazine's 2012 Forty Under 40.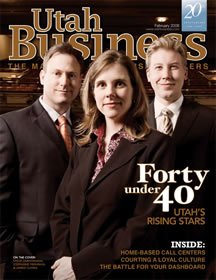 We're honored and excited to announce that our very own CEO, Scott Linford, is a Utah Business Forty Under 40 Award Winner! This is a highly selective annual recognition program that will be featured in the February issue of the magazine.
This program recognizes honorees that dramatize the state's thriving business community in a category called "Forty Under 40"—young professionals deemed "visionaries, innovators, and leaders." Utah Business will also host an awards luncheon on February 29th at the Grand America Hotel for all 40 recipients and guests.
This means that officially, Scott Linford is now considered one of Utah's "rising stars" in business. But of course, he was always a star in the hearts of his staff! Just ask any Oozle employee and they will rave about his kindness, compassion, and loyalty. He is also known for his passion for business and the internet marketing world, his amazing sense of style, and he is considered a "creative genius" amongst his colleagues and friends.
Keep up the great work, Scott! We know this is the first of many awards to come! Also, this is just one more reason that proves we are your Utah Internet Marketing experts! GET OOZLED today!