CONTEST DETAILS: Wanna Be Utah's Most Admired Business?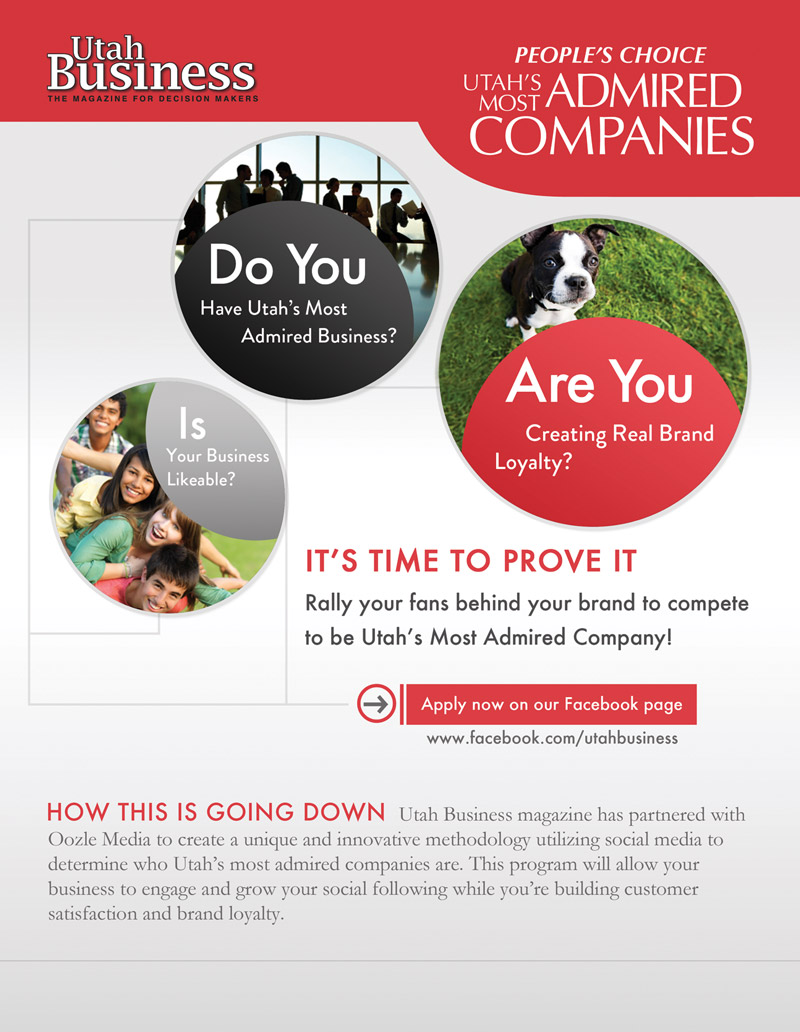 Utah Business magazine and Oozle Media are joining together to find Utah's most admired company. The contest has been created in order to recognize Utah's most liked business and to encourage businesses to make themselves more well-known through various social media tools.
The competition aims to amplify Utah's businesses and, in the long run, Utah's economy. The contest will be judged using a system that accounts for each competing company's recognition on various social media websites.
How does a company gain online recognition and likability? One way is by finding, rewarding, and educating people who are referred to as "brand advocates," or people who speak out about products, services, and companies that they enjoyed by using blogs, Facebook, Twitter, Pinterest, email, or alternative social media venues without monetary compensation.
First, when it comes to brand advocates, find people who are already recommending your company. They are a company's biggest fans on Facebook who post on businesses' walls frequently, the tweeters who constantly tag their favorite companies in tweets, and the bloggers who take it upon themselves to review products of their choice.
Once brand advocates are found, recognize and commend them. Tell fans, followers, and bloggers how much they are appreciated and reward their actions with incentives and awards, which can include gifting products, recognizing a fan as Fan of the Week, offering discounts, or giving out special coupons in thanks to those who are the most active advocates for your business.
The last step in increasing online recognition through customers is to educate brand advocates. Focus on letting your most loyal consumers know when special deals are available, when new products or services are being introduced, and when current product revisions are happening. Brand advocates will appreciate the information and will be more informed when they share it with friends and family.
Finding, rewarding, and educating brand advocates are just some of the ways to boost your company's chances of becoming Utah's most admired company. It is a useful method because the competition is judged on the amount of recognition and acclaim a business is receiving through social media websites, and brand advocates usually find that using the internet to recommend their favorite products is the easiest and most useful method. At Oozle, we're your Utah social media experts and it's time for you to get in the game!
The applications for Utah Business magazine's competition are due on March 31st. You can apply on Facebook at facebook.com/utahbusiness. Winners will be announced on June 30th, after a public voting process.
–Kassandra Konecny