7 really, really important internet marketing tips
There are so many websites out there offering "super important internet marketing tips", and it can be hard to know which ones are key and which ones are  crap.  So, as your Utah internet marketing, web development, and social media experts, (and yes, we have numerous case studies to back this up), we put together this  list of critical internet marketing tips to help your small business get on the right track:
1. Establish clear goals. Of course, the ultimate goal of your website is to make money, but how do you plan on bringing in the dough? Do you know what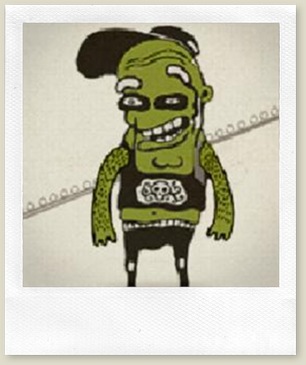 type of conversions you want? Have you established a specific end goal? What's your Plan of Action?
2. Measure your progress with call tracking and analytics. How do you plan to improve and expand if you don't know where the gaps are? Analytics allow you to track where your website visitors come from, how long they stay, and what they do on your site. Call tracking allows you to track which web page generated the call, how long the call lasted, where it came from, how great the conversation went, what the call was about, etc. The more specific information you know, the more successful you can become.
3. Know what your competition is up to. Every smart business owner will spend quality time researching their competition. What are their current offers? Which keywords do they use throughout their site? Once you've gained insight into their marketing strategy you'll want to try to get one step ahead.
4. Admit your current site is hideous (like the green guy on our right). Just like parents with a brand new baby, it can be hard to admit if your child is, well, ugly. Or maybe, you're both so deep in denial that you don't even realize how hideous the poor thing is. Hopefully, the child doesn't resemble the horrific looking green guy to our right.  If so, good luck with that one!
Keep in mind that the same goes for your website. If the design is unprofessional and visually chaotic you'll scare customers away before they can even research the great products/services you have to offer.  On top of this, denial will cause you to lose valuable customers. A good way to confront your denial is to have a professional web design company analyze your site and let you know where it stands.  Remember: a good web design is the first step in keeping prospects on your site long enough to learn about what you do.
5. Blog it up. What does Google love more than fresh and relevant content? Not much. Besides this, there are just too many reasons why every company needs to blog consistently,  including link building, and SEO opportunities.
6. Go Viral. Corporate videos (aka viral videos) are all the rage and creating something funny and unexpected is vital for every company that wants to stay relevant. It's the best way to humanize your brand (next to establishing a Facebook campaign) and gain visibility. Usually corporate videos are extremely expensive,  but we offer good quality ones for low price.
7. GET OOZLED A.S.A.P.
At Oozle Media, we offer all the vital internet marketing services listed above at affordable rates. Plus, our contracts are monthly and we are really, really ridiculously good looking. What have you got to lose, peeps?