Why Paid Search is like a Fast and Furious Game of Foosball (and How to Score in Both)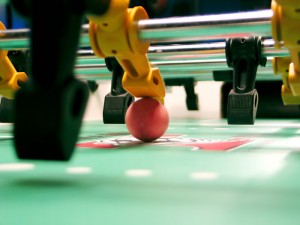 Here at Oozle Media, Foosball is strongly intertwined into our internet marketing world. In fact, we play so often some might even say we need a full on Foos intervention, but this is beside the point. We find that Foosball is a great way for both our CEOs and the "little people" to relax.  Also, during a game is when we are most inspired.
For instance, the other day while beating CEO, Scott Linford, with a very slick 'slap back', I realized how similar the game of foosball is to pay-per-click (aka paid search) marketing. What's paid search marketing?

Here's a fast and furious definition of PPC:
Pay-per-click (PPC) is a great way for businesses to generate immediate traffic. You hire a PPC Campaign Manager to bid on relevant keywords, create ads for these searches in engines like Google, Yahoo, Bing and Facebook, and then send this traffic to relevant landing pages that convert. You don't pay unless someone clicks on your ad; hence, pay-per-click!
How are PPC and Foosball similar?
In both 'games' it's all about scoring a goal. You already know what a score means in Foosball. In the world of PPC it means scoring a conversion after the kick, we mean click. A conversion can be any number of things, such as getting you a phone call, online chat, subscription, sell, etc.

You win by following the rules.
In any sport, in order to score an acceptable goal you have to play by the rules. Luckily, the rules for foosball are very similar to the rules for PPC. So, by the end of this blog you should know how to win at both, that is unless you have a disorder of some kind (I'm kidding!).

Official Foosball and PPC rules:
Rule #1: NO SPINNING. This rule is probably the most important in both 'sports'. The reason for this is that in Foosball spinning actually damages the table, and any points made by a spin are considered lucky and non strategic. With PPC, the same rules apply. If you hire a PPC company that doesn't care about conversions and is just randomly trying to spin traffic to your website with no end result in mind it's kind of pointless, right? Point blank, you need to have a strategy!
Rule #2: EXTRA POINTS FOR A CLEAN SCORE. A clean score in Foosball occurs when the ball doesn't hit anything in between leaving the attacking player and entering the goal. With paid search, a clean score can be considered scoring a conversion without playing multiple guessing games about how to do so. This can be done with numerous marketing techniques, such as call tracking and keyword research. The more research you do the more likely you are to gain leads from each click.
Rule #3: NO TRASH TALKING. I have to admit that in our office, this rule has never applied. But that's because we like it that way. However, in the rest of the world trash talking is absolutely not allowed. Why? It's unprofessional. Professionalism is also key for PPC. If you hire a PPC company that doesn't know what they're doing, or care if you score conversions you're in big trouble because web traffic doesn't necessarily translate into leads. You need a PPC company whose number #1 goal is to build your bottom line by getting potential clients to take action.
Rule #4: AGAIN, NO SPINNING. I had to repeat this because it's such an important rule. Whether you're playing against a spinner or you are one you'll end up losing. No question about it. If you're attempting a paid search campaign without a specific strategy in mind you're 'shooting from the hip', or 'throwing mud at the wall'. This isn't a strategy; it's a waste of time.
At Oozle Media, when we shoot, you score! Also, we won't steal your money. We offer month by month pricing so you don't have to worry about getting stuck in a contract, and we never take a percentage of what you spend on your ads. The search engines will bill you directly! (Keep in mind that most companies will take a percentage of this—and that's exactly why you need us!) GET OOZLED by the Utah PPC experts!