Top 6 Things To Build Your B2C Digital Marketing Strategy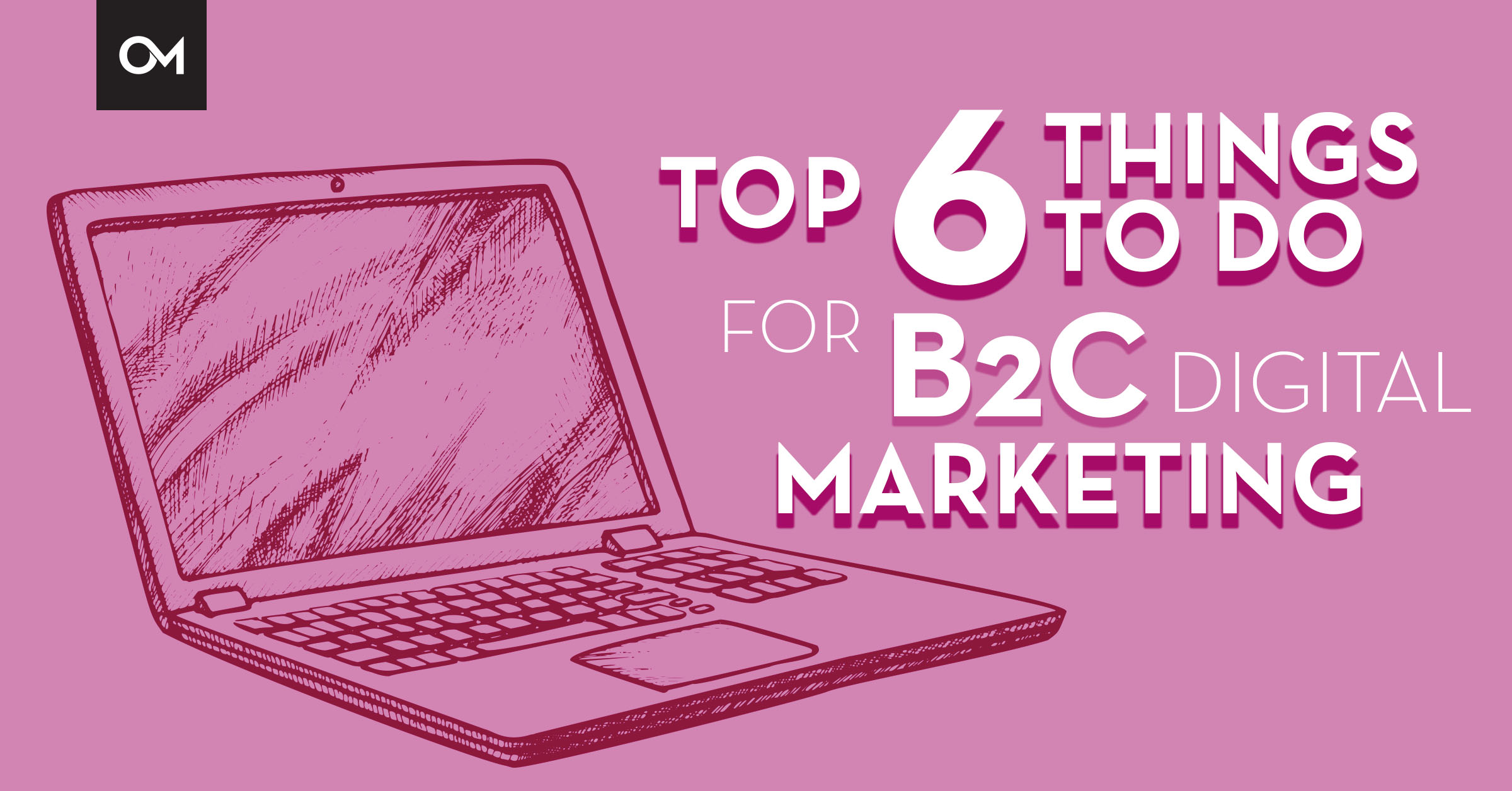 Getting into the digital marketing game can be stressful, there are so many things to learn and so many things that you could do. This guide will give the right order to maximize your time and bring revenue to the business.
If you want to take control of your marketing and brand presence online, you have to know where to start. In general, the best place to start is the bottom and work your way up.
The bottom, in this case, refers to the bottom of the marketing funnel, or the part of your website, content, SEO tactics, or something else that drives someone to take an action to contact you.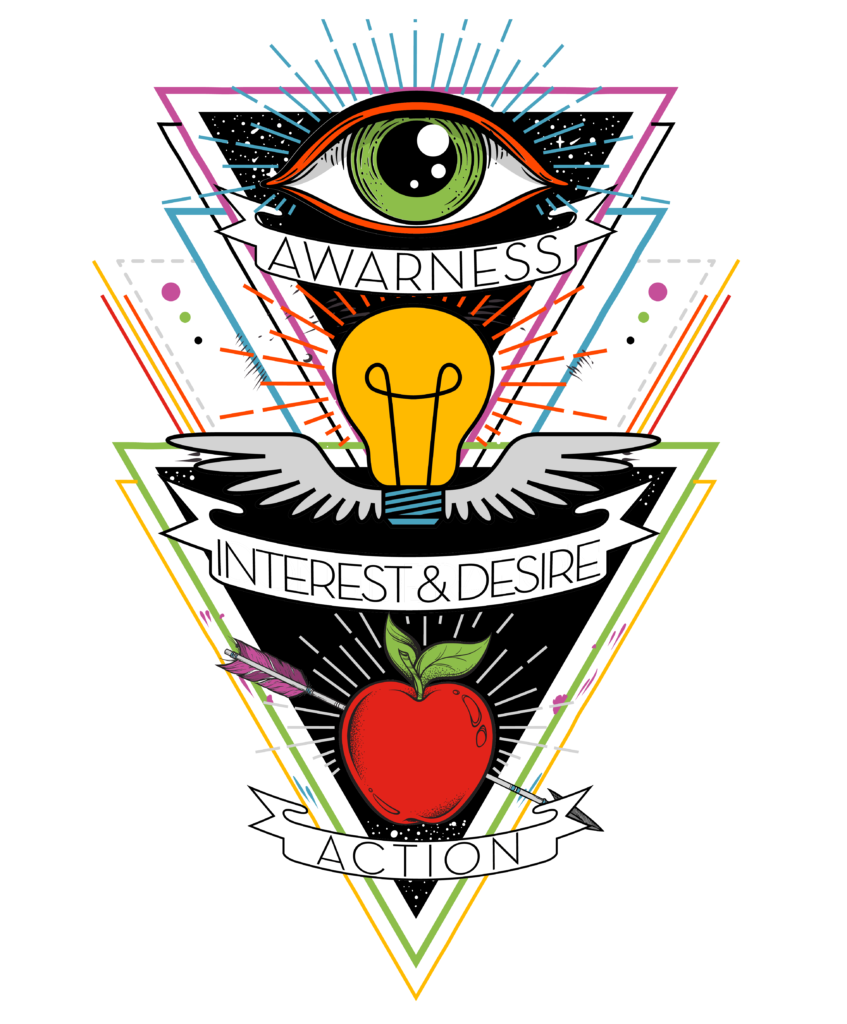 Working from the bottom up allows you to make improvements that impact your bottom line the most because it focuses on the people who are ready to do business with you. There is more than getting a phone call or seeing a form lead to make money.
Good marketing should also help lead that person from the initial contact to a great sales process once someone does contact you. Getting them to contact you is the first step, and you need to make that process as seamless and straightforward as possible.
Think of your marketing strategy like a bucket of water and the people who interact with your brand as the water: if you have a hole in the bottom of your bucket, you'll never get any water in that bucket. If that hole is closer to the top of the bucket you can at least get some water in there, even if you don't fully fill up your bucket.
At Oozle Media, our method follows a four-phase process to prioritize the most important aspects of your business. The first of these two phases really dive into your business and start "plugging in the holes" of what may be missing.
Analysis & Planning Phase
In this initial phase, we take a critical look at each step of the marketing funnel and where that funnel is being executed. The audits we do allow us to:
Recognize problems with any current marketing assets and strategies
Get to know your business and your brand
Research any other potential SEO, social, or content strategies
Find "holes in the bucket", so to speak, that we can fix in the next phase
Set-up & Clean Up Phase
After executing phase one, we then create a custom marketing plan to go clean up the "holes in your bucket" and set your marketing up for success. Some of the strategies and tasks we typically do in phase two include:
Clean up any problems spotted in phase one
Set up any tracking systems that haven't been in place
Begin improving your top pages
Improve local SEO
These strategies and tasks are prioritized to have the most impact on your bottom line. We also focus your marketing strategy on getting customers in touch with your sales reps. No matter what type of B2C business you are, these are the top 6 things that have to be addressed to build a successful marketing strategy.
1. Conversion Pages & Forms
Making it possible for site visitors to contact your business should be your number one priority. If your forms don't work or the phone number isn't set up properly, then it doesn't matter what else you do because you won't be able to get business from leads.
Once your phone number and forms work, then improve the experience on your website where people may want to interact with those elements, like your contact page!
Contact pages in particular tend to lack a few things that can help a potential customer pull the trigger on contacting you. Make sure you have your phone, address, and a form on this page at the very top to start. But, you can also add more to it.
How To Make a Good Contact Us Page
You should consider adding certain elements to make it easy to call AND build trust with those who are thinking about calling you. These can include:
Relevant testimonials
Awards
Certifications
Picture of a salesperson
An expectation of how quickly you will respond
How To Create an Effective Contact Form
When putting a form on the contact us page, the number of form fields, the design of the form, and even the header and button text can improve your chances of someone filling out the form. Consider:
The length of the form, shorter is (usually) better
Getting enough information to verify it's a qualified lead and not spam, the remaining necessary information can happen during the sales process
If the form is mobile-friendly
If it leads to custom thank you page
Making sure tracking is properly set up
If leads are getting to the right person
While these considerations are critical on a contact us page, they are just as important on the homepage of your site as well as any service pages you might have. These pages also tend to play a role in the conversion process of a potential customer and you should have a way to convert and ought to consider similar elements to improve your conversion rate.
Read more: 4 Tips to Increase Your Website Conversions
2. Calls to Action (CTAs)
The next step to focus on are the words you are using to drive an action. What do the buttons on your forms say? "Submit"? "Learn more"? How about any of the words within the body of the site? If someone isn't clicking on your site's buttons, you could be missing out on leads on your site.
Every person who clicks on a CTA does a small cost-benefit analysis and has decided that the benefit (information or service they want) exceeds the cost (giving up time/personal info/potential future information).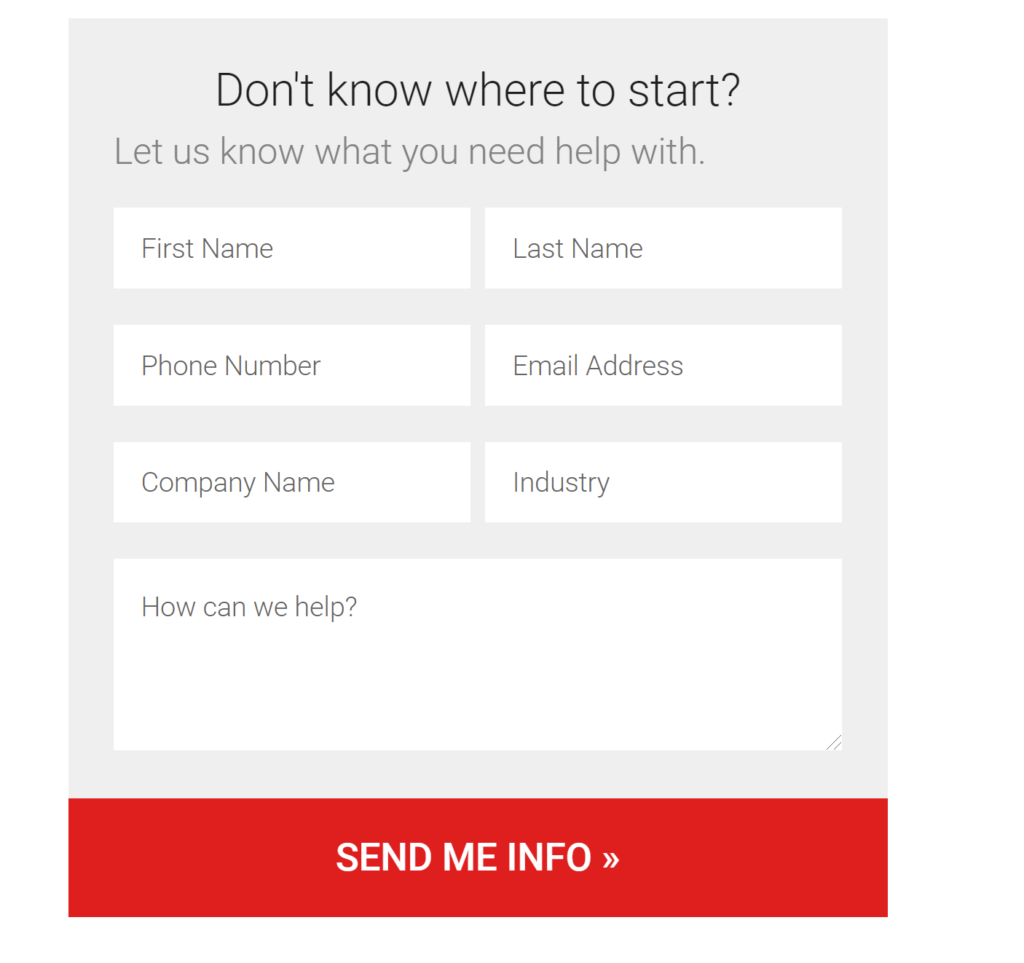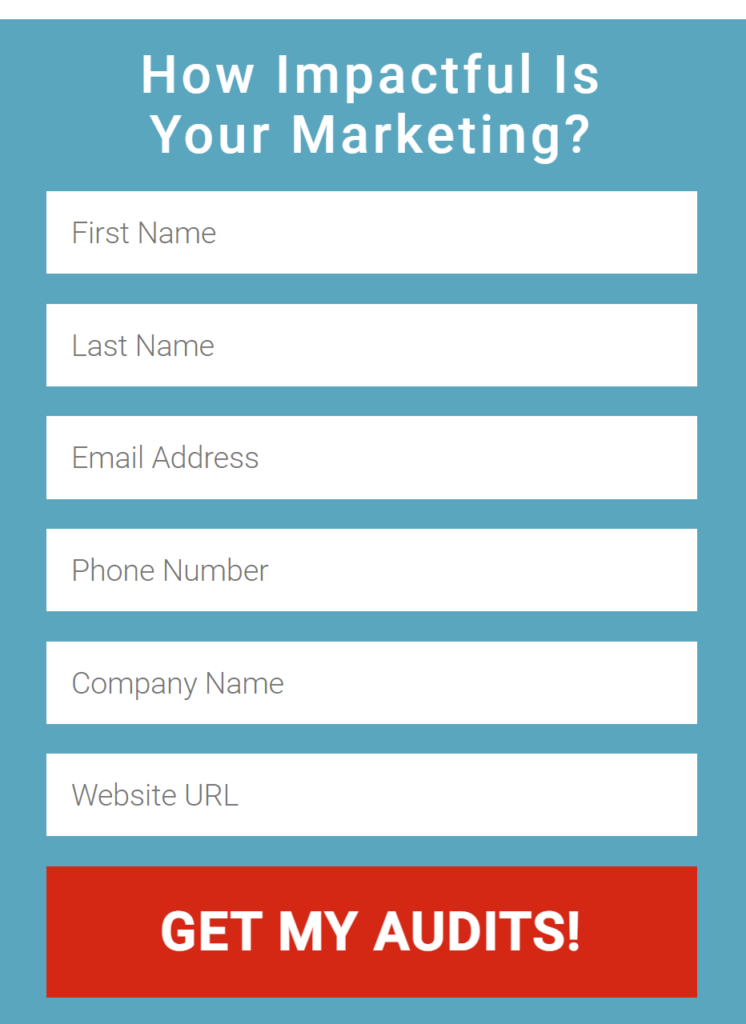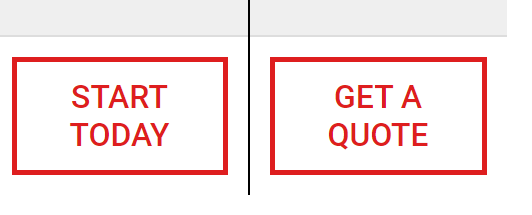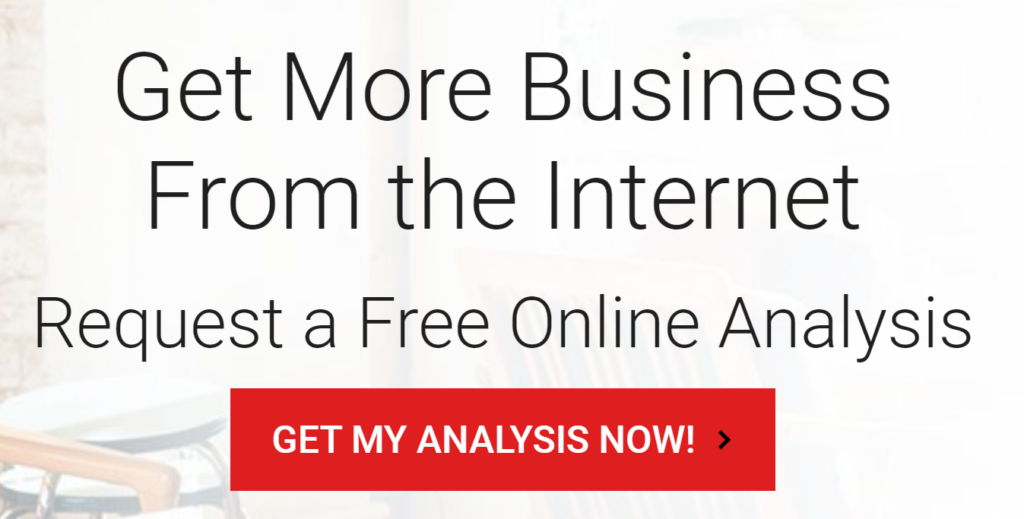 Your contact us page, paid ad landing pages, service pages, and home page should all work together to maximize the opportunity of a click.
According to Orbit Media, some recommendations to get your buttons to stick out on your website are:
Use action words
Use a contrasting color
Use first person instead of second person
Make it big enough to tap
3. Google Branded Search Engine Results Page (SERP)
We strongly believe that the first impression someone gets of your brand tends to be your branded SERP.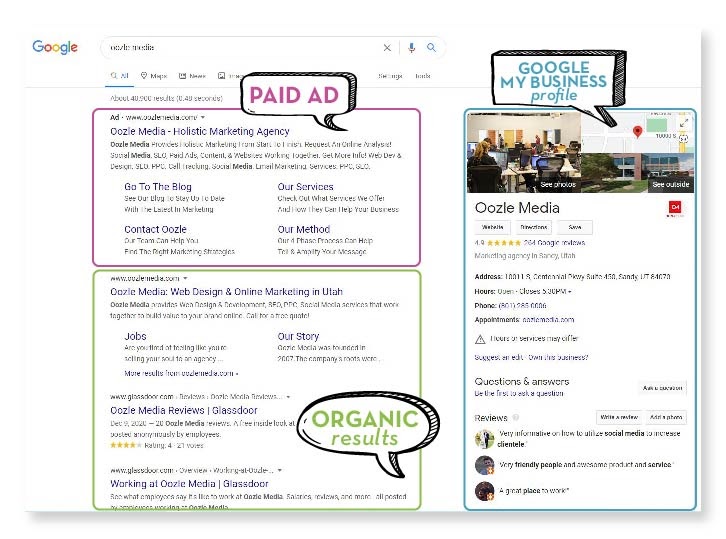 This is where most people who are unfamiliar with your business start their journey. Even people who are familiar with you will still type in your name as a keyword and then maybe go to your site. There are many places that someone could convert, right there on the SERP, primarily via a phone call, or if you have GMB messaging enabled it could be a message as well.
But even deeper than that, the conversion process can start right here, within this very search results page. People read your Google reviews, look at what your sitelinks and/or branded paid ad may look like, and start to make judgement calls before they even view you.
Are there other review websites showing up? You should do what you can to optimize those sites as well.
4. Service Pages
After you have your forms, CTAs, and branded SERP in order, you need to start paying attention to the actual content on your pages.
First, focus on the pages that are going to convert. Showcase what you have to offer and present that content in a way that convinces someone that your service or product is the answer to their problems. And, make sure there are clear actions someone can take on those pages once they're convinced your business is for them.
Depending on your industry, your most persuasive content may come in the form of service pages if you're in the dentistry, plumbing, or HVAC industry. If you're a beauty school, your program pages may be the most important. You should create a page focusing on each program, product, service, or offering that can be purchased.
What Makes a Strong Service Page?
The goal of a good service page is to showcase what you have to offer and why someone should choose you over a competitor. As part of the content and design, you should:
Use relevant keywords through data-driven research to showcase that your content/service is relevant to what the person is looking for
Explain the features and benefits someone would receive by spending their money or time on your business
Walk the prospect through what they should expect to happen when they purchase your product or service
Answer common questions or concerns someone might have that would stop them from purchasing your product or service
Build trust with social proof through reviews from actual clients or awards your business has earned
Make it as easy as possible for someone to take an action by creating obvious forms, buttons, or phone numbers throughout the page
You shouldn't focus on just writing blocks of text or copying content from websites in a similar industry. Instead, work with your web development team to build pages that provide a good user experience and present your product in a visual way. Include calls to action that stand out and inform people what's going to happen next.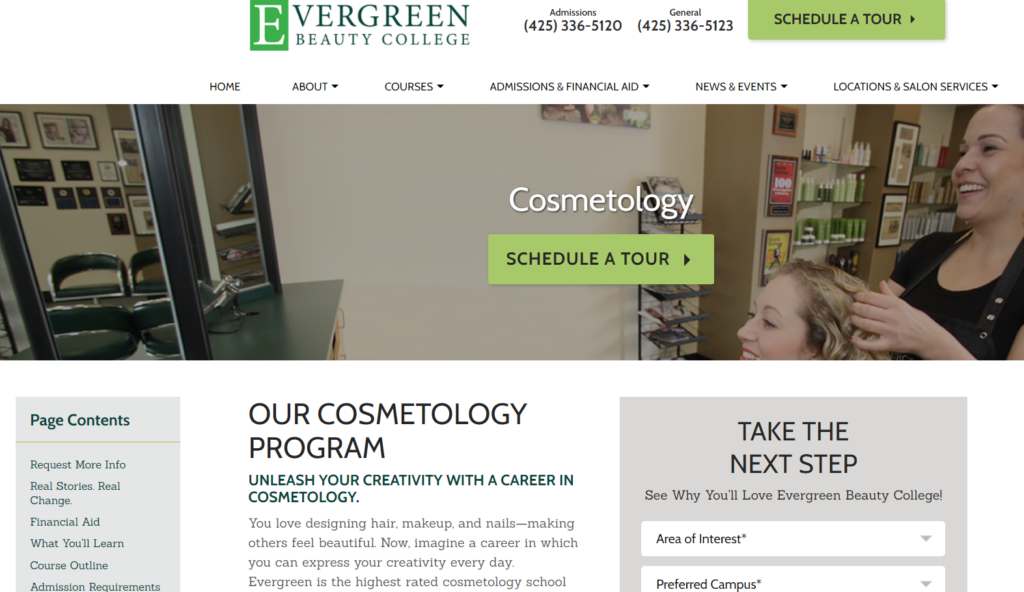 Track key metrics using tools like Google Analytics, Google Search Console, and Google Optimize or HotJar to determine how people are interacting with your page and find ways to encourage more people to contact your business through your page.
5. Home Page
What is the first thing you tend to do when you land on the homepage of a site? For most people it acts as the navigation hub. Most home page visitors don't scroll past the initial "fold" of the site and primarily look to go to other pages on your site.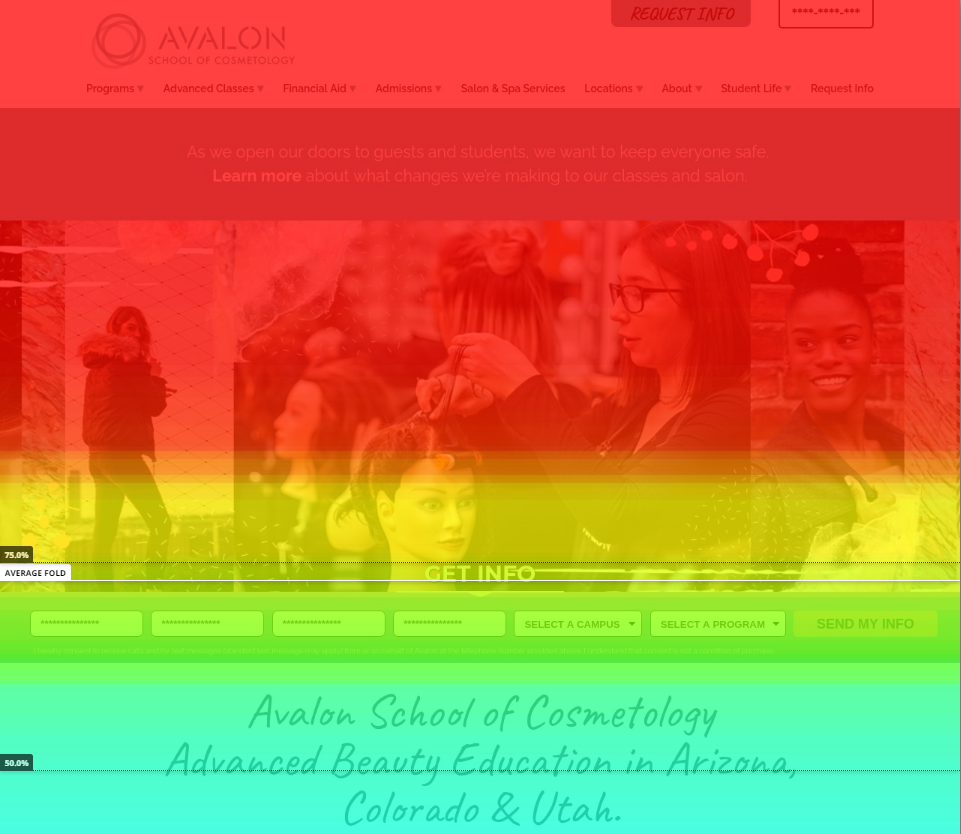 That said, you do have an opportunity to communicate with a potential customer quickly and succinctly. To do this, keep in mind a couple of core ideas.
First, make your header descriptive. If you were to tell someone in one sentence what you do, what would that be? For this client, it is a simple statement: Practical Beauty Training.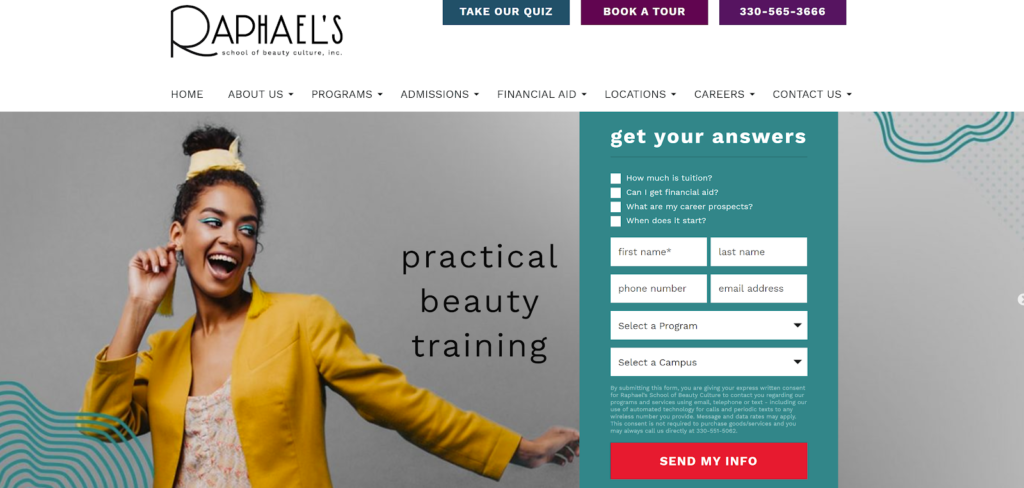 Second, tell the customer what you want them to do. In the example above, we have four things highlighted:
Send My Info
Take Our Quiz
Book A Tour
Phone Number
This dental group has a bit of a longer thought they want to convey two thoughts: Family Dentistry & Orthodontics, but also the key priority of: Friendly Service.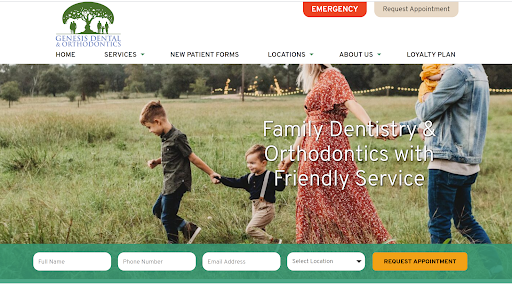 Their conversions that they want are:
People looking for emergency services
People looking to request an appointment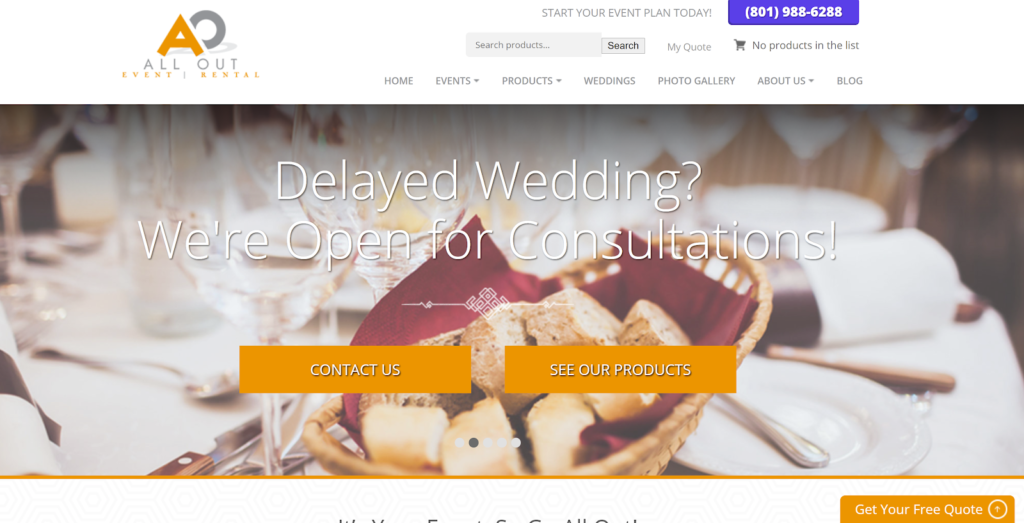 Finally, this company changed their header to something more relevant to the 2020 pandemic and then their CTAs are related to several different things, though this company could probably use a different color on a couple of those CTAs to stand out some more. The main CTAs are:
A Phone Number
Contact Us
See Our Products
Get Your Free Quote
This effect is two-fold. It clearly establishes what our end goal is for the customer to do and it provides an easy conversion opportunity for anyone returning to the site.
Read More: Website Conversion Rate Optimization
6. Foundational Blog Content
Now that most of your website is in good shape, it is time to start writing the key components of your SEO and top of the funnel strategy.
These pieces of content should be based in two key areas:
Keyword Research – Answering the questions potential customers search about your business
Sales Collateral – Answering the questions your sales people get during the sales process
Keyword Research
Keyword research drives SEO and answering questions helps Google's algorithms and users alike. Google at its core provides answers to their users and to do so, it sources those answers from websites. If your website provides the proverbial 'best' answer then you are likely to be the top result displayed.
Similarly. if you can be that final answer to the person's query, then you get the business, not just the superficial traffic. Blogging provides this outlet to put answers to questions people ask that are related to your question. You should take advantage of these blogs to then direct your website users to the product or service on your website that most matches up with the answer to their question.
Sales Collateral
Sales collateral pieces of content are articles that can live on your blog and be sent directly to prospects during the sales process. The audiences you target here can get very specific as these are people who are already asking the questions. Ask your sales team what the most common questions they are asked and create content that answers those questions. The goal of this content is to make the prospect say, "Wow, I didn't even consider that side of things! Y'all are certainly the best choice for x service!"
If you are ready to take the next step with Oozle Media, get a free analysis from one our specialists today by giving us a call or filling out the form below. We'd love to help you build your business and attract new customers.