Google My Business Messaging Feature Is Now on Desktop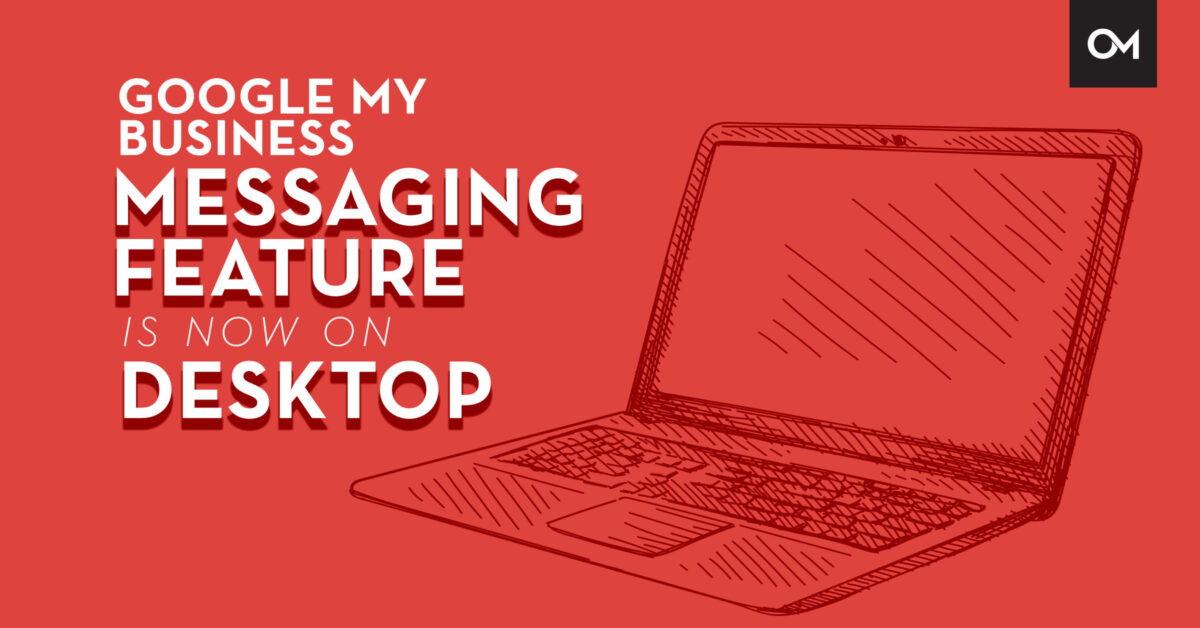 Google My Business is starting to roll out the messaging feature through the Google My Business desktop app. This feature has been available through the mobile app for a while, but Google has been rolling it out onto desktop and expects all businesses to have access to this feature by early March 2021.
By activating this feature on GMB you'll make it even easier for your customers to contact you without even needing to get to your website. They can message you directly through your GMB Profile.
If you want to make it easier for people to contact you, consider taking the time to activate and manage the messaging feature through Google My Business. The desktop app makes it much easier to manage responses through any device, not just your phone, and it's a free option for potential customers to get in touch with you!
Here's an overview of what this feature is and why you should consider adding it to your current Google My Business strategy.
What Is Google My Business's Messaging Feature?
Google My Business has offered a messaging feature specifically in the Google My Business app as an alternative way for potential customers to reach out to businesses without calling or visiting the business's website. It's essentially a text message, that comes in the form of a push notification, directly from the Google user to your business, which you can respond to in real-time through your Google My Business profile.
As part of this service, you can set up a custom welcome message when people message you. This custom message can let people know what to expect when they message you. And, you don't have to worry about missing the message, as Google will notify you when someone reaches out to your business.
Google has been pushing more and more ways for people to make purchases or schedule an appointment from the business without visiting the business's website, and this feature is no exception! If you get a lot of phone calls from potential customers asking about your business's hours, how to set an appointment, or the cost of your services, this becomes a viable option to provide that info to someone who genuinely wants to know.
How To Access and Use This Feature
Setting up the messaging feature is easy! First, log into your Google My Business profile, and look for a "Messages" tab on the side. If you aren't seeing "Messages," it's possible that it hasn't been implemented for your business yet, but it should be available for your business by early March 2021.
Turn on messaging through "Messaging settings."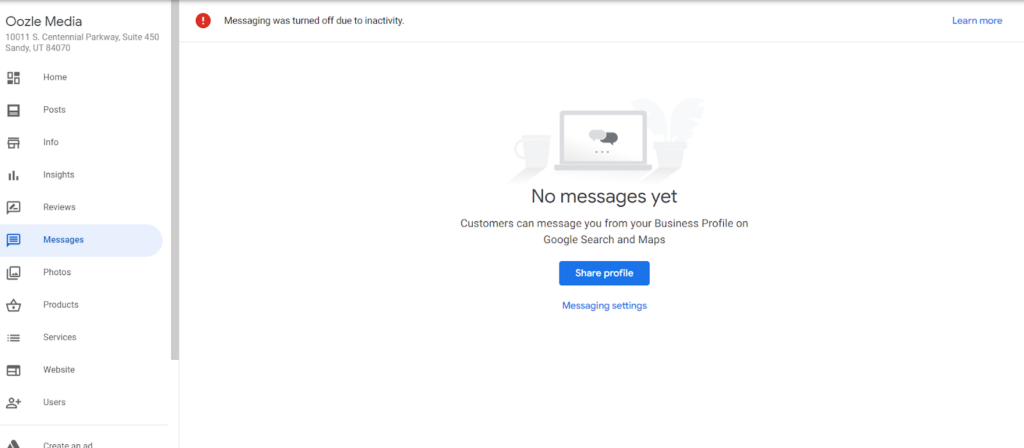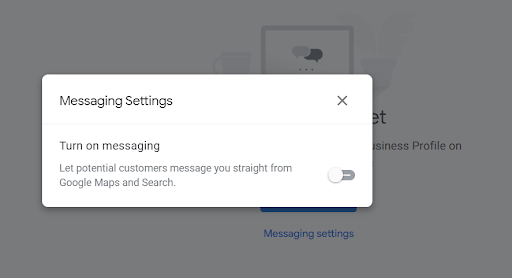 From there, you can turn on messaging, and adjust any other settings, like your custom auto-response, notifications, and more!
Once it's set up, there are a few things you should know about how to use the platform, what you should use it for, and some messaging best practices.
Google My Business Messaging Best Practices
1. Respond to All Messages Within 24 Hours
Google wants to provide a good experience to those who use this feature, so messaging is automatically turned off if your average response rate is longer than 24 hours. This means that you need to have someone regularly monitoring and responding to messages in your account.
Anyone with access to your Google My Business page can see and respond to messages, so consider adding the person who is in charge of handling your phone and email system to your Google My Business profile to manage messages, too.
Important note: If a message is spam, make sure to mark it as such. Blocking a message and marking it as spam does not count against your message response time. If you don't block it/mark it as spam, it will.
2. Follow Google's Messaging Guidelines
Google has created strict messaging guidelines to make sure that businesses don't create a bad experience through Google's platform. If you don't follow these regulations, your messaging feature will be turned off by Google.
The messaging system is not done through a private system, so don't ask potential customers to send sensitive information through Google My Business's messaging feature, including:
Credit card numbers
Social Security Number
Login credentials
You also shouldn't use it to advertise services or products unrelated to what the person messaged about originally. This includes aggressively selling your services or repeatedly sending messages to someone without receiving a response.
Some other key guidelines are:
Don't claim to be someone else or impersonate a business.
Don't post inappropriate content that harrasses users or promotes hate
Don't spam users with repeated messages
Don't use messaging to engage in or promote illegal or terrorist acts
Refusing to follow these guidelines will get your messaging feature revoked.
2. Consider Creating Templated Messages To Save Time and Money
It can be a lot of work to respond to each message one by one. That's why you should create templates for messages for the one managing your Google My Business profile to copy and paste relevant messages. This keeps your messaging consistent, saves time, and keeps your business's brand and voice consistent.
Think about creating templated answers for commonly asked questions like:
Your business hours
Cost of services
How to schedule an appointment
What to expect at an appointment
3. Take Advantage of Google's Other Features
If you have the software for it, consider using everything else on Google My Business. For example, businesses with messaging turned on may have a "Request a quote" button on your Google My Business page. This can be especially useful for HVAC companies or plumbers.
If you're running a hair salon or another type of business that relies on appointments, messaging may also set up a button for booking requests. This option won't show up on every profile, as it's only available for certain businesses in certain categories.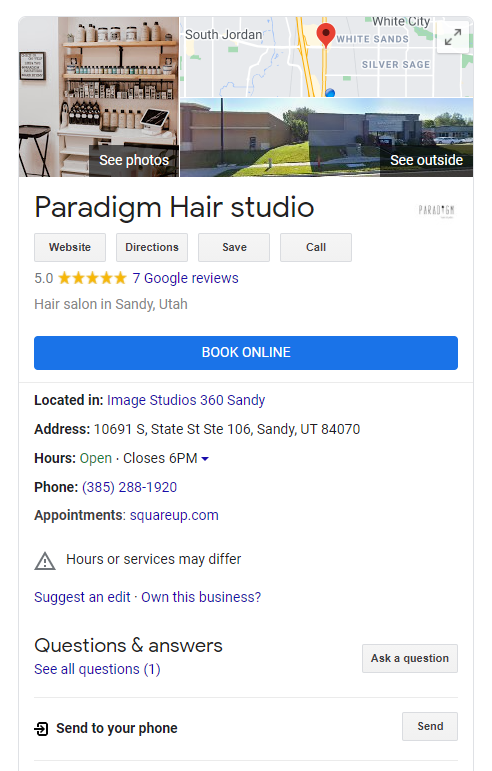 Using these features effectively makes it even easier for someone to reach out and spend money at your business. Plus, it's possible to get these leads without spending any extra time or money than what you're already doing. The important part of it all is having someone to actively manage it and create a great user experience. If you aren't on top of it, Google will take the feature away.
Need Help Optimizing and Running Your Google My Business Profile?
At Oozle Media, we offer a variety of local SEO services, including helping you manage your Google My Business profile and give you the tools you need to have your business found online.
If you have any questions about Google My Business and how you can effectively use it for your business, reach out to the marketing team at Oozle Media. We're always ready to help!