A Lesson in Why Social Media Monitoring is Essential to Branding & How to do it Successfully
Listen, there's no reason to keep shouting at your employees for their "incompetence" or "lack of passion."
They're not to blame for your business setbacks, especially if you aren't monitoring what's being said about your company in the social media arena.
You know, Facebook, Twitter and YouTube (aka a free and global sounding board system for over 1 billion subscribers combined). Ever heard of them?

The infamous Domino's Pizza scandal:
A prime example of why social media monitoring is crucial for companies is the 2009 Domino's Pizza scandal.  Here's a quick recap:
What happened? Two Domino's employees recorded themselves engaging in really gross health department violations while on the clock.  The cringe-worthy acts were posted on YouTube and were quickly viewed by millions of concerned consumers.  
Domino's response: Not wanting to flame a rapidly burning fire, Domino's ignored the situation for several days.  However, without any damage control the buzz continued to escalate. Eventually, Domino's started a Twitter account and published an apology video on YouTube.  But, by then it was too late.
What was the result? Domino's lost 10% of its value in one week costing shareholders millions of dollars.  Oh, and the two employees faced criminal charges.  The follow up investigations revealed that the store owner was a sex offender.  This revelation dragged the story out even further, causing even more loss of credibility to the Domino's brand.
Oozle Media Case Study: Andrew Clark vs. Del Monte's Very Cherry Fruit Cocktail
The Domino's Pizza scandal is unfortunate, but it didn't have to get as nasty as it did. If you take one thing from this blog post let it be this: the key to successful social media monitoring is to respond immediately. By doing this you can turn a complaint into an opportunity, instead of a setback.  Here's a perfect example:
What happened? On April 12th, Oozle's Project Manager, Andrew Clark, decided to deviate from his usual routine and try Del Monte's Very Cherry fruit cocktail (as opposed to their regular fruit cocktail).  He was hoping for a noticeable cherry influx, but was disappointed when he found only 7 cherries in his 14.5 oz. can. In his mind, 7 cherries did not constitute a "Very Cherry" experience. So, Andrew decided to tweet about it: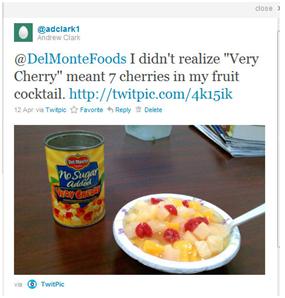 Less than two hours later, Del Monte replied: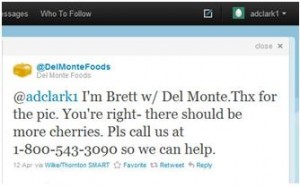 What was the result? Andrew called Brett and was given an apology on behalf of Del Monte for the dissatisfaction, and then was offered a handful of coupons in order to rectify the situation.  No, Del Monte didn't promise to begin adding more cherries to their Very Cherry product, but this wasn't necessary in order to maintain customer satisfaction.
5 important social media monitoring tools:
I'm sure you get the point by now business owners, so I won't reiterate it.  You can simply begin by monitoring all social media networks with any of the following tools: Bit.ly, SocialMention, Addict-o-matic, TweetReach or TweetStats. These tools work differently, but all will provide a way to identify whenever your brand is mentioned in various social media networks.
Don't Be a Stubborn Mule When It Comes to Social Media
(We refrained from swearing here because we know how sensitive some of you are and we didn't want to get red flagged by Google.)  We are your Utah social media experts.  GET OOZLED TODAY!