Relationship Troubles: Not Content With Your Content?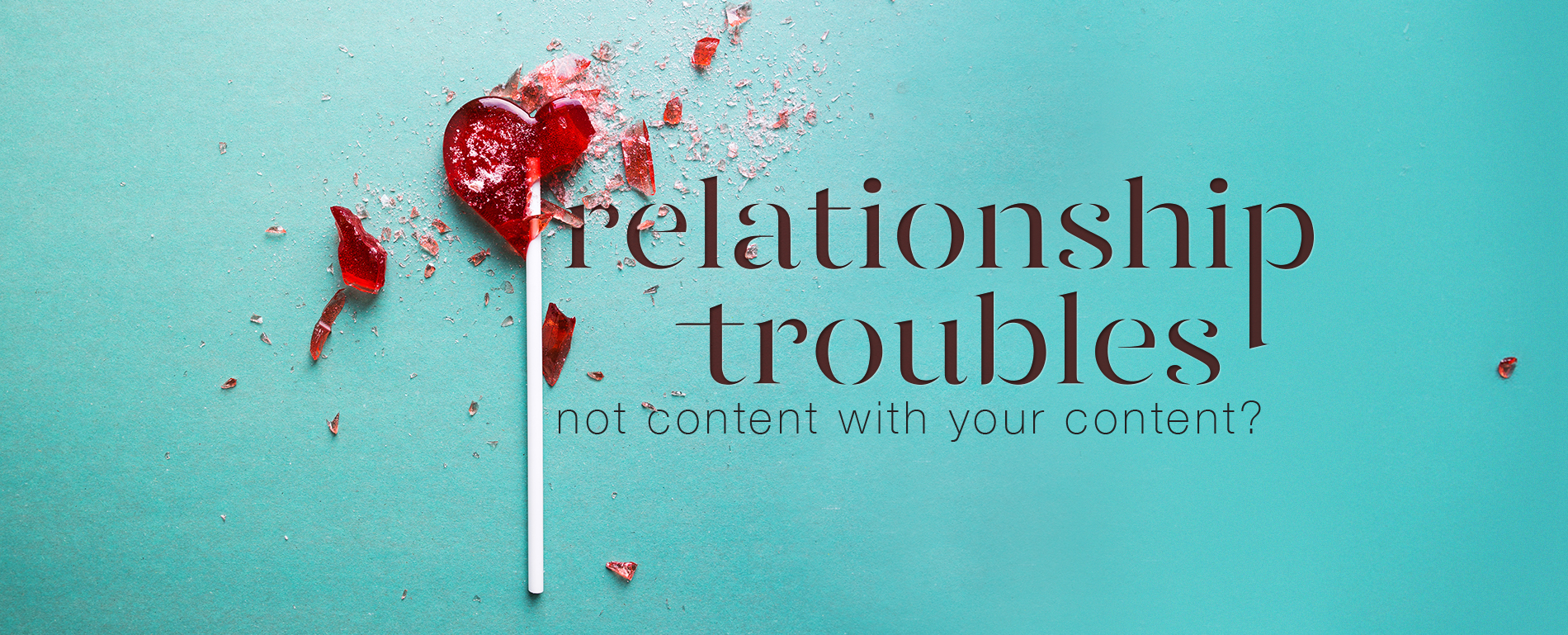 4 Reasons You Might Be Discontent With Your Content
As a business owner, you want all your ducks in a row. After all, your business is your baby, so when you start to feel a little uneasy about your content (or copy) you might start to panic. Hey, that's OK. Marketing companies like Oozle Media are here for you when you feel like your content needs a revamp. Here are 4 reasons you might be worried about your content and how to fix it.
1. Branding
Whether you have recently rebranded or you feel that your brand has changed over time, you want your content to reflect that. Your brand is different than any other brand. The voice, the style, and the type of content you want written will vary depending on your purpose.
A lawyer's firm will write differently than a dance studio. Here are a few companies who have perfectly reflected their brand in their content.
Denny's
Denny's is a little weird and a lot of funny when it comes to their blog. Right away, Denny's doesn't sound like the kind of brand that would use humor as their main style of content, but they're killing it. Food is often portrayed as delectable and mouth watering, and we're not saying Denny's food isn't portrayed that way, it's just that they think outside of the take-out box. If you don't believe me, check out their blog. (Their blog is hosted on a subdomain on Tumblr, by the way. Tumblr is where their audience lives online, so this was a good choice for them. It may not always be the perfect place for every blog.)
Lyft
Lyft's branding is jam-packed with adventure, wanderlust, and innovation. This ride-sharing company perfectly portrays the way that they want their customers to travel. If you're interested in what they've got to say, and you want to see branding done right, check out their blog.
How to Fix Branding Issues
If you are feeling like your content doesn't match your branding anymore, then consider talking to your in-house or agency marketing team. Gather the assets of your brand like logos, taglines, mission statements, and anything else that embodies who you are. Distribute these assets and emphasize that this is the brand you want to be. As the owner, you may want to check out your marketing materials before they go out, just in case you want to revise anything that you feel like goes against branding. It's important to be aware of what's going on.
If you find yourself in a situation where the change over to the new brand isn't going so well, you might consider getting a new writer, agency, or team (depending on the severity). We don't want to encourage jumping to conclusions, but if it's your last resort, you gotta do what you gotta do.
Do you think Denny's would be within their branding if they posted something similar to Lyft? Nope. That would be really out of character.
2. Quality
Quality checks should be after the first draft, after the second draft, and sometimes even after the third draft. You shouldn't have to worry about quality issues on live pieces of content. Does everyone make mistakes? Yes. Not every piece of content is going to be perfect, but that doesn't mean you shouldn't expect quality content. Here is a checklist to follow:
Does it have proper spelling, grammar, and punctuation?
Does it have appropriate images?
Is it unique content? (Not pulled from another source.)
Does it fit your brand?
Do you like it?
Is this going to accomplish what you want for it?
If you said yes to all of those, congrats! You've got a quality piece of content on your hands. There are some exceptions to some of these questions, though, like spelling and grammar. Sometimes funny slang words work with your branding, and the need for proper English isn't there. If you're a lawyer, saying LOL or "gonna" probably isn't going to fly. In other cases, like appropriate images, almost everyone is going to adhere to that.
How to Fix Quality Issues
If you feel as though your content quality is below average, consider doing a training. Many online resources are available that can help with problems like grammar and spelling. You can also use tools right in your browser window, like Grammarly, to check for you while you write.
If you find that unique content is the struggle, there are a lot of sites, like the Plagiarism Checker from Small SEO Tools, that can help you or your writer check their work for plagiarism or duplication. See the above solution to quality issues that pertain to branding.
3. Not Accomplishing a Goal
Every piece of content should have a purpose. Whether this be a seasonal, fun, audience-engaging piece, a press release, or an announcement of a new service, it should have purpose. No purpose is greater than any other, unless you are ragging on another brand or person. That isn't a good purpose. Despite what people say, there is such thing as bad publicity for businesses.
To determine if a content piece is going to achieve its goal, look at what your goal is.
Are you trying to gain more customers?
Are you trying to inform current customers?
Are you wanting customers to engage and share this?
Are you asking your customers to do something like call or come in?
Who are you writing to?
Who are you NOT writing to?
Let's look at an example from a beauty school.

A beauty school blog post might be something along the lines of an update on the latest online makeup trends or an announcement that they have a new makeup program launching in the Spring.
As a beauty school owner, you can look at the content a determine if the writing is doing what you want it to. If the trends post is focused on shoes, this might be relevant to you, but it might not accomplish your goal. If the post about your school announcement is centered around your expanded parking lot, you might want your team to revise. While both alternative ideas are pertinent to a beauty school, this is not the place or the time. Each piece of content should have its purpose determined before it goes into the writing process.
How to Fix Content Without a Purpose
This solution is quite simple, actually. Give it a purpose! If the post is not relevant to you in any way, scrap it. There is new content to be had. If it has a purpose, but it isn't so clear or isn't performing, revamp the content. Content can be reused by your brand, as long as it is not 100% duplicated. You can add new info to an old blog or expand on the idea. The options for giving good content a purpose are almost unlimited. Go forth and set goals.
4. You Just Don't Like It
You might not like your content in general and not have a certain reason why. It may make you go, "Meh" when you're reading it. While these are valid reasons for any business owner not to like their content, pinpointing the problem will help you find a solution. It is easy to say that the writer or the agency isn't doing a good job, and that might be the case, but that shouldn't be the first conclusion.
How to Fix Content You Just Don't Like
Test your theory. Ask yourself if any of the reasons listed above are really what is bothering you about your content. Work a bit more closely with the people who are creating your content, and make suggestions and contribute ideas. If the person who is writing your content doesn't have a clear picture of what you want, then help them see your vision. If you find yourself exhausting all the possible solutions, the end result might be that you break up with your content creation company or person. We've all been broken up with. With a good writing team, your content should be on the mend in no time.
Is It Time to Say Goodbye?
Do you have any or all of these issues and just feel like you don't have a solution? It might be time to break up with your marketing company. If you're ready to move on from your marketing company, here's how to do just that in 10 days. Don't worry, there are plenty of marketing fish in the sea, like Oozle. Check out our services, and contact us to see what we can do for your content.
If you're in the market for a new marketing company, make sure to check out the different types of marketers you might encounter in our Tinder Profiles.
Interested in more info about content?