Webinar: What To Do With Your PPC Budget During COVID-19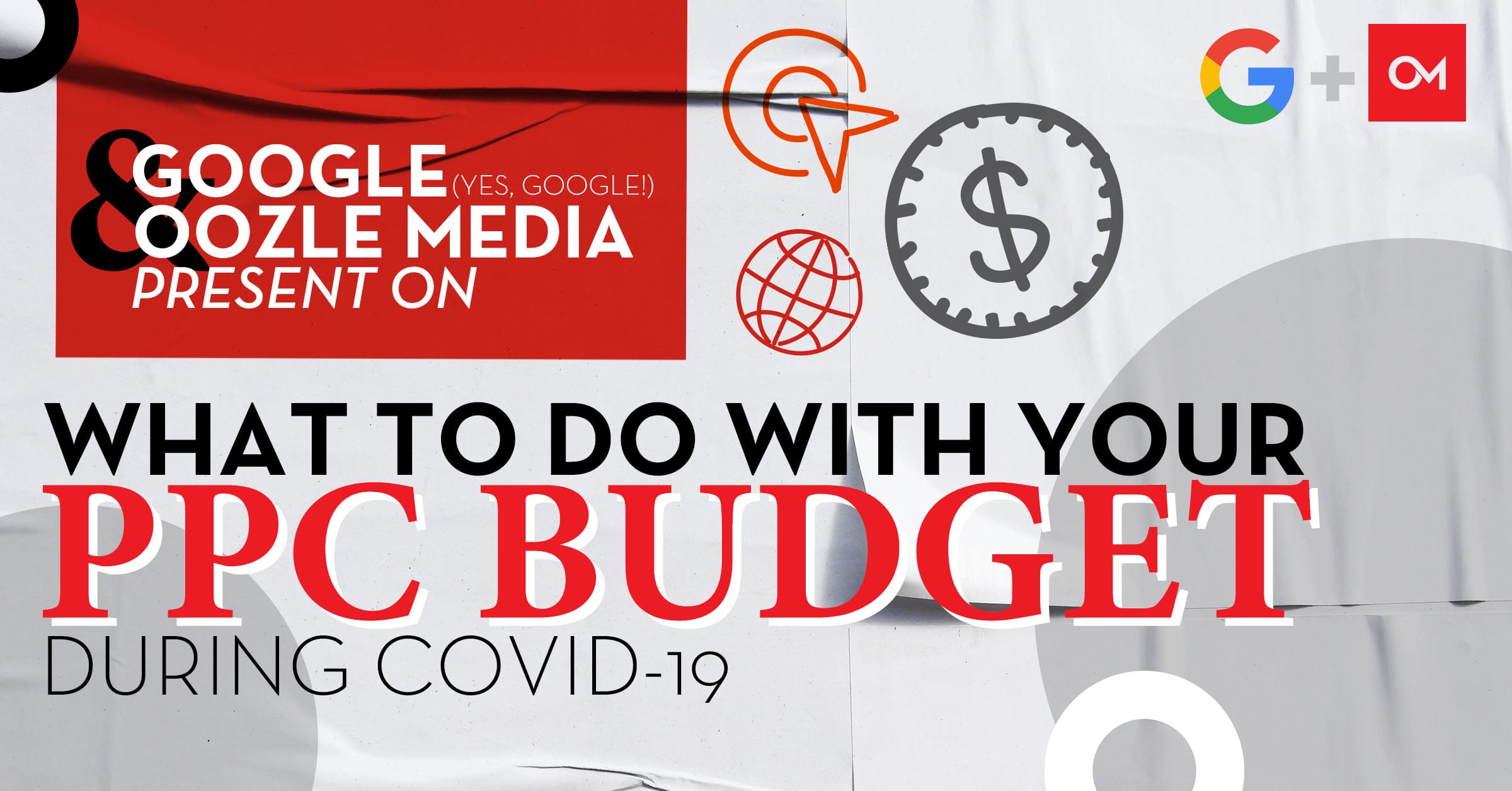 For this webinar, our COO Stephanie Carter worked with Darragh O'Doherty from Google. Darragh is part of the Google team that helps support Oozle as a Premier Partner, and we're glad to have his support to let businesses know what they should be doing with their PPC budgets at this time.
There's a lot of good stuff coming from Google to help support schools during this time. You can watch the replay of our webinar and check out the slides below.
Watch the Webinar
View the Slides
How Brands Can Appear Helpful & Empathetic To Build Positive Consumer Intent
COVID-19 is really changing the landscape of our business. We don't have an end period, but it's really important businesses are communicating. Businesses should be providing:
Swift, empathetic engagement with positive tone
Transparency in fulfillment and decision making
Native digital experience that is easy to navigate
Consumer-value ads
Clear commitment to brand values
Around 78% of the US workforce are now home. In fact, "things to do at home" is trending on Google search. There is:
A 60% estimated increase in the amount of content streamed
An 80% increase in weekly game app downloads in China during February
Search activity for YouTube is spiking in recent weeks in markets under quarantine measures. People are starting to consider doing things they've been putting off for periods of time, and they're also looking to see what they want to do next.
How Does This Tie to Your PPC Ads?
There are three important components we talk about:
Search Ads: These are ads that show when someone types in keywords related to your school into Google.
Display Ads: These are visual ads that remind people of who you are and what you do and invite them to interact with you. They follow you around the internet, like little billboards around the web.
YouTube Ads: These are pretty self-explanatory. These are the 6-second to 30-second videos that show before or during YouTube videos.
Your PPC budget likely has all three.
The last few days have been uncertain. We're still trying to get clarity and answers. For PPC, because the search network is based on demand, it's fine to let the market dictate your budget right now.
We're already seeing demand for search going down as more people are paying attention and want to get information on COVID-19. We've already had signals that we're not going to be hitting our usual budgets using search.
If there is still demand, if people are starting to look at other things, you don't want to miss the opportunity to have your brand and business showing up for those searches! Your budget is naturally going to go down, given the circumstances. For what demand there is, you should be spending there. It's an opportunity to fill a space where other people are pulling back.
We may even see demand increase again once everyone has been at home for a few weeks and gets into a quarantine routine.
Right now, we think per location, you need to have a minimum of $1500 invested in PPC ads.
This budget is going to cover search ads, some display, and not much budget for YouTube.
The Impact on Clicks and Conversions
This screenshot shows the clicks and conversions for all of our Post-Secondary Education clients on Search only from Feb 1st through March 23.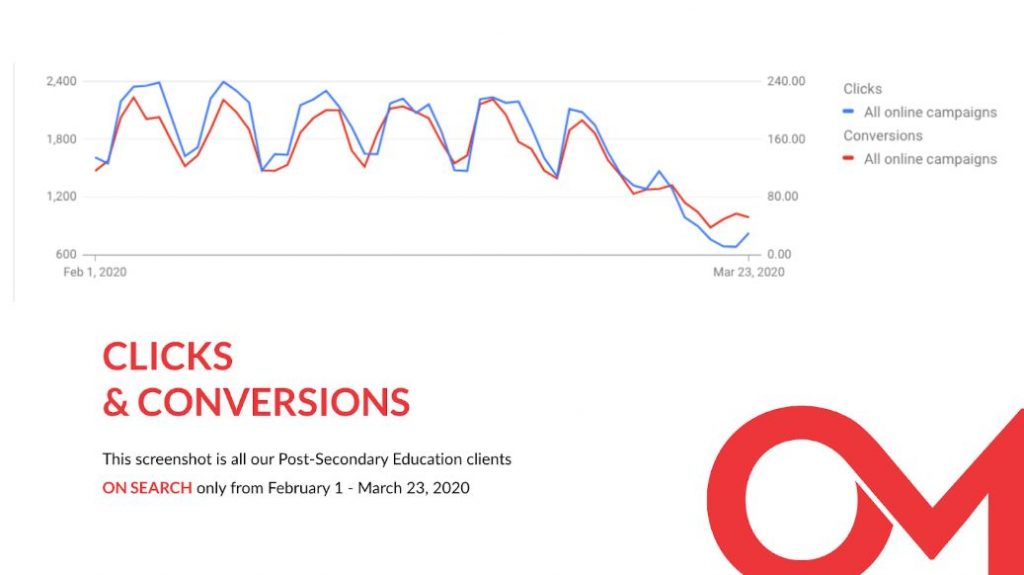 We were already seeing our seasonal decline that hits every year. You can tell exactly when things started to happen, and you do see the search demand go down. This is not just an indication of a demand for queries.
It's also showing people stopping their budgets while they figure out what to do next. While those budgets are paused, there is no ability to get any clicks and impressions for the demand that is still there.
The following is for Display campaigns only for the same time frame: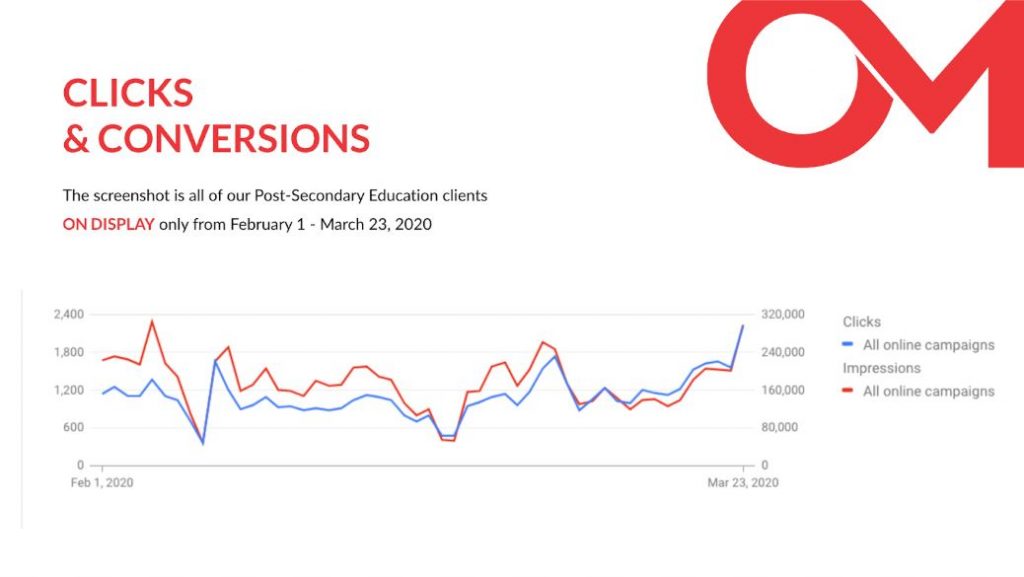 The display network is not generated by search demand. If you look at the same place search dropped off, it's starting to increase. Once people get settled in, it may not occur for them to search for your business, so display is a great way to get your brand in front of people.
Give them something to click on. That's where we're making that shift to display and YouTube for the budget we're not spending on search. We can't rely on people to remember to look for us, we have to show up in front of them. The brands that do that are setting themselves up for success.
Here's the Impressions compared to the average CPC. This is combining search and display. You can see that mid-March drop, where the average cost per click is falling, but the number of impressions are increasing.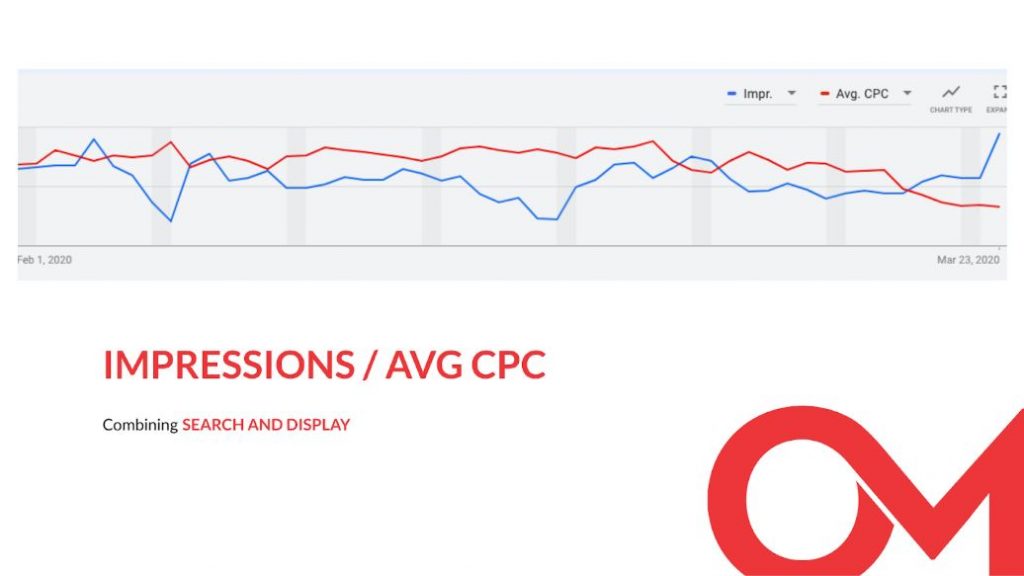 General Campaign Best Practices
Keep budgets open. Spend will adjust to current demand.
Maintain bids, especially on automation. The algorithm will continue to optimize to your specific conversion actions.
Closely monitor your conversion rates. CVR is the true barometer of short-term performance.
Monitor performance. You can look for program by program, on-campus vs. online, geographic location, or something else. Communicate frequently with your agency partner / Google team on trends.
Leverage audience exclusion. Existing students are likely visiting your website more often than normal to find information, so don't waste your money on people who are already giving you money.
Display and YouTube ads help schools grow brand awareness. That's really key right now. In fact, we're investing a lot more money from people's budgets into these kinds of ads for a couple key reasons that are backed by Google.
Invest more in branding, not less.
When other brands pull back, you can increase your share of voice at a much cheaper cost because there is less competition for attention and ad inventory.
Even in categories where consumers have pulled back spending right now, creating a branding impact now will have a halo and pay dividends when the market normalizes. Research and historical examples of economic downturn have shown this to work.
Google is seeing an increase in YouTube activity while people are home. Many schools used to run TV ads. This is the 2020 version of that. These ads should introduce your brand, what you do, and encourage people to follow their passion and their calling.
We know this is a bit of a self-reflective time. People are asking, "What am I doing with my life? Do I like it?" We also know in economic downturns, people start looking for skills to make them more valuable. There's still a good opportunity to speak to that with a great YouTube ad.
Top growing searches suggest users are looking to YouTube for purposes beyond just entertainment, including education and community.
Join the increased YouTube watchtime while people are at home all day.
Time typically spent on sports, with friends, at theaters, is now shifting to watching video at home. YouTube is capturing a huge portion of that. We noticed this especially for TV advertisers who are suddenly finding scattered buys to be more expensive as other advertisers are trying to buy up inventory. YouTube buys are significantly cheaper, especially when weighted against TV TRPs.
There is an estimated 60% increase in the amount of content streamed.
Though video would be ideal, display ads can run on YouTube alongside the videos people are watching.
You can also keep them engaged with content on YouTube. Make a video about beauty-related self-care while people are at home in quarantine. This is awesome content. Give them a taste of what distance learning looks like and run an ad that features a screen recording from an actual class!
What we're trying to remind people of is the long-term ROI on this content. When you're running ads like this during downtimes, what you're really doing is gathering data on your audience, including:
Age
Gender
Interests
Hobbies
Who spent the most time watching this content, who clicked for more?
All of this is data that helps Google's AI get smarter. And why is that a good thing?
Because this won't last forever!
Win the post-coronavirus pent-up surge in demand.
Consumers will surge to buy, book trips, buy experiences after it's over. You should be lining everything up to just flip a switch to turn on. Get creatives ready for instant promotions.
When we're free of this virus, people are going to want to act and there's going to be a lot of them. It will feel like a dam is breaking. You have to be ready to jump on that to help make up for hits we're taking right now.
This is something we ALWAYS say:
The marketing dollars you spend today are going to bear fruit over the next year.
We've seen this in the average enrollment windows across schools. We see it in how enrollments grow over time with continuous investment in marketing, especially ads.
There are always people out there who don't know you yet. Take this time to introduce yourself!
Get the Help You Need
We are a Premier Google Partner and we're working with our team at Google to get the inside data, consulting on how to optimize accounts. Our team is committed to helping schools at this time. Take advantage of it!
If you need consulting or help on your PPC ads, just fill out the form and let us know how we can help. Get answers to specific questions by letting us know exactly how we can help. We have people ready to answer your specific questions.
You can also check out our other webinars and resources we've created to help: