Webinar: How To Use Social Media To Set Up Your School For Success During the COVID-19 Outbreak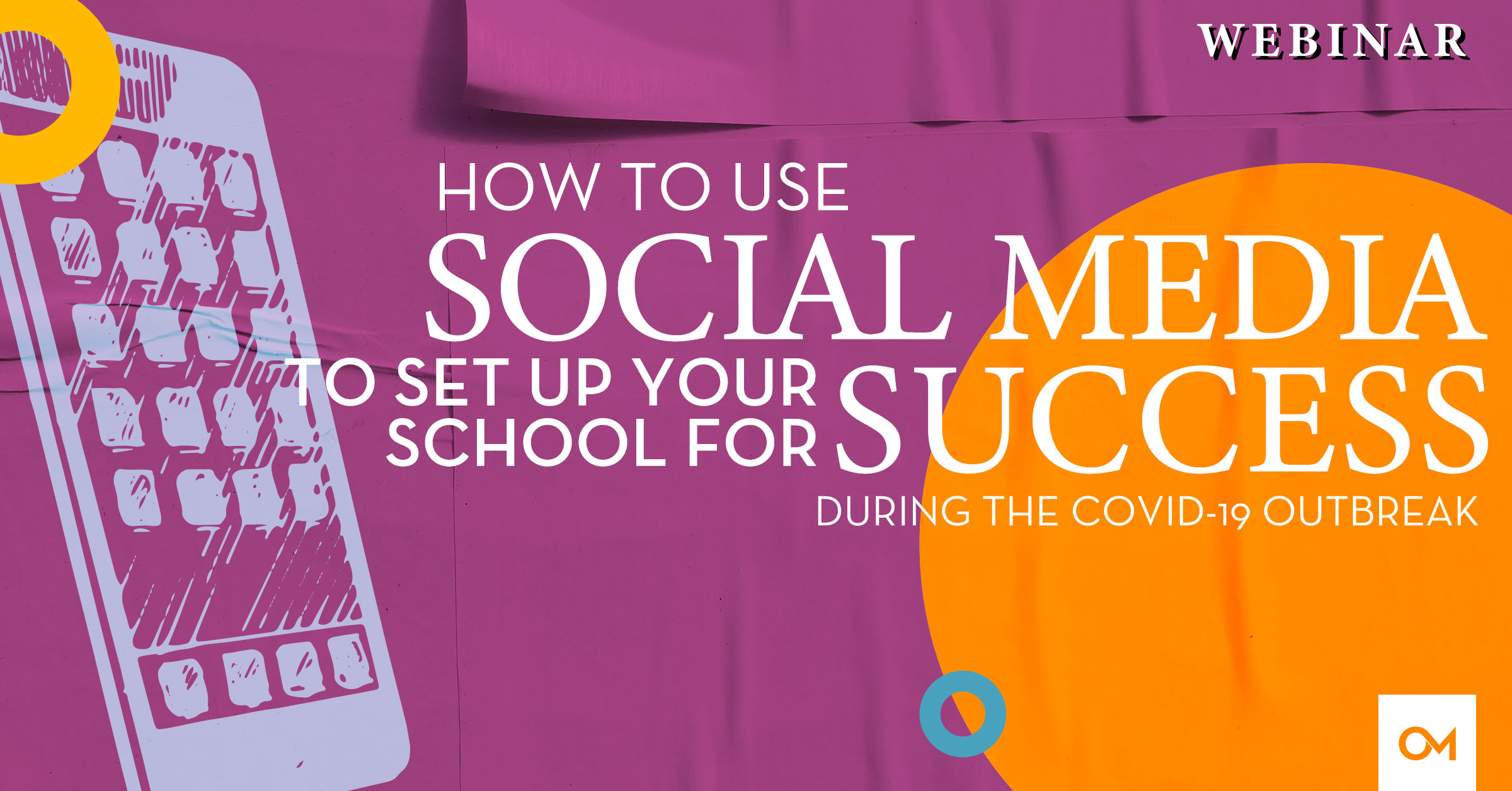 The COVID-19 is seriously a pandemic. It has caught so many of us off-guard and just isn't a situation that's built into most marketing plans and strategies. What should you do when your entire business is disrupted? Oozle Media and Beauty as a Business have teamed up to provide a webinar covering just that.
If you're struggling to figure out what to do, here's a recap of our webinar (with slides) about what you can post on social media right now and how to use that to your advantage to help prepare your school or business for when things get back to normal.
Watch the Webinar
Check Out the Slides
How Has COVID-19 Impacted Social Media Use?
Right now, we're all craving information. Many of us are turning to social media to get it. With so many people at home, screen time and social media usage is going to go through the roof. So, be kind to your future self: invest in good content AND social media ads.
This is not a time to hope 2% of your followers see your posts. This is a time to go out and make yourself known to the world, pop up on people's feeds, and give them incentive to click on your ad and become a part of your community.
So, what should you be posting during this time?
1. Information
Social media is the real-time, easily accessible way to connect with a brand or business. It makes sense that people would jump on to see how a local restaurant or shop is handling business right now.
Outline What Your Business Is Doing
Here's a great example from @lunaticfringesalon. In this post they go over steps they're taking to keep everyone safe.
They tie their decision to their values as a company, then list bullet points of all the things they're doing with their staff and salon areas.
This is exactly what someone is looking for who had an appointment booked and now is unsure of if they should still come in or not. You could post something similar about steps you're taking for your school's salon area.
Update Hours and Contact Information
Post any updates on changes in hours or days you're open or closed.
And don't forget, it's important to update that on your website and Google My Business, as well! You should be providing:
Hour or day changes
What you're doing to keep people safe
If you're closing, the reason why you chose to do so
A good way for people to contact you
Let People Know What's Going To Happen Next
People are also curious to see how everyone is handling the situation. Here's a post from @child_of_wild. They really nailed it with their image.
https://www.instagram.com/p/B9re1Olpc1R/?utm_source=ig_web_copy_link
The caption could be formatted to make it easier to read, but the image catches its viewers eyes, which encourages people to stick around for the caption.
Some things they did right:
They showcased how they're keeping safe. This line stood out to us, "But more importantly we plan to ride this out with YOU and be a source of art inspiration."
They let their followers know what to expect with their content. They told their followers that they will be a source of visual entertainment and inspiration. That's really powerful when people feel like they're getting bombarded with scary news and depressing facts.
They signed their caption by the founder and boss of the company, Eileen. It adds a personalized touch that makes the business feel more genuine.
Here's another post from clothing company @reformation.
They used their post to let people know what was going on, rather than a huge, long caption that's hard to read. They also showcase their vulnerability in the last part of their message.
They acknowledge that they may not be the most important thing in your life right now. That shows good emotional intelligence! They use this as an opportunity to engage with their followers, asking them to comment on what they want to see.
You can see the responses are from people appreciating what the business posted and how they're reacting to this pandemic. Plus, the audience is asking for more good stuff! The audience wants to feel normal, so they're inviting this brand to post MORE about their business! If that's not working in their favor, we're not sure how they could've done this better.
2. We All Need Community Right Now
Here's another idea that involves transparency: If you have students who are learning from home, or staff at home, community becomes more important than ever. It's really easy to feel isolated.
Keep them engaged by making sure you're posting stories just for them. Ask students and staff to do things like take a picture of their working or learning space at home and post it on their Instagram story and tag your school!
Then, you can reshare your students' pictures on your school's stories, and people can have fun seeing what everyone else's space looks like and feel more connected.
Each day or every few days you could switch up the theme. Some potential themes are:
Pet pictures
Favorite house plants
Favorite beauty products or tools
Best "at home" hair
Favorite snack
Make sure they tag the school, so you can reshare all of them on your stories! Use this extra time to get to know each other and build community!
This also lets prospective students see a bit of your culture and how you guys navigate challenging times. That will go a long way when they're thinking about touring and enrolling again.
We know there are two things prospective students care most about on your feed:
Student work
Pictures of life at the school
Your Instagram should be a peek at what life is normally like when the school is full of people learning and following their passions!
3. Create the Content You've Always Wanted
Keep things inspirational and entertaining.
Virus or not, you should be creating content like this all the time. Maybe now, you just have a bit more time to do so.
Showcase Your Programs
Now would be a great time to do a series post on Instagram and sell your school and your programs. Take your most visited blog posts and turn them into stories. These are entertaining and informative.
Think about focusing on a program each week! Get people excited to follow along and have a bit of fun. Have a cosmetology week, an esthetician week, or a barbering week. Highlight what that program does, what people learn, what kinds of things they'll be able to do. Talk to your Instagram audience as if they were on a tour!
Give an Inside Look of Your School
People may not want to come in and tour right now, that doesn't mean they can't see your school! Tell them to go follow you on Instagram so they can see what your school is usually like and to get access to all the cool content you'll be making.
Take photos and videos that showcase what your school looks like and explain what students do in each area. Do you have any cool tools or equipment? Explain what those are. Do you work with any particular brands? Get on Instagram or Facebook live and show off the products you use and why you partnered with those brands.
Show People's Faces
Get on camera on stories. Let people see and connect with human faces. Again, in times where we may feel isolated at home, this is important.
This may not be a time when people are jumping to enroll. In fact, potential students may be waiting things out a bit. Use this time to inform and empower them so they're ready to go with YOU when things get back to normal. This is a great opportunity to warm people up and sell them on the idea of school and what it could mean for them and their life. Take advantage of it!
We know that this will be a time of reflection for a lot of people: are they doing what they want to do? Are they trapped in a dead-end job? They may vow to finally follow their passion once this is over.
4. Use Humor
Use a bit of humor. Be sensitive, but laughter does help. We've designed some funny memes on the BAAB Instagram account @beautyasabiz. We've always used humor and memes, and they're some of our most engaged with posts. Go repost or share anything you'd like from our account!
https://www.instagram.com/p/B9mivXBgISV/?utm_source=ig_web_copy_link
How To Get Your Content in Front of Your Audience
If you're making and posting all this cool content, you need to make sure people are seeing it. If you're not running social ads, it's time to invest the dollars from other marketing channels here. It helps create brand awareness, by going and knocking on people's doors. You're not waiting for them to 'find' you, which they won't, because other people are competing for their attention.
If you make a really cool braid tutorial, run it as an ad! You don't need the hard sell. You need content that's engaging that draws people into your orbit. You're filling the "top" of the sales funnel. We all know how much beauty content is consumed on Instagram, especially. Time to start thinking like you're a beauty influencer!
Take Advantage of Facebook's Small Business Grants Program
Facebook recently launched a small business grants program that can help you afford social ads during this time. They are offering cash grants for up to 30,000 eligible small businesses in over 30 countries. We recommend signing up for their updates to see if your business could get extra support to push your content to your audience.
Ways Beauty as a Business and Oozle Media Can Help Right Now
Get an Online Curriculum
Beauty as a Business is an online, digital social media curriculum for students. In the courses they offer, all of which total around 15 hrs, students watch videos, complete worksheets and quizzes, and have discussion groups. It offers the opportunity for students to be learning important marketing tactics using social media via online delivery. If you need material for distance learning, BAAB may be helpful to you. Request a demo to see how it could help you.
Get Help Running Social Ads
If you need support posting and pushing social ads to follow the steps we've outlined above, we can help! We offer social ads packages to help get your school's account in front of more people who are sitting at home using their phone to entertain them while they're in their homes.
Using data and information from your current students, Oozle Media can help ensure your content is getting in front of people who are just like them and most likely to be interested in your school. We want to help you during this uncertain time. Get in touch for more information and a free quote.