Webinar: How Any School Can Grow Their SEO Results in 2021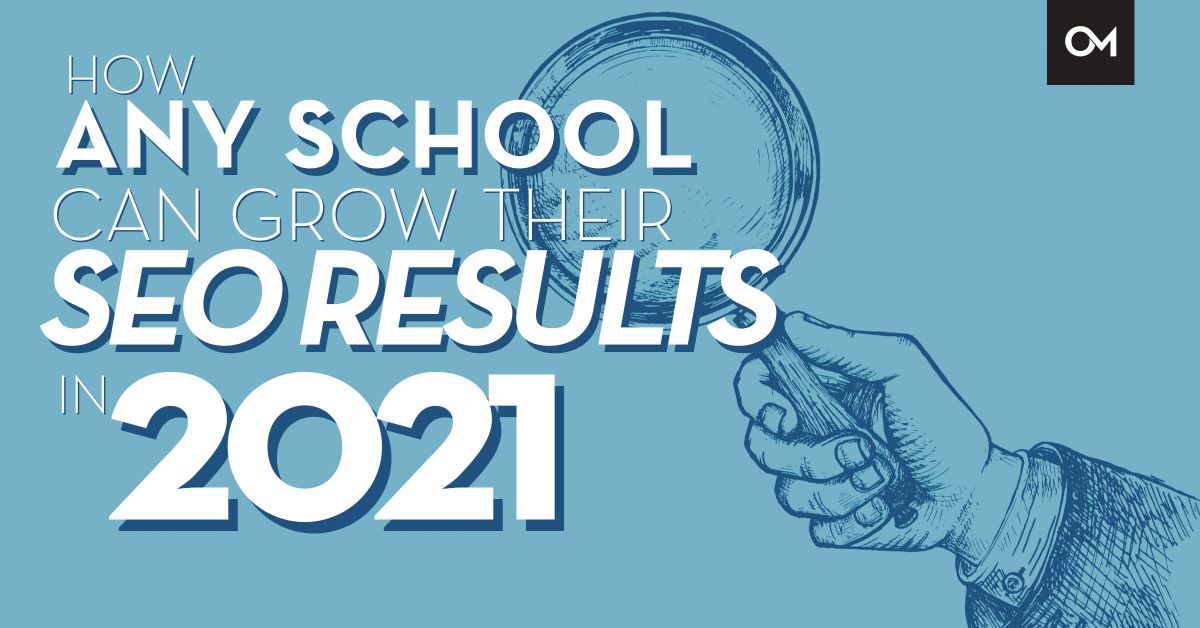 If you want to learn more about SEO and why it's so important for your school, you don't want to miss this webinar replay on how any school can grow their SEO results in 2021. As part of this webinar given by our Director of Organic Marketing Patrik Connole, you can learn more about traditional SEO, local SEO, and even content.
Also, a huge thanks to Beauty as a Business for sponsoring this webinar and providing a giveaway to those who came! Make sure to check them out for more info on how to teach your students social media and reputation management (which we talk about in this webinar.)
Watch the Replay
Read the Overview
What Is Local SEO?
First, "What is SEO?" SEO is Search Engine Optimization. It's the process of improving your website, your content, and your brand authority in an effort to perform better organically on search engines. SEO is basically helping your brand, your website, and your presence on Google.
SEO is one of the highest converting digital marketing channels. Direct is your highest converting channel, as that's when people come directly to your website, but organic SEO is right behind it.
Why Is SEO Important?
Your potential students, no matter what type of school you are, are more likely to find you on Google and more likely to convert into an enrollment than paid ads. These are the average enrollment rates that we've seen. These are essentially national standards that we've found.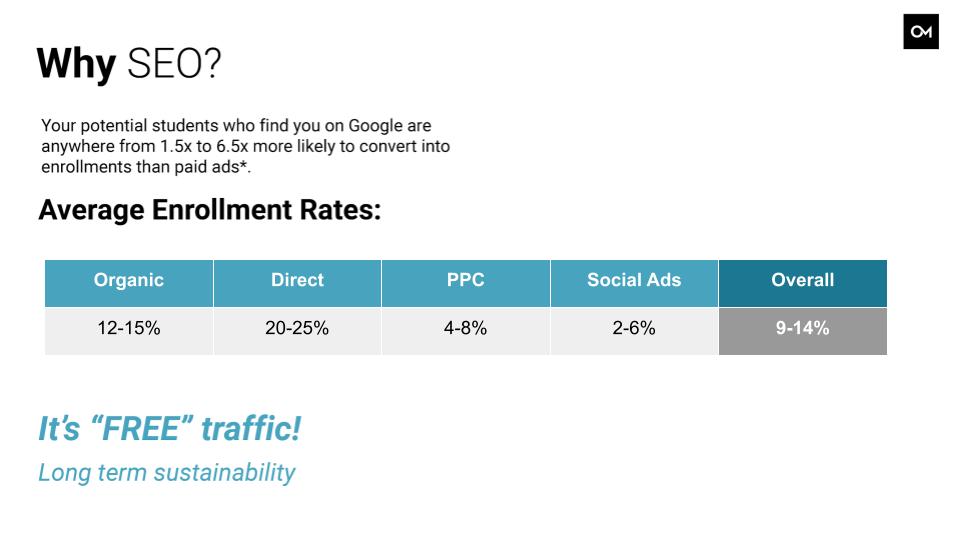 The other reason why SEO is important is that it creates long-term sustainability through "free" traffic. You do have to work at it and put your time and money into it, but you aren't paying for every click or lead, as compared to other pay-to-play platforms.
Good SEO vs. Great SEO
Good SEO is showing up to the game. It's showing up for terms like "beauty school near me." It's showing up for queries, which is what people search.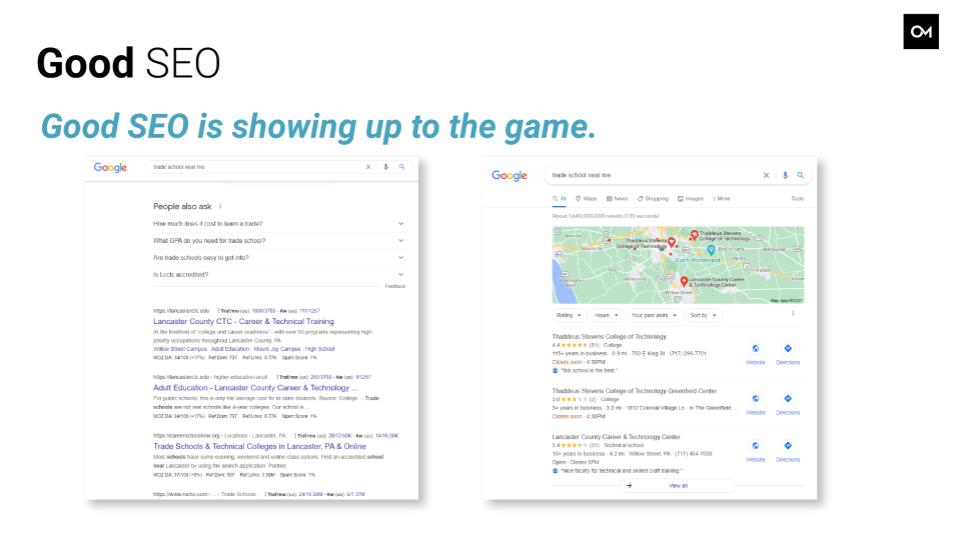 Great SEO is your brand. Great SEO takes into account the whole search experience and everything that can happen, such as:
What shows up on search
The ads that show up
Your title tag
Your meta descriptions
What other websites are saying about you
Things that show up on your Google My Business profile
There are things you can control, things you can't control, and things that you can control but Google may change anyway.
Ways To Improve Your SEO
When you search for your brand, make sure you have a paid ads member bidding on your brand's keywords. The main reason why is because:
You take up more space with controlled messaging.
A lot of people treat the search engine results page as the home page of your website. While it's not SEO because it's a paid ad, but it affects your search engine presence.
Next, is your website, which should show up nine times out of ten. You can control what shows up in your title tag, and your meta description. Google will pull something if you don't have it optimized, and Google can change the meta description, but most of the time they follow what you put it in.
Next, for us, it's LinkedIn, for a school it might be your Facebook page or another profile, but because it's not your website, you don't have as much control over what shows up. Google your name, and see what you see. And, if you see something on there that is not what you want to see, you can try to get that edited as soon as you can.
Next, is your Google My Business profile. Almost everything on there, you can affect and edit, but there are going to be some things Google pulls. But, reviews, you have a lot of control over, and it's something that's taught in BaaB's curriculum on how to do reviews. This can be an awesome resource. If you go to our blog, you can also get a lot of free resources for reviews.
The other place you have a lot of control over, your Google My Business category. If you do not have "beauty school" or "technical school" or whatever you are, you're not going to show up for as many results as you'd like.
"Google cares more about what you are than who you are."
These are what you want to optimize first.
Local SEO vs. Traditional Organic SEO
Google has two parts to SEO:
Local SEO – Your immediate surroundings and your map pack
Traditional, Organic SEO
The map and Google My Business profile is your local SEO. Your search engine results page is organic SEO. And, we're going to talk more about your Google My Business profile, because the vast majority of what affects the algorithm and to show up in the map pack is in your Google My Business Profile.
What Are the Top 10 Ranking Factors for Google My Business?
According to WhiteSpark, they are:
Your primary GMB category
Keywords in the GMB business name
How close your physical location is to the person making the search
Your physical address vs. city searched for
Additional GMB categories
Links to your website
Keywords in Google reviews
High numerical Google review ratings
Removal of spam listings
Completeness of GMB listing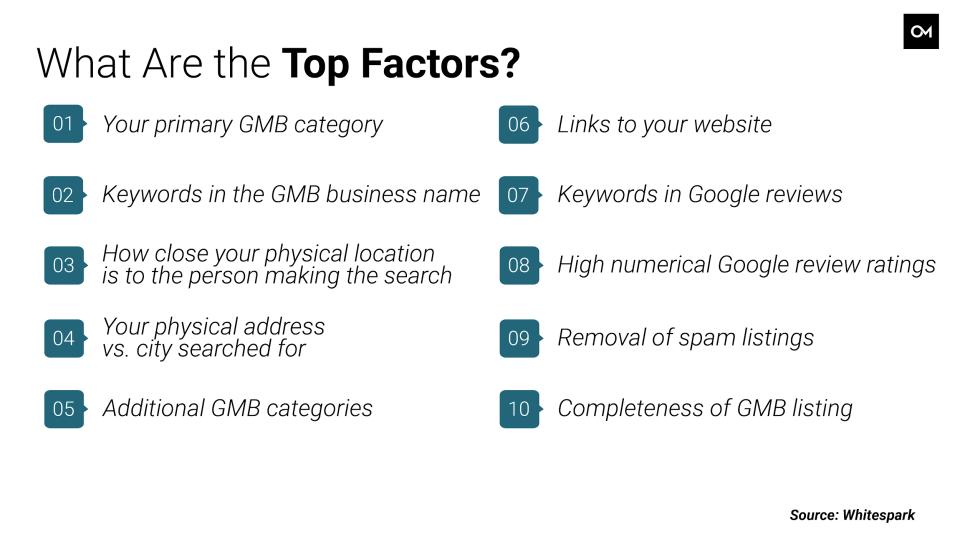 Six of the top 10 local SEO factors are related to Google My Business.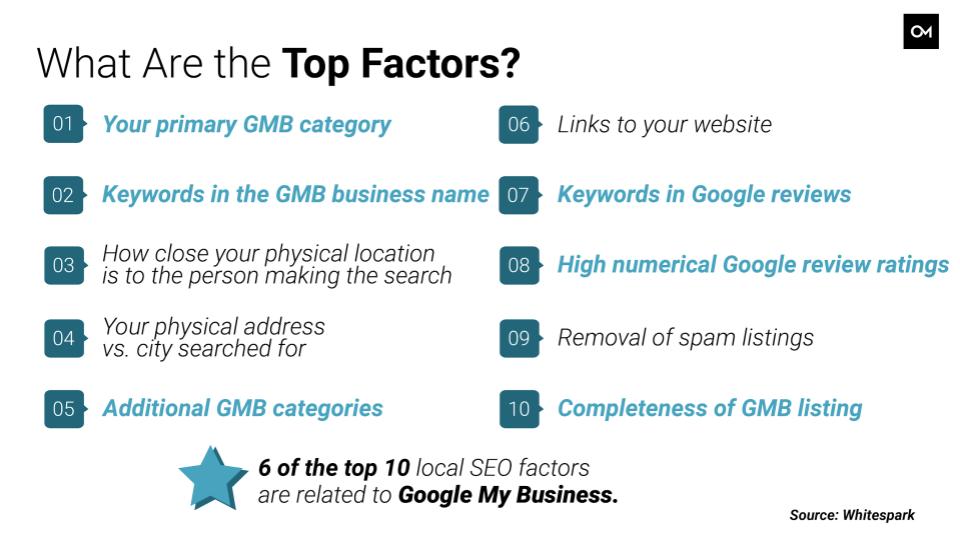 The other ones that aren't related to Google My Business, you don't have control over them. How close your physical location is and your physical address is something you can't necessarily control. You could potentially move your business, but that can be very expensive.
Top 3 Things You Can Do Now To Optimize Local SEO
1. Add Your Primary Business Category
The number one factor is your primary business category. You need to put the category that describes your business best. So, if you're a beauty school, then you need to put beauty school as your primary category.
For subcategories, you can put as many things that are applicable as you are, but not too many things. And put in your GMB on what you do. There's also a lot more you can do is add photos, Google My Business, blogs, and more. While those extra things may not be affecting the Google algorithm, the user appreciates it.
If you offer something that Google doesn't have as a category, you can use the custom services section, as they don't fit in the boxes Google provides.
2. Fix Spam Listings
This is a relatively new strategy, and because it's easy to create, anyone can create a listing with the "right" information. If there are a lot of spam listings in your area, you will show up in the "view all" area.
You can recognize that something is spam when:
They have no reviews
They only have five star reviews
They use a fake address
They have a generic keyword-stuffed name
They have no website or a bogus website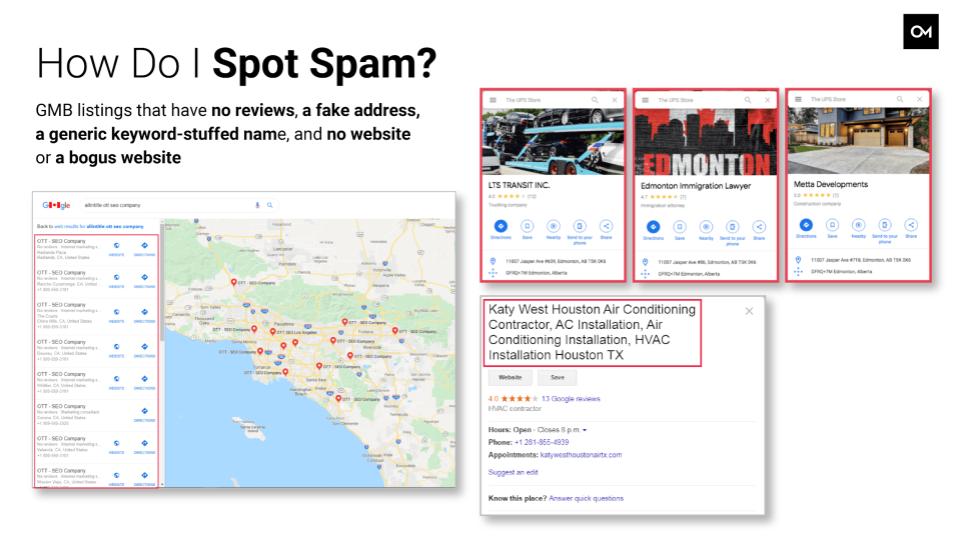 There is an easy way to go fight them. If you click the "maps" button and suspect something is spammy, you can search for what you're looking for, click on that company, and "suggest an edit." Anyone can suggest an edit for any company. That means your competitors can also submit edits.
Because you have to be logged into a gmail account, and if you're constantly submitting fake edits, they will start refusing to make your edits. And, over time, edits will come through faster than others because Google tracks and verifies you are providing accurate edits.
3. Google Reviews
Reviews benefits in two ways:
Rankings
Conversions
The higher your rating, as long as it doesn't look fishy, they help you get conversions.
What matters the most with Google Reviews?
Overall rating
Quantity
Consistency
Recency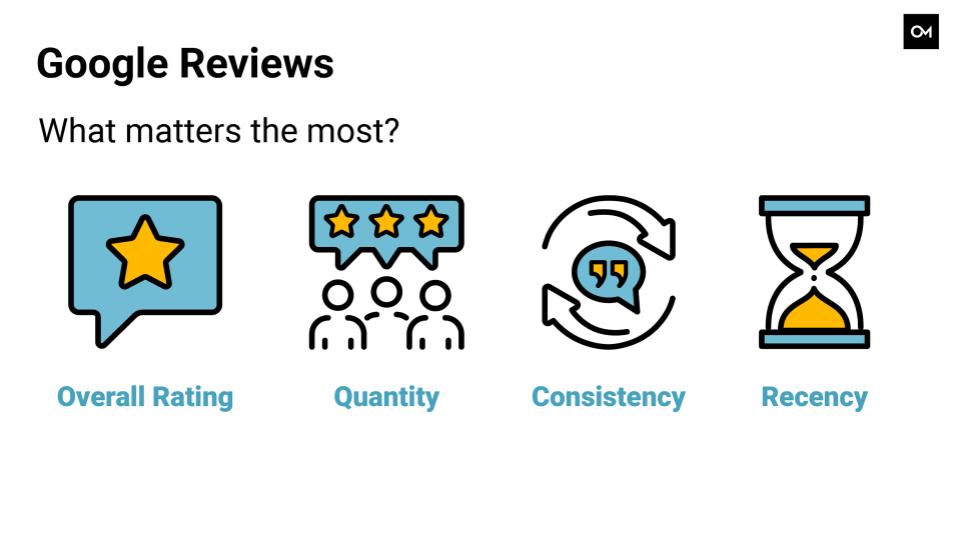 It's really important that you are consistently getting good reviews. If you want help with that, contact us, as we do an in-person training to help you get reviews. We've seen really good results with it to help you get more reviews consistently over time.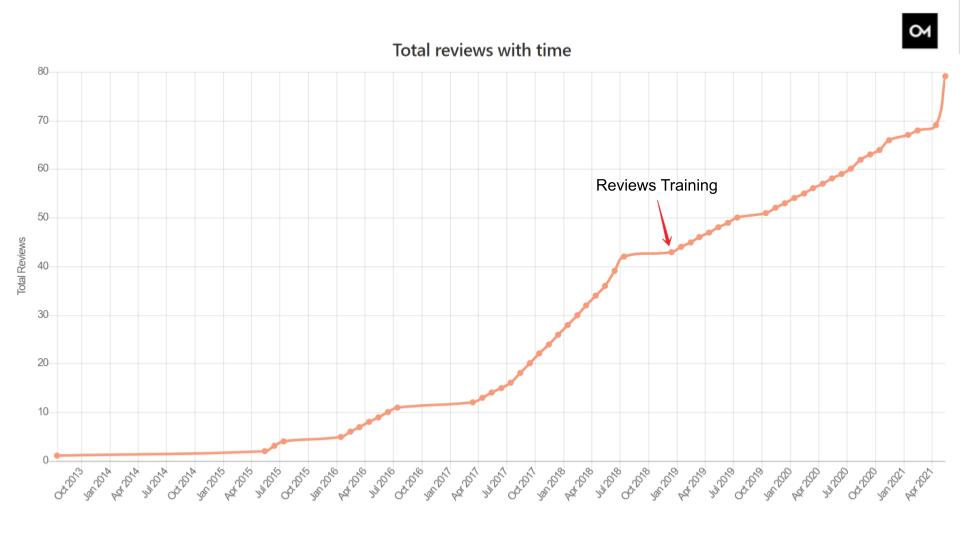 Google chooses what they show of your reviews. And, something important is that even if you're ranking below someone, you are still more likely to get the lead if you have more reviews and better reviews than the person in the top spot.
Some other results from our Google reviews training, this client saw almost a 12% increase in the total traffic and a 27% increase in leads.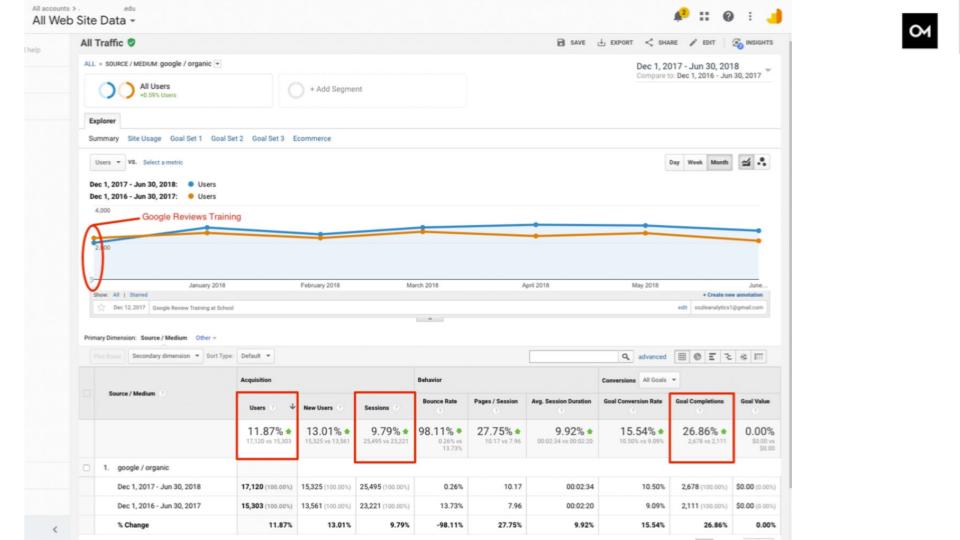 For another company, they had almost a 46% increase in traffic and almost 80% in conversions.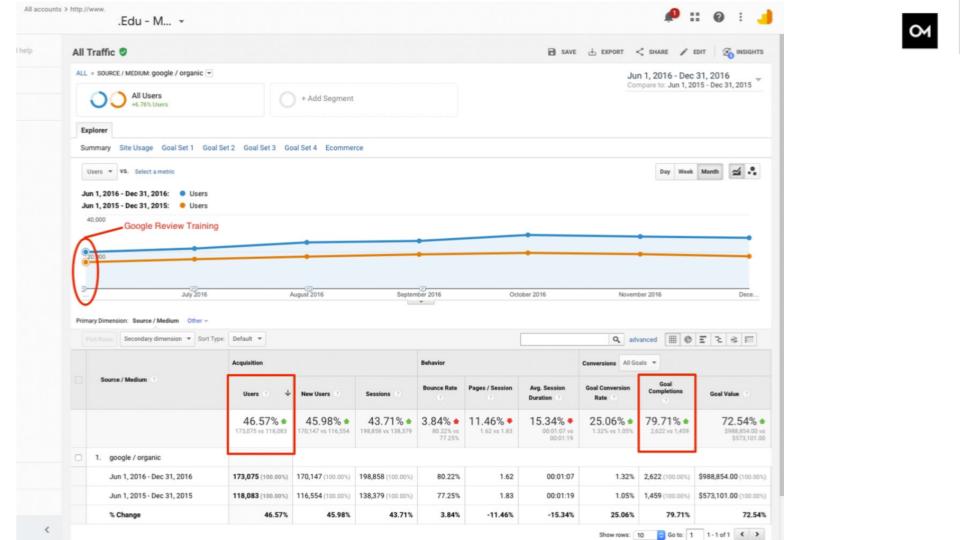 What Is Organic SEO?
There are over 200 known Google algorithm ranking factors. But, they can actually be boiled down into four different categories:
Links
Your brand
User experience
Content
More About Website Content
Why Website Content?
Website content has the best return on investment of the 4 SEO pillars if you already have a good brand and website. It's also evergreen, which means it's something that can last a long time in a variety of ways digitally.
Tips to Start Writing Good Website Content
There are two ways and places you should start producing content. You should do keyword research and talk to your internal people and put the information you find on program pages and blogs.
Keyword Research
You can use moz.com/explorer and sign up for a free account and go to keyword explorer. You can start with your base keyword, and it will show you how much monthly volume there is, difficulty, organic click-through rate and priority.
From there, you can go into "keyword suggestions" and go into it, it will find more keywords. You can change that to "keyword suggestions that are questions." These are vital. These are what we call "foundational content" at Oozle Media, and these are the things you must be writing about. These are often for your blog and what you should write.
"What kind of trade schools are there?" "How much does cosmetology school cost?" and you know these answers because your admissions people are answering these questions on the phone all the time. Your admissions team can help with those, as they get asked questions, and admissions teams get different questions.
We often see that the admissions team and marketing team have friction because the admissions team doesn't like the quality of leads while the marketing team only provides the names, and know they filled out the form for something.
Go to your admissions team and ask what questions they get asked all the time. If you're an admissions team, go to your marketing team and tell your team what you would want to see on the website.
You can also send out surveys to get questions students had before and after applying.
Where Do You Need To Put This Content?
Program Pages
Program pages have up to 40% of organic conversions on your website. If you don't have a conversion opportunity on your program page, make sure it has that, then put the answers to the most common questions on your program page, such as:
What do I need to apply?
How long does it take?
How much does it cost?
What are my career opportunities?
Is financial aid available?
And when people read it on the page, it makes the conversation with your admissions team easier. Program pages need to have a lot of good information. The other key is that when you do keyword research, you may find other terms that people use to describe what you offer. If there are those different terms, you need to use that term within your content.
Blogs
Blogs are incredibly important because they drive traffic and SEO results, and even if they don't convert right away, they often come back later. The question we get all the time is: "How many blogs should I write every month?" There is no correlation between the number of blogs you post and Google rankings. However, the quality of blog posts that answer questions can maximize your efforts here.
Here are some dos and don'ts with your blogs.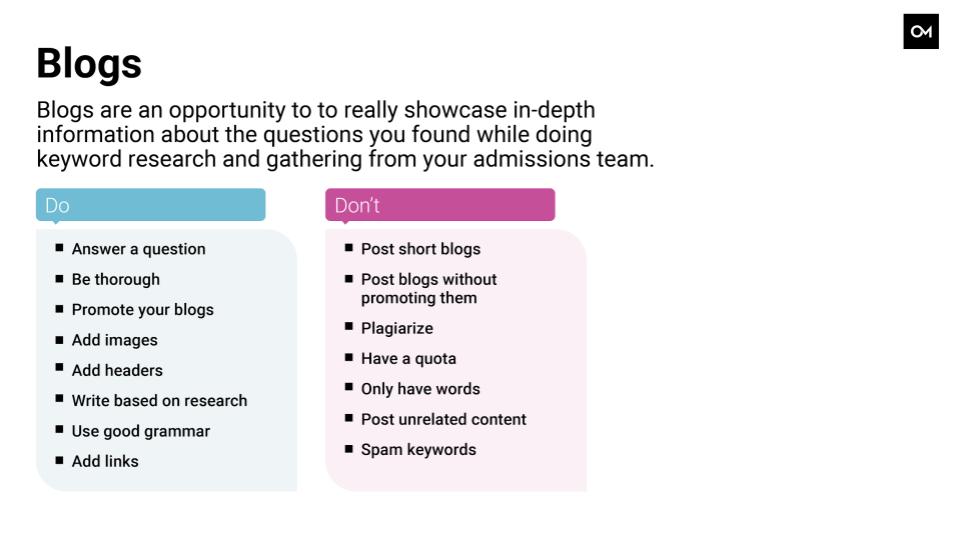 How To Get the Most Out of Your Blogs
When you write blogs, make sure you promote them! Some ideas are to post them on social media, use them in email follow ups, or turn them into designed guides. You can use Google Analytics and Google Search Console to see how effective your blogs are.
Google Analytics shows you how your users interact with your website. It can show you time on page, bounce rate, exit rate, and more. Google Search Console tells you how users found your website, such as which pages are doing well, and what types of questions you're showing up for.
SEO + Content Process
Marketing + Admissions
You have to make that a feedback loop. Marketing teams can take the questions admissions teams are being asked and create content around it, and admissions teams can reference the marketing materials and use them to help the enrollment process.
Action Items for Best Results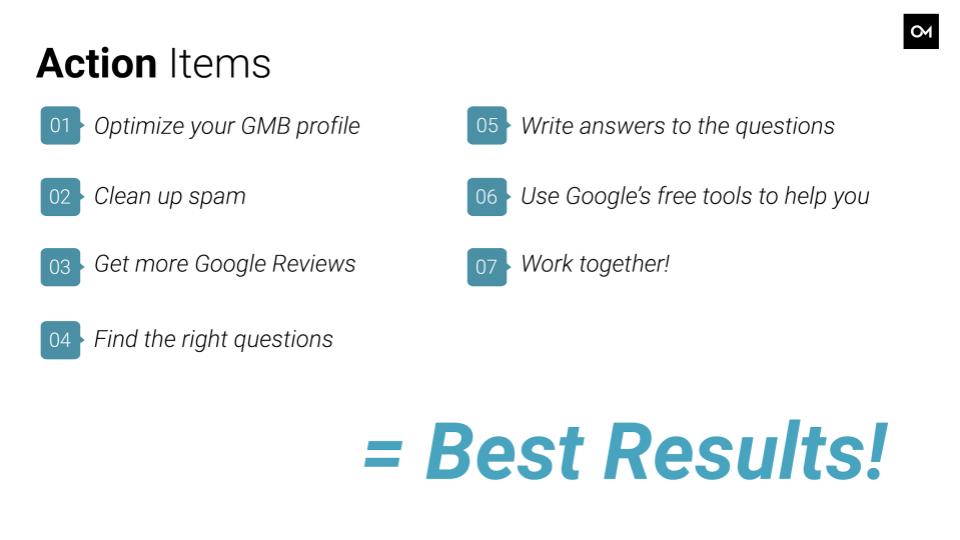 Talk To Us
If you need more help with your SEO and content, get in touch with our team and we'd love to help out. We want to help our clients grow and help you rank on Google search. We have a team of professional content writers who can help you do keyword research and find the right questions to answer on your website. Get a free analysis today!