11 Questions You Should Be Asking Your Web Development Company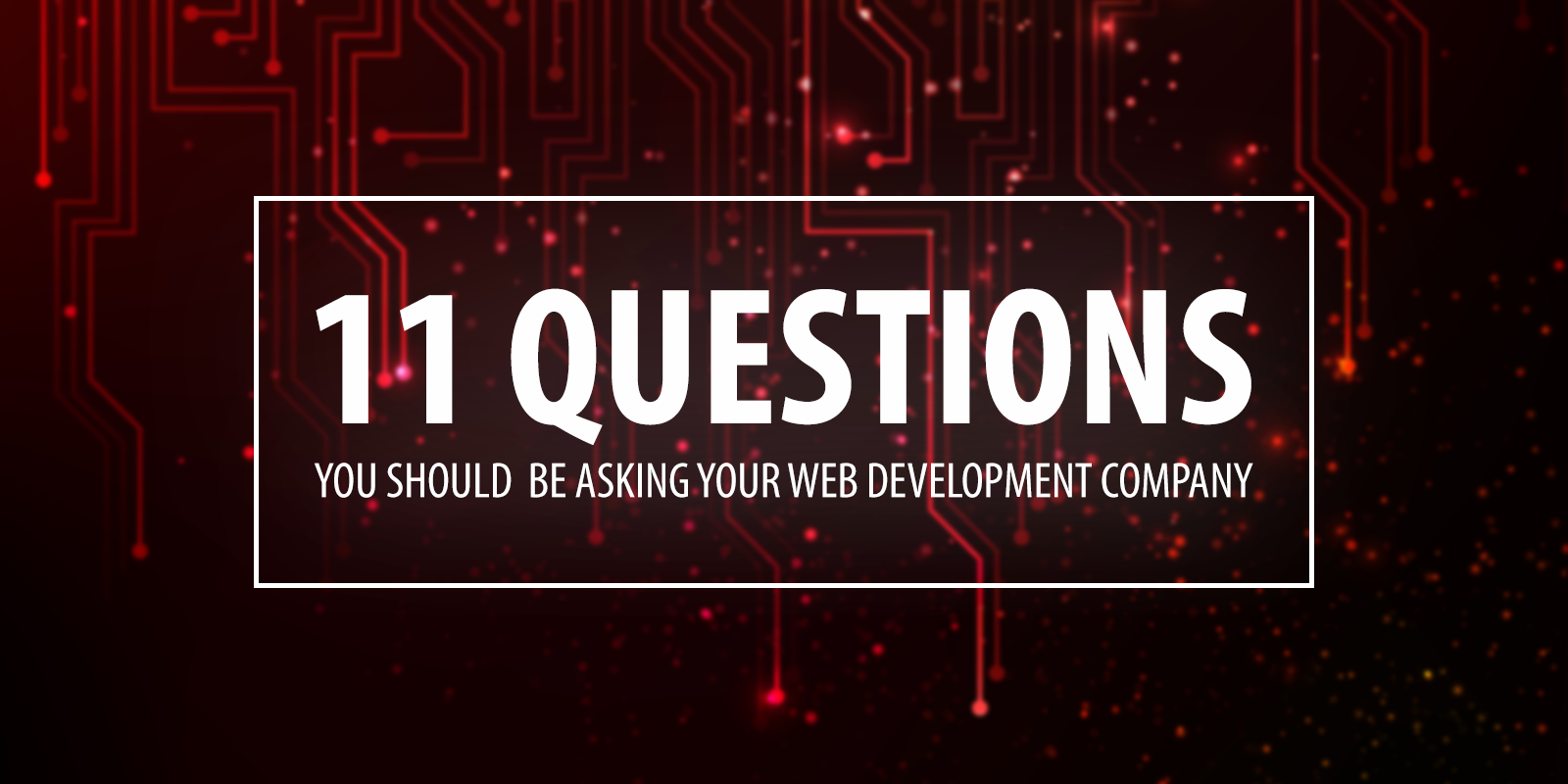 So you're looking for a new website. Whether the process started because you want a mobile friendly site, to improve conversions, or update to keep with the times, you're making an essential change for your business. In today's world, virtually everyone is connected in some way to the internet at all times. Because of this, it's essential to ensure your business has a strong online presence. A strong online presence starts with a strong website.
Not all web development companies are created equal. There's variance from quality to cost, from expertise to completion time. Building a website is a time consuming and potentially expensive process, but one that can bring you many benefits. Make sure you're building a partnership with the right company. Before you hire a web development and design company, ask these eleven questions to ensure you're not only getting the best website for you, but that you'll be building a partnership with an outstanding asset.
How Do You Create a Good User Experience on Mobile?
As of April 21st, 2015 an update to the Google algorithm has given mobile friendly websites a drastic lead over the competition. Because over half of all website searches are done on a mobile device, it's crucial for business owners to deliver a positive user experience no matter the device used. Find out what they do to improve user experience no matter the device. If your web development company can't deliver either a mobile or responsive site, run!
Have You Worked With Companies that have Strict Branding Guidelines?
Keeping your brand consistent across different platforms is crucial. When it comes to design, there's a fine line to walk in keeping within branding guidelines and branching out creatively. If your brand is already well established with an easy to recognize logo and branding elements, it's essential your website reflects that. Companies that are simply buying a template online to use over and over again will have the extremely difficult if not impossible task of fitting your unique branding into a restrictive framework. Ask your web design company if they've had experience working with strict branding guidelines, and if they feel confident designing within those.
Do You Use a CMS (Content Management System)? Is it Possible for Me to Edit My Own Content?
A website should never be stagnant. Once your site goes live – if done right – thing should change. Text should be updated, images should change, new information should be added. These changes are driven both by user needs and updates to search engine algorithms. Ensure your website company uses a reputable content management system, like WordPress, that you can edit yourself, making basic changes. If a development company uses flat HTML files to upload your site, steer clear! Cheap CMS may seem like a great, option, but these quick and easy web development methods come at a cost. For example, recently Wix sites were not showing up in Google searches at all, leading these websites to be essentially irrelevant. In this case, Google had to find a workaround just for Wix sites to allow them to show up. Before starting the project find out what CMS is used, and whether or not you'll be able to make necessary changes on your own.
What Other Types of Services Do You Offer?
Just because someone is exceptionally talented at building beautiful designs does not make them the best option for your website project. Building a new site is only the beginning. From there relevant marketing, monitoring, A/B testing, and adaption to changes in users and search engines is imperative.
Ever heard the analogy all roads lead to Rome? Your website is Rome. While there are other key components online (citations, social media, etc.), each of these should lead consumers to your website to close the deal. Before choosing a web development company, find out what other services they offer, and how those services tie into a successful website. A company that understands digital marketing will better understand what your website needs to reach and convert your audience.
How Do You Keep Everyone In the Project Accountable?
Website projects are not something that can be completed overnight. Depending on how complex the project is, it could be several months from beginning to end. The website process should be a team effort between your business and your website development company. Being actively involved in the process allows you greater input and understanding of your website. Understanding this relationship helps avoid confusion when it comes to approvals, who has the final say, understanding what's coming next, and due dates. Find out how your website company keeps not only themselves accountable, but you as well. Keeping you both on track is instrumental for a smooth website process.
Are Your Sites Built on Restrictive Templates or Frameworks?
When websites are built in restrictive templates, it can be difficult to make even the most simple of changes. A site that is built on existing code is a site you don't have much control over. Changes that should be fast can quickly become a nightmare if built using existing code. Adding just a sentence of content on a restrictive template can break the site entirely, ruining the design. You should be able to add content, and keep your site functional. Even if your new website is following a layout, this layout should consist of clean code, not be built on the same framework. Ask your web company how they start the development process.
Will I own My Site?
If your website company is building off an existing template, there's a chance you won't own the code at the end of the process. What does owning the code of your website mean for you? It means you can take your site and host it anywhere you want. Some companies such as Dex don't allow you any control of the code or domain, giving them the ability to take down your site at any time. Once your website is set up and paid for, the code should be yours. Find out beforehand if your web development company gives this ownership to you.
Some website companies will prey on the fact that their client's don't understand the difference between a domain and the website itself. Your domain is the part of your site just before the .com. For example, our domain is "oozlemedia". Be sure to ask if you will not only own the website code, but the domain as well. Some companies will make their clients "buy" the domain, which you assumed was yours, if you ever try to leave.
What % of your Projects Are Completed On Time?
As we said before, building a website is a team effort between client and development company. Because of this, time estimates are difficult to pin down. You as a business owner understand how little time you have in the week. Even still, your web development company should be able to meet deadlines to complete a project on time. A good development company will help make the process easier for website clients, keeping them both accountable and making sure the website is progressing, even when you don't have as much time to dedicate to the process as you'd like.
Can I talk to some of your Recent Website Clients?
Just because a development company looks good on paper doesn't mean they're easy to work with. Ask to speak with past clients who have real life experience with the company. If your development company refuses to let you speak with any past clients, there's a reason why, and it isn't good. If possible, ask for references within your own industry who have similar goals for the website.
Do You Specialize In Any Specific Industries?
While not necessarily a requirement, choosing a development company that works specifically with others in your industry can be a great advantage. Whether you're a beauty school, restaurant, restoration company, heating and air, dentist, or outdoor clothing company, you have very specific:
target audience
profit goals
effective ways to reach your target audience
method for converting
ROI for every website lead
Working with a company that has previously dealt with these issues for others in your industry can be a huge asset for you.
How does Conversion Rate Optimization Factor into your site development?
A site should not be built for the sake of being built. For most, a website is needed to improve or gain more business. This is done through converting people directly on the site, or leading them through a process to eventually convert. Conversion rate optimization is done through testing what works and doesn't from a user perspective. Whether through A/B testing or simply through effective research, your web development company should take CRO into account and integrate it into your website.
Before signing any website contract, ask your development company these eleven essential questions. Ensure your company is not only capable of building a beautiful website, but can build one with your final goal in mind. Learn more about us, our answer to these questions, and what makes Oozle Media different as a web development company. Let us help build a website that becomes your most valuable asset in your marketing game plan: 801-562-8557