Webinar: How Schools Should Benefit From Our Free Google Reviews Training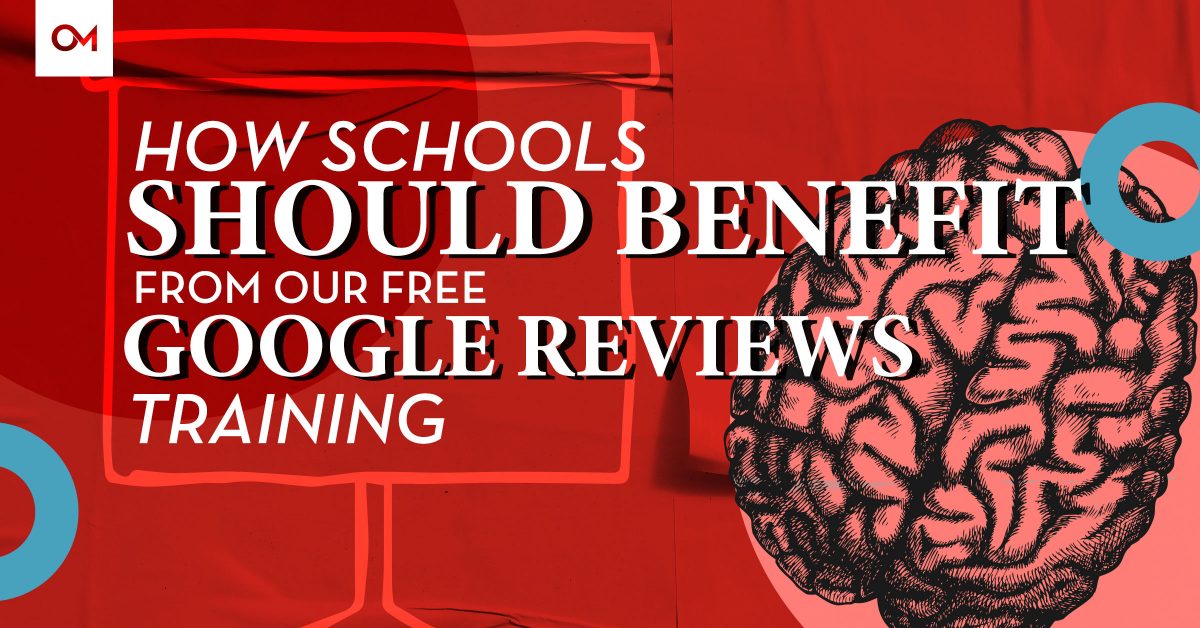 We're back with another webinar this week, and this one is all about something unique to what Oozle Media and our sister company Beauty as a Business. This week we have our CEO Chris Linford talking about the benefits of our free Google reviews training that's part of our free 20 hours of beauty school curriculum.
This includes a recording of the live training we've given to beauty schools for five years.
The last day this free curriculum is available is June 7th. You don't want to miss it!
Watch the Replay
A Little History About This Training
When we started giving our reviews training to beauty school, we knew online reviews were a big deal. When we first started, we had one of the worst plumbing companies as a client. We ended up firing them. This was a time where Google would aggregate all reviews, not just Google reviews.
When they asked us to help them, we incentivized their reviews. As they got more, everything started to get better results. Their PPC, their website, everywhere. While we knew we didn't want to work with that company anymore, we now knew the impact reviews have on a website.
As we started working with beauty schools, we met with the school's staff to try to help them get more reviews, much like we did in the past, but it didn't have the impact we wanted it to. We realized we needed to get in front of the students. Students needed these skills, too.
So, we started trying to build this new training out. We went to a salon and tracked the number of their phone calls before the training to get an idea of how many calls they had each month. From there, we trained their beauty professionals on how to get reviews, and in 30 days, they went from 200 phone calls per month to 500 phone calls.
Then, they started to get 700-800 calls regularly. While we were implementing other marketing strategies, like site optimizations, we can attribute that Google reviews also helped grow their salon and increase their calls.
Schools Benefit From Reviews
Schools can benefit in a big way from students getting reviews. As part of our training, you often get more reviews from guests, but the real money-makers are reviews from students. We have more tips near the end on how you can get those reviews. But first, are reviews that important?
Do Prospective Students Read Reviews?
Yes! Most people in your target demographic's age group trusts reviews as much as a personal recommendation from someone they know. (You can read more results from BrightLocal.)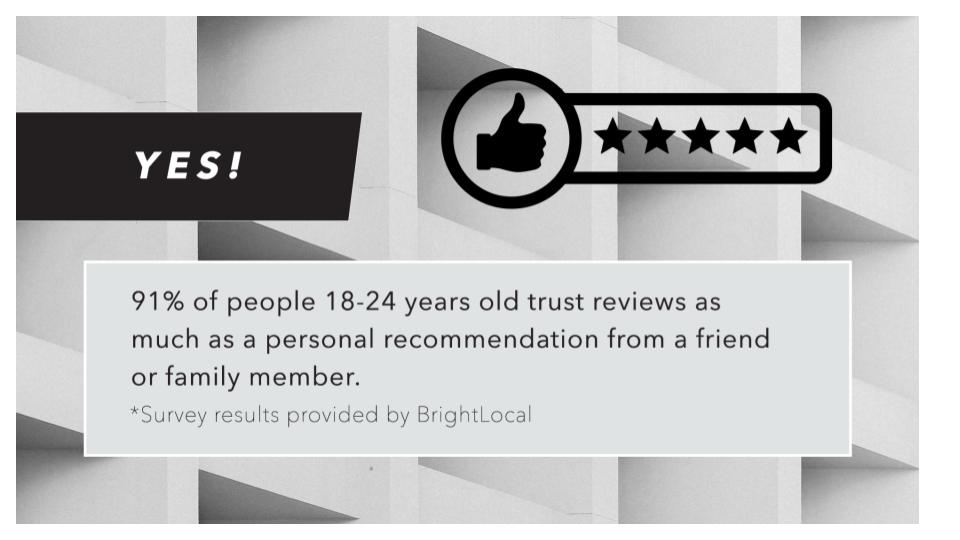 What About Negative Reviews?
Negative review legitimizes businesses. In our experience, a lot of schools want to delete negative reviews, and depending on the platform, there are ways we can mitigate that. But in general, a lot of bad reviews are often from students who have poor attendance or are bad students.
The real truth about negative reviews is that we're smart enough to read between the lines to know when something's legitimate or not.
If you have a gameplan, negative reviews can actually help your business. In fact, 85% of people read negative reviews. Often, we'll read a few of the positive reviews, then we'll go into the negative ones. We want to be able to trust that a business will take care of us if something goes wrong. That's the power of negative reviews.
What Happens When You Respond to Negative Reviews?
If you've responded properly to those negative reviews, here's what happens with those visitors. They:
Spend five times longer on your site
Convert at an 85% higher rate than your normal conversion rate
You can only get these results if you respond to negative reviews correctly. A quick checklist you can follow are:
Don't try to fix the problem online
Don't try to combat them in your response
Use their first name
Validate their concern
Showcase that you appreciate their feedback
Include something like "thank you for bringing this to our attention."
Provide a name and contact information for someone to get in touch
Respond to the negative review as soon as possible
Do You Respond to Both Positive and Negative Reviews
Yes! You want to respond to all reviews, and you want to respond to them quickly. This even helps with Google, as Google wants to show businesses that care and will provide good service to their customers or guests.
Other Impacts on Reviews
Star ratings matter. According to a Harvard Business School study, an increase in stars can increase your revenue by 5 to 9%. What's important is that you want both quantity and quality of reviews.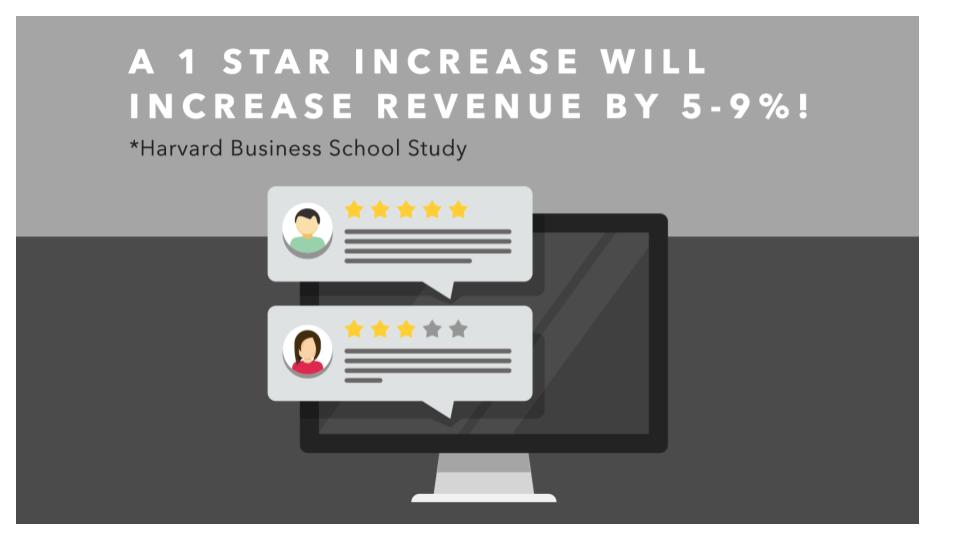 Studies show that even hitting 100 reviews can possibly create a 37% lift in conversions.
Quantity, Quality, and Frequency Matters
Here's the truth of getting reviews: Once you start getting reviews, you need to always be getting reviews. Frequency matters too, as you don't want to see a spike in the number of reviews then a drop off.
You not only want 100 reviews, you want 100 reviews more than your competitors.
What percentage of a student's mind is already made up on what school they're going to choose before they've contacted any school? 70%
What makes an impact on that is reviews.
Some schools do a survey, and if you aren't doing that, you should be. When schools asked why someone went to their school, a lot of people actually reported on the atmosphere. Other common reasons were about financial aid opportunities and career opportunities, too.
Once a school made an effort to get more reviews, more and more students started talking about how they saw the Google reviews and decided to go to that school.
A beauty school's number one source of leads should be in the organic field. We know a lot of schools are spending a lot on PPC and are getting a lot of leads, but their organic channels still outperform their PPC. It's often because they have good reviews and their website is built to convert.
How Can Admissions Take Advantage of More Online Reviews?
Your admissions team can use your reviews to their advantage to help get students. Don't be afraid to talk about them and get your potential students to read them!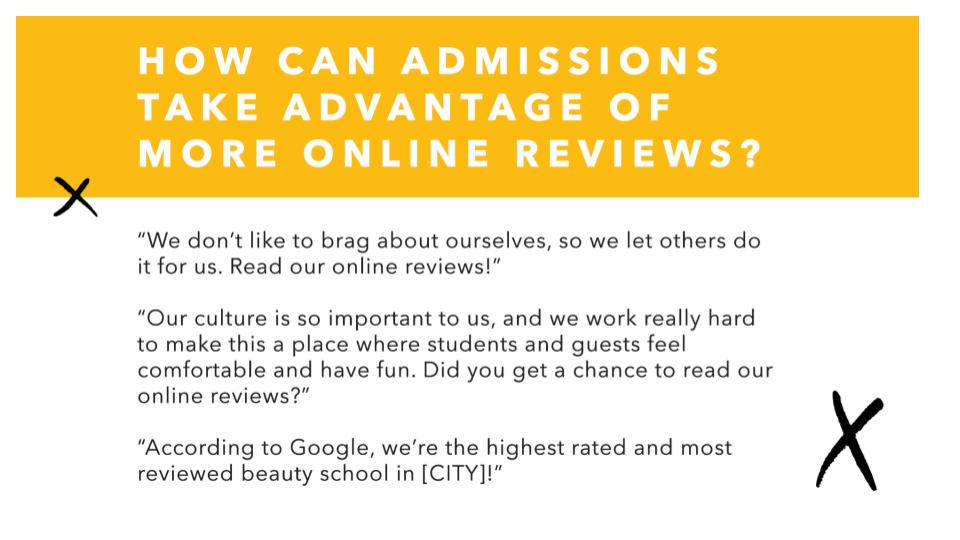 Pro Tips on Getting More Google Reviews
Again, student reviews are the money-makers and you need to have a plan to get those. Who's asking students for those reviews, and when you ask them for the review is important, too.
You can set goals and put accountability metrics to track it. You can even incentivize your staff to ask. Here's the thing is that students are going to get excited to get reviews, and we need to keep that excitement going. You can do that by:
Creating a recognition program
Providing incentives to students to ask for reviews
Make it a competition to see who can get more reviews
You shouldn't incentivize guests to leave reviews, as it breaks Google's guidelines to offer something for a review. And, when we offered a discount for leaving a review and took that discount away, we got the same amount of reviews!
Something else to note is that while students are reading Yelp reviews, you aren't allowed to ask for them. Instead, do a Yelp check-in incentive. There's a good chance that if someone checked-in, they're already on the platform and may leave a review anyway.
4 Google Review Pitfalls To Avoid
Something else we want to cover are these four pitfalls you can avoid when trying to improve the quality, quantity, and frequency of Google reviews.
1. Avoid a Low Frequency of Reviews
Don't get a bunch of reviews and then suddenly no reviews. It's something you should always be doing. If you get a lot of reviews and suddenly no reviews, it doesn't look natural to Google, and you could get penalized.
2. Avoid Having Reviewers Connected to Your Wi-Fi
Google might think that the person leaving the review is all one person leaving different positive reviews, which doesn't look trustworthy to Google. It could even cause those reviews to be removed by Google.
3. Avoid Non-Descriptive Reviews
You want reviewers to talk about their experience. If guests are leaving reviews that are descriptive, they're leaving keywords about your business that people use. For example, if they're talking about how they really loved their cosmetology school, it shows Google that you're more relevant as they're talking about it in their reviews.
Plus, who likes reading the one or two word reviews?
4. Avoid All Positive or All Negative Reviews
If you're getting just positive reviews and no negative reviews, people won't trust you. The negative reviews and how you respond to those reviews can help build trust with potential customers.
You can download a copy of our guide that covers these pitfalls more in-depth for free.
How Has This Changed With COVID-19?
For a time, you couldn't leave any reviews, but they turned that back on. Really, as schools get people back into the salon, then you can ask for reviews. If you're hosting an online or distance learning, you can find the students who are having a good experience, and you can ask them to leave a review.
Get Our Free Curriculum
June 7th is the last day you can get Beauty as a Business's free curriculum. If you are interested in learning more about everything we have included in Beauty as a Business, you can get a free demo by filling out a form on their website.
You can also follow Beauty as a Business on Instagram @beautyasabiz as they share free marketing tips all the time!
Oozle Media and Beauty as a Business are here to support your beauty school and your business. If you need help with your reputation management or want support learning how to get and respond to reviews, contact us today! We'd love to help you out.