SMB Marketing Chat With Dave: Lead Bullets vs. Silver Bullets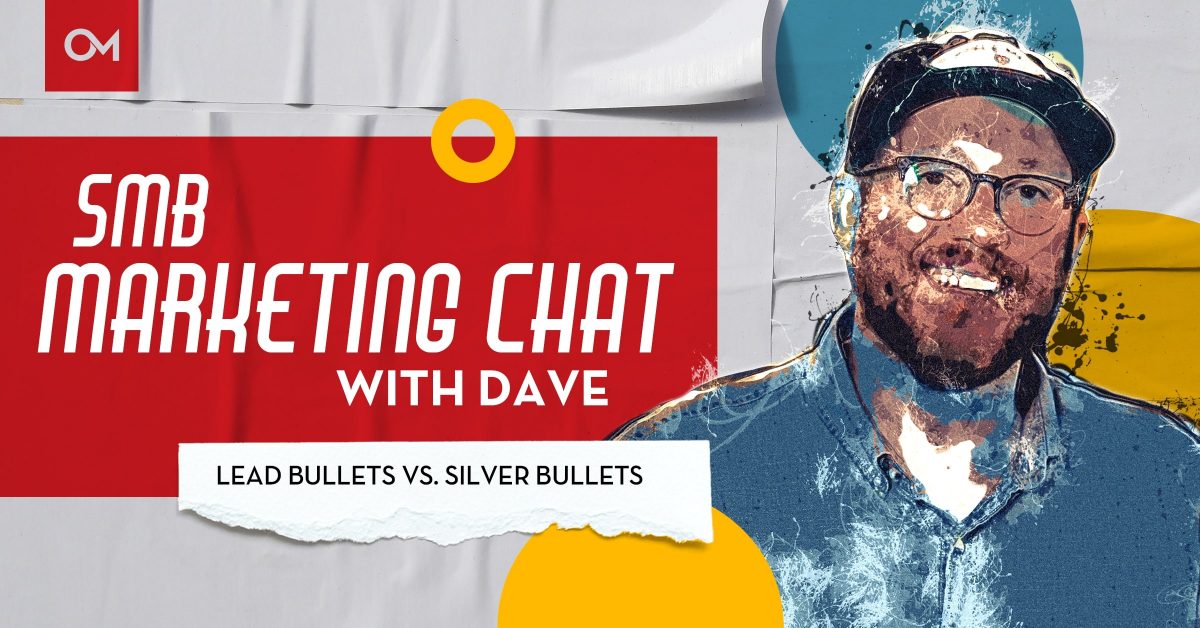 Our current COO Stephanie Carter chatted with our former COO Dave Smith about one of the points he made during his webinar. If you haven't watched or read the recap of that, we recommend doing that first!
We want to provide as much information and marketing advice as we can right now for the situation we're currently in.
In this installment, the discussion is about lead bullets vs. silver bullets as part of Dave's blog and webinar. You can watch the recap of the conversation below or read the summary.
Watch the Replay
The Tactics of Marketing Go Up and Down
People are always trying to find the next marketing tactic to bring instant success. You might hear:
"This is the next silver bullet tactic. We have figured out how to fool the system to show our stuff more often."
Then the platforms get good at sweeping that out with their algorithms, so businesses rise and fall on these marketing tactics. At the base of these tactics, the thing the potential customer wants is:
The right information
Told in the right way
At the right time
People Don't Hate Ads. They Hate Bad Ads
A bad ad is the wrong message to the wrong person at the wrong time. Up to three-quarters of people are actually happy when they get interrupted in their shopping cycle when they're provided a better option.
The right person hasn't changed all that message, but the right message at the right time has changed tremendously.
Just think about masks. Three weeks ago, you would have been crazy for talking about wearing a mask. Then, suddenly, it became mainstream, where people wanted to wear masks when seeing a new student or inviting someone to a salon.
Then, even that message became out of date, as those masks are needed by medical professionals.
Now, the message has changed to if you're going to be out in public, you should be wearing a cloth mask. Just the messaging on masks alone has changed so much. That message will continue to change as more information comes.
There's No One Tactic That Will Be the Right Solution Right Now
In this chat, Dave puts in another plug to this book, especially if you are owning a business: The Hard Thing About Hard Things by Ben Horowitz.
The example where Dave based this topic is on the example where the author's lead engineer came up to him, where a bigger competitor is providing a product that is five times faster. When faced with this problem, they do what everybody else does: wallow for a second, then produce a hair-brained idea.
One of the senior engineers who had been through a variety of product lifestyles told the author that silver bullets don't exist, you have to meet this problem with a lot of lead bullets.
What Are Lead Bullets?
For every business, it's going to mean something a little different. For us, it's a constant triage and focusing back to what is the right message for the client at this time.
Change the Right Message
When this situation first started, the right message changed depending on where you were in the country. At first, it was showcasing how you were open and still keeping everyone safe. Now, for most businesses and beauty schools, it's how you're open online. If you've still got messaging about "washing our hands," it's not relevant because your business is closed.
You can get an example of the right message from Stephanie's webinar on social media. However, most businesses had to change that messaging immediately.
The concern is that businesses don't have messages that they're still open online. For beauty schools, admissions are taking virtual tours, having chats online, and doing distance learning.
You have to look at the messaging on your:
Social media
Website
Google My Business
Is your message clear to someone that you're open online?
Sometimes we get so focused on ads, landing pages, and ad copy, that we forget to put the information at the most important place: your home page. The second most important place is your Google My Business profile. From there, it's social media profiles and other places your business is online.
Put a Sign on Your Physical Door
Sometimes we forget that physical locations matter. If you want to get your business in front of people, put up physical banners to get eyes on your business. Signs at your location and banners give the right message often to the right people at the right time.
Don't Make It Hard For Your Audience
People don't always want to call, so make it as obvious as you can how you are operating as a business right now. You don't want to risk someone calling you on the phone and not answering.
What actions can you take today?
Part of going over any obstacle to get your message to the right person means going back and analyzing.
Look For Clues To Adjust Your Strategy
What is built in processes are safeguards to happen when things go wrong. After you try to get the message out, look for clues to see if your message is the right message.
At Oozle, we're looking for a rise in demand of those that are coming back to the market.
We are seeing a rise in searches in education and school. We saw a Google trends chart of search nationwide where "best beauty school" was up 41%. The way we are interpreting this is that you've seen large amounts of people who are losing their jobs.

Now that people are stuck at home and don't have jobs, we're getting signals that people are looking for:
New education
New skill sets
We have some data from a past recession that we know that losing your job makes you think about:
What do I want to do with my life? What is my passion? Do I really want to go back to something that I didn't love anyway?
If I'm going to change my career path, I need to get skills that qualify me for it.
The biggest thing we're seeing are display ads, which are little billboards for your business that follow people around the internet. Traditionally, our recommendation has been:
Do search network first, then do display ads. Search demand has gone down (it is starting to come back up), but clicks on display ads have skyrocketed.
You can read more about display ads in our PPC webinar.
More People Are On Their Phones and Looking for Videos
The reason display and YouTube ads are so important right now is because more people are on their phones. There is a larger amount of display ad "inventory," which is why display ads are cheaper right now.
Not only is that inventory cheap and where people are already hanging out, the dynamics of how people are searching has changed. Previously, people would reach out to you to tell you to inform them. This up and coming generation has never not had the internet. If they can't find it exactly when they're looking for it, you won't convince them to convert.
They will wait for an ad to chase you down than bookmarking a site to look at it later.
The Consideration Stage Is Taking Longer
The consideration stage is taking longer and longer as people would rather get all the information they can online before they decide to convert.
When people are filling out a form or calling, they've already made the decision before they got there. The actual sales cycle for someone starting beauty school is like 6 weeks to 6 months is the typical path for someone. If you can catch them early enough, it can give more data to the AI and smart ads to figure out when and where to target you.
Right now is an ideal time to get in front of people with display ads and YouTube ads.
We're looking at potentially a 10-15% unemployment, right now. This means around 30 million people are between jobs right now. It's the ideal time to start targeting people for beauty school right now.
Here is a checklist of lead bullets you should consider right now:
1. Update your website.
It's your home base for your website, and it's the place people can get information about you. And people expect it. If you don't have info there, then people are going to assume you don't do it or haven't addressed it. They may not look further if they don't see it right on your home page.
2. Make your physical location ready.
Stop trying to collect demand and pre-lead stuff, and start working on post-lead things. Make sure someone is talking with your audience on your phone. We have more advice from Rob from Sales Comm about what your admissions people should be doing right now on the phone. Think about providing:
Scripts
Signage and verbiage
Updates to your message system
3. Update your auto-responder email.
If you have an email that automatically goes out after you fill out the form that says the next step is to come in for a tour, you have to change your message in that email to be contextually in how you are truly operating today.
You have to consider each step in the process and how it will be perceived by your potential customers.
Marketing Can Feel Like a Checklist
We know that April has felt like a "checklist" of things we need to do for each client, but that's because we need to make sure the message our clients need to provide is updated with information
Ad Updates
You should start with ads because these "knock on someone's door" and are going to be seen. To reflect what your business is doing right now, you should consider updating:
Messaging
Images
Calls to action
Landing pages
Thank you pages
Email auto-responder
Website Updates
If someone's gotten on your landing page, they will probably go to your website to learn more. So, you need to update or add:
Banners
Call to actions
Pop-ups
Work With Your Marketing Agency
If your marketing agency is stuck on tactics and can't think through what the right message is, you should double-check with your marketing agency. A business owner probably knows better what to do than most agencies. If you have a marketing agency, make sure you have one that can consult with you and think through the issue.
For us, at Oozle, it has not been a "creative" month, but instead it's been getting back to the fundamental pipelines that most people are going to be using with you. We want the messaging from the ad to the thank you page to the call to reflect exactly how our clients are operating right now.
Once you've done "everything," something is going to change and make you have to go back and change your messaging again. Your marketing actually needs more time and effort right now to keep your messaging correct.
If you need support during this time, get in touch with Oozle Media for a free analysis. We are here to support small, local businesses.