Webinar: Create Productive and Valuable Distance Learning for Beauty Schools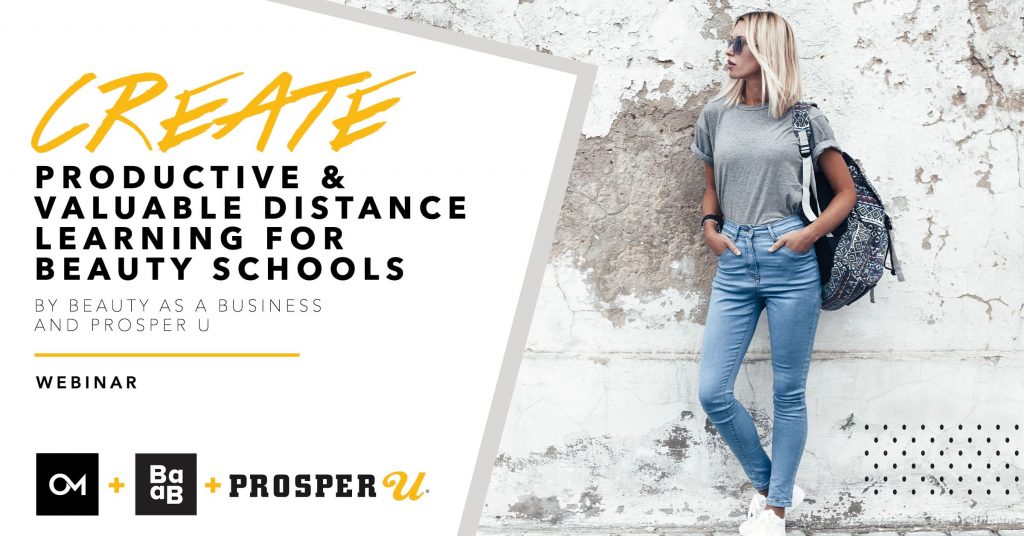 It's been on all our minds: how is distance learning going to work for something like beauty school? We hosted a webinar with Beauty as a Business and Prosper U to talk through ways to ensure students are still learning at home. Learning things that will not just help them get the hours they need to graduate, but could improve their ability to be successful after graduation.
Prosper U helps teach the soft skills that it takes to build a relationship with guests so they keep coming back. They also have the systems and scripts to teach the business side to grow and maintain their business to have a lasting career in the beauty Industry.
Beauty as a Business and Prosper U are both giving away 10 hours of our curriculum, for a combined total of 20 free hours! Prosper U is offering two courses about culture, learning about how to positively influence your business's culture and the importance of looking and feeling your best. This even includes how your appearance can help dictate your clientele. There are even lessons on good ways to provide good service and how to handle upset clients.
You can get those from Beauty as a Business and Prosper U.
Watch the Webinar
Advice From Prosper U
Jessica Beck and Jen Fry gave advice on how to best use these free courses as part of this webinar. Their goal is to help beauty school students grow and learn their skills. They wanted to provide good information both while they're at home, when they're back in the school, and their time after school.
You can have your instructors view the courses so they can help build a plan that allows students to keep practicing what they learn. You can also:
Work with your product vendors. The more the students know about the products, the more comfortable they will be about talking about them.
Continue to grow your social media accounts. Find the best places in your school to take high quality photos and follow what Beauty as a Business teaches.
Help the students be more confident in their pre-booking. The more you pre-book your guests, the more guests are likely to come back.
Tips To Help Build a Healthy, Online Community
Communication is often a one-way street, but right now with distance education, students are craving interaction and social time they can't necessarily have. Some ways to build a community that allows students to connect with you are to:
Create virtual environments. Use Zoom, Google Hangouts or something to find ways to connect face-to-face with students. Build that community as a way to share information or to check in with students during this time.
Create online engagement. Make sure you're engaging with your students in any way possible. If your students are building their social media accounts, sharing how-to tips, product knowledge, or assignments, use your school's account to let them know you see them and recognize their hard work.
Don't start anything you don't plan to continue after it's over. While Zoom calls don't need to happen, you should still recognize your student's hard work on social media regularly if you are doing so during this time.
If you like this information and want to learn more about Prosper U and ways to best utilize online learning, you can reach out to Jen Fry at jfry@myprosper.com.
Beauty Schools Are Facing Unprecedented Times & Making Unprecedented Decisions
Even if it's not compliant to advertise this way, beauty is – by and large – a hands-on learning experience. Becoming a cosmetologist, esthetician, or nail tech will probably never be something that can be learned all online or from the comfort of one's home.
The unique and personal nature of the industry is what makes it such a great, future-proof career, unlikely to be phased out by automation. It's also resilient and proven to be fairly recession-proof.
There were 14% more salons and 19% more barber shops in 2009 in the US than in 2007.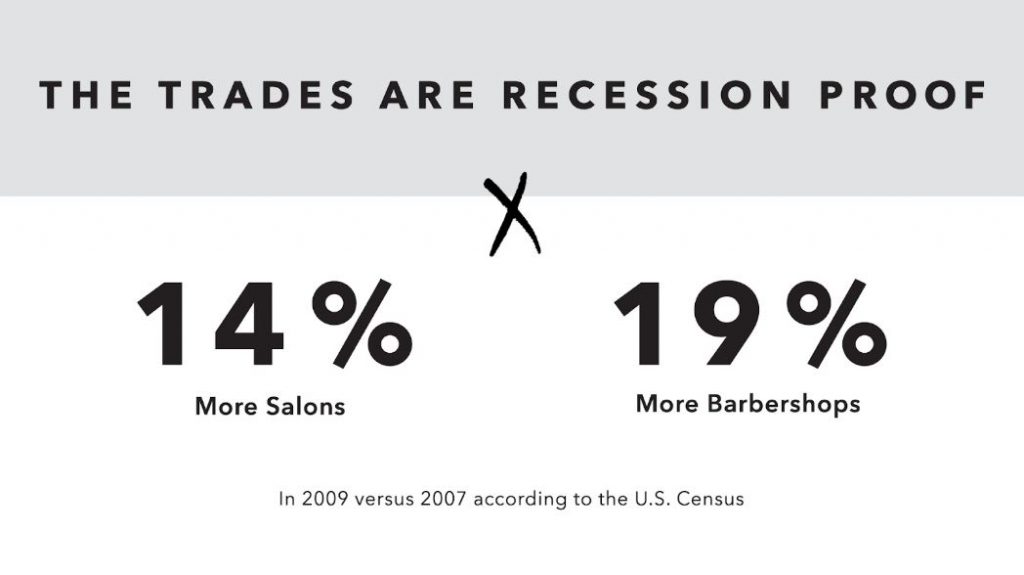 Ultimately, trade schools and beauty schools in particular are going to be okay. Like Dave said on his webinar, there is an unprecedented opportunity for schools that can afford to take it. All that said, the industry is not unchangeable.
Just like trends change as technology improves, the coronavirus has opened the doors to the possibility of a future where distance learning is here to stay. The schools who are able to make swift but informed decisions and adapt are the schools that stand to gain the most, while schools who are resistant to change will be quickly left behind.
Embrace Distance Learning
One of the decision schools are having to make is whether or not they will allow distance learning, virtual tours, and if they will continue to enroll students while the physical facilities are unoccupied. Some areas may have made those decisions for you, and as situations surrounding COVID-19 are rapidly unfolding, what is true today, may not be true tomorrow.
Check with your local, state, as well as the federal government for the most current information.
How Do You Get Distance Learning?
If you are trying to offer distance learning, the problem is how to roll this out. You might be asking:
What changes about your lesson plans?
How do you fill the day with valuable learning when teaching practical skills is not possible?
That's where your existing or new partners could be more useful than ever. Many schools are partnered with vendors who offer curricula that can be accessed online, whether you are with Milady, Pivot Point, Beauty as a Business, or Prosper U.
For those of you who work with any of us, or a similar partner, you may have been able to roll out distance learning very quickly. To the schools who haven't had the opportunity to work with a vendor that offers these types of services, there is no better time to take the investment.
Why Invest in Online Learning?
I have heard of schools who are sending out YouTube videos to their students to watch and send back confirmations that they have watched the videos. Or worse, schools letting students <em>pick</em> the videos they watch and just reporting back the time they spent. However, this might not provide actual credit for their time.
I can't tell you how many hours we've spent at Oozle Media writing blogs about how you can't be a licensed beauty professional just by watching Youtube.
Get 20 Hours of Free Curriculum
Beauty as a Business is giving away nearly 10 hours for free. We've also added to the curriculum a timely section titled "Posting During a Pandemic".
Prosper U is also giving away 10 hours of their curriculum for free. In an effort to support all beauty schools, we've made that available on the same platform as our BaaB courses. You can get access to all 20 hours of the course work at learn.beautyasabusiness.com/collections.
One of the great things about these courses is that, while they are designed for students to be able to go through at their own pace, they are equipped with discussion prompts and activities and can easily be paused and discussed with the class.
Instructors who familiarize themselves with the material will find them as great materials to do distance learning while they are translating their existing coursework and lesson plans to a format that makes sense for distance learning.
This is also important for students to be able to get credit.
What Is Included in This Online Curriculum?
Each course contains a video that teaches a specific subject. One of the free modules we are giving away is one of the most popular courses in the Baab curriculum: photography and video for your beauty business.
It teaches beauty students and salon professionals:
How to frame and take proper photos for social media accounts and their portfolio
Photo editing tips
Lighting tips
And more!
The other module on our curriculum that we are giving away is our CEO Chris Linford's Google Review training that some of you may have already experienced by having him at your school. It's incredibly engaging and informative, and quite frankly just a lot of fun.
What's Included?
Start With a Video
In each section they will watch a 3-5 minute video.
Answer a Discussion Prompt
Upon completion, they will be asked to provide a response to a thought-provoking discussion prompt. Students will need to submit their thoughts to receive credit for the course work, but instructors conducting class online through platforms like Zoom can use them to foster meaningful discussion between students.

Pass a Short Quiz
Following the discussion, students will be required to apply what they've learned through a variety of interactive activities. After each of these activities, students will be required to pass a short quiz.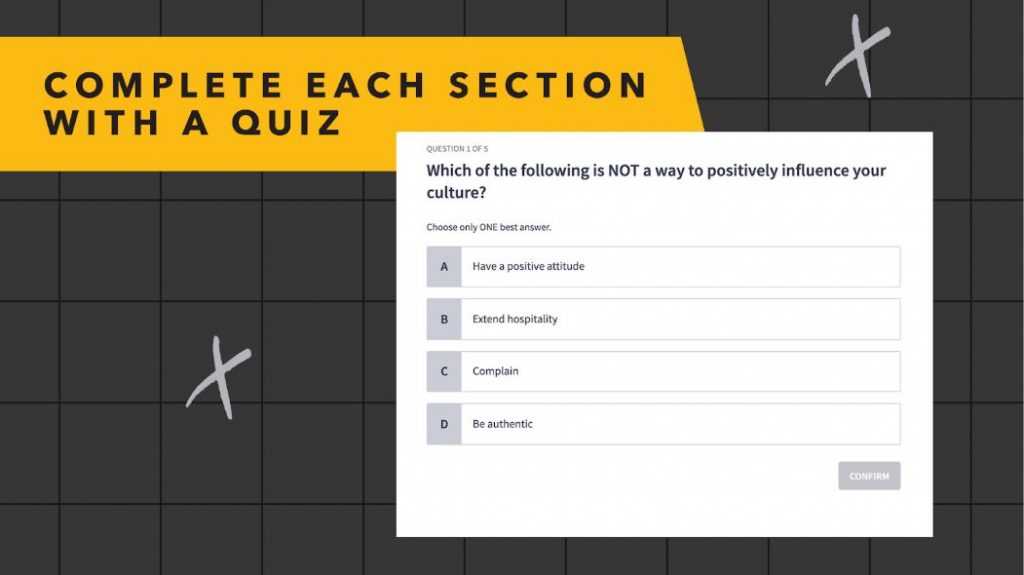 Meet the Requirements
All videos have to be watched to 95% completion and quizzes passed with 80% or higher scores for students to get their certificate of completion. If done appropriately, each student will receive an independently verified certificate of completion for each 10 hours that they complete.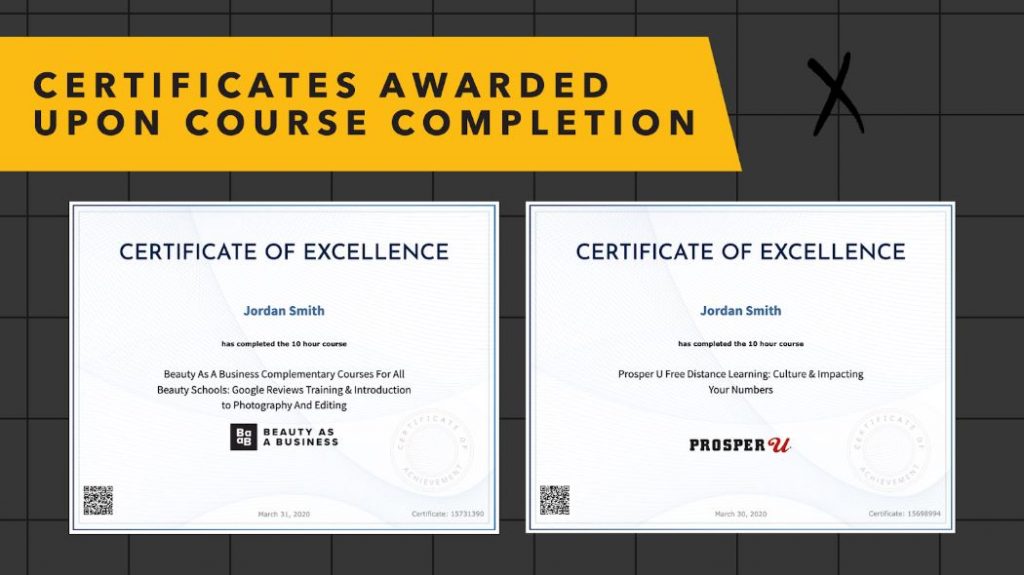 In many states, these certificates will also need to be presented in order for the students to receive credit for the course work they've done. In the last few weeks the certificate alone was enough for the student to get credit.
I have not yet had this confirmed, but I have heard from several schools that NACCAS specifically is now requiring distance learning to have an instructor present for all distance learning to count the hours.
It Works With or Without an Instructor
These courses were originally designed to be taught and discussed in a classroom setting, but also to allow students to easily review, interact and learn on their own, so these courses are already perfectly suited for your instructors to implement.
We just announced the free courses in passing last week and have already had:
Over 200 schools express interest
Over 500 students who have already enrolled
Over 20% of which have already completed the first 10 hours.
We are here for you. We want your students to succeed and more importantly we want you as business owners to succeed.
Use Online Learning To Encourage Prospective Students
You can use these things as value propositions to prospective students. We've had many schools who were quick to include distance learning and virtual tours in the paid advertising.
Some schools have created pages entirely talking about what they will teach their students via distance learning and how it can help them get a jumpstart on their education when they can come back to school and start on the practical side.
We know there are a lot of pros and cons to distance learning, and most people have focused on the cons, despite it being the only option for many schools to keep their doors open.
Online education allows students the opportunity to tackle some of the activities at home. This allows students to experiment and critically think in a way that the physical classroom and pressure of other students sometimes discourages.
Of course, everyone has a way of learning that suits them best.
While some will greatly benefit from distance learning, some students will need additional encouragement. The lessons and courses that we as partners are providing are not meant to take the jobs of your instructors but to make their lives easier in these crazy times and into the future, while also providing your students with an education that will help them succeed in their future careers.
Get the Help You Need
We know everyone is stressed and hoping for things to turn back to normal. I know I'm speaking for Prosper U, Oozle Media, and Beauty As A Business when I say that the last thing we want to be is a burden to any of you. If there is any way any of us can help you, your business, or your students now or in the future, please don't hesitate to reach out and ask.
You can check out the rest of our resources we've created on what your business should be doing right now in light of the COVID-19 Outbreak: