Are You feelin' lucky? 5 reasons why You still need to hire an internet marketing expert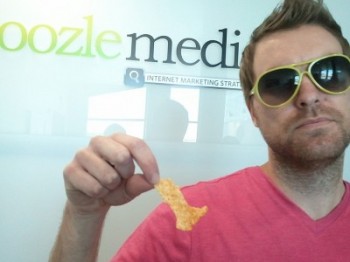 Depending on who's providing the explanation, the phrase, "getting lucky," can mean a variety of things. For the burglar in the classic film, Dirty Harry, it meant not having his head blown off by .44 Magnum.
For Scott Linford, Oozle CEO, it means finding an Italy shaped potato chip. Why? Perhaps he can sell it on Ebay for a hefty price. It could happen, right?
Regardless of what your definition is, or how lucky you feel,  LUCK RUNS OUT, and no serious business owner should base his/her future on a hunch.
Instead, follow in the shoes of successful business owners and hire an Internet Marketing professional. Here are 5 Reasons why this is essential:
5 Reasons Why You Need to Hire an Internet Marketing Expert:
You don't have the right knowledge. The internet industry is fast paced and constantly evolving.  How do you expect to keep up with it all when you're busy running your own business? An internet marketing professional will know all the ins/outs, the latest updates, loopholes, and vital information on where the industry is headed.
You don't have the time to effectively manage your Social Media and PPC campaigns. Any internet marketing professional knows how much time a well thought out social media and paid search (PPC) campaign requires.  Part of an effective strategy will include identifying keywords that will acquire conversions while saving you money, and when and how to effectively post a status update on Facebook that will encourage fan interaction.  An internet marketing expert will have the necessary time needed to research all these things so that you can get a step ahead of your competition.
SEO is ridiculously boring and hard to grasp. For many business owners, SEO (search engine optimization) is difficult to understand.  If we try to explain it to them, their eyes usually glaze over and we get tuned out.  However, since  SEO improves the popularity of your website in search engines like Google, an SEO strategy is key to online branding.  
A full service Internet Marketing firm is like a buffet. You can choose from a variety of  services in one convenient location, including web design, viral videos, paid search, social media, SEO, call tracking, eCommerce, and web development. At Oozle Media, we go a step above the rest by offering all these services at an affordable price and by providing monthly contracts.
Luck runs out. Didn't we already say this? Well, it's an important truth that we don't want you to ignore! Why? 'Cause we are all in this world together and we want you to succeed! We are your Utah internet marketing professionals!
Instead of "Getting Lucky", GET OOZLED!