Pinterest and Your Business 101
What if there was a social media platform that demanded minimal effort and rewarded you with self-marketing, advertising and public relations? Would you be interested? Pinterest is a wildfire that does exactly that and is here to help your business realize its untapped potential.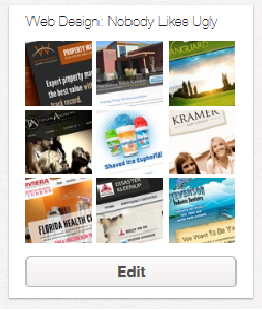 Pinterest is a social media hub that offers marketing-type opportunity for your business while also helping to increase your company's search engine optimization value. All you have to do for your business is sign-up, make your products or services available and enjoy the fruits of their labors.
What exactly is Pinterest?
Pinterest is one of the most trending and inspirational social media platforms available today. Through Pintrest, you can create your own Pinboard (comprised of images, videos or anything visual) and share what informative or unique content your business has with a whole new online community.
This recent social sensation has allowed for businesses to connect with new clientele through mutual interests, inspirations and tastes. The best part about Pinterest is that there is a niche market for literally everyone who joins the site, helping them connect with people who share their common interests.
Why Pinterest?
Pinterest is a booming and trending social media site with over 5 million members and counting. Its popularity alone has the entire business world buzzing with excitement. Consider the Pinterest community as a new client base waiting to see what your business has to offer them in terms of products, services, videos and designs.
What can my business do on Pinterest?
Pinterest can help you to feature, showcase and best of all, test your products or services to an entire online community. Through these features, showcases and tests, you can gauge popularity with hard data and track positive progress with each and every pin you create.
• Follow positive feedback via the number of Likes
• See detailed feedback via the amount of Comments
• Track the spreading of your pins via however many Repins
When you create a Pin (like a Tweet or Facebook Post), readers can see the visual you've chosen for them to view and a caption that comes with it. If the reader likes what you've pinned, they can "Repin" or repost your pin to share with others. The more this happens, the more your content is spread and seen.
The wonderful thing about Pinterest is letting the community take what you've pinned and run with it, helping to make your product or service go viral. The more people are sharing and seeing your content, the better! On Pinterest, you can:
• Pin your coupons
• Run promotions
• Create Pinterest contests like "Repins" for prizes
• Share Pinterest boards full of testimonials and client stories
• Optimize SEO by directly linking your pins with your website
• Sync your Pinterest account with your Facebook and Twitter account
• Did we mention feature, showcase and test your products and services?
Does Pinterest have limitations?
Yes, but not many. Although right now there are some things that Pinterest cannot do, keep in mind that Pinterest is still relatively new, and that changes can come as the site grows and expands. For example:
• Follow limit – Just over 8,000 followers right now per company
• Comment limit – Around 10 comments per day
• No follow linking (passing authority from one domain to another)
• Analytics not available yet, but still in testing
• Personal messaging
• RSS feeds for particular boards
• Invitation only or private boards
• Block annoying users
• Edit or build a board before publishing it live
• Remember, if the pin isn't visually appealing, it won't catch the attention of the community and its users
However, there is no need to worry! Here at Oozle Media, we are dedicated to helping you succeed in a variety of social media platforms regardless of issue or limitation! We want to help you and your business realize true SEO potential and growth online.
Pinterest is great for your company's SEO
With Pinterest, you can match keywords from your website to your pins, the same keywords that helped your business be more successful on Google and other web-based search. You can better utilize your SEO by networking with others in the community to help your webpage link become more accessible to more people.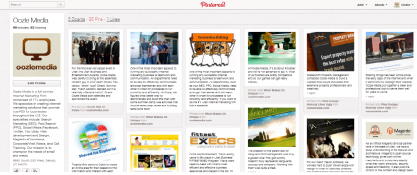 This will allow the linking you've created to be seen by more members of this awesome social media platform. When it comes to SEO, more is better!
So what are you waiting for?!
There is no better time than now to watch your business grow with a new and exciting online community. Let Pinterest help your business realize its true online potential! Still not sure? See what other big businesses have to say:
"Pinterest joins Twitter and Facebook as the newest self-expression engine" – TechCrunch
"Expressing passion for a hobby is just as easy as browsing for your next purchase. But what's even more addictive about the site — a collection of collections — is that it's just as much about the users as it is what they've posted." – Mashable
"Perusing other folks' boards, featuring everything from picturesque travel scenes to oddly beautiful bacteria, is as enjoyable as building your own." – Time Magazine
Pinterest is here and waiting to help a business realize its untapped potential. There is no better time than now to watch your business grow with a new and exciting online community. Check us out on Pinterest: http://pinterest.com/OozleMedia/
–Vincent McCullam