4 Mistakes To Avoid With Your Google My Business (GMB) Listing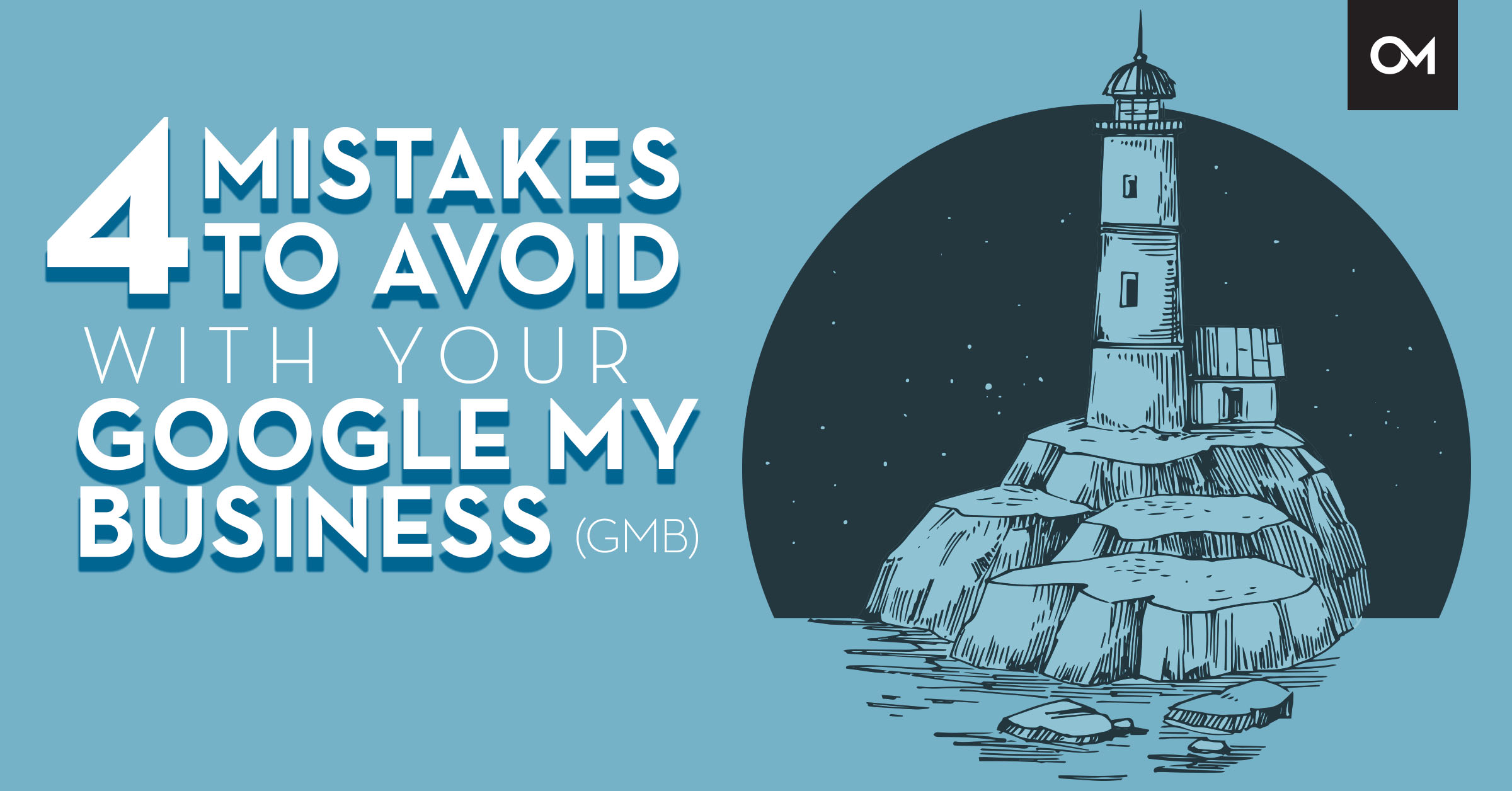 When it comes to being found online your Google My Business (GMB) listing is one the most critical pieces of your local business. Having an accurate, fully filled out GMB listing needs to be one of the top things you stay on top of as a business.
Not only is it a top driver of traffic to your website, it also has a place for your potential customers to contact you. Unfortunately, we see a lot of common misunderstandings about what you should do with your GMB listing and how to optimize it correctly.
What Is a Google My Business Listing?
A Google My Business listing is a profile that contains useful information about a company's name, address, website, phone number, business hours, or more. On desktop, it shows up to the side of a Google Search Engine Results Page (SERP).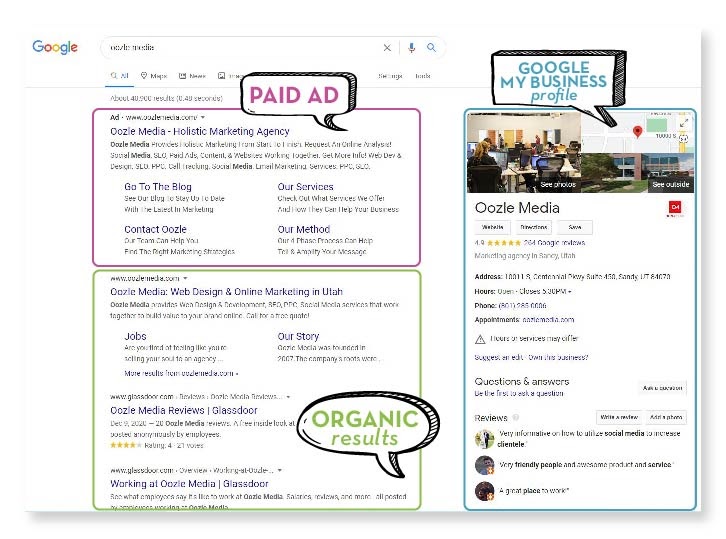 On mobile, it often shows up as the first result when you Google your own business name.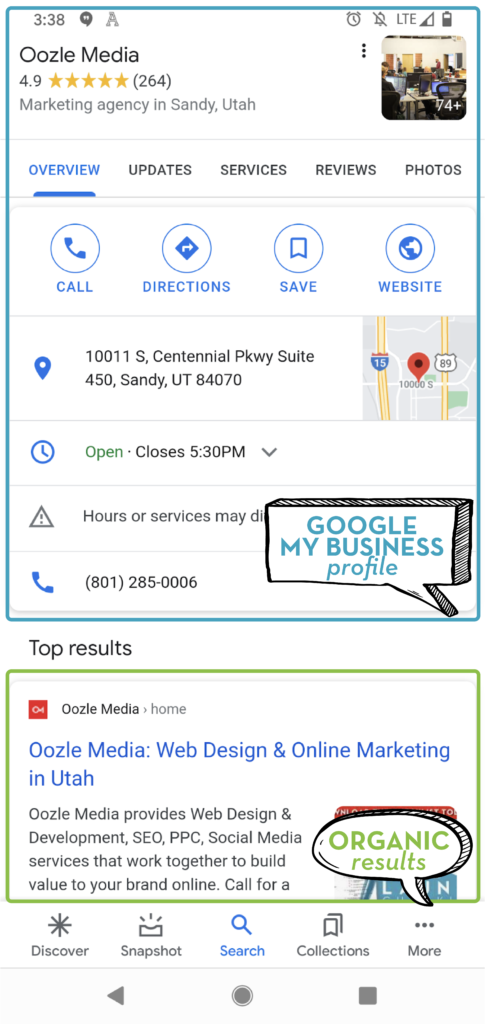 Part of a successful local search engine optimization strategy is to make sure you accurately portray your business for Google and your customers. You should offer the most accurate information to ensure a better ranking from Google and higher customer satisfaction when they find you.
That said, we have seen over the years a variety of incorrect or sometimes blatantly spammy tactics with the three pillars of local SEO:
Company Name
Address
Phone number
These three key pieces of information are often collectively referred to with the acronym NAP. Incorrectly representing your NAP or even trying to spam Google can have hugely negative effects on your SEO, conversions, and more. Let's dive into a few different scenarios.
How To Edit Your GMB Listing
Before we get into some of the top mistakes to avoid, let's go over how you can edit your Google My Business listing:
Navigate to business.google.com
Sign into your account
Click "Info"
Click the pencil icon where you want to edit
You can edit everything from your company name, business categories, address, hours of operation, phone number, and more. If you see anything that's incorrect or out of date, be sure to update it to provide the best user experience.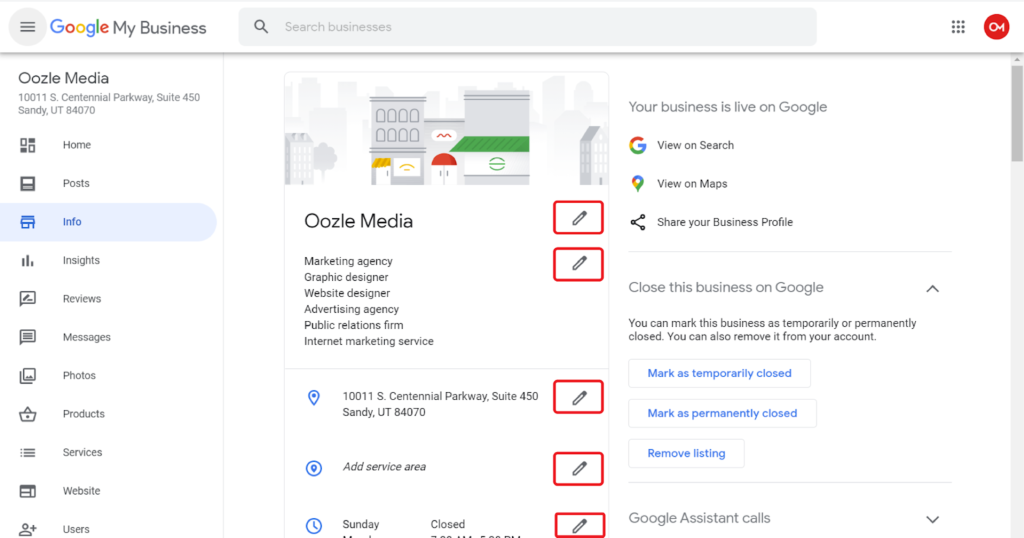 Now that you know how to fix errors you may find in your Google My Business listing, let's go over the most important mistakes to look out for and avoid.
Top Mistakes To Avoid
1. Business Category
Before you've even looked at the name, address, and phone number of your business, consider adding the right business category and secondary categories. The category has a huge impact on your rankings and also adjusts what features show on a listing. For example, some categories may hide or push reviews down on the page while others put them front and center in the knowledge panel. Google cares more about WHAT your business is than even what the business name is. For instance, if you were to search for a taco restaurant but Google's results gave you a bunch of dentists, how satisfied would you be with that query?
When choosing a category, choose the service or product that gives you the most opportunity for profit. For beauty schools, it may be tempting to put "hair salon" because that is the primary reason someone might be looking for your school, but really, showcasing that you're looking for students is going to have the biggest impact on your bottom line.
You can add secondary categories of services you offer, like hair salon, but be careful. One of the biggest mistakes you can make is adding categories for services or products that your business doesn't offer. This can increase your chances of showing up for irrelevant keywords which can ultimately hurt your rankings.
Read More: Local SEO and Beauty Schools: What You Need To Know and Do
2. Business Name
The number one issue we tend to see with a business name is that most businesses have the urge to add a geographic qualifier into the name. This can be problematic for several reasons. First, Google has expressly stated doing so is against their guidelines.
"Location information, such as neighborhood, city, or street name, unless it is part of your business's consistently-used and recognized real-world representation. Your name must not include street address or direction information."
As such, you could be subject to a penalty, whether that be algorithmic or even a manual removal by Google of your entire listing. Instead, we recommend solely using the brand name for a multi-location business unless using a location qualifier in the name is consistently used in ALL of your representations of the name.
Secondarily, if you were to ever move, or the area you are in changes the name, you are now forced to update that part of your name, which will introduce inconsistencies to your Local SEO and likely hurt you overall.
An example that is easy to compare at scale is McDonald's. If you were to Google "McDonald's near me" you'll find that all locations are called "McDonald's" not "McDonald's – Street Name" or "McDonald's – City Name"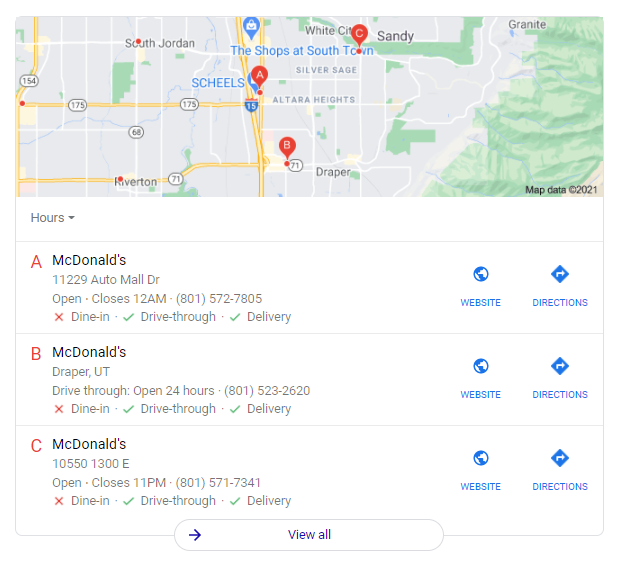 Our recommendation is to keep the name of your business on GMB the official name of your business with no location attached. If you do need to attach a location to your name to prevent confusion within your own company, only add those qualifiers when you refer to your business within your own company.
For example, you may call a location a "Phoenix location" but you shouldn't include "Phoenix" in your GMB name. This will better prepare you for growth and the recognition of your brand.
3. Business Address
Just like your business name, it is equally important to ensure that your address is fully correct on your Google My Business listing. Generally speaking there are three types of businesses:
Brick and Mortar
Service Area
Virtual or Online
Each of these have slightly different rules that apply to them.
Brick and Mortar Locations
Make sure that you include the most precise address possible including suite numbers, floors, building numbers, etc. P.O. Boxes and mailboxes are not eligible for a GMB listing and will get rejected. Essentially, you must have a place where either customers or employees can be physically present.
If you specifically have individual practitioners or departments at your location, they may be eligible for their own pages. Generally speaking we recommend optimizing for your actual location instead of a practitioner, but there may be exceptions to the rule.
Service-Area Businesses
Service-area businesses should have a single profile with a central office or location (such as the owner's home) with the area in which they travel to the customer's location.
You can set the area as a radius, by zipcode or county, depending on what is most applicable to your business, but you want to be sure to be as accurate as possible. This allows potential customers and Google to accurately understand if you are able to provide your services to them.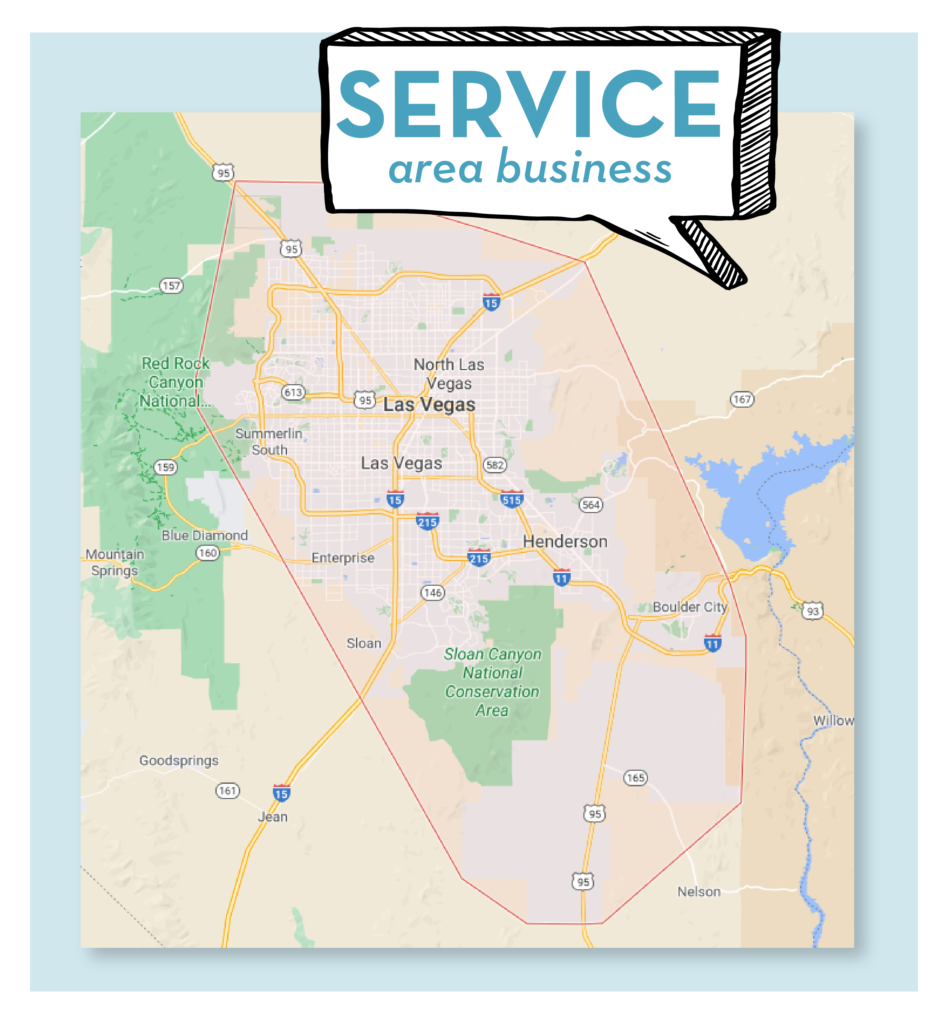 There is a temptation to set up multiple location points, such as using remote employee's homes as "offices" or warehouses. However, this will cause duplicate location issues and can get your business penalized by Google as a whole.
Stick with a single central location and then accurately portray your service area. That service area is typically recommended to be no larger than 2 hours of drive time from where you are based.
If you have different locations with separate service areas AND separate staff at each of those locations, then you may have a second profile to show a more intentionally local area.
Virtual or Online-Only Businesses
If your business doesn't serve any physical goods or services or it doesn't have a physical location, then you will not be able to have a GMB listing. GMB listings are intended to be for the map area of Google searches, so Google has determined these types of businesses are ineligible for a listing.
Additionally, Google has also stated, "If your business rents a temporary, "virtual" office at a different address from your primary business, don't create a page for that location. Businesses can't list a "virtual" office unless that office is staffed during business hours by your business staff."
4. Phone Number
Google My Business doesn't automatically track phone calls. It may report a general number of who clicks "call" on your listing, but it's not the most accurate and it's missing a lot of data. That's why you need to set up call tracking separately. It makes it possible to see when people choose to call, whether it's directly from GMB, after landing on your website, or even if it's from social media.
It's a mistake not to track phone numbers, because the people who call your school are also leads and you could be missing important information. It's one of the most effective ways to understand the reasons why people are calling and outline what's stopping someone from making a purchase.
How To Set Up Call Tracking
Call tracking works by adding a script to your website that can dynamically change the phone number based on where the visitor is coming from. You can also generate specific numbers for platforms not on your website, including Google My Business. You can add this call tracking phone number as your primary phone number and your business's actual phone number as secondary.
When someone calls this primary phone number, it redirects to your business's actual number, with no indication to the caller that they've called a different number.
With good call tracking, you get so much more than just where the calls are coming from. Call tracking (like what we offer at Oozle Media) also includes options to record phone calls, so you can better understand how effective your team is on the phone and what additional training they might need.
You can also sort phone calls with certain keywords so you can filter calls based on the service or questions customers were asking for, which can guide your content marketing strategy or paid ads based on what people want to know about your business.
If you aren't currently tracking your phone calls, get in touch with Oozle Media. We can walk you through our call tracking platform and help you better track your leads!
Optimize Your Google My Business Profile
Don't make these four mistakes on GMB. If you need help getting access to and managing your Google My Business profile, get in touch with the team at Oozle Media. We want to make sure your business can be found on Google and can help you manage your reputation online.
Get a free analysis from our team!