Are You and Your Marketing Company a Perfect Match?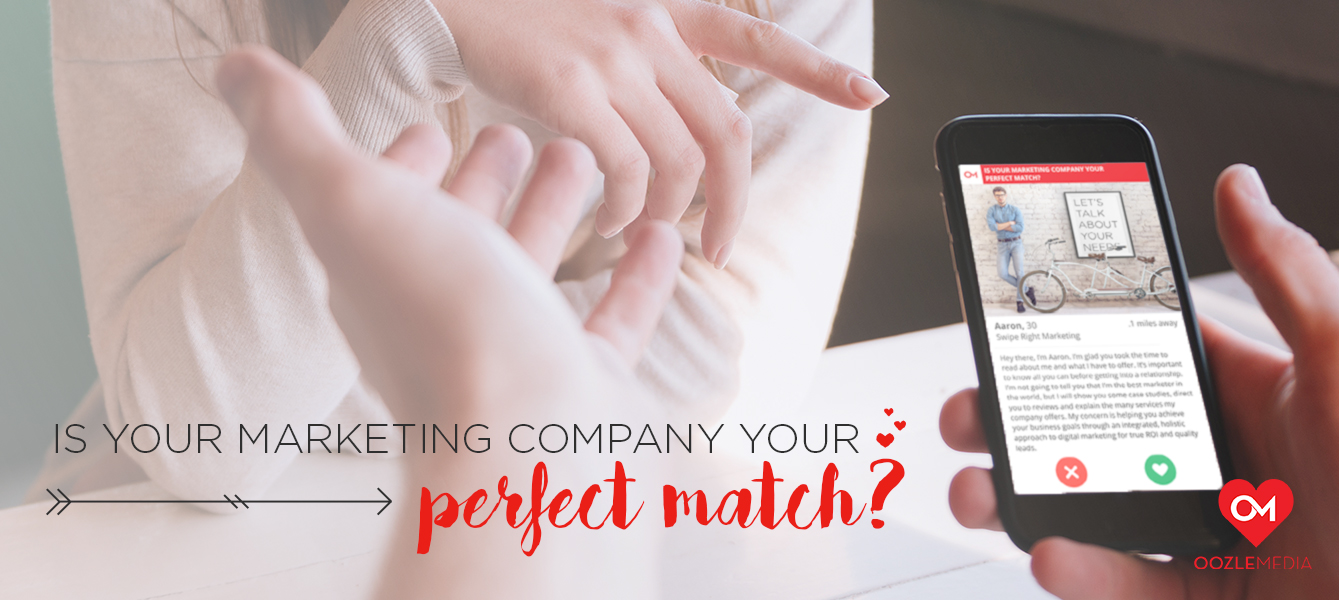 Are your expectations for a marketing company up to snuff? Do you even know what it is that you're looking for when choosing your web developer or social media manager? Much like choosing a date or a long term partner, selecting a marketing company requires knowing what you want and what you need from your potential relationship. Let's go through what makes a quality match between a client and their marketing company, for not all marketing companies, like boyfriends, are created equal.
—> Already know your marketing company is a dud? Learn how to lose your marketing company.
The First "Date"
Think back to your first meeting with your current marketing company. Consider what was talked about in that meeting and how you were treated as a person, not just a potential client. Getting things off to a good start is essential to your happiness as a client. Here's what should go down in that first meeting.
You should go over your business needs

Discussion on all potential services

Go over a content marketing strategy

Cost (not just a rough estimate- real numbers)

The process (i.e. account management structure)

Your goals (company should have a clear plan to meet them)

What to do with concerns (i.e who to talk to, complaint structure)

How to handle marketing success

How to handle marketing failures
Were these topics covered? Not going over "how to handle marketing success" or "the process"  isn't necessarily a killer, but if your needs or goals aren't discussed, that's an immediate red flag.
Services Offered
If your business success requires people finding you on Google, you need all the help you can get, and that means having an option to use every available service. Essential online marketing services:
Search Engine Optimization (SEO)

Pay-Per-Click (PPC):

Social Media Marketing

Social Media Advertising

Content Marketing
Additional Services
Call Tracking Management

Website Development
While each of these services can be performed independently of each other, a quality marketing company will take a holistic approach, understanding how each piece fits into the great marketing puzzle. Does your company offer all of this, and more. If yes, you're probably in a good situation.
If you're looking for the "whole package" in a partner or a date, why wouldn't you also demand the same of your marketing company?
Note: We're focusing on all of digital marketing in this post–the big picture. If you're only looking for SEO help, take a look at how to choose a good SEO company.
Open, Honest, Educated
If your marketing company is advanced enough to know how all these services work together, they're probably keeping up on industry news and changes. Probably. Google is constantly tweaking its ranking algorithms in an attempt to provide the best answers to search queries and, with that, marketing must change. How do you know your marketing team isn't using outdated processes and tactics. They should be open and honest about this, frequently sharing industry news and advancements. If they're smart, they'll update a blog with industry news and marketing information.
Innovative & Creative
Is your boyfriend boring and rigid? If so, we're sorry for you- it doesn't have to be this way with your marketing company. Digital marketers are at their best when they have fostered a creative, innovative environment. Stagnant marketing teams do mediocre, generic work, and your business is not aiming for mediocre or generic, right? Is your content writer coming up with new, engaging social posts, blogs, and marketing campaigns? Is your SEO specialist working hard to find new, creative ways to get eyeballs on your site? These are questions you need to ask yourself and keep in mind during meetings and email chats. Examine the work being done closely and look for innovative details and unique features.
Your boyfriend might like the consistency of dinner and a movie every Friday night, but once in awhile you need to go skydiving, right?
A creative agency is just that– creative. If your content is dried up and not getting the engagement it deserves, it's time time to figure out why. Here's how to be content with your content.
Doesn't "Stand You Up"
It's important to hire a marketing company that offers a full range of services and stays up to date on industry best practices, but if they can't keep their word on tasks and assignments, what's the point? You don't want to get "stood up" by your marketing company, do you? Of course not? If they fail to come through on little tasks, how can you rely on them when bigger stuff comes along? If tasks are perpetually incomplete, you may have to re-evaluate your relationship.
Don't Get Heartbroken
Good luck not finding a marketing company. The digital space is competitive and loud. Some companies say they offer every possible marketing service, while other only focus on SEO or social media. It's time to meet your perfect match and start getting results. We think you'll find us to be a real contender in your marketing company search, and we'd love to show you why.
Learn about Our Method. Is that something that sounds promising to you? Review Our Services. Do you need help with SEO, social  media and lead generation? Contact us for more information and to set up a meeting; we'd love to sit down with you in person, over the phone or by way of video chat.