Webinar: How To Make a Content Strategy That Brings More Students to Your School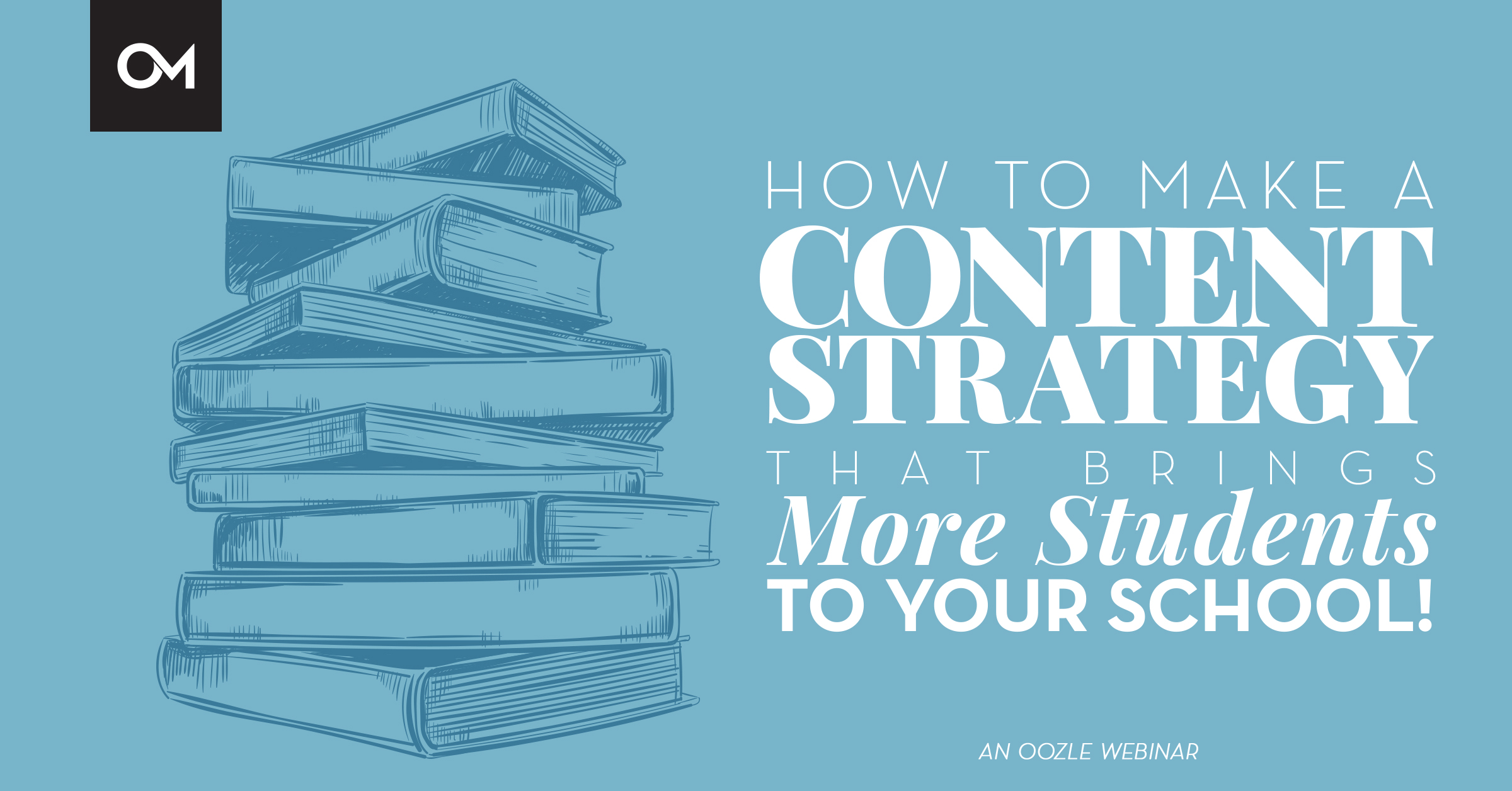 Watch the Replay
If you want to build a good content strategy, you should be finding and answering the questions your audience has before they've even called you. You can persuade someone that your school is for them, even before they've called you on the phone. You can do this by:
Answering common questions your audience might have
Providing valuable information that inspires and educates
Setting an expectation of what's going to happen next
If you aren't doing these things, especially in your blog, you are probably missing out on valuable phone calls. In fact, companies who blog can increase their leads by 67% per month, according to DemandMetric.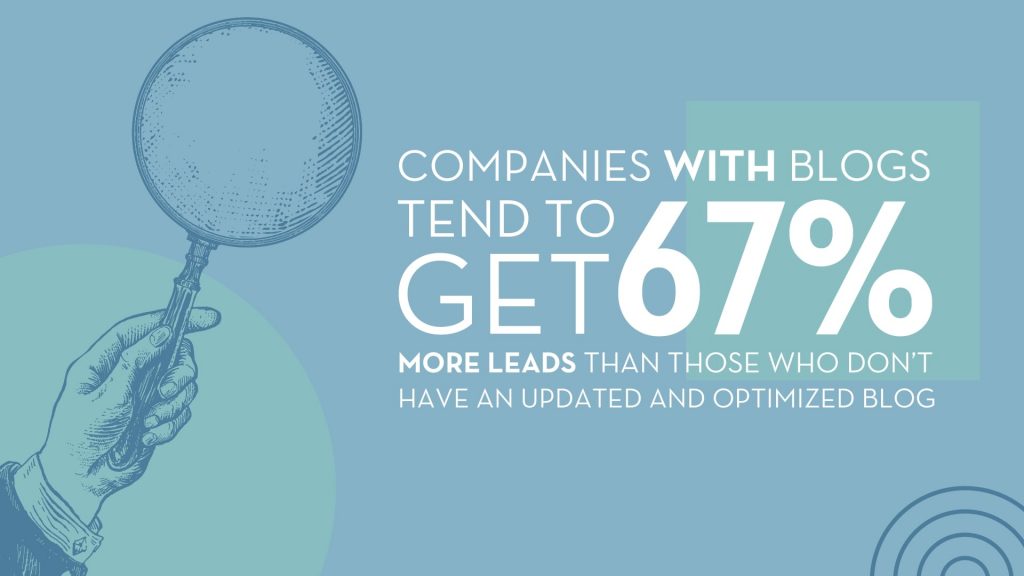 Even for those who do choose to get in touch with your school, they might not be as ready to enroll because they don't know if your school is the right one for them.
To build that trust with potential students, you should be answering their questions in blogs, videos, social media posts, and more. But, the first step is to figure out what questions your target audience wants answered.
How Do You Gather the Most Commonly Asked Questions?
There are both free and paid options to help you find the right questions you need to answer. You can use whatever resources you have available, as what's more important is that you are covering any potential topics, rather than how you find those topics. The first method we recommend is free:
Talk To Your Team
Talk to your admissions team! Talk to your sales representatives! Talk to people who are talking to your potential customers on the phone. If people are calling your school asking for:
What programs do you offer?
How long does each program take?
How do I apply for financial aid?
How do I schedule a tour?
That means you don't have a good enough answer to these questions on your website, social media accounts, or anywhere people are finding your business.
Ask the people who talk on the phone what questions they answer the most, then make sure the answers to those questions are accessible everywhere.
You shouldn't be hiding what you can learn in your program, how much your program costs, and why someone should enroll in your program behind a phone call. Make it possible for someone to get the information they're looking for before they've called you.
People are going to start making the decision of where they want to go to school on the first interaction they've had with your brand, so equip them with the knowledge they need to make an informed decision, no matter where that interaction takes place.
While talking to your staff doesn't provide actual numbers of how many people are searching for these questions per month, it does generate questions that are specific to your business, which can have the biggest impact on your results.
If you want more tips about working with your admissions team to inform and delight anyone who calls your school, check out this webinar replay!
Use a Paid Keyword Research Tool
At Oozle Media, we often use Moz's keyword explorer to do keyword research. This tool allows us to start with the most basic keyword, such as "cosmetology" and filter out searches by just questions.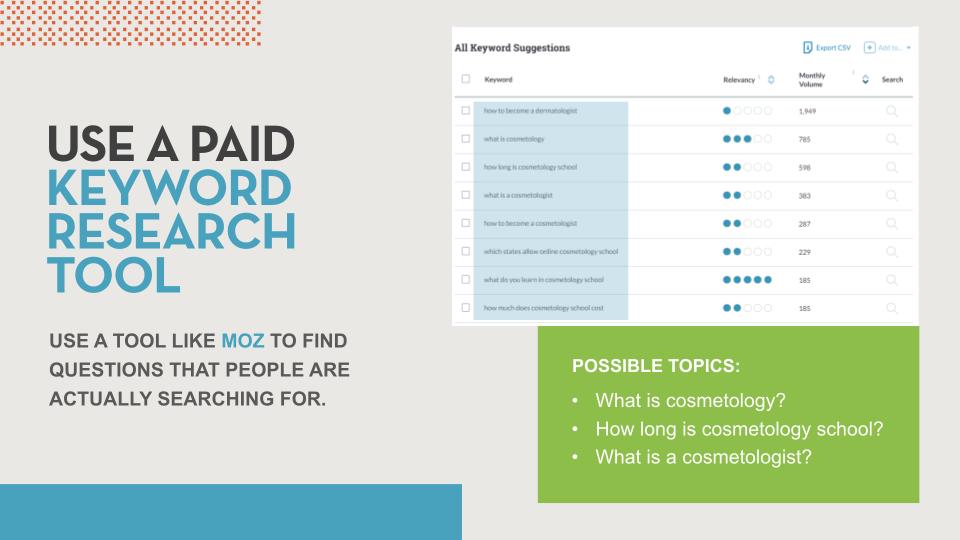 From this simple search, we can safely assume that valuable blog topics are:
What is cosmetology?
How long is cosmetology school?
What is a cosmetologist?
These are valid topics we should be writing about, creating videos on, sending out in an email, or posting on social media. This does provide an actual number of average searches per month, so you can write things about what people are asking, instead of what you think people are asking.
Use Google
Google provides a number of features that are gold mines of information, without you having to pay a cent. Start typing a question. What other questions does Google provide? What formats are people looking for?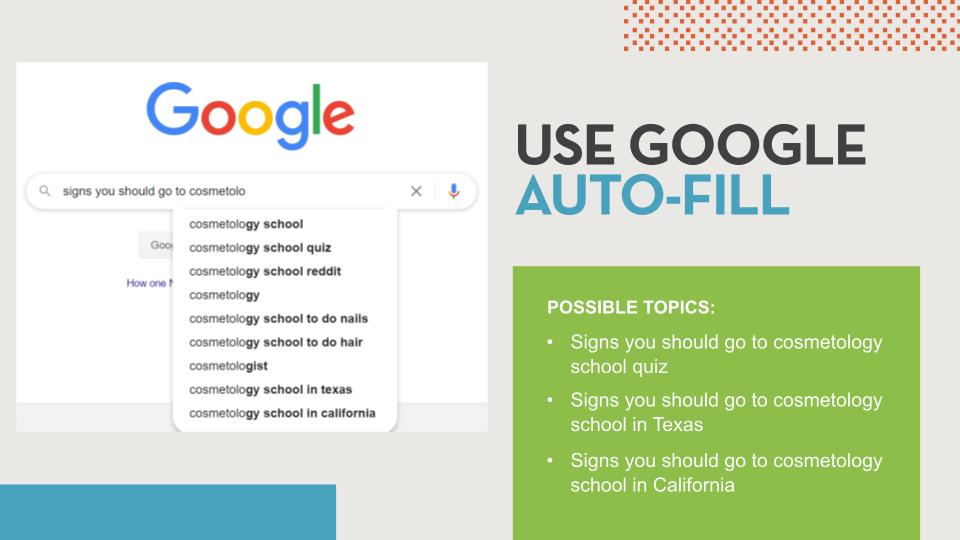 From Google's auto-fill, you can tell that you should be writing a quiz about the "signs you should go to cosmetology school." If you're in Texas or California, you might want to make a blog about going to cosmetology school more state-specific.
If you search another common question, like "What Is Cosmetology?", you'll see some more useful information you can use to generate questions you should answer.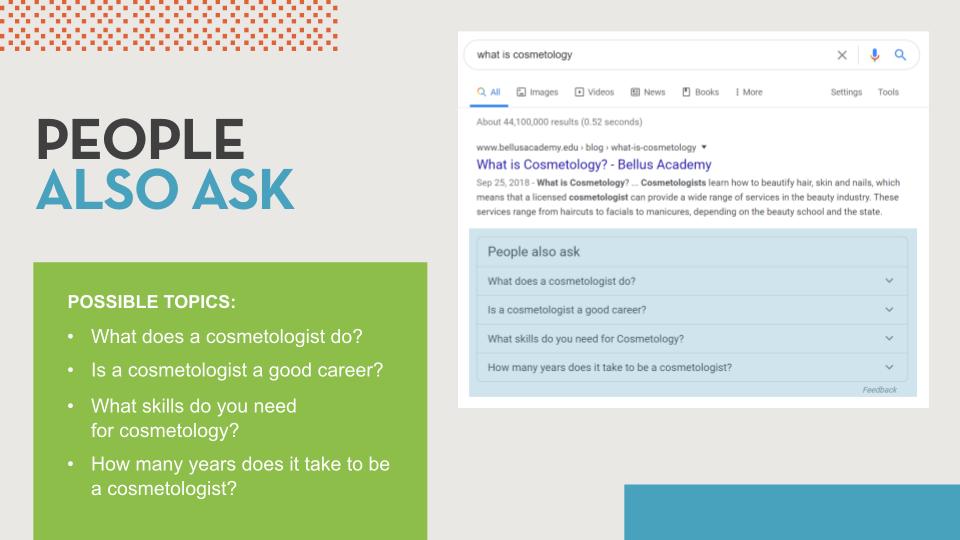 Check out the "People also ask" box. These are questions that ARE being searched. If you click on some of the questions, more questions will be populated.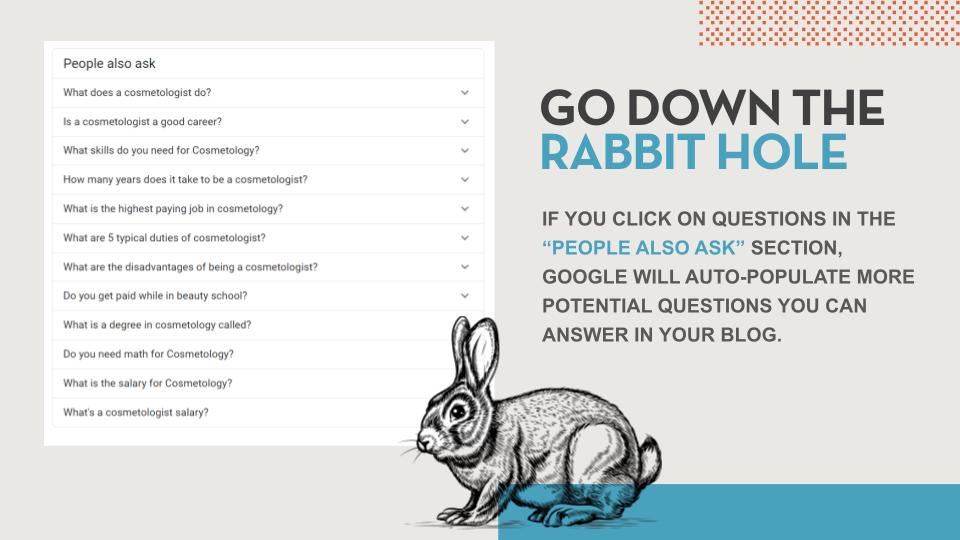 You can do this as many times as you'd like. While you won't get the numbers of how many people are searching these topics each month, you can feel confident that the questions you've generated are things people are actually asking.
To make the process easier and faster, there's a free tool by Topic that pulls questions from the "People Also Ask" section of Google. Check it out to get topic ideas fast!
Start Building Your Content Map
Once you have a list of commonly asked questions, you'll want to build some type of visual document or spreadsheet. A visual element can help you see at a glance what type of content you might be missing or what content you might have repeated.
If you have a variety of programs, questions might look something like this:
What is a cosmetologist?
What do cosmetologists do?
How do you become a cosmetologist?
Where can you work as a cosmetologist?
What is an esthetician?
What do estheticians do?
How do you become an esthetician?
Where can you work as an esthetician?
These questions need to be answered for each program. So, find the topics that overlap for each program, and list out the general phrases that are the same to generate a map of content ideas.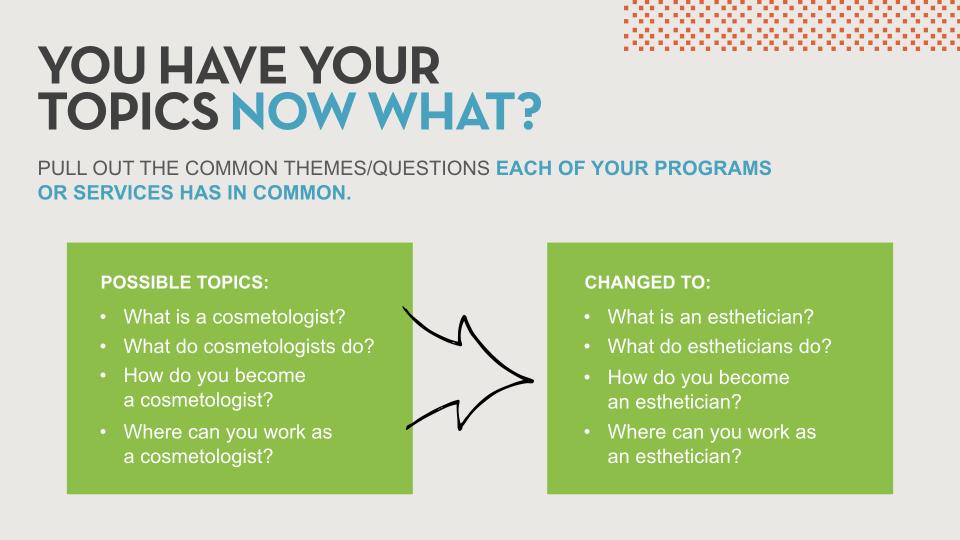 From there, you'll also want to create content in a variety of different formats, from blogs and website copy to Instagram story highlights. Build a list of the common platforms your business uses. Some common platforms we use are:
Blogs
Email
Video
Pinned IG Highlights
Website Copy
Ebooks
Infographics
Then, build out your map in a way that makes sense. You can include both ideas you've already covered and what you want to write all in the same sheet.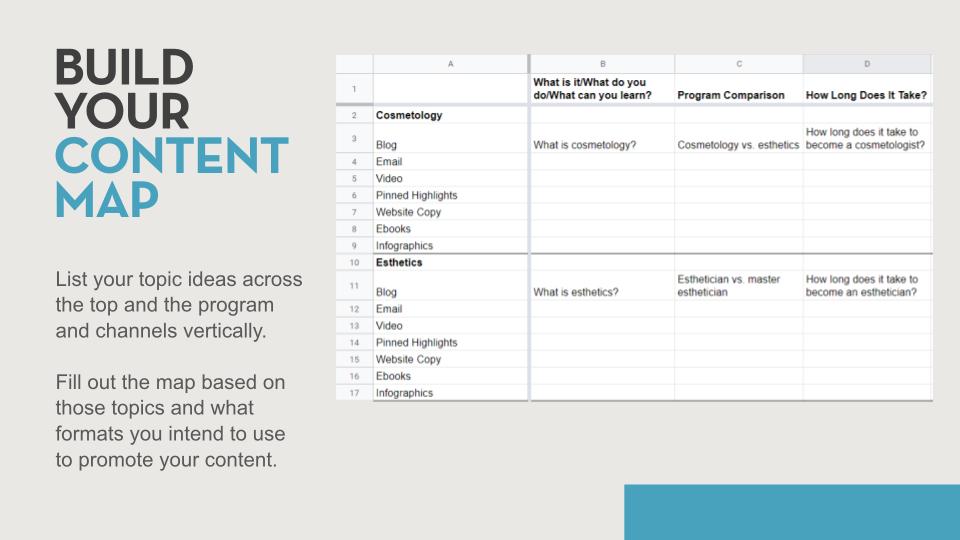 Reuse and Repurpose Your Content
Once you have a basis of what content you need, then you need to answer these questions in a variety of ways on a variety of platforms. For example, someone might learn about you on your Instagram profile but never actually make it to your website. Someone might read a blog but never make it to a program page.
How can you reuse and repurpose your content to answer any questions someone might have without relying on conversion-oriented web pages?
Create Instagram Stories/Infographics
Good Instagram story pinned highlights can provide the information that people would find on your website without even having to leave Instagram. An Instagram highlight could include what your program offers, how long it takes to complete, and how to enroll.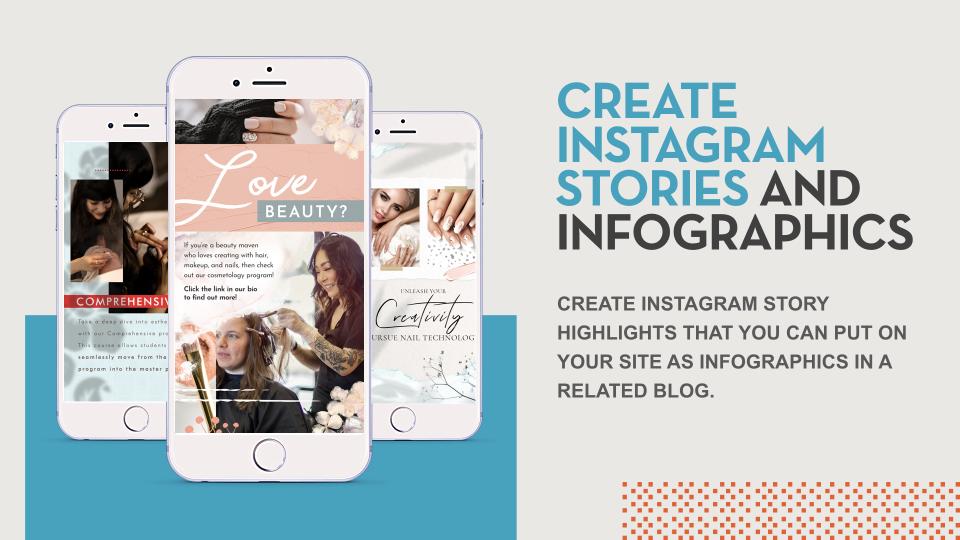 But, that Instagram highlight doesn't just need to be on Instagram. This same design could also live as an infographic on your blog that covers the same information but more in depth.
Push Your Content on Social Media
When you're creating content, you should always have a strategy to get people to your content, instead of just hoping your content makes it in front of them. Push your blogs on social media, and put money behind those posts to get them in front of more people. This can not only get more people to your site, it can build your brand authority, too.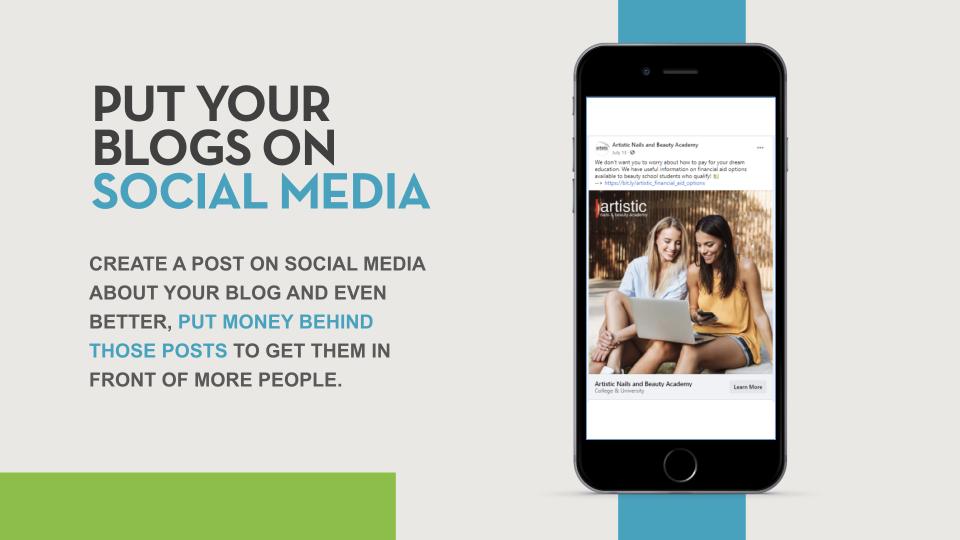 Send Your Content In Emails
The foundational content you've created is a great opportunity to push in an email drip campaign. These emails include a variety of other resources someone might want to read before they've decided to enroll.
You might have an email drip campaign that uses the blogs you've written to help someone walk through the admissions process. These emails could also include YouTube videos you've created that give potential students an inside look of your school.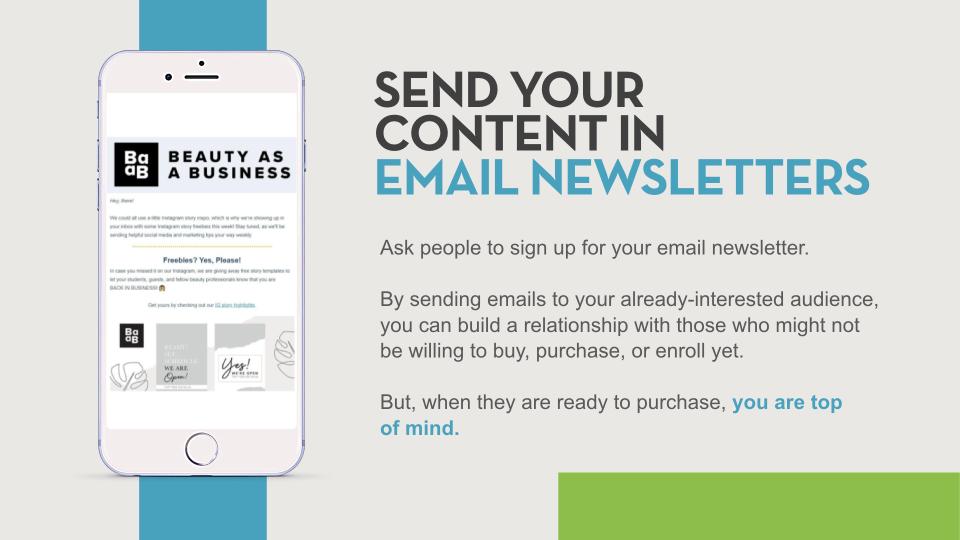 Record YouTube Videos
This is an especially important platform if your audience resonates with visual media. There are a lot of videos you can create, and they don't have to be professionally produced. Some good video ideas are:
Record a video walking through your school.
Talk through the most common questions about financial aid.
Film a student in the process of providing a service to their guest.
And, you can put these videos on your blogs, on your website, and even on social media or emails.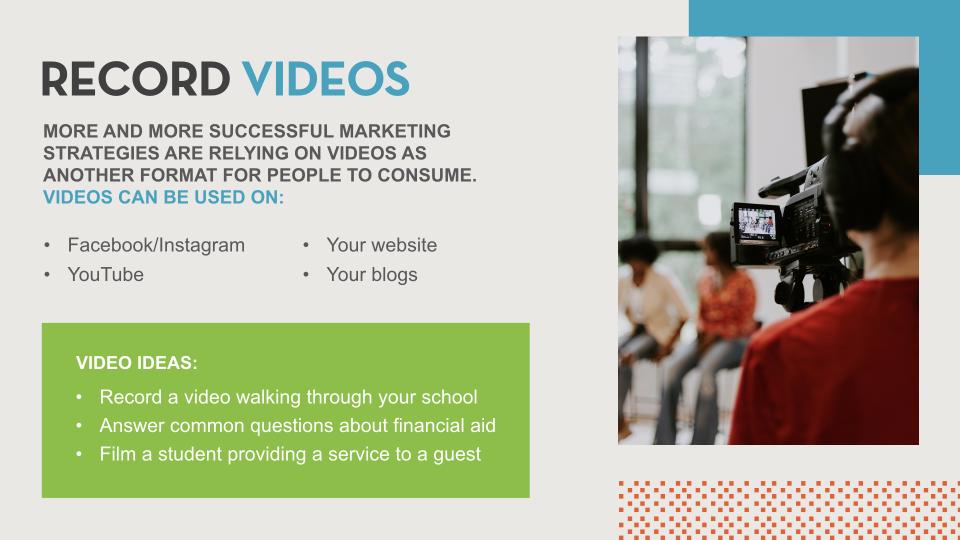 Focus On the Best of the Best
You don't have to do a little bit of everything to create a successful content marketing strategy. Instead, focus on the platforms you have the resources and means to do and do well. If you don't have time to be on Twitter to build your following, don't!
Pick and choose the platforms you know your audience is hanging out, whether it's Instagram, YouTube, even Tik Tok, and start filling the holes in your current creation and promotion strategy.
Do You Need Help Building Your Content Marketing Strategy?
At Oozle Media, our teams have years of experience researching and building a content marketing strategy that can help you get results. We work directly with our clients to create a content marketing strategy designed just for them.
Get a free analysis from us to learn more about what you could be doing today to further your content marketing strategy.