Part 2: Admissions During COVID-19 Outbreak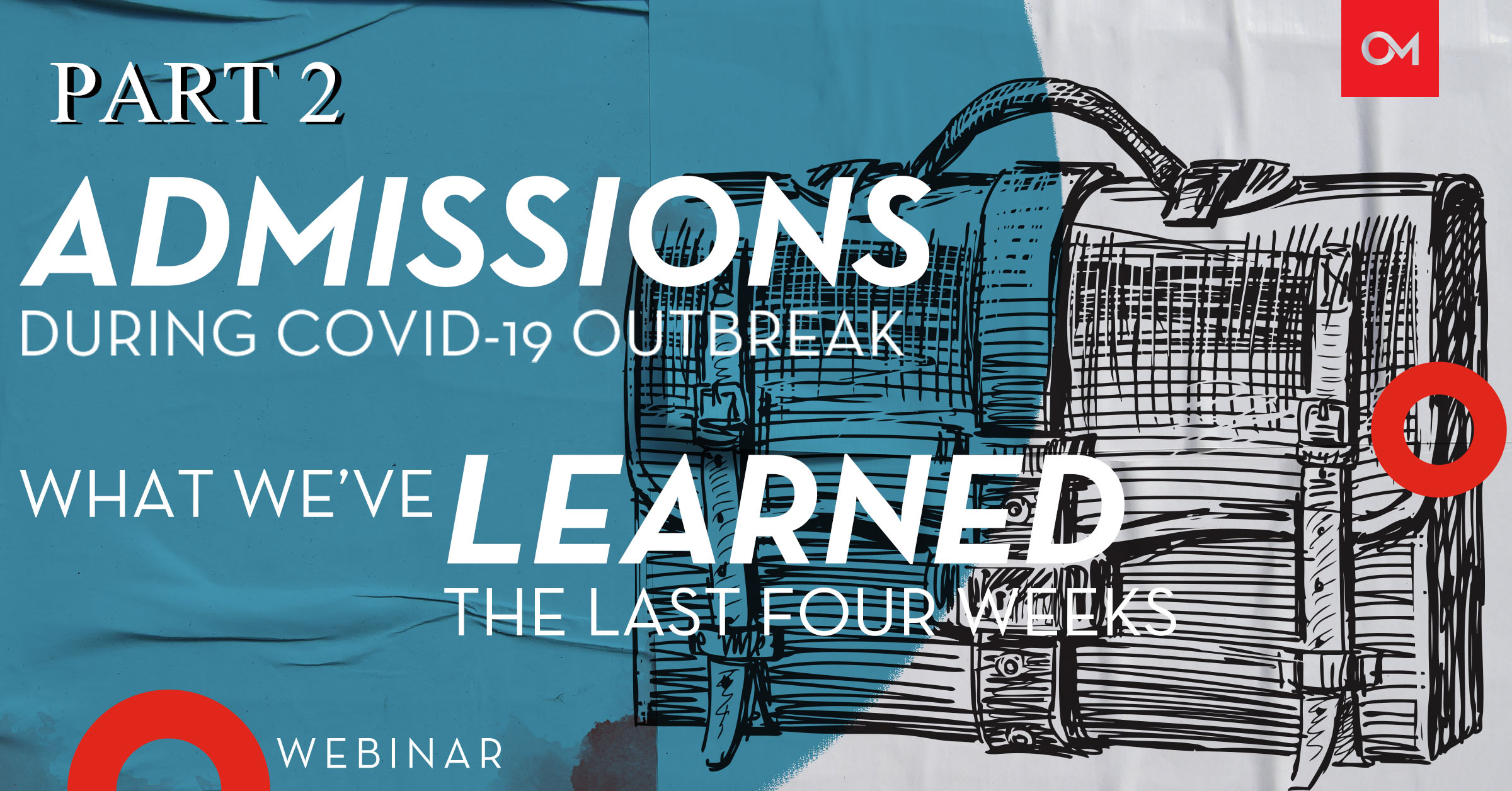 Here's a much-needed part two of our webinar about what your admissions team should be doing right now, now that things aren't back to normal, but seem to have some sense of new normal, we still want to provide helpful information about what your admissions team should be doing when things do get back to normal.
Watch the Replay
What Has Changed in Admissions Over the Past 4 Weeks?
Our CEO Chris Linford listened to phone calls of beauty schools, and he noticed only 50% of beauty school's messaging services have been updated. Those are the first messages someone hears where they say, "Press 1 to talk to admissions, press 2 to talk to services," were not updated to show what schools were doing due to COVID-19.
The schools who are more active are the ones who have been updating their:
Website
Answering service
Ads
There's a correlation that those admissions teams are doing better about answering their phone calls. For those who haven't made the appropriate updates, their admissions people haven't been answering the phone! But, this isn't new.
When Sales Comm starts training a school, they first start by calling the school itself as a secret shopper. Rob found it takes on average four calls to get to an admissions person. Now that some schools don't have a front staff, it's happening more and more that you can't reach the correct person to help a student.
Some schools had their office phone go directly to the cell phone, which is a good first step, but if you're already on the phone, then you can't answer new calls. You need a second person to be getting calls so you can receive calls and get back to them.
Should Phone Calls Be Going To a Messages System?
No! It should be going to someone at the front desk. Don't let that happen. Instead, make sure you have someone answering calls. Then, they can get it back to admissions.
What you should be doing right now is every 3 days secret shop yourself. If you're the owner, call yourself to see what the admissions process is like.
"You can't expect what you don't inspect."
There are schools who are actively doing things, but we also know schools that aren't doing anything right now.
If you missed our webinar yesterday, we talked about what's happening right now and what you should be doing with your website.
Leads are down 50%. However, search volume is starting to come back now. You need to be prepared. Beauty schools need to have at least two admissions people to answer phones. If there's only one, there should be at least two phones, as well.
How Do You Get Someone Excited About Starting Beauty School?
We're seeing a little bit of info online from schools who are starting online classes.
When people are bringing that up on the phone, Chris noticed that half of the people are excited about it, the other half are a little unsure about it.
Some people have some trepidation when they first hear about online learning. The key is that when someone brings a problem to you, you have to decide how big of a problem it is.
We're not sure how many people really are worried about starting online learning. Something Rob noticed is that people are worried about being seen on video for their virtual tours. The key is:
How Are You Approaching It?
An ideal way is to make sure people feel comfortable is how you approach it. Are your admissions team asking if they'd like to do on a phone or a video call? The best way to get them is to not give them a choice. Set up the expectation of what's going to happen next.
Don't Rely on Your Pre-Recorded Virtual Tour
Some beauty schools are doing a pre-recorded virtual tour, which is a good first step, but a lot of admissions teams are defaulting to asking if people watched the virtual tour instead of giving people the option to watch the tour or get one live.
Here's the deal: What you can't do is just send the video of the virtual tour. This means you stopped the interaction, which isn't good for the admissions process. People are buying because of the relationship, not because of the product. Old sales tactics were convincing people to buy it because of the product itself, not the relationship.
You can't just send an email that says, "Hey, here's the tour" and expect it to work.
Connect With People and Make the Tour Interactive
To utilize the tour, you should have a video recording of each of the stops, you should have the representation of your space. Show the information, then talk live and explain what you see. You can then answer any questions they have as they come and keep that interaction going.
You have to be interactive with them throughout the tour. If you have 12 stops on the tour, people might only care about 4 of those stops.
The virtual tour is great, but people get bored. You have to be asking them questions, you need to interact. You need to get them excited and you need to connect.
If you were doing bad tours before, you're likely doing bad tours now.
The worst question to ask is: Do you have any questions?
Ask something a little more sincere. If you want the right questions to ask, get in touch with Sales Comm.
Let People Choose What They're Most Interested In
Sales Comm is encouraging beauty schools to create maps of their schools. From there, you can have people select the parts of the map they're most excited about.
This way, you're giving a tour that keeps people interested for the full tour. Why would you give a 45-minute tour when someone's only interested in 10 minutes? Maximize your time. Some tips are:
Make it interesting
Create value
Be entertaining
Create that connection
You have to become a better version of yourself for the tour, not an enhanced worse version.
Stop Giving Boring Tours
Imagine you're on a tour or a call. What are the goals? Are the goals different from before this? Are there commitments we want to get before the call ends? Each school is different, so there's not a good answer. We have to rely on what schools are saying, some can enroll, some can't, some can take money, and some can't.
If You Can Enroll Students
Get money/application fees on the virtual tour. If you're not doing it, you're doing a disservice to yourself and the potential student. You'll be swimming in students after the crisis is over, you're doing a disservice if you don't ask them to buy now. Then, if there's a flood, then they'll be booted.
If You Can't Enroll Students
You better know and understand the law so you're not missing out. If it IS okay, you better get good commitments from people. If you can't enroll, you need to be getting some commitment going forward. From there:
Find out people's level of commitment and set appointments to speak with your potential student regularly. Send them things regularly to keep the conversation going.
Give them a virtual map and timeline. You can't leave anything to the nebulous gray area of what could happen.
Make it clear what you need from them, such as a high school diploma, application fee, or whatever else you need.
Follow the Three Ws
No matter the expectation, you should be following the three Ws:
What you expect them to do
When you need it done by
Will you do that? (Get a commitment)
Make people feel fulfilled by taking the next steps to enroll. When you get them to do more things, you're making them feel fulfilled.
Other Helpful Tips
1. Acknowledge the Humanity
When you're calling people and they're in a bad mood, acknowledge the humanity that is happening right up front. "Hey are you okay? Are you healthy?" It melts away and they unload on you. We're seeing more people answer their phone, but often people are in a bad mood. If you acknowledge the problem right at the beginning, you immediately create a different connection.
2. Keep Your Admissions Team Productive
How many calls should your admissions team be making a day? During a regular time, it should be 60 phone calls. Is that possible right now? Not necessarily because we're seeing more people pick up the phone than usual. If you have a lot of people answering, so you need to best manage your time.
Sit down with your admissions people to set goals how many calls you need to make. Your admissions team is the most important team member right now. Business owners, stop requiring your admissions team to be in so many meetings. If you want them to be productive, free up their time.
3. Start Doing Things Deliberately
To help your admissions team use their time effectively, set values for each task to make sure their time is spent well. Ask questions like:
What should you be doing at the end of every phone call?
What's the goal of the tour?
How are you building the relationship?
Set a value to each task to make sure tasks of higher priority are getting done first.
Other Questions
At the end of the webinar, we set up a time for a Q and A session. While we answered a few questions here, the best way to get the full answers is to watch the replay!
Are Beauty School Applicants Demographics Changing?
We are seeing changes in demographics! We used to see people in their early 20s for cosmetology, but now we're seeing early 30s now. We used to get a lot more high schoolers, and now we're seeing people in their 30s.
We're also seeing more esthetics students, plus younger esthetician students and older cosmetology students.
Is Text Taking Off?
We're seeing that more people are answering their phones, so there is a resurgence on calls. Text is not a way to build the relationship, so we should be using phone calls to get that commitment anyway.
We've seen a 30% reduction in show rates when using text, and that's in normal circumstances.
What Should I Send Potential Students After Getting in Touch?
Nurturing the lead is great. Any stories are great. Videos are great. You should also be addressing any concerns people have in the blog. Email them a highlight, then send them a link so they can read the whole thing. Different CRMs have automation tools that can create a drip nurture campaign that leads them through a sales funnel.
It just takes time to learn the software.
Get the Help You Need
If you want help with your admissions, get in touch with Rob Thatcher at Sales Comm! You can reach him by email or phone:
If you need help marketing and nurturing the lead, get help with your sales process with Oozle Media. We're here to support you and your admissions team to find success after this turbulent time is over. The right way to get started is to get in touch with our team and let us know how we can help!