How to Choose the Right Internet Marketing Agency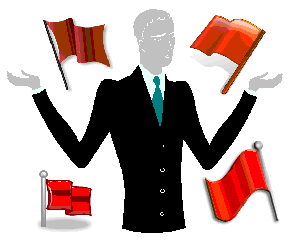 As industry experts, we're passionate about ensuring our customers and prospects understand what they're up against when it comes to finding the right marketing agency because we want to be your internet marketing partner 10 years from now.
We're also passionate about helping small and medium sized businesses succeed because we are a small business. We know exactly what it's like to have a limited advertising budget, and how critical it is to incur a return on investment on each of our marketing endeavors.
We are on your side – not the side of bad advertising – and so we consider it our responsibility to ensure you have the information you need to succeed. On that note, we've put together some important insights into the agency world to help you in your search for the right marketing firm.
Beware of Red Flags
All too often we hear of certain agencies claiming to be a "one stop shop" and that their prices and services are far better than others because of this. Well, the truth is: it's nearly impossible to find a good quality advertising agency that is a legitimate "jack of all trades". What's that famous phrase, "Jack of all trades, master of none"?
Despite this, many misguided business owners get sucked into the empty promises made by these organizations, and in the aftermath end up wasting precious budgeting dollars. But can you blame them for wanting a chance to streamline all their advertising efforts from print and media buying, to SEO and PPC?
And while this strategy may momentarily put extra income into the pockets of these organizations, in the long run it gives our industry a bad rap, and if believed, it can put a small company out of business very quickly.
3 Points to Consider:
Even the biggest agencies are fragmented and have specific strengths and weaknesses. It's a general rule of thumb that an agency will specialize in a few areas and then outsource weaker services to others. These specialties can include PR, Media Buying, Print, Branding, Video creation, Internet Marketing, Web Design, Mobile applications, Social Media Management, etc. Example: SEO company "A" or typical PR agency "B" may not touch web design in house but will outsource it and mark up the price A TON! Web Design firm "A" or Ad Agency "B" will likely outsource their SEO, PPC, etc., to companies like ours.

How we work: We know our strengths, Web Development & Online Marketing. Our entire team is in-house and our departments engage daily with each other to ensure we are taking a holistic approach to a client's online strategy. We have departments with a "Director" who are experts in their respective field & responsible for "staying current" in their area of expertise. Our departments include SEO, Web Design, E-Commerce, Maps Optimization, Social Media, PPC & Call tracking/Web Analytics.

Do we outsource?: There are many Agency Services like PR, Media Buying, Video Creation, etc., that we are not experts in, that our clients ask us about. This works much better than working under a "White Label" and pretending like we are experts in something we are not.

Important note: Oozle Media is actually the "White Label" partner for many local agencies. These "traditional" agencies cannot afford to hire on a $65k/year SEO Director, a $50k/year Social Media Director, a $40k/year maps optimization specialist, a PPC Director, Web Director, etc., but they realize if they're charging a premium rate for the service, it better be good, so they outsource to us.

The internet world is constantly changing every few months and in every category, including SEO, PPC, and Social Media. Imagine how hard it is for an agency to keep up with these changes without specialists in place to research the industry on an ongoing basis. Unfortunately, you must know what's going on in the internet world– as it's happening– in order to succeed. That's just the nature of the beast.

We know what's going on. Since our employees have their own respective departments and specialties, their time at work is dedicated entirely to ensuring that they're fully educated on critical changes within the industry, and that our client's campaigns benefit from those changes.

Do some research and avoid wasting one cent on bad internet or online advertising. We hate to see business owners throw money away to online phone book directories, marketers or agencies that claim to be internet marketing experts. Just because they "claim" to be internet marketing experts doesn't mean they are. Put their claim to the test. Google encourages you to do some research and ask questions before deciding on a web or SEO company. These questions include: Do you "white label" other companies services? Do you "outsource"? If so, what services? Who will be actually doing the SEO work? Do you build your websites in templates, tables, frames, flash, etc? Check out their website, SEO rankings, etc. and make sure they are "walking the walk". If you find out they haven't been up-front in their outsourcing or white-labeling, you might strongly reconsider working with this type of company. Do some research before you sign anything!

We track all our advertising and offer monthly contracts. We use a call tracking platform so business owners can quickly see what's working and what's not. We can then immediately eliminate the stuff that isn't, and invest in what is—while understanding the difference between them all. Our monthly contracts hold us accountable for all of our marketing campaigns and we like it that way, because it's a way for you to know we are being honest.
We play very nice in the sandbox!
Our feeling is that if you don't succeed, then we lose your business. We keep our credibility by being experts in our areas and not claiming to be something we're not. We work well with other Agencies and Partners so if you find your Ad Agency isn't strong online but is great creatively or with media buying, we'll play very nice in the sandbox with them so that you have a unified approach to your marketing as a whole. We're always willing to go the extra mile by working side by side with any of your current partners. We also have our preferred partners in every aspect of marketing, and we only partner with the best, if you do need "other" agency services.
Call us today and GET OOZLED!