Event Recap: Salt Lake City Digital Marketing Conference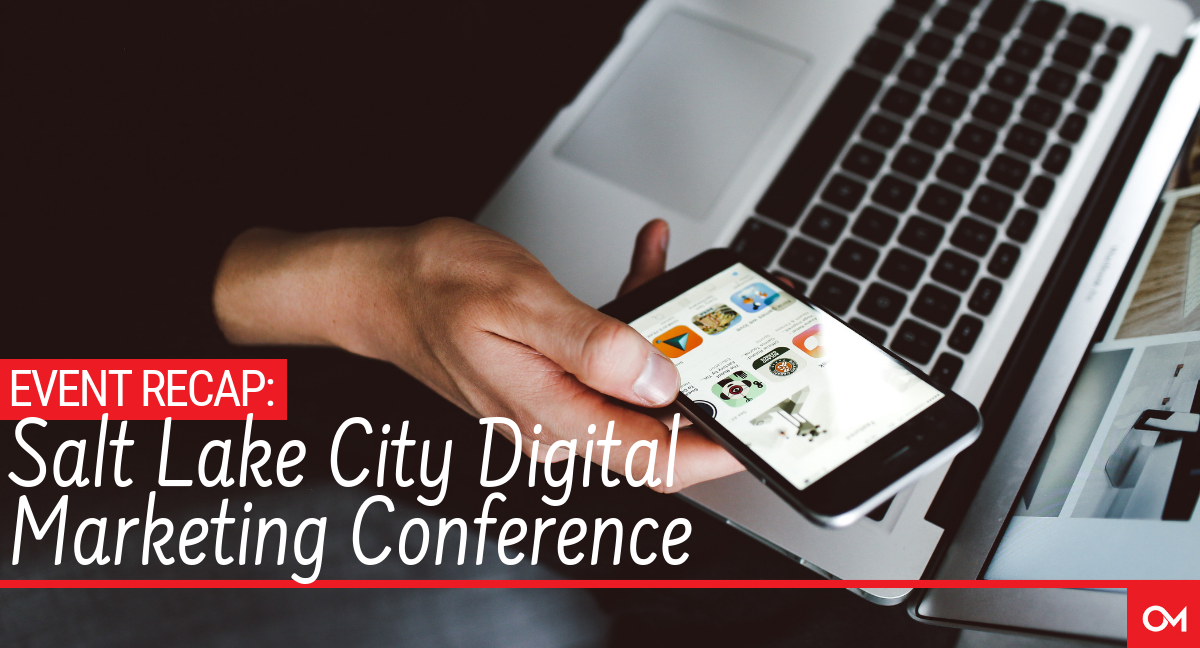 On August 24, 2018, some of the Oozle Media crew was given the opportunity to attend the annual digital marketing conference held by the Salt Lake City Digital Marketing Collective or SLC DMC, if you prefer. (The organization formerly known as SLC SEM.)
This year they switched things up on us and it was held on just one day vs. the regular two-day event we were used to from years past. Because all the fun was jam-packed into one Friday the speakers happened simultaneously. Between keynote speakers, there was an Organic Track (SEO, content, all that jazz) and a Paid Track (PPC, Facebook Ads, more jazz). The Oozle team split up to attend both tracks. If you were not in attendance or just attended one track, here's what you missed.
Keynote Speakers
Larry Kim: "10 Facebook Messenger & Chatbot Marketing Hacks of All Time"
This one's for you, Larry.
Chatbots. They're a hotly debated topic at Oozle Media because of their typical user demographic. Larry Kim argued their place in modern digital marketing with a few stunning facts about them in 2018.
Messaging apps have more users than social media networks.
Alone, there are more than 1.3 billion users on Facebook Messenger every day.
Messaging apps are the preferred form of communication over social and email combined.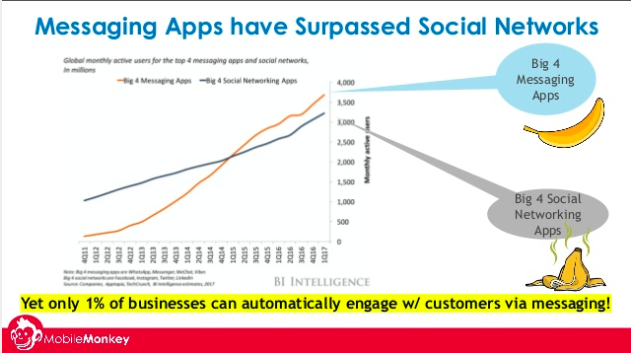 It seems pretty clear that for most businesses, especially those targeting audiences within the demo of messaging apps, chat bots are a viable marketing tool. They allow you to reach your audience where they are constantly engaging and with a speed that email never allowed you to reach them at before.
Not only are chatbots speedier than traditional email, but they are also more interactive. You can make a chat experience custom and fun. Someone can convert right within the chat box vs. waiting for a reply via email or filling out a form on a landing page and waiting.
TLDR:
Email is the new snail mail. Implement any kind of chatbot experience on Facebook or another messaging app and get experimenting. Even if you wade through muddy waters today, you'll be ahead of the curve in a few years because you took the time to experiment now.
Rand's mad. He's mad about all of the misleading information out there about SEO. He showed us some pretty surprising numbers that demonstrate how data-reporting companies skew numbers to make you think SEO has only recently surpassed social media when it comes to driving traffic to a website. Here are a few cold, hard facts you should know.
Misleading data.☹️
Google is still growing.
Organic searches increased in 2017 by ~10-15% over 2016.
Organic search has maintained the largest share of searches.
For every paid ad click on Google, there are 20 organic clicks.
SEO generates most interest for most websites.
Facebook was literally never close in amount of searches to Google. Sorry, Mark.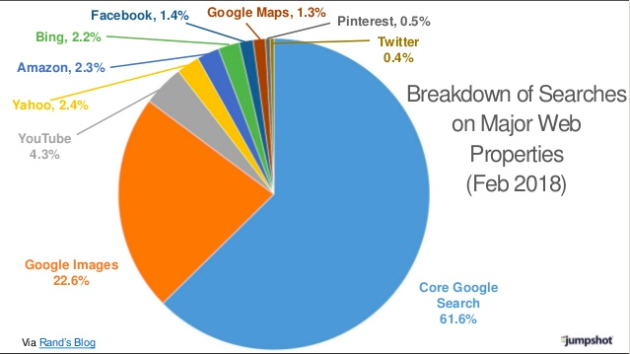 (Real talk. This makes more sense. Rand would have still preferred that all Google-owned companies by counted together.)
TLDR:
When it comes to fighting the battle for investing in SEO, make sure you're looking in the right places. Be cautious of sources that suggest that social outweighs the number of searches compared to SEO.
Organic Track
This year the Organic Track had a heavy focus on content and copy. Which makes Shae Henrie, our Content Product Manager, very happy. Though SEO was a constant theme throughout most presentations, it was clear that the future of digital marketing rides on the back of a well organized and curated content strategy.
Sam Hirbod: "The Future of Content and How to Prepare for It"
Sam drove home one idea in many ways: make-data driven decisions. As marketers, we need to move away from the idea of the funnel and make our way to the flywheel. Meaning that conversions don't just dump in from the top of the funnel and fall to the bottom to convert. There is a continuous and re-engaging cycle with your customers, and it happens again and again.
Sam taught us to make SMART goals. Goals that are Specific, Measurable, Attainable, Relevant, and Timely. When you're making decisions about your content strategy, set SMART goals. Ask for deadlines, understand goals, and look for benchmarks.
The other point Sam made clear is this: don't gate too much of your content. It's tempting to want to make everyone fill out a lengthy form in order to receive your ebook or download, but try restricting access to more high-quality content in shorter pieces. Make the bang worth their buck.
The next portion of Sam's presentation focused on the three in one approach. This means you can create three unique pieces of content by doing one thing. Start with recording yourself. Make a video! Then, transcribe that video into a written piece of content. Lastly, make an interactive piece like a quiz.
TLDR
Make data-driven decisions when creating content. Do your research! Make sure to use your time and budget wisely by creating more than one piece based off of one event. Be YOU!
Kellie Gibson: "Featured Snippets: From Then to Now, Volatility, and Voice Search"
Kellie's presentation was highly technical, but it covered one of the hottest trending topics among content writers and SEOs: featured snippets.
Kellie presented on a few key points about snippets.
They are going away for good in some cases, but they are also being restructured and coming back in others.
There are certain positions in rankings you need to attain to be considered for a snippet, as well as a certain formatting.
SERP features vs. snippets. They are different.
Voice search is influencing which snippets are served to users.
Snippets are a highly-sought after search feature that required a lot of work, a good understanding of user experience and SEO, and even more patience. To get the best results when using a snippet:
Choose a natural sounding query to target with your content.
Go long tail.
Try to work on turning a piece that currently ranks position three. That is most effective when trying for a snippet.
TLDR
If you want a snippet, follow the process and wait. Also understand that Google can giveth and taketh, so be prepared to defend your snippet-creation process to your boss if it doesn't immediately demonstrate return.
Joel Klettke: "10 Conversion-Killing Copy Mistakes (And How to Fix 'Em)"
Joel was an energetic and entertaining presenter, and the fact that his content was pointed, helpful, and actionable was even better. Joel was not only speaking to content and copywriters during this presentation, but he was going after the hearts of CRO experts and UX developers and designers.
Here are the 10 most common conversion-killing copy mistakes according to Joel.
You "We'd" All Over the Copy
You talked about yourself too much. Your leads want to know what you can do for them, not your life story.
You Wrote in a Vacuum
You didn't clearly identify your audience before you wrote. You weren't able to address pain points or concerns.
You Assumed Your Leads Knew Things They Didn't
Don't assume. Ever. Always give more information that you, the expert, deems necessary. Not everyone is working your job all day every day.
You Let Design Lead Copy Off a Cliff
"Well, the design doesn't allow for that." Isn't an excuse. Write copy first, and allow the design to flow with and enhance your writing.
You Forgot or Hurried the "So What?"
You didn't allow your leads to immediately see the value you bring.
You Got Things All Mixed Up and Now the Conversation is Weird
Your copy must've gotten out of order or your design didn't allow the user to explore the copy in the appropriate order. Someone here is confused, and it's not you.
You Weren't Specific
"Get High-Quality Service!" What does that mean? Your leads want to know what high quality means, so tell them.
Your Call to Action Makes People Feel Weird
Your leads are left confused when they are given a button. What's going to happen when I press this button?
You Made Your Great Copy Totally Unreadable
Remember: no one likes to read giant blocks of text. Make sure to add line breaks, subtitles, and images.
You Made Promises Without Proof
You can't back up your claims. That feels gross and untrustworthy.
TLDR
Write copy with purpose that people want to read, and make sure it's easy to read it.
Marie Haynes: "Google's Quality Raters' Guidelines"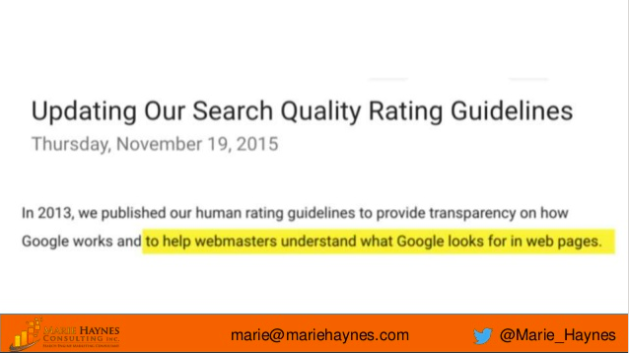 Marie's presentation focused on EAT. No, we weren't having lunch. EAT stands for Expertise, Authoritativeness, and Trustworthiness. Google hires quality rates to give websites scores. These scores are based off of Google's Quality Guidelines. Remember, you can't lie to Google. Don't try. Here's how you can impress Google.
Create unique, interesting content.
Do awesome things and get press coverage and get people talking.
Get experts and authorities to write your content because they have clout with Google and your audience.
TLDR
Read Google's Quality Guidelines. Write good content, do kosher link building, and be an authority.
Adam Buchanan: "How to do Influencer Marketing the Right Way to Grow Your Brand"
"Trust must exist before a transaction takes place."
Brands often want to work with influencers in their field because they create a sense of trust in the brand. If you admire, follow, and take recommendations from anyone on the internet, you know that when a brand is mentioned or endorsed by them you are more likely to buy it. Influencers use three tactics.
Proximity
Ad blockers and bull-crap content on the internet cloud the good intentions and beautiful copy of great content writers. Influencers have the attention of the people who are really interested in what they have to say.
Honesty
Influencers are honest in their review and preferences in products because most platforms don't allow them to hide their relationship with brands. This makes them more honest and trustworthy to users.
Expertise
Influencers are viewed as experts in their field. There's no denying the leverage of someone who knows what they're doing.
TLDR
Use honest and trustworthy experts and influencers to help promote your brand. Establish trust with your audience and they'll be willing to buy.
Bart Sharp: "Making the Switch to a Digital-Focused Marketing Approach"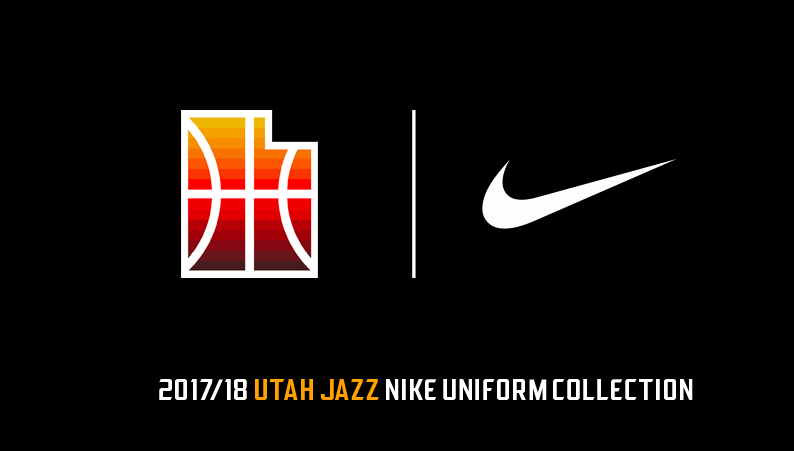 Bart is the man in charge of the Utah Jazz basketball team. You know those beautiful, new orange, yellow, and purple uniforms? That was all apart of the plan. When Bart stepped into his position on the marketing team he found that they concentrated the majority of their marketing budget to traditional marketing like radio and print. He swapped the narrative and they are now spending a majority of their budget online.
TLDR
SPEND MARKETING MONEY ONLINE!
Paid Track
The paid track covered everything from the top of the funnel to the bottom of the funnel and everything in between. Most of the speakers focused on high level, overarching strategy that most of the attendees could take and implement wherever it makes the most sense for them. But a couple presenters did get into the nitty-gritty.
Sangram Vajre: "How to market and sell like a category leader?"
Sangram Vajre urged everyone to practice account-based marketing (ABM), especially in the B2B sector. This means marketing on a strictly personal level with an extra emphasis on authenticity. The takeaway was to treat your potential customers as human beings and not as a small drop in a larger pool of leads. We should target our ads as specifically as we can, and even go so far as to create custom assets like hand-written notes or personalized videos when possible.
Heather Cooan: "Break Through PPC Optimization Walls with Marketing Automation"
Heather Cooen continued the lead-fostering theme as she talked about utilizing marketing automation to nurture leads in every step of the funnel. According to her sources, 73% of leads aren't quite ready to be sold to yet. They're still exploring, fact-finding. She suggested everyone create a lead-scoring structure based on their interest and their behavior data. This way, leads get to the sales team when they're hottest. Those who score in the lukewarm area need to be put on a marketing path with more material, working to persuade them as to what that they need to do or what problem they have that your product can fix. Then when they're warmest, sales can take them over.
Amy Bishop: "Advanced Excel: DIY SEM Tools"
Excel guru Amy Bishop gave the PPC managers in the room some real actionable items. She talked through ways to create a number of different tools to help them cut through clutter that Google Ads can sometimes be. She walked through creating a keyword health tool, a keyword expansion tool, and reviewed helpful excel plugins to make our lives easier.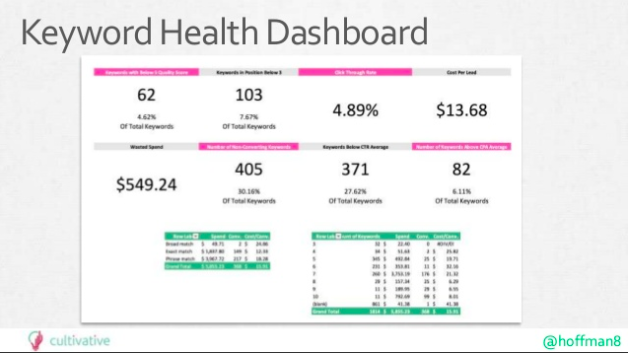 Carrie Albright: "Less Programmatic Jargon, More Programmatic Action"
Hanapin's Carrie Albright brought some clarity surrounding the world of programmatic display advertising to the conference. And instead of telling everyone what they should be doing, she urged the audience to consider the following points to figure out what would be best in their given situation: What's your goal for programmatic investment? What kind of budget do you have? And what level of involvement do you want to have? There are pros and cons to the many different providers and networks. She broke the differences between some of the larger players and provided a few tips for getting the most out of programmatic. For example, on any display network it's important to pay attention to placements and to start building a blacklist for sites that don't perform or that you don't want your ads to show on; this is similar to a negative keyword list like on search campaigns.
Better known as @ppckirk, Kirk Williams reminded the PPC professionals in the room that poor performance isn't always the marketing team's fault. "When Good PPC Goes Bad" focused on how to identify problems outside of marketing efforts, both in the realms of process and understanding failures. For instance, if your efforts are optimized and performing but people aren't following through with a certain conversion action, you need to ask why. Was there a site issue? Did tracking break? Is the competition beating you on price points? He urged agency teams and their clients to see the marketing relationship within the greater context of a partnership. No one side controls all elements of a customer's journey, and there must be reciprocation. By providing education and by agreeing on the responsibilities of each side in the relationship, we can avoid the "cycle of doom" of sour client relations.
JD Prater: "Omni-Channel Analytics: Facebook's View of the Entire Customer Journey"
Have you used Facebook Analytics? No? You should. That's what JD Prater preached in the final session on the paid track. Google Analytics has its place, but with properly placed Facebook pixels, you can get a much better idea of an individual's path to conversion rather than the batched data you get in GA's paths. With proper analysis, you can get a better understanding of customers' intent and fill in the blanks of the following statement: "When I ____, I want ____, so I can ____." Everyone should be able to do that for their target audiences, and Facebook Analytics can help you get there.
That's a Wrap!
The Oozle team had loads of fun and learned a lot this year at SLC DMC. If you're looking for a larger TLDR, here you have it.
TLDR
Create good content.
Focus on users, not Google when you're creating content.
Google can take just as easily as it can give.
Use data from multiple channels and resources to make decisions.
Keep learning, always be ready to change.
Thanks for having us, DMC! We can't wait until next year.