The Beauty School Summit Event Details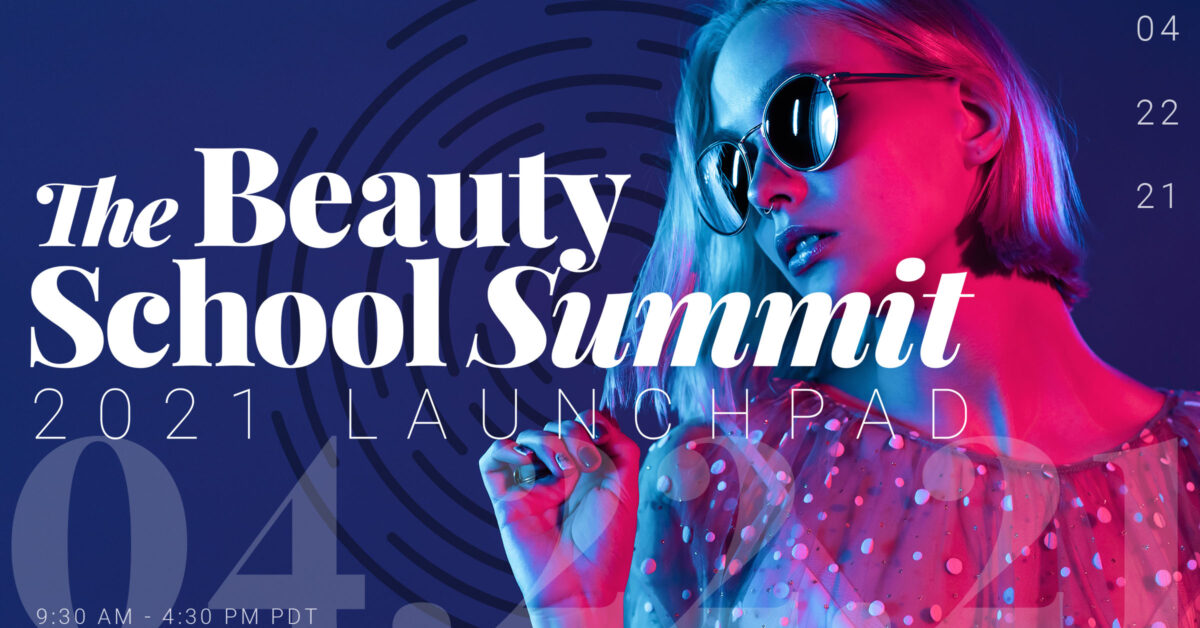 This is for 2021's event!
If you want to register for 2023, sign up now!
2021 Summit Details
Have you heard the news? We're hosting a virtual event designed specifically for beauty schools: The Beauty School Summit 2021 Launchpad. If you want insight on:
How to create an amazing beauty school culture
How to effectively teach virtually
How to build a strong marketing strategy
How to grow your social media following
How to handle your finances amid COVID-19
How to navigate beauty school laws and regulations
This event is for you! Join us on April 22, 2021, for our virtual event that's jam-packed with insight from trusted beauty school vendors on how to run a successful school in 2021.
Cost? completely free! If you haven't already registered, click the button below and get your seat. You don't want to miss it!
Here's everything you should know about this free event! Jump to the sections you want to learn more about.
What's the Story Behind The Beauty School Summit?
During 2020, we worked hard alongside our beauty school clients around the nation as they faced many ups, downs and uncertainties.. We were happy to see our clients adapt and ultimately see great success, even in 2020.
Our North Star at Oozle is, "Do what's in the client's best interest." We've worked with more than 100 beauty schools around the nation and we know we aren't the only experts who have insight into how to make a school run at its best!
We have connections with other trusted vendors in the industry who work hard to help schools manage finances or navigate specific laws and regulations. We reached out to those we work with to create an event that supports each and every beauty school in every aspect of running a successful school, not just marketing.
We want to help your school see an even better 2021, and we sincerely hope that through this event, you will get the tools and resources you need to have a successful year.
Speaker Schedule
Schedule subject to change. All times in Pacific Daylight Time.
Speakers and Topics
Keynote Speaker: Winn Claybaugh
Be Nice Leadership & Culture To Run A Successful Beauty School
We've all heard that people don't quit companies; they quit bosses. And those who quit are usually the most talented and productive. Leadership is not a position; it's a mindset and attitude. It does not matter a person's title, role or pay scale; every person was hired to develop their skills as a leader. Without a healthy culture people are not engaged, and they show up for one thing only—a paycheck. If you want to bring out the best of everyone in your school and offer service with a smile, give your team and future professionals something to smile about.
In this lively and humorous seminar, Be Nice (Or Else!) author and highly successful school owner Winn Claybaugh will share:
How to bring out the best in others.
The true definition and practice of leadership, mentoring, and collaboration.
How to create a school culture that team members, future professionals and customers want to belong to.
Why you might be difficult to work with and fail to attract the best people.
Keynote Speaker: Jim Petrillo
The 5 Values of Growing a Family Business
Faith
Family
Fortune
Fun
(and the ohhh F##KS)
Patrik Connole
3 Crucial Local SEO Tactics for Your Beauty School
Director Of Organic Marketing, Oozle Media
Having a business that offers amazing services is only part of the equation. The next step is getting discovered. Word of mouth and referrals are a great way to get noticed, but they can only go so far. One of the best ways to get your business name out there is by being present where people are looking for you: on search engines!
The value of optimizing your website for search engines is hard to understate. It allows you to get your company name and offerings in front of the right people, at the right time, in the right place. Tune in to understand the best way to use local SEO to create free, organic leads for your company each month!
Jen Fry & Jessica Beck
It All Starts With the Consultation
The consultation is the most important time you spend with a guest. The consultation sets the stage for increasing your service ticket, retail ticket and pre-book percentage. To perform an excellent consultation every time, your students and instructors need a strategy and system. You don't want to leave it to chance.
In this class, Jennifer Kuhn and Jessica Beck will share how your students and instructors can use the consultation to impact your numbers.
Cheryl Montgomery
Why Being Cheap Is Expensive
Director Of Web Development, Oozle Media
Cheaping out on your site saves money right now but will cost you later, both in missed opportunities, wasted upkeep, and in having to replace it every year or two. Hear directly from an expert who has been building beauty school websites for the past 10 years. You won't want to miss this valuable insight that could save your school thousands of dollars worth of missed leads.
Daniel Dunworth
Virtual Presentation Best Practices
Learning Engagement And Development Manager, Pivot Point
Now, more than ever, virtual presentations are an integral part of our education delivery. Having tools and knowledge that support your preparedness will ensure you exceed ever-rising participant expectations and maintain a standard of excellence in our new normal.
Parker Dickens
12-Month Roadmap To Digital Marketing Success
Director Of Accounts, Oozle Media
One of the most difficult things about switching or committing to a new agency is the unknown. "How far will my budget take me?" "What can I expect to happen?", "If this doesn't pan out, how many months or thousands of dollars am I out?" All of the questions that come up in a cost benefit analysis. I hope to answer that and more as we dive through what you can expect to happen over 12 months with a budget that works for any school.
Michelle Hon Donovan
Privacy and Security Challenges for Distance Learning
The rapid transition to distance education has created a litany of new privacy and information security concerns. Schools had to move quickly to implement distance-learning apps and online tools from technology companies that historically have not targeted the highly regulated education sector. This technology and new remote learning methods have redefined what constitutes a student record and significantly increased third party access to these records.
At the same time, cyber criminals are taking advantage of the additional vulnerabilities associated with working remote with cyberattacks increasing by 400% during the pandemic. The risk to student data has never been greater. While schools are starting to open back up, many schools are maintaining distance education programs going forward. This program will discuss the privacy and security implications and challenges of these distance learning programs.
David Steiner
Google Ads For Schools: The Path To More Students
Paid Ads Product Manager, Oozle Media
Do Google Ads feel like another language to you? We'll take a look at our proven PPC formula that can help increase student enrollments, and set your school up for sustained growth. This is insight that can help you run your own ads better or evaluate how your current agency is running ads for your school.
Corina Santoro
The Evolution of Digital Learning: Crisis Breeds Resilience
Sr. Product Director, Milady
The events of 2020 forced everyone to reimagine and redesign the classroom, and the beauty education industry was no exception. The good news? Everyone discovered that hybrid learning and distance education can work successfully for our industry.
At Milady, we already knew this, but that didn't mean we idly sat by. We listened, we learned and we took our turn reimagining digital learning for beauty programs. The result? A brand new way of engaging, learning, teaching, reporting and so much more. Learn how to harness the power of digital education and achieve new heights with CIMA.
Jared Sanders
Financial COVID Chaos
CARES, HEERF, PPP, HEERF2, PPP2. We will quickly discuss the various issues schools are running into as they attempt to navigate all the various financial assistance packages made available over the past year.
Stephanie Carter
Why Students Should Make Your Social Media Content
In her session, Stephanie will talk about the impact students' social media can have on a school's reputation, brand and leads. By teaching their students how to correctly use social media, schools can leverage an important organic and authentic marketing channel that will resonate with the audiences they're trying to reach most.
Michael Risk
Basic Elements of Graphic Design
Art Director, Oozle Media
With the availability of online design interfaces like Canva or design software like Adobe Photoshop and Illustrator, creating beautiful design is about more than inspiration or a great idea. Good design is about understanding the fundamentals of the subject. Although it's possible to spend years studying the nuances of design and the many varying takes on how to be successful at it, there are a handful of basic elements that everyone should know before beginning any creative project. Rules were made to be broken, of course, but you have to know what they are first.
Rob Thatcher
Straight Talk on Inbound and Outbound Calls
President and Lead Trainer, SalesComm
In this quick 20 minute class, you'll learn about the basics you should be doing, but maybe forgot. Basics that help folks show up to their appointments instead of just saying they will. Steps to building a relationship with someone in under 10 minutes.
What To Expect at The Beauty School Summit
Once you've registered, you'll be sent an automatic email through Zoom that gives you your link to view the event. We wanted to make this process as easy as possible, so you'll be watching the presentations all from the same link, and you can enter or leave as you please!
During the event, we will have the chat open, so you can talk with other participants. During breaks or times without a scheduled speaker, you can participate in giveaways with amazing prizes like a free website* ($8,400 value).
After the event is over, we'll be sending you an email of where you can find the replays of all sessions of the event, so you can watch any sessions you may have missed (or want to watch again).
Sound like an event you don't want to miss? Get your seat below or register for access to the on-demand library after the live summit!
Register for The Beauty School Summit 2021
*Website prize not available to current Oozle Media clients.