Beauty School
Marketing
The Cosmetology School's Marketing Experts
For over 5 years Oozle Media has been driving results for dozens of beauty schools through industry specific website development, SEO, PPC and more recently social media. Oozle Media has proven over and over again that we understand beauty, esthetics, barbering and cosmetology schools. This understanding allows us to alleviate your headaches and develop solutions for your unique challenges as a school owner.
Dedication to the Industry

Oozle Media has teams of Marketing experts 100% dedicated to being the best digital marketing solution for the beauty education. This specialization allows Oozle Media to offer the best value in beauty school marketing per dollar spent. We have cracked the code on how to generate inquiries, book more tours and use your own students to help you do your marketing.
Social Media for Beauty Schools

We've made made an intense study of how to get students for beauty schools using social media, not just likes and followers. The brands we work with dominate their competitors on social media and actually generate leads by doing so. Our seasoned team of professionals are the best in the business at driving leads that convert by leveraging the social platforms where your future student spend the most time.
See The Results: Making Paul Mitchell the National Leader in Social Media
Social Media Advertising to Generate Leads

The beauty industry is made for social media and the demographics of the popular social media platforms are primed for the beauty school market. Our dedicated beauty school marketers have developed strategies that are driving great, qualified lead and insane ROI for those that have committed budget to social media ads.
See The Results: Paul Mitchell Costa Mesa Enrolls Students Through Social Media
Website Development for Beauty Schools

You are in the beauty industry, do your websites and apps show that you know how to make things beautiful? Oozle Media has been building websites and apps that generate leads and enhance the online credibility of cosmetology schools for years. Not only do we have the expertise in developing sites that look great and convert visitors into tours, we understand the unique challenges that developing a site for the beauty education world can hold.
We know what terms like "Net price calculator" and "Gainful Employment" mean. We know how to keep you safe from the NACCAS rules and regulations, and have experience integrating with 3rd party lead software like Millenium and Demandforce. If you site isn't keeping pace with the great work your school does, give us a call. we can help.
SEO for Beauty Schools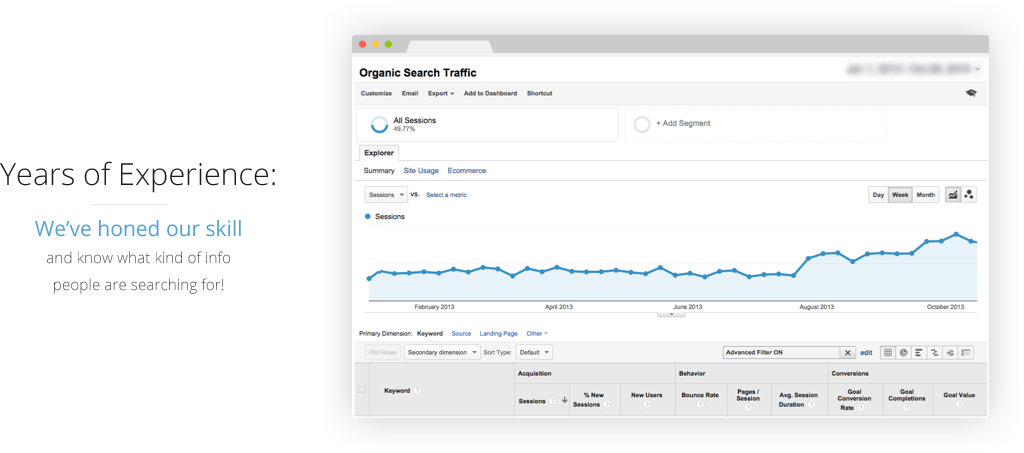 Our years of working in the beauty education space have honed our understanding of what information people are looking for when they're searching for a beauty school. That understanding paired with our knowledge of how search engines like Google work allows us to develop unique strategies that get our beauty schools in the most prominent spot of Google search and more click throughs than their competitors.
See The Results: Check out the Paul Mitchell Case Study
PPC Marketing For Beauty Schools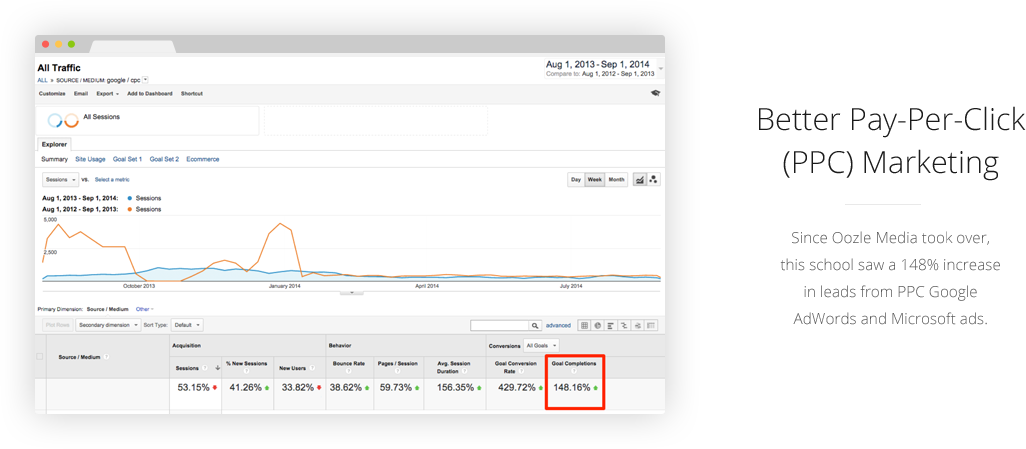 Paid search is a powerful lead source for the beauty schools that do it right. Oozle Media has invested in tools, analytics and strategies that allow us have lower cost per click and higher conversion rate. Years of experience have shown us the ways to use these tools to drive more and better leads at a lower cost than a PPC agency that doesn't specialize in cosmetology.
See The Results: Looks What we've done For Avalon
Scholarship Programs


Whether you need a short term influx of prospective students, or are always looking to attract the best and brightest, our scholarship promotions provide unbelievable results for those that are looking to fill future class dates. Our team works with yours to understand your market, then use our expertise in developing successful scholarship program from dozens of client to give you a ready made plan that is going to book tours and sign students up.
See How scholarships Generate More Leads
Student Marketing and Sales Trainings

The students in your schools need to know more than just how to cut hair. Upon graduating, many students come to the realization that to be successful they need to understand the fundamentals on how to run a business, especially marketing and sales. Oozle Media marketing professionals are the best out there on marketing to the beauty industry and we love adding value to your student's cosmetology education by training them on how to market themselves as stylist. not Only with your students develop valuable skills, but your school will yield the fruits from their efforts in the student salon, with higher rebooking rates and a better online reputation.
Front Desk and admissions trainings

At Oozle Media, we have made a study of how prospective students shop for their beauty schools and now provide tools and training to make sure that you're not just getting more leads, but your enrolling more students. Using call tracking and secret shopping, we give you an insight into how your precious leads are being handling. Then we work with you to develop a tailored, repeatable method that books more tours and closes more leads. Lastly, we even provide training for your Admissions team and customer facing staff to ensure that your system is being followed to a T.
Oozle Involvement in the Industry
Oozle Media at the 2017 NWCCF conference in Seattle where post-secondary schools from Washington, Oregon and Idaho come to learn from the best on how to make their schools be more successful in many facets of running a school. This includes government affairs, admissions, marketing, etc. We're here to help these schools understand how they can attract more leads from the internet doing the best with their website, SEO, PPC, and social media.