Webinar: Apple's Privacy Updates & Its Impact on Paid Ads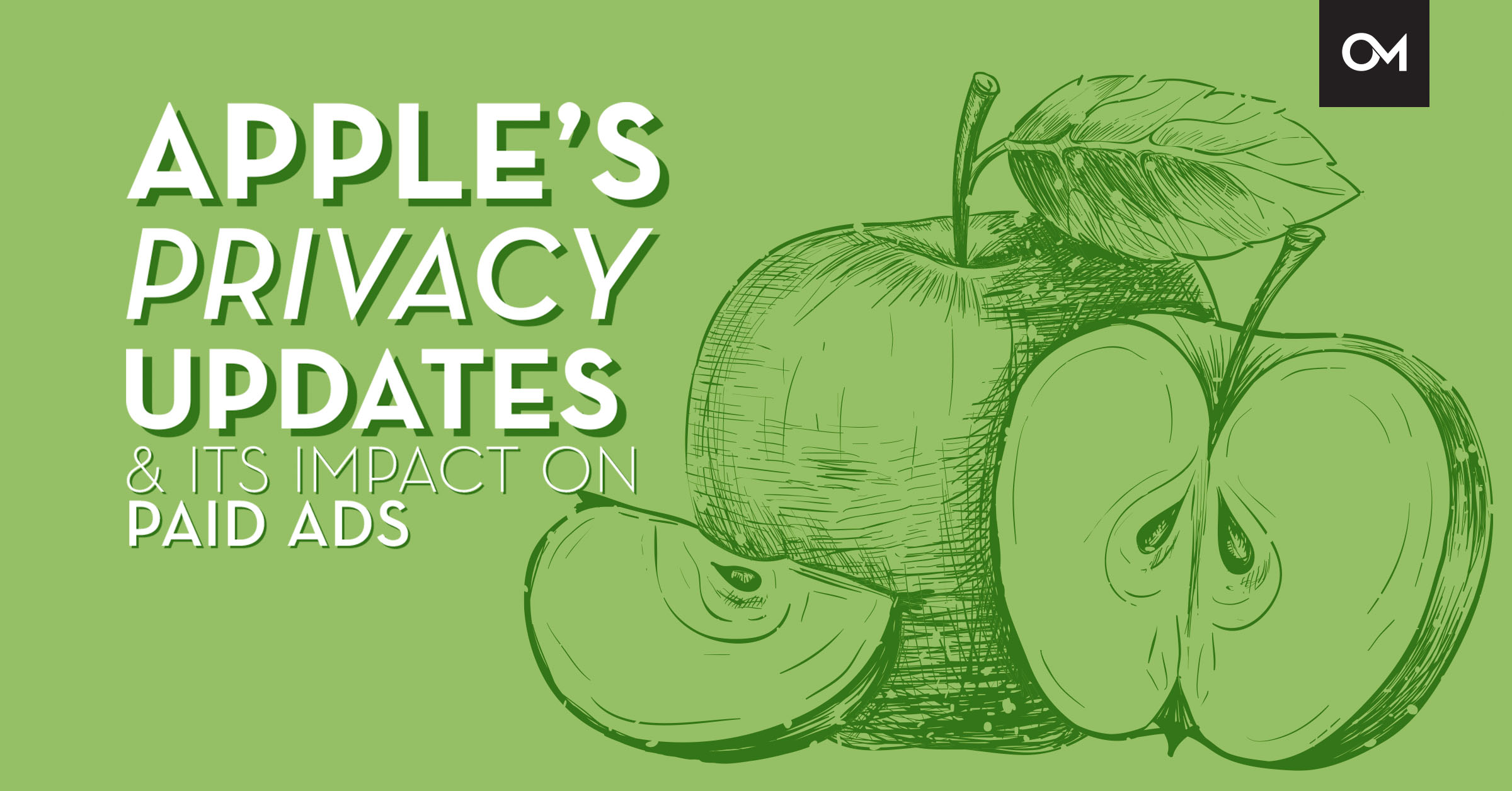 Watch Chelsea Owens, a Paid Strategist at Oozle Media break down what we know about the privacy update from Apple and how it affects both your PPC and social media ads. Watch the webinar or read what's covered down below.
Watch the Replay
Read the Blog
We are sure you've heard about the new Apple iOS 14 update, but how has this affected our digital marketing efforts? We are going to focus on two points here:
Adjustments to advertising measurement
Changes in advertising performance.
Before we get into it, let's preface this article with the fact that iOS apps are what is being most impacted with this update, as that is where users will be prompted to opt-in or opt-out of data tracking. Please keep that in mind as you read through.
We'll start by talking about the adjustments to measurement and reporting.
How Has PPC Ad Measurement Been Affected?
Let's pick on the PPC side of paid ads measurement first. In PPC advertising, sometimes we are missing the linkage between the ad Google receives and the tie to the consumer interaction with that ad. An example of this would be a gap between when someone clicks on the ad and the conversion actions such as:
A purchase
A form fill
A phone call
No one is alone when it comes to the struggles of dealing with measurement gaps. Browsers like Safari and Google Chrome have limits on the length of time they can store cookies. This affects attribution tracking when someone clicks on an ad one day and converts two days later. This is nothing new.
Because iOS users will now have the choice to opt-out of data tracking, the Google Click Identifier, often referred to as the GCLID parameter, will not be included in the ad click URLs from iOS apps. Google will be implementing a new parameter that complies with Apple's policies and works with conversion modeling to give you more accurate measurement on iOS devices or apps.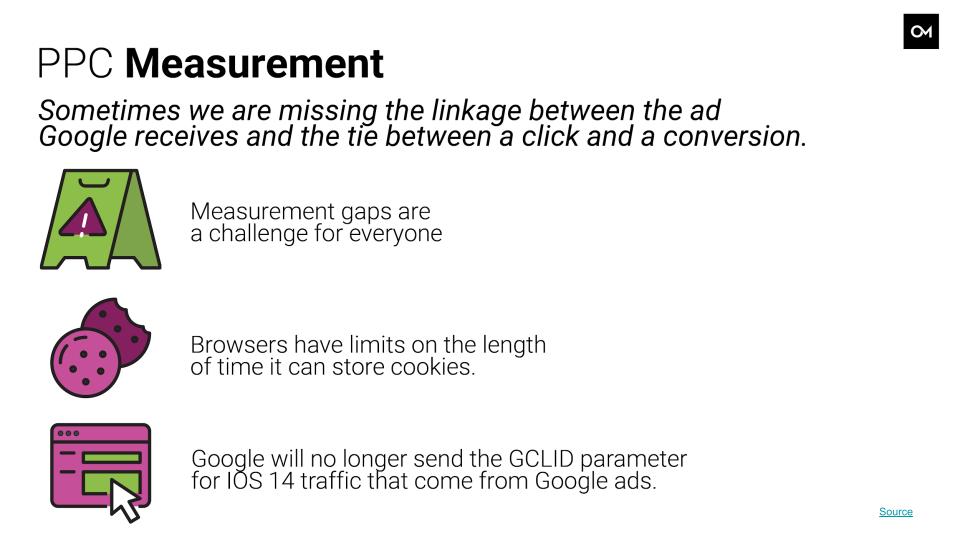 What is Google's solution for this gap? Modeling. Modeling is how Google bridges the gap between the ad interaction and the conversion through estimations and analysis of consumer behavior.
The information provided below is from Google explaining their modeling:
We separate ad interactions based on whether we were able to observe the link between that ad and the conversion.
We identify a group of similar-behaving users in the observable group and calculate their conversion rates. We also analyze other factors, including device type, time of day, and operating system, in order to assess similarity.
We train our machine learning model to determine the likelihood of conversions across all users that interacted with the ad, even those that weren't directly seen because of browser or iOS restrictions. We apply these training techniques uniquely for each advertiser's specific business needs.
We validate that our models are representative by leveraging data from other calibration signals, such as historical conversion trends.
Modeling helps with better reporting, but also helps with better campaign optimizations. EX: Smart bidding
How Has Facebook Ad Measurement Been Affected?
Alright, let's switch gears and talk about the Facebook side of what is happening here:
The biggest complication we have run into is the lack of customization on the attribution window. The attribution window is a timeframe of which conversions can be attributed to our ads.
Before, we were able to look back 28 days, but since the iOS update, we are now only able to look back 7 days for a click and only 1 day for an ad view.
Just like Google, Facebook has implemented a similar modeling to help with better performance reporting. Facebook is essentially estimating the performance and feedback of the ads that are running to minimize the gap between ad interaction and conversion.
What does this mean? Well, we are now only able to report on metrics at a 7-day attribution window.
Oozle Media used to offer reporting on assisted leads. Because the 28 day window is no longer available, we can no longer offer this in our reports.
Reporting breakdowns will no longer be available either. Although modeling can bridge the conversion tracking gap, it cannot help to identify who those people are and their behaviors such as gender, age, region, and interests.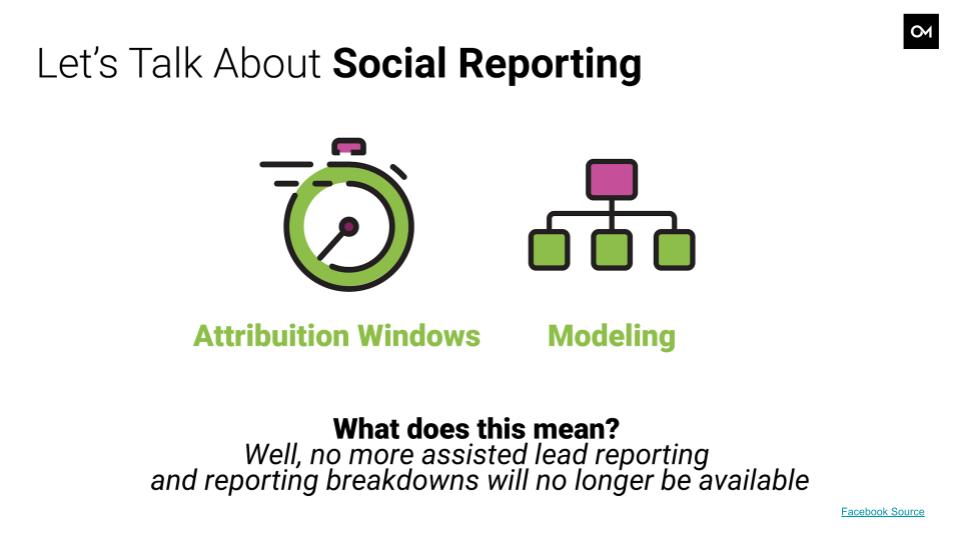 How Does the iOS Update Affect My Ad Performance?
It's time to get into what most people are concerned about. How is the iOS update affecting my ad performance? While neither platform has been able to gather enough data to fully perform a valid study on this yet, we can talk about what they predicted to see and if that is coming to light.
Starting with PPC again, fortunately, paid search will not see a huge impact from the iOS 14 update other than their new measurement changes with modeling. Because search engine browsers are not necessarily app-based, the iOS 14 privacy prompt won't show up as much here and limit our data too much.
The other thing with paid search is that people are actively searching for the keywords we are bidding on here. So in a way, they are looking for us.
The Display and Youtube networks are where we are going to see a greater impact in the PPC world. Display and Youtube campaigns use more narrowed and specific audiences such as:
Custom Intent
Remarketing website visitors
In-market audiences
These audiences are built based on people's search history and interests. Our display and Youtube ads target people who fit into our target demographic audiences. Because iOS 14 allows people to opt out of tracking, these networks will have a harder time delivering the ads to the right people.
Most social media users consume their media through mobile apps (ex. Facebook, Instagram, Snapchat, TikTok, etc). These apps, if used on an Apple device, will require the user to either opt-in or opt-out of the privacy tracking prompt.
As we know, social media paid advertising is NOT search based. This advertising is very dependent on consumer data by following their online behaviors and social listening. Because of this, audience sizes, especially lookalike audiences will decrease significantly. Many have already decreased in size.
Here is a statement Facebook released before the iOS update was implemented.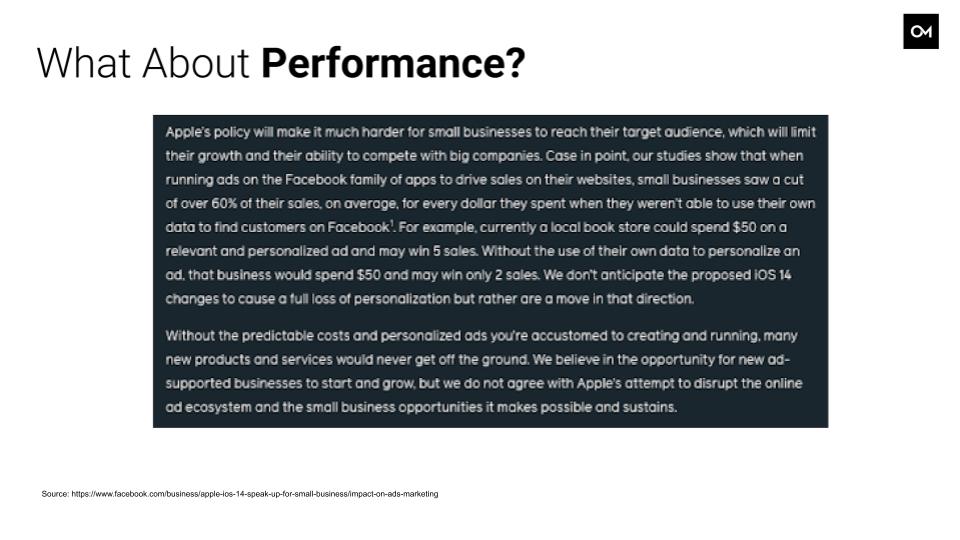 Hopefully, this gives you an idea of where Facebook stands in this situation and what they believe might happen in the future.
Because social ads are what will be most affected by this update, here are some steps we can take to make sure we are doing everything we can to get the best results possible considering the circumstances.
For Social Ads
Event prioritization
Strategic Planning

Full-funnel marketing is going to be important here:

Reach campaigns to keep up on audience sizes for each account
Traffic campaign for website visits
Retargeting conversions campaign
Acquisition conversions campaign

Consistent analysis and optimizations:

Audience rotations
Creative updates
Expanding the funnel
What Are We Seeing?
iOS 14 has only been rolled out since April 2021. At first we did not see too much impact as we began to implement the steps Facebook had asked us to take.
Now that we are a few months into this privacy change, we are seeing changes in our results, however, it varies industry to industry and client to client.
Some clients have struggled with conversions and lead flow since this change, and others have not as consumers opt-out of the data-tracking prompt. Because people are opting out of the privacy prompt, we have seen audience sizes decrease. This means fewer people to target for remarketing in lower funnel campaigns.
Lastly, remember that reporting has changed quite a bit. Oozle Media used to offer reporting on what we called "assisted leads." There is no longer an option to report on assisted leads due to the attribution window change. The attribution window change will also miss leads that should be attributed to Facebook ads but do not fall within the specific window time-frame or the modeling didn't bridge the data gap.
Facebook reporting now has a 3-day delay on tracking conversions to ensure higher accuracy as well.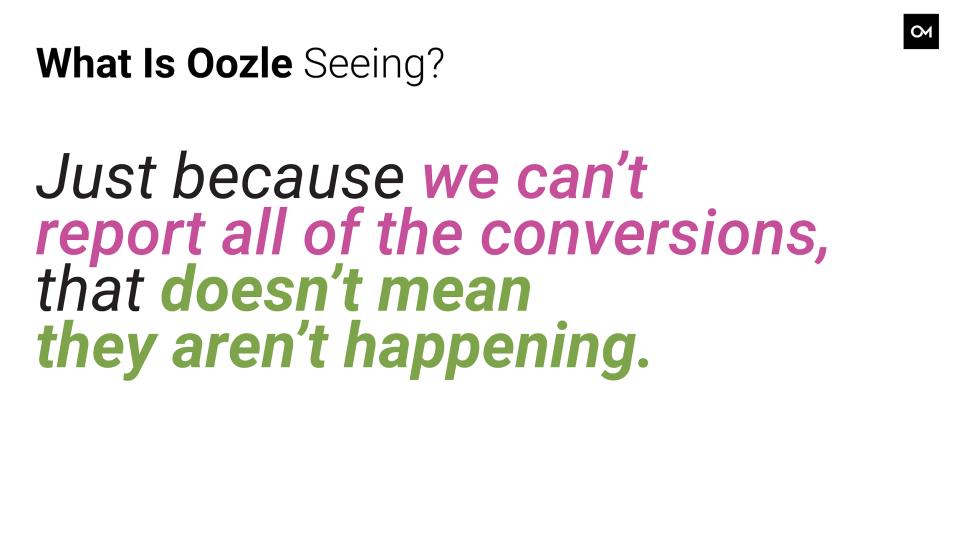 Other Factors Affecting Ad Performance
If you didn't know, the iOS update couldn't have come at a worse time. There is so much more out there affecting the performance of ads right now. Especially for our schools.
Things in our society are changing again, but not quite back to normal.
We were slowly coming out of the pandemic! BUT, WAIT! The new Delta Variant is changing COVID protocols once again.
Before the recent uptick in COVID cases, interest in travel was/is high.
The need for normalcy and social interaction was/is in full swing. People want to go out with their friends!
And, speaking specifically for schools, people aren't thinking about how to "move on" with their future. They want to make up for lost time! They are looking forward to new "experiences." (Traveling, hobbies, friends)
Lastly, It's summer time! People aren't at their computers as much to search for services and products. They are out and about as much as they can while they can.
Just a reminder that we at Oozle Media want to be as transparent with our clients as possible. We will pass on more information and updates as we get them.
Need Help With Your Paid Ads?
If you liked what you heard, reach out to our team to learn more about our PPC and paid advertising services. As a Google Premier Partner, we get access to additional tools and resources to use your ad budget effectively and ultimately help you get more leads.
Schedule your free consultation!