The 5 Pillars of Seasonal Marketing [Featuring Unique Businesses in Utah]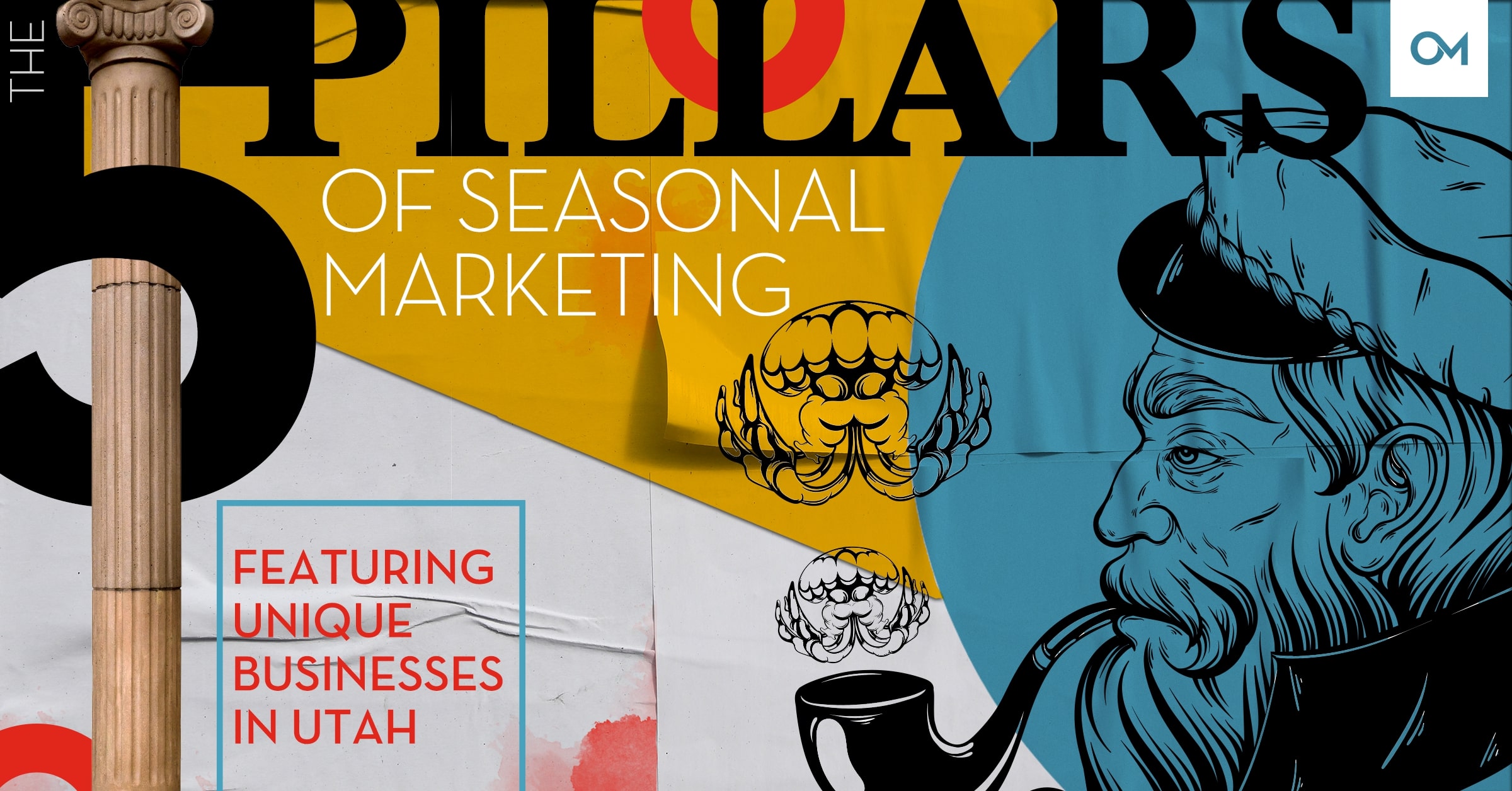 During the fall and winter, we tend to see the same seasonal marketing gimmicks everywhere—like overdoing it on pumpkin spice products! You can go to any beauty retailer and buy pumpkin spice body spray or visit any coffee shop and get a pumpkin spice frappuccino. You may love the heck out of pumpkin spice, but it eventually gets old. If you miss out on it this year, you know you can always get it again next year, so what can you do to up your seasonal marketing game this year?
1. Offer Something You Can't Get Elsewhere
As a business, you can't just do what everyone else is doing. If you launch a pumpkin spice product and expect it to draw the masses, then it better be the best product to have ever graced mankind. To stand out, you have to step away from tradition. Offer something your customers truly can't get anywhere. Take a look at Last Course, for example. Their ice creams and desserts are already known for being unique, but during the holidays they pull out all the stops. You can't possibly go to the ice cream shop down the street from your house for this stuff. No, you have to go to Last Course. Check out these three special desserts from last year!
Halloween – Cinnamon Ants Ice Cream
Yes, they used real ants!
Thanksgiving – Dessert Turducken
A pumpkin pie inside a spice cake with apple filling on top.
Christmas – Edible Snow Globe
It's actually a very well decorated cinnamon crunch cake with cinnamon buttercream frosting.
2. Have a Contest on Social Media
Yes, it may seem like everyone does contests around the holidays, but not everyone does 12 straight days of contests! Contests allow you to build your following and create a stimulating way to get people to engage with and keep coming back to your content. During the 2017 and 2018 Christmas seasons, Burg Children's Dentistry did 12 Days of Burgmas where their clients posted pictures and tagged the dentistry for a chance to win one of the 12 prizes. Every day, a name was drawn and the lucky winners and their families would be treated to something special. Here were some of the prizes!
Breakfast with Santa
Christmas in Color
Hogle Zoo Lights
3. Connect with a Social Media Influencer
Although social media influencers can (and should be) used throughout the year, they can be used to build the hype about your holiday-centric products or events your business is doing. Take @slcmoms for example. She has 46.2K followers and focuses her content on all things related to Utah families and fun activities. The content looks friendly and personable, but a lot of it is on behalf of organizations and businesses. Her followers know they're being presented with sponsored content, but they keep consuming it because it relates to them.
If you look at the story highlights on her profile page, you'll notice that there are different story highlights for different seasons. Her "X-Mas" stories feature events around Utah that her followers might be interested in. The "Santa" stories show local places where you can take your children to see Santa. Her main feed is also full of inspiring posts encouraging her followers to support local businesses and events. Here are just a few of her posts!
October – Pumpkin Regatta in Daybreak
December – Elf Scavenger Hunt at Gardner Village
4. Feature a Fun DIY Project
During the holiday season, people love doing DIY-type projects. Whether it's baking a fun new recipe or putting together a craft. You can use Pinterest or Instagram to encourage your audience to use your products to do their DIY project. Here are just several examples of how people in the community have used DIY to advertise their businesses.
Aimee Ferre – Winter Wonderland Snow Globe
Craft Lake City – Skull Plant Holders
5. Host Unique Activities
Every year, we see the same holiday activities being put on. Some of these include community parties, carnivals, and festive light shows. While these things are fun, they are everywhere during the holiday season. If you miss out on participating in one activity, you know that the same activity can be found elsewhere next week. People should feel a little bit of FOMO (Fear of Missing Out) with your activity and be driven to come because of how unique it is.
Petersen Family Farm in Riverton does a great job of putting on unique activities that people definitely don't want to miss out on. These activities attract people and get them to come visit the farm and interact with the animals and produce found there. Here are just a couple of the activities they do during the holidays.
Festive Wagon Rides
Farmhouse Holiday Night Featuring Farm-to-Table Snacks
What About Marketing During Other Seasons?
We understand that Halloween and the holidays are big in the realm of seasonal marketing, but the five pillars above still apply to every other season throughout the year. If there's a way to celebrate a holiday or time of year without compromising your brand, do it! Go all out on Easter egg decorating contests, organized summer water balloon fights, and whatever else you can think of to put your business's name out there.
You could even do something that's not traditional but still seasonal, like celebrating your founder's birthday. Strap Tank Brewery does this every year for their founder, Rick Salisbury. They have a giant birthday bash where there is a Harley-Davidson motorcycle stunt show, a carnival, a mechanical bull, and live music. See, not all seasonal marketing is all about witches and Santa Claus.
Let Oozle Guide the Way
At Oozle Media, we love every season of the year! Not only do we love celebrating and participating in all of the fun activities around Utah with our families and friends, but we are passionate about helping businesses recognize the marketing opportunities different seasons give them. If you would like to talk more about applying these five pillars to your business or would like help in putting something together that is unique and on-brand, start a conversation with us!
Consider These Posts for Your Seasonal Marketing
The Holiday Competitor
It's 2019. Is Blogging Still a Thing?
Graphic Design Trends for 2019