4 Steps to Help Your Business Grow on YouTube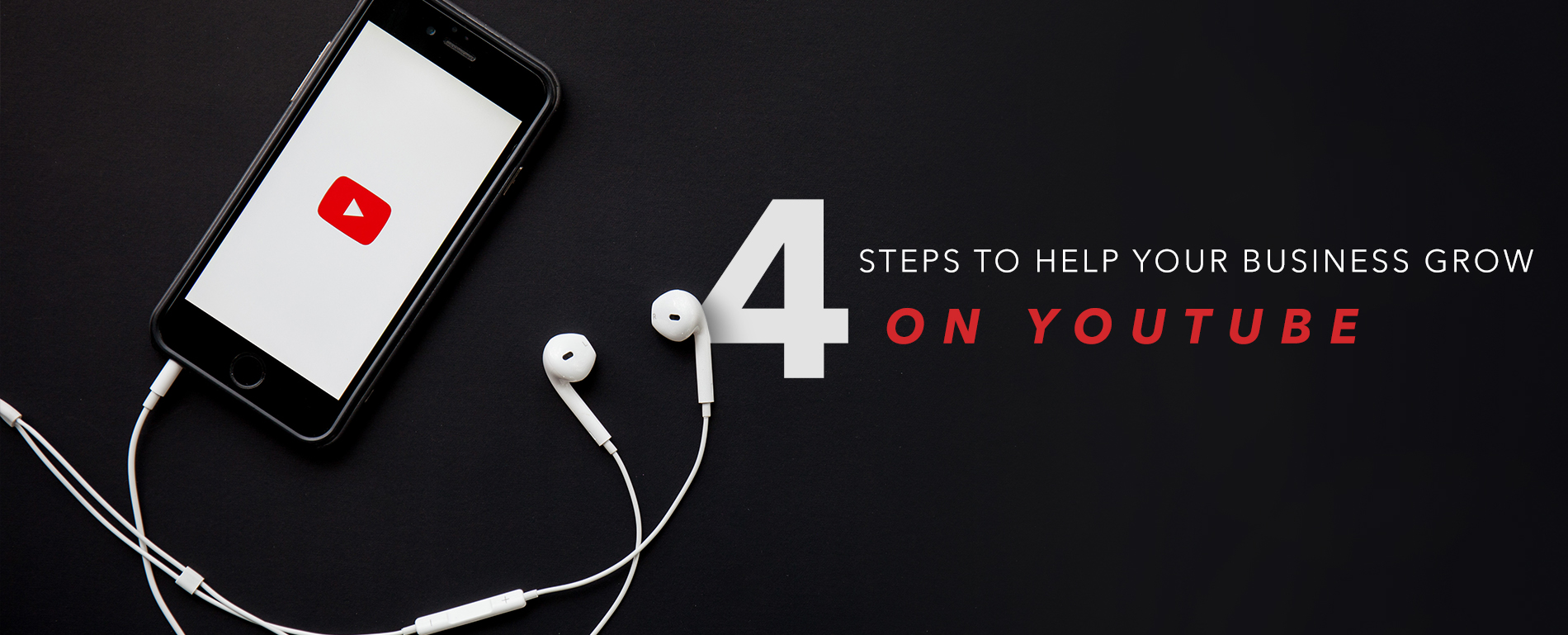 Does your business have a video on YouTube? Video not only helps potential customers but it also ranks higher on Google than most blog articles. So having a video of your business is key in finding future clients. Here are 4 steps to help your video get views!

Step 1: Keyword Research
The first step is important for your company video campaign. Keyword research is one of the most important parts of YouTube discoverability. There are some basic tricks in SEO (Search Engine Optimization) that will help your video rank.
Did you know that millions of people are searching videos? YouTube is arguably the second highest search engine, behind Google with millions of people searching on YouTube every day. Because of this, you'll need to find the right search terms for your videos. Potential customers are typically more eager to view a website with a video because they'll see a face behind the company. They'll feel more trust in your brand.
If you're a company that focuses on beauty schools, there are plenty of keywords people are searching for in YouTube. You'll want to focus on long-tail keywords such as "How to enroll in beauty school in 2016" instead of the more competitive "Beauty Schools". Put your focus on what people are searching and be specific.
A huge tip in finding the right keywords is to start typing a keyword in the search bar. For example, type in "How to cook" and there will be a drop-down showing multiple search terms added to that keyword. (Graphic below) This drop-down list is what people on YouTube are searching for and will help you with finding long-tail keywords.
Google Trends is a great tool by Google that helps you track search trends throughout the year. Enter your search term and you can also filter down to only YouTube searches. (See graphic below)
Other keyword tools to gather ideas:
Google Keyword Planner – This is the most powerful and common keyword search tool on the Internet.
Ubersuggest – This is a Keyword tool that gives you different suggestions for your keyword. Just think of one general Keyword, and ubersuggest will do the rest.
Moz Keyword Explorer – Another great keyword tool with relevant search volume added to suggestions. You can also filter by questions for more long-tail related queries
After you've done your research, gather all your keywords into a list, ranking the best on top.
Step 2: Recording your videos
Every video you create needs to follow this timeline structure:
Hook – The first 5 seconds are the most important part of your videos. The attention span of people on YouTube is about 5 to 10 seconds. It must excite or grab the attention of the viewer in these first seconds. The viewer will move on to another video if they aren't interested. So the first part of your video needs to "Hook" the viewer to your video and brand. It's also good to have your logo at the start if you want. (Timeframe-5 Seconds)
Content – This is the main body of your video and what will cover most of your video. Make sure to keep it interesting and fast paced. If you are talking in the video, take out all the silent pauses if needed. (Timeframe- 2 to 4 Minutes)
Call to action – Ask your viewers to share the video, comment, like or subscribe. Get them involved in the conversation. YouTube ranks videos higher when there is engagement.
Outro – This is the graphic you sometimes see at the end of the video. Where it shows other videos to click on to view. There is also a button to subscribe. This is important to keep the viewer hooked to your channel. The new YouTube end card option is easy to add to the end of your videos.
Camera
Now that you've planned out your video, it's time to start filming. For starters, depending on your budget, you can start filming with any camera that you already own. Even a smart phone or any digital camera you already own. But, it doesn't hurt to spend some money on the best cameras to make your brand stand out and look professional.
Microphone
Audio is just as important as your camera, so having the right microphone is key. There are mics under $100 that are easy to hook up and will make your videos sound more professional.
Lighting
The importance for good lighting is the same regardless of the size of the room you are filming in. The design for the basic lighting is the three-point lighting design. To do this you place two lights on either side of you at about 45-degree angles. The third light goes above or behind the person on film.
Time Frame of Video
YouTube ranks videos by watch time instead of views, your video length must be engaging and to-the-point. If you have a video that is 10 minutes long, make sure that those 10 minutes are interesting so that the viewer sticks around. Basically you should make your video as long as it needs to be, but don't let your video drag.
Call-to-Action
Each of your videos should have a call-to-action. It's where you tell the viewer to take action and like, share, comment or subscribe to you. Most call-to-actions take place at the end of your video, but some videos may have multiple call-to-actions throughout the video.
For example, one video tells their viewers "Let's see if we can get 100 likes for this video…" before getting to the main content of the video. I like this idea because it engages the viewer and sets a goal. When you simply tell someone to like or subscribe, it makes a big difference.
For the subscribe part, asked at the end of the video, so if the viewer enjoyed watching the video, he or she is most likely interested in more of what you have. Always tell the viewer to like, comment, subscribe and share your content.
Step 3: Uploading your video
Video Title
Now we're getting into the fun stuff. Your video title is one of the most important things for you to know in YouTube. Your video title must, and I mean MUST have your keyword and key phrase in it.
By now you should have done your keyword research already, and have the right idea of what your keyword and key phrase for your video is. The rule of thumb that YouTube rookies fail at with their titles is the order of words for their title.
A good blueprint of your video title should follow this:
[Focus key phase] [Your Brand]
Good example:
How to learn Schema markup for your company – Oozle Media
Bad example:
Schema markup
Your focus keyword that you've research must be the first part of the title. Your brand name will come at the end. Remember not to make the title too long, since it will be cut off from people that are viewing search results. Since your main keyword and topic of the video is the first part of the title, YouTube's search bots will find the keywords easier and you'll rank higher.
Video Description
The video description is what helps YouTube and viewers understand what your video is about. The keyword for your video should be placed in the first 3 lines of your description, but make it readable.
A trick you could use is on the fourth line put a 'View More', since YouTube cuts the description after line 4. So adding this will help the viewer see that there is more to read from your description, such as call-to-actions and links to your website / product.
Your description can be a mini blog article. The more content, the better chances to be found.
Here is an example of a great video description outline:
[Line 1 Explain your video with focus keyword within]
[Line 2 Info about the video and other keywords]
[Line 3 More info and a url link to website]
[Line 4] – View More –
[Line 5 blank]
[Line 6 More info about the video and your brand]
[Line 7 blank]
[Line 8 call-to-action] Subscribe!
[Line 9 blank]
[Line 10] CHECK OUT MY OTHER VIDEOS
[Line 11 Place urls of your playlist here]
Tip: DO NOT keyword stuff in your description! For example: schema, how to, learn schema, etc. Back in the day this helped videos get ranked, but now YouTube sees this as spam. They will penalize your video and maybe your channel for stuffing keywords. Use the tag field to place your keywords, not the description, because your description is supposed to be readable.
Keywords Tags
The next field in your video 'info and settings' is the tag field. This is where you place your keywords and key phrases of your video. This will help boost your video to rank in YouTube search. To do this, add the keywords from the list you made from step 1. Make about 5 to 10 different tags. Starting with exact search phrases like, "How to learn web design" "Utah web design company" and then go more broad with "web design" "how to" etc. Remember to add the key phrases that you've already wrote in your video title and description. This will help "link" all your keywords with the video and will help rank above others. Also note that you can also add your brand name to the tags.
Custom Thumbnails
Thumbnails are quite important for gaining views. If you have a boring thumbnail, no one will click on your video. If you are starting out on YouTube, you must verify your channel by entering your phone number. Then you'll have the option to add a custom thumbnail to your video when you upload. (See Graphic at right)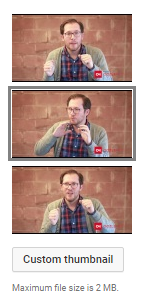 Make the thumbnail that will compel people to click! People on YouTube judge a video by its cover, so here are some tips and tricks to have an exciting and engaging video thumbnail:
Bright and high-contrast.
Clear and focus.
Close-up of faces, something that the video is related to.
Big, bold text that is easy to read and is about what the video is.
Represent the content. Don't have a supermodel on your thumbnail if the video is about construction.
Foreground stands out from the background.
High Resolution and sharpen edges. Remember, your thumbnail is small and needs to look great to the viewer.
Make your thumbnails style consistent across your channel.
Good Thumbnail:

Bad Thumbnail: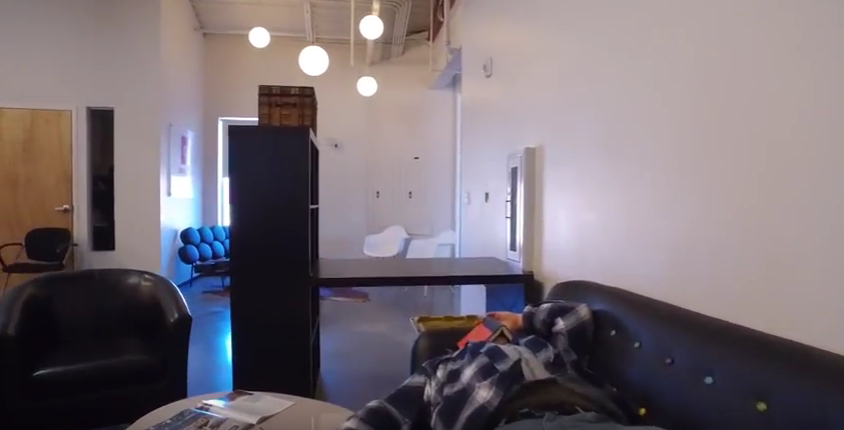 The custom thumbnail size is: 1280×720 and can't be more than 2 MB.
If you don't have Photoshop, try Canva.com. You can create a YouTube Thumbnail and download the image for free!
Adding Cards, End screen & Annotations
Adding End screen & Annotations and Cards to your videos helps capture the viewer's attention. There are rules to follow that will help you have a positive outcome:
Don't distract and reduce the viewer with spam-like popups, like adding too many Cards.
Place Cards at the right timing of your video.
Some things you can do with Cards, End screen & Annotations is to include: a link to your website, a Poll, watch another video and more.
Adding Subtitles and Closed Captioning
A trick on YouTube that so many people don't know about is closed captioning.
Adding subtitles and closed captioning to your videos can help boost your SEO within YouTube search engines. How? Because if you have keywords in closed captioning, then it's another way for the search bots to find your video.

After your video is done uploading, you can go into the closed captioning option. There are a few ways to do this. The most common way is to type what is said in the video and add it to the video's timeline. (See graphic below)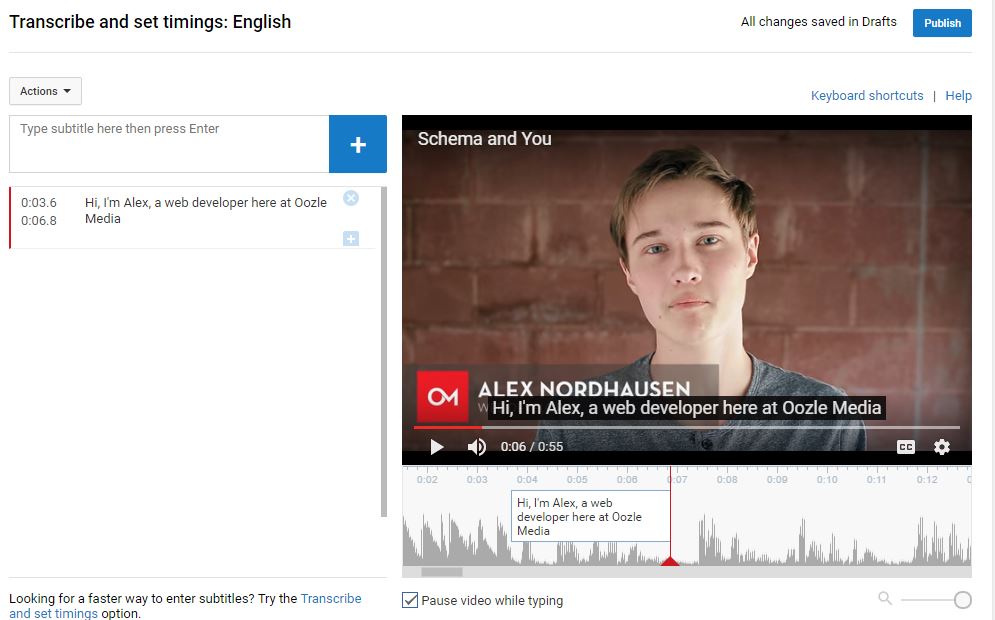 You can adjust the text to the right time of the video; make sure it matches with what is being said.
You can also write captioning in different languages. But don't use Google Translate; hire a professional to translate your videos.
After you are done, click on the "publish" button.
Step 4: Sharing your video
Finally, it's time to share your video on social media!
When you upload your video, there is an option to share your video to multiple social media websites. The key to getting your video a head start is to share it to as much social platforms as possible in the first 24 hours of when your video was uploaded. This will not only give it a boost in the rankings of YouTube, but will also give the video other places to be viewed. Remember, SEO is all about real estate.
Facebook videos are growing fast, and the best way to share your video on Facebook is to upload your raw video file into a Facebook post. Facebook, like most social media websites, want people to stick around. So adding a YouTube link on a Facebook post will not show up as much as if you upload your raw video file. You can mention your channel or brand in the post. This will show up on more people's newsfeed and the video also auto-plays as people scroll down.
Hash tagging
The use of hashtags is important in social media, especially Twitter and Instagram. Like keywords, hashtags help your video get found. Simply place hashtags at the bottom of your tweet or post and people interested in those hashtags will find your video. Don't overdo it on hashtags on your Facebook post, but feel free to go wild on Instagram and Twitter.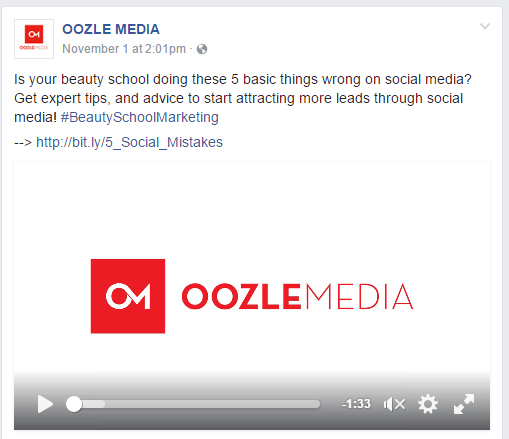 Final words
Now that you've read through my 4 steps, go out there and create a video! There are some final tips for you to apply in your journey in YouTube for your business:
Don't let failure hurt you, keep going at it, keep uploading. You may not get many views or subscribers the first month. I would encourage you keep going at it, uploading a video a week. At least you will grow above the other channels of people that do give up. Remember, less than 5% of all YouTubers out there have over 100 subscribers.
Be you! Be relaxed and professional, look natural and enable viewers to feel relax and comfortable with you. Being you will show to the world that you are legit. People don't like a fake or a copycat.
Be passionate! Love what your brand stands for and show it! Tell the world what YOUR brand can do to help them.
Be patient. Time builds your brand. Keep working and creating, learning and improving along the way. You won't get big overnight.
Smile! Begin your videos with a smile, and look happy. If you look tired, bored, or sad, people will see it and will click on another video. Remember, watch-time is key.
Talk to the viewer like there your best friend! Look at the camera and engage with your viewers. Much like in person with eye contact. If you look away, you look unprofessional.
Practice. Try practicing in front of a mirror or pre-record yourself and review your videos to find things to improve.
Don't worry! Don't worry about how the world sees you. Everyone is different in so many ways. And the right kind of people will like you and your brand for who you are.
Thanks for reading this article. Remember, that to be successful with YouTube, you'll have to work hard. Always remember that you are doing it because you love your brand and want the world to see it. YouTube success takes time, but if you do things right, you'll have a snowball effect and your channel and brand will grow faster and faster.
Our teams of experienced individuals ensure proper implementation on not only videos, but web-pages, SEO and PPC. With Oozle Media, your company is sure to succeed!
So, Good luck!
Sources:
https://www.youtube.com/user/derraleves
https://www.youtube.com/user/videoinfluencers
http://searchengineland.com/youtube-ranking-factors-getting-ranked-second-largest-search-engine-225533
https://www.mushroomnetworks.com/infographics/youtube—the-2nd-largest-search-engine-infographic
http://thatbackpacker.com/2015/09/09/10-beginner-tips-if-youre-starting-out-on-youtube/
http://blog.hubspot.com/marketing/youtube-hacks-tips-features#sm.00000is69r53ngd39vlxikgx3k9sa