25 Gifts Under $25 for the Marketing Geek in Your Life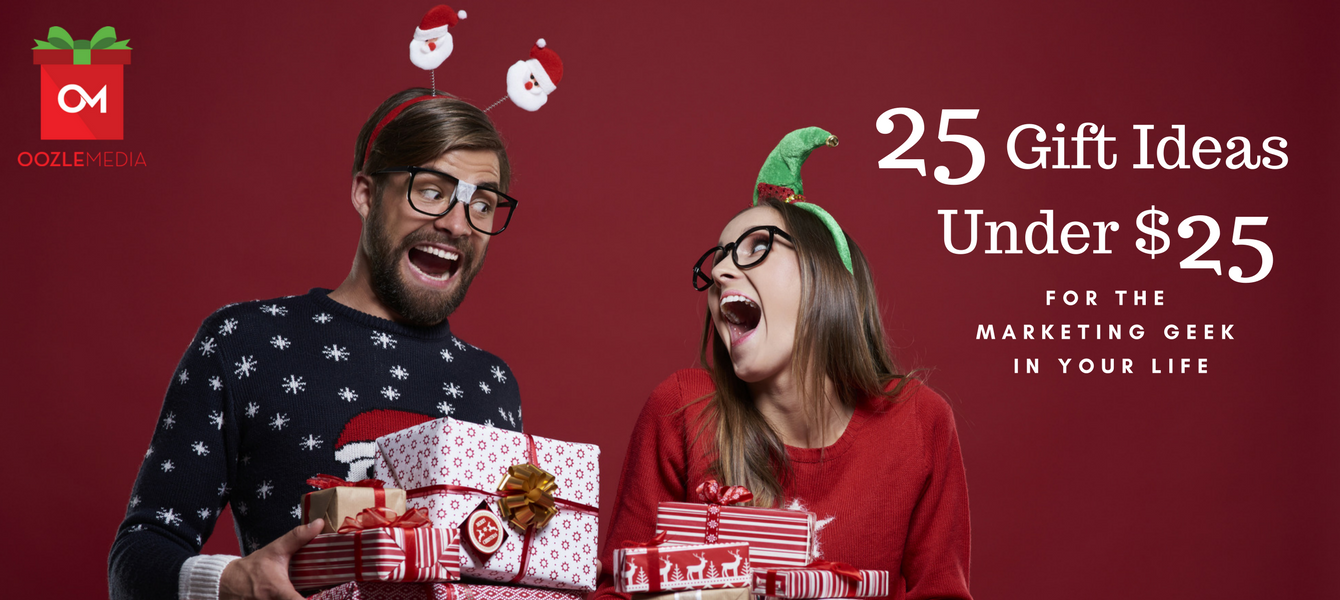 We're all marketing nerds here at Oozle Media, and as such, we've hit a few roadblocks when it comes to purchasing gifts for each other. Cross off the marketing nerd on your Christmas list with some help from this list of the best nerdy-niche marketing gifts under $25. We've sorted these gifts by category to help you figure out which one is perfect for your internet marketing loved one (or randomly assigned Secret Santa recipient), and even provided the best runners-up so you have a few options (you're welcome).
---
CAFFEINE DISTRIBUTION SYSTEM
Does your favorite internet marketer drink coffee? Chances are pretty high that they do, and who doesn't love a new coffee mug? Here's our favorite marketing-friendly mug, followed by the runners up.
Winner: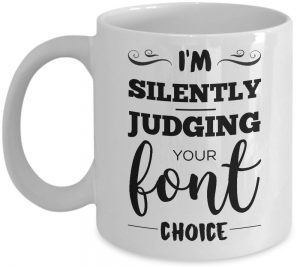 "I'm Silently Judging Your Font Choice" Mug – $11.95 on Amazon
Some graphic designers don't get too hung up on the details, while others know that good design starts with a good font. Did you choose Comic Sans in that company-wide email? Are you a client who just asked your graphic designer to use Papyrus in an actual corporate logo that you want real people to see? The owner of this mug wants you to know that you should reconsider that Arial font, and for good reason.
Runners-Up:
"Word Nerd" Mug – $14.78 at Etsy
"SEO Specialist, Powered By Coffee" Mug – $17.99 on Amazon
"Social Media Explained" Mug – $10.99 on Amazon
"Software Development Process" Mug – $14.99 on Brave New Look
---
KID-SIZED PORTALS TO WEB MARKETING
Trying to get children hooked on web marketing? We understand. Who doesn't want their kids to grow up to be exactly like them (probably a lot of people don't want that, actually)? We've got you covered. You can introduce them to everything from graphic design to office life right now, this Christmas. Future career goals (not entirely) guaranteed. Check it out.
Winner: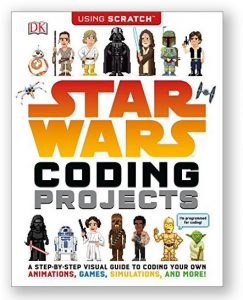 "Star Wars Coding Projects" Book – $16.99 on ThinkGeek
Got a future little coder in your life? Say, around 5th grade and up? This may be the right book for them. The book uses Star Wars characters to teach your mini-developer the basics of Scratch, a free programming language that lets you build games, stories, and animations. And, of course, nobody will know if you buy it for yourself.
Runners-Up:
"Graphic Design For Kids" Book – $23.99 on Amazon
"How to Be a Blogger and Vlogger" Book – $7.48 on Barnes and Noble
"Draw What Success Looks Like" Adult Coloring Book – $12.99 on ThinkGeek
"HTML for Babies" Board Book – $1.73 at Barnes and Noble
---
UPPER BODY FASHION
As an internet analyst, there are only so many ways that you can tell the world how awesome your job is. The most popular, other than bragging loudly, is a T-shirt. Simple, effective, and keeps you on the right side of most public dress codes. Hook someone up this Christmas with a sweet new shirt.
Winner: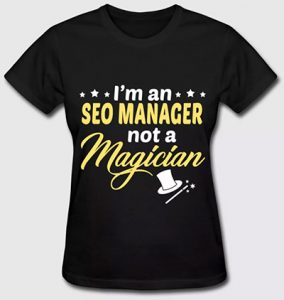 "SEO Manager, Not a Magician" T-Shirt – $21.99 on SpreadShirt
Look, I know you want your site to be on the first page of Google. Everyone wants that. And nobody wants it more than you, and your SEO manager. They're working as hard as they can to perform that miracle for you, but unfortunately, they're not sorcerers. So for the SEO manager in your life, gift them a little reminder that nobody is expecting them to work this particular magic.
Runners-Up:
"Graphic Designer Nutrition Facts" T-Shirt – $19.99 on Amazon
"World's Most Interesting Coder" T-Shirt – $19.99 on ThinkGeek
"I Write, Therefore I Rewrite" T-Shirt – $20.10 on Zazzle
"Keyword Research Matters" T-Shirt – $19.99 on Amazon
---
WORK-DODGING WALL DISTRACTORS
Decorating your workspace is a must for every web pro. You can help them make their walls more colorful and informative with these prints. Plus, we've all been there: the brain dead hours in the early afternoon? Entertain your brain while you wait for it to start up again.
Winner: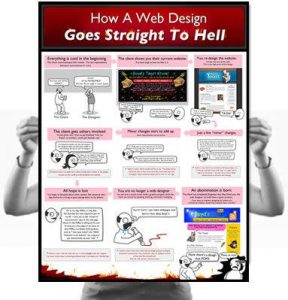 "How a Web Design Goes Straight to Hell" Poster – $20 on The Oatmeal
Ah, The Oatmeal – the comic of choice for slightly bitter marketing professionals and artists everywhere. What better way to convey the empathy you have for your web designer than this poster? Even your clients can laugh at this comic, comfortable in the knowledge that they would never be THIS client.
Runners-Up:
"One Day I Will Find the Right Words" Quote Print – $10+ on Etsy
"SEO Manifesto" Poster – $9.90 and up on Zazzle
"Do it for the Exposure!" Print – $10 on The Oatmeal
HTML 5 Cheat Sheet Framed Canvas – $22.46 on Bonanza
---
THINGS FOR YOUR COMPUTER
Accessories for your work computer make every day just a little more interesting. Or useful. Or confusing to your coworkers. Nobody will question your commitment to computer-based accessories with these gifts.
Winner: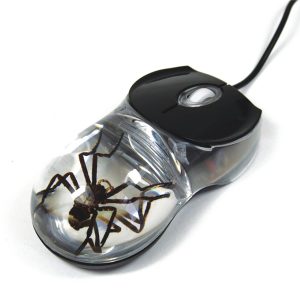 Spider Computer Mouse – $22.99 on Amazon
Make sure that nobody ever wants to borrow your computer mouse ever again, for even the shortest of moments, with this clear acrylic-encased spider mouse. In fact, make sure that your coworkers don't want to sit by your desk, or potentially even come talk to you at all, while you're busy working away with your real-live-brown-recluse-spider-trapped-in-plastic mouse.
Runners Up:
Dancing Water Speakers – $9.99 at Walmart
Gaiam USB Aromatherapy Diffuser – $13.50 on Yoga Outlet
Mini Desk Vacuum Cleaner – $10.49 on Amazon
Seven Color Backlit Keyboard – $19.99 on Newegg
---
Each of these gifts is sure to impress and delight the marketer in your life. Buy one or buy them all, even if they're just for you. Interested to know what a lot of these references are? Check out the rest of our blog to learn some of the ins and outs of digital marketing, or contact us to learn more.