15 SEO Problems With Your New Website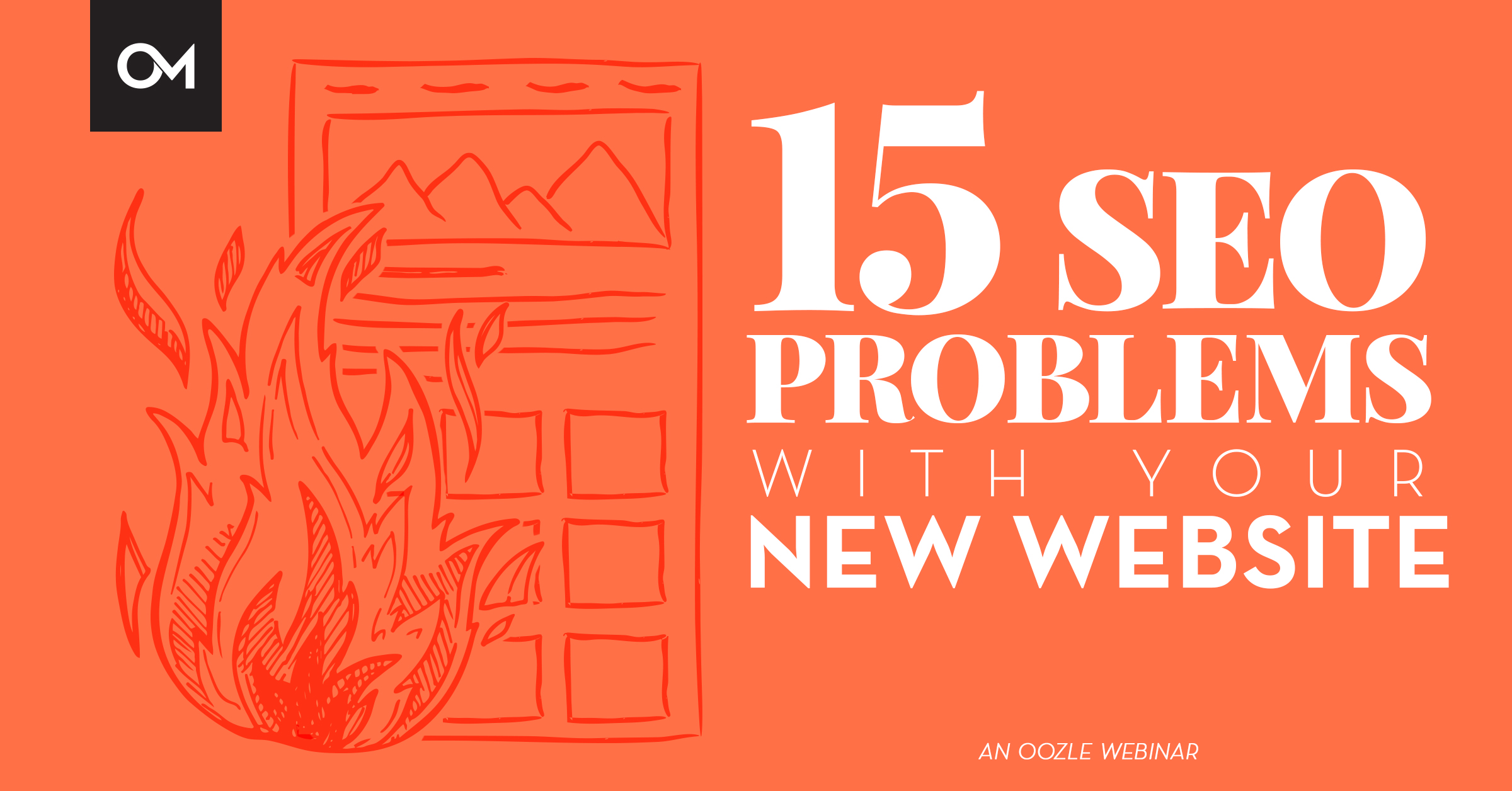 Watch the Replay
Congratulations! You finally got your beautiful new dream website ready to launch! The functionality is great, the design is awesome, and you can't wait to have the new look ready to go. So, you tell the web design company to launch it, and all of a sudden, your website leads hit rock bottom, you disappear in Google results, and you are left with a stunning website that nobody can seem to find. Just take a look at a couple of screenshots from real clients we've worked with recently.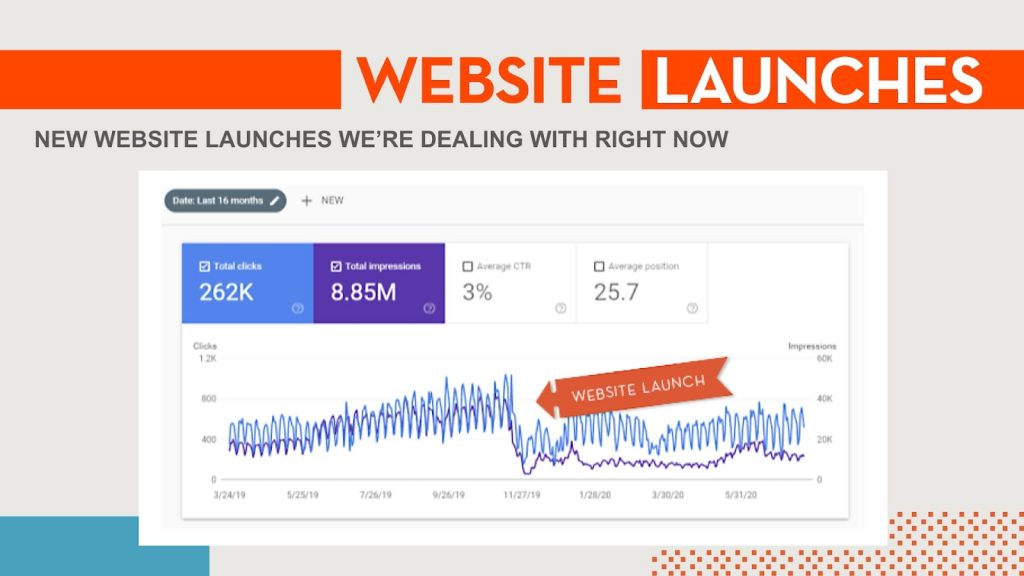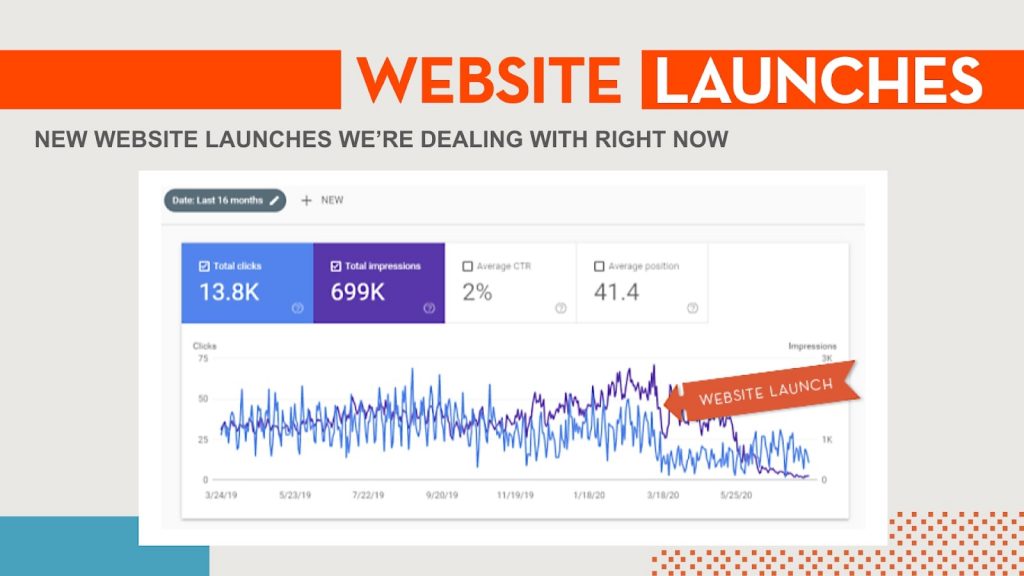 And, here are a couple of websites that we launched ourselves while taking SEO heavily into consideration.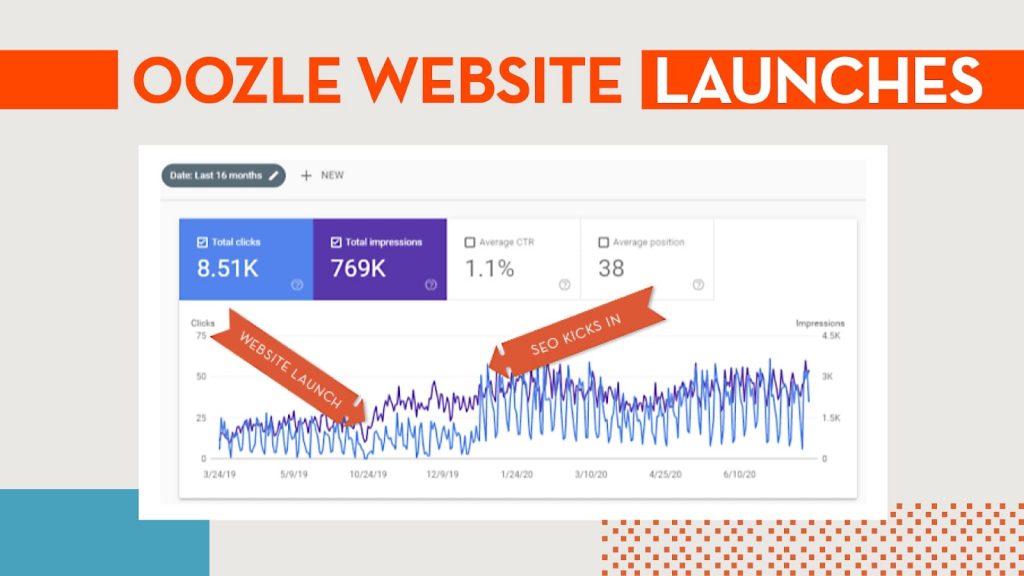 It is imperative that you have an SEO expert involved with your website launch. SEO experts can maintain the critical SEO components that you or your website company may not even be aware of. We've compiled a list of the top things to consider when launching any website and what to look for. If you are looking for a checklist, click the button below, and we'll email you our free SEO checklist for site launches!
1. Website URL Structure Changes
This is one of the biggest changes that typically causes issues with a new website launch. Google treats every URL as a unique individual page of the website, so even a simple change from mywebsite.com/services/my-first-service to mywebsite.com/my-first-service would mean that Google's robots read that as an entirely new page on the site unless you implement a proper redirect to that page. By adding a 301 redirect to the site, you can instruct their crawlers of where all the authority, links, content should be on a new page.
It is ideal to not change the URL structure, if possible. However, that is rarely the case. Many times when you launch a new website, there will be more, or sometimes less, content than what the original site had. Prior to building out the main structure of the new website, we would recommend going into your Google Analytics, Google Search Console, and Paid Ads account and check the top pages receiving traffic over the last year or so of data to make sure you aren't accidentally removing an important page driving traffic to the site.
As the website sitemap is created, be sure to keep in mind that you want the overall website architecture to be as "flat" as possible. This helps with maintaining SEO authority and giving Google an indication of what pages are most important to you. Think of it this way, the more clicks away from the home page you get, the less important it is in Google's algorithm.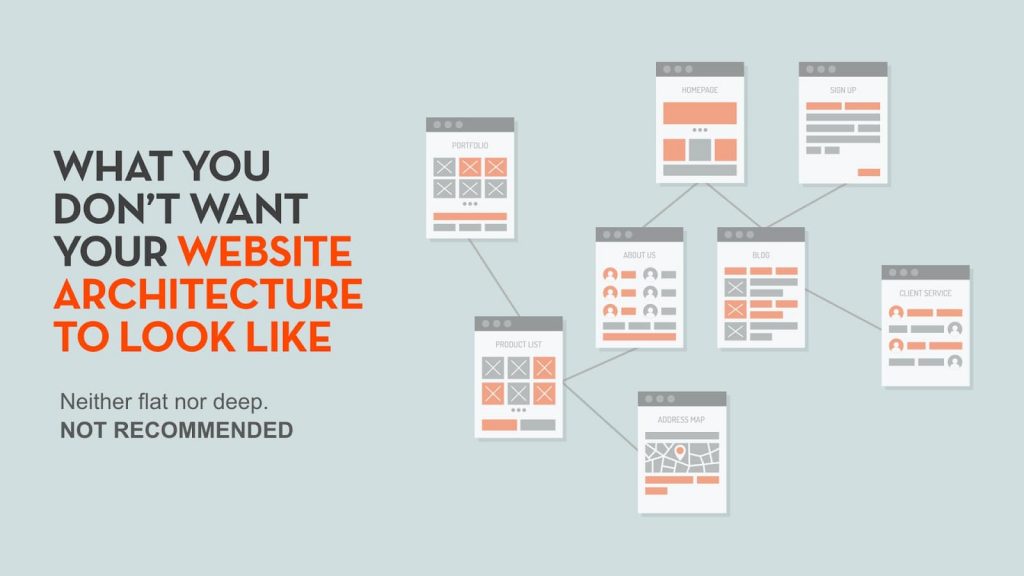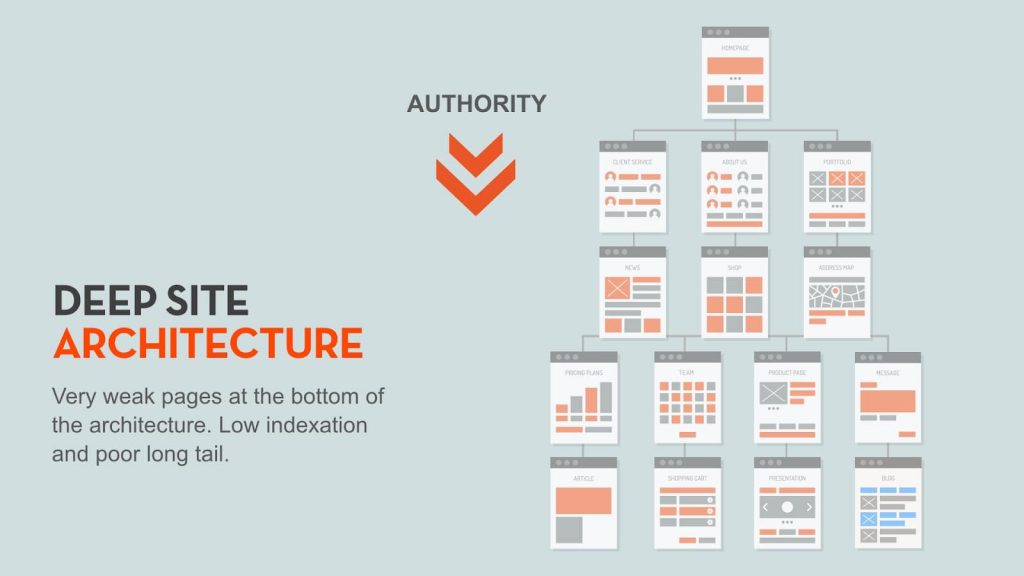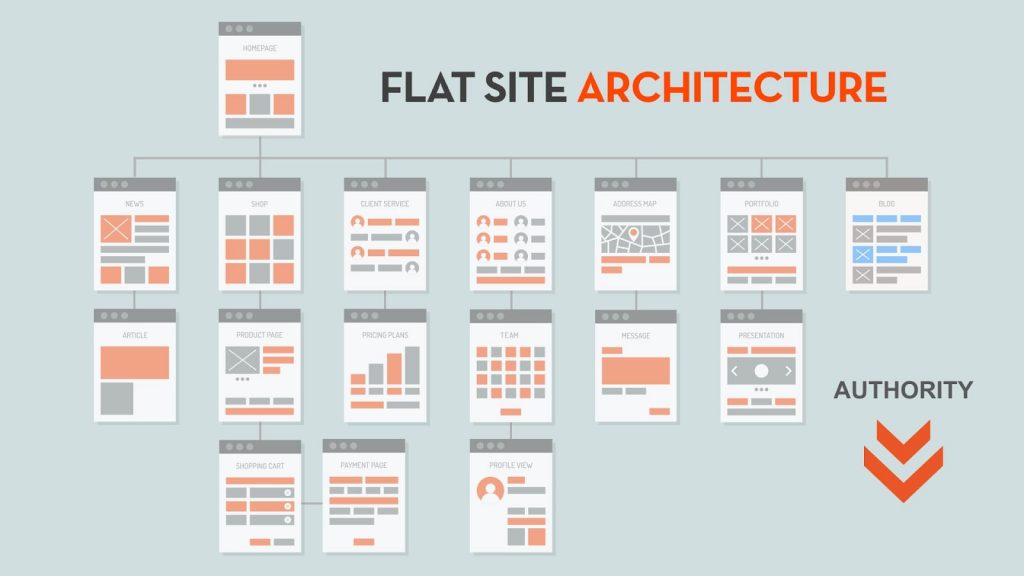 Be sure to map out redirects and implement them on the development site prior to launching the site to ensure a smooth process. For our mapping out process we do a full site crawl of both the new and the old site using a site crawling tool like Screaming Frog or Moz.
These tools will give a full list of URLs, then you can use an Excel or Google spreadsheet to find which URLs don't match. If you are using a WordPress CMS you can use a plugin like Redirection to then upload a .csv file of all these redirects.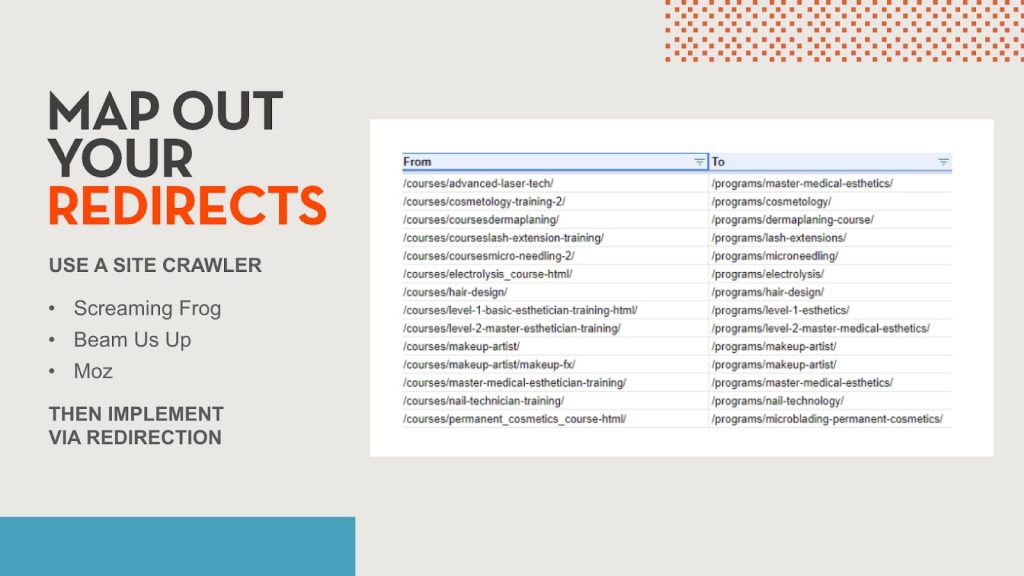 2. Transfer of or Creation of Specific Website Content
At Oozle one of the things we consistently say is 90% of SEO is great WRITTEN content. Without great written content on the site, Google has nothing to crawl, and therefore, you will not rank. You also want to make sure that if there are any new pages on the site, those pages should have unique content written for them. And yes, that absolutely includes blogs!
3. Transfer and/or Update SEO Onsites (Title Tags, Meta Descriptions, h1s)
This is a crucial, yet easy to miss SEO detail for every website. Your title tag and meta description are the first thing that an organic searcher will find when searching for your website in a Search Engine Results Page (SERP). Search engines use your title tag as one of the key bits of information about your web pages to rank them.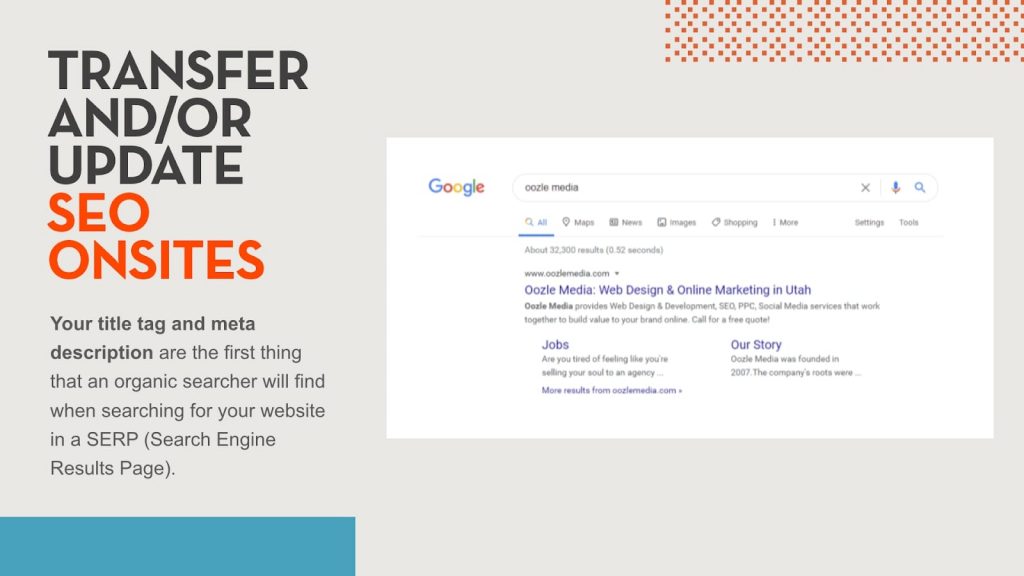 4. Tracking Codes
You should set up tracking codes in tools like:
Google Analytics
Call Tracking
Heat Mapping
Paid Ads
While not all of these tools are "SEO" specific per se, having your data across all your marketing platforms is crucial to make good decisions for marketing. These platforms and others allow you to see what is really going on with your SEO efforts.
5. Configure Your robots.txt and Meta Robots Tags
There are two specific ways that you can explicitly tell Google not to crawl or index (have eligible to show up in Google results) your website. Most of the time, there is a no-index directive or instruction set up while the website developer builds the website, or you can also use it to block certain parts of your site that you don't want Google bots to get to.
If you want more information about robots.txt, Moz has a great resource you can read. You should, however, go to your mywebsite.com/robots.txt and look to see if you see anything that is "disallowed". If it is disallowed, that means Google won't crawl or index that page or pages that follow it.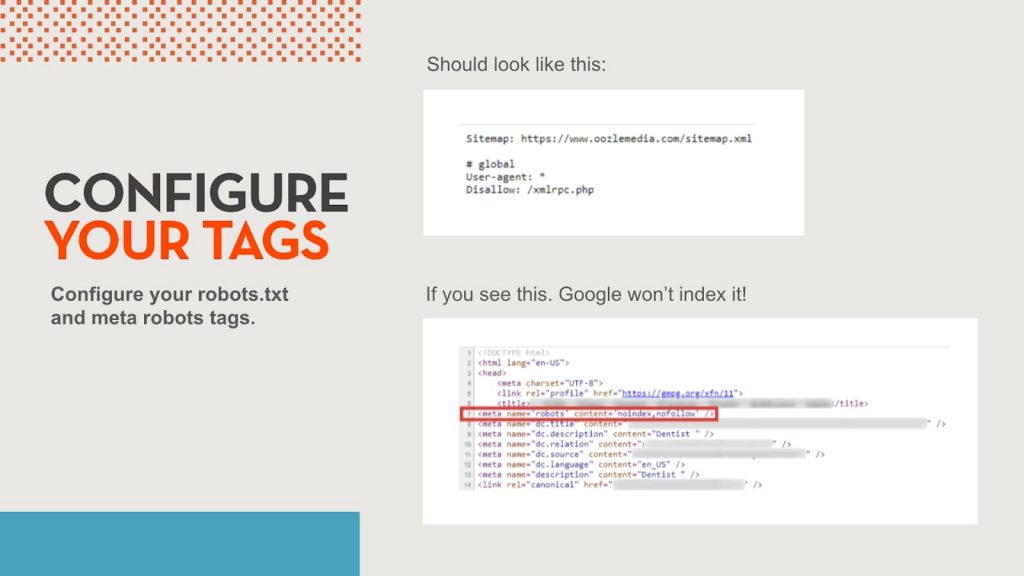 You should check the code on your pages for a dreaded <meta name='robots' content='noindex,nofollow' />, which does the same thing, just on a page-by-page basis. If you have this tag on any of your pages, Google will skip them for indexing.
Additionally, if you are working in a WordPress site, you'll want to be sure to go to Settings -> Readings and unclick "Discourage search engines from indexing this site". That is generally used while the site is under development.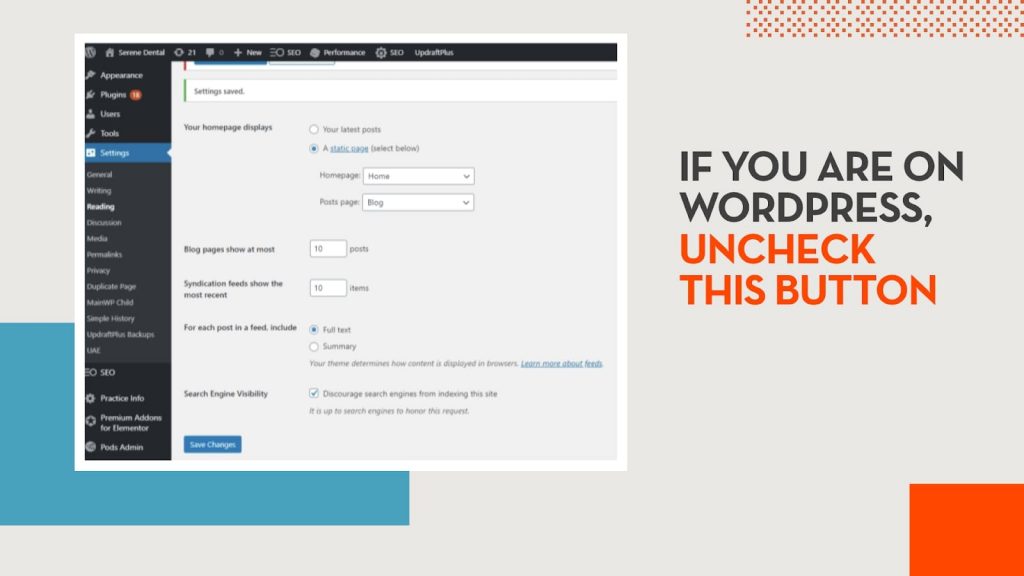 6. Configure Your sitemap.xml
Your sitemap.xml is a page on your site meant for search engines to understand what pages are on your site and how important they are to you. You can see in the example below, some of the pages we have, a priority level, and when we've most recently updated those pages.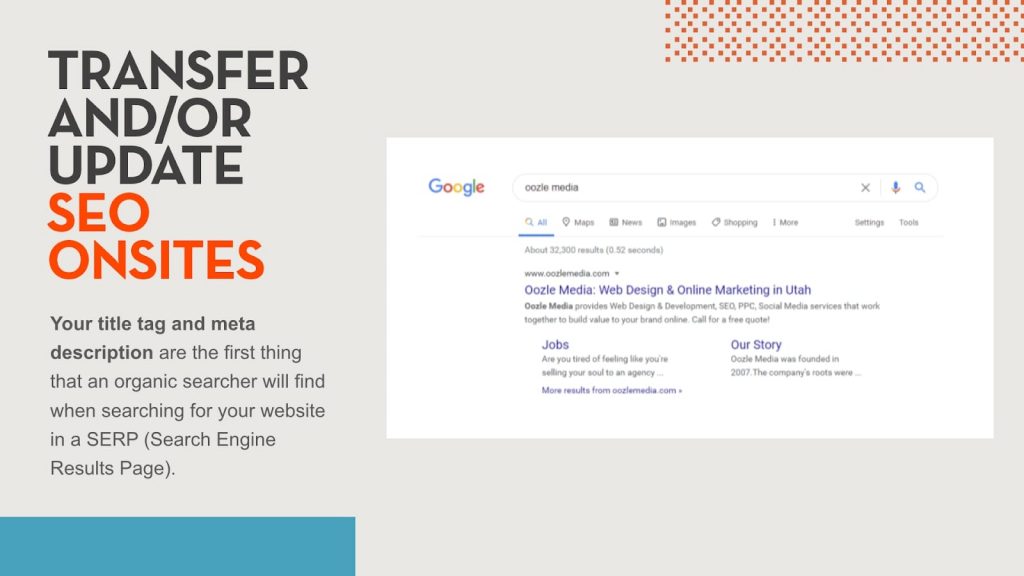 7. Resubmit Your Site to Google Search Console for Crawling
Google doesn't necessarily crawl your website every day, especially if you aren't a website that gets millions of daily visitors. To ensure that Google recrawls the most important pages on your site, you should go into Google Search Console and resubmit your sitemap.xml.
Visit search.google.com and click start now. If you've already verified it, great! If not, check out our guide!
Click sitemaps.
Put in your sitemap URL.
Ensure that the status was successfully verified. Sometimes it will take a day or two, and also make sure that the "Discovered URLs" is roughly the number of pages you crawled.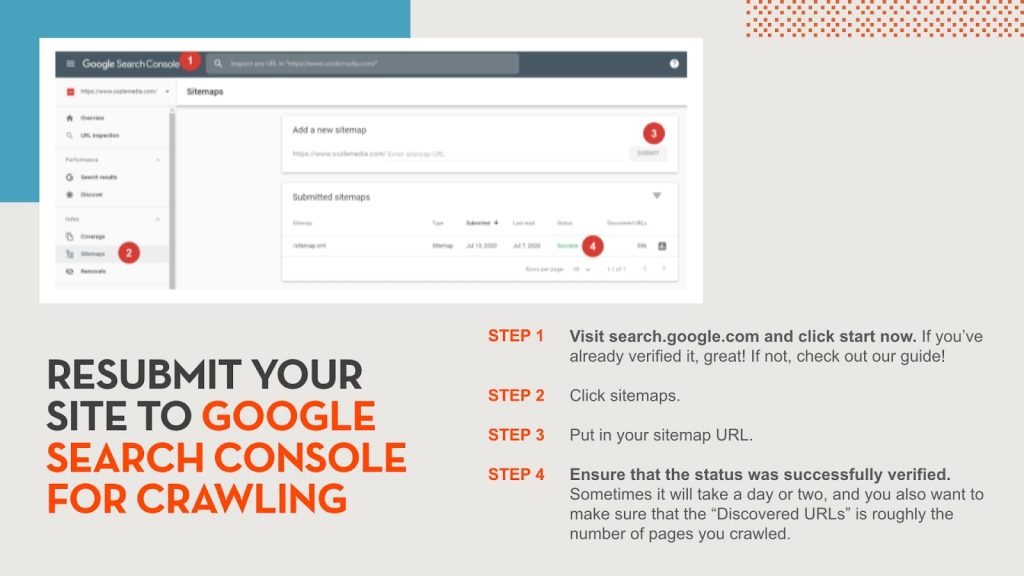 8. Consider the User Experience (UX)
Although user experience isn't a traditional "SEO" factor, Google does care about sending users to websites that satisfy the demands of whatever they searched for. Their algorithms include more factors like:
Bounce rate
Time on the site
Pages visited on the site
And more
If someone is able to navigate through the site easily to what they want and don't "pogostick" to a different site, then it is beneficial to your SEO. But more importantly, it matters to the conversions of your website. Can a customer easily contact you, buy from you, call you, or do the action to convert, and is it super simple for them to do so?
Additionally, in today's world, mobile friendliness is of utmost importance. So much website traffic is now done via a mobile device, so you need to be extra sure that it is working correctly. Pull out your cell phone, go to your new site, and try to navigate through it yourself. Does it make sense? Is it working properly? Does it feel natural?
9. Lead Forms
Again, the critical factor here is not necessarily SEO, but rather if someone is trying to enlist your services, you NEED to make sure that whatever way someone contacts you, you are able to reach back out to them quickly and efficiently. Double check to make sure the leads are submitting correctly and that the right person is receiving them!
10. Name, Address, Phone number (NAP)
NAP stands for Name, Address, Phone Number. These are three of the most vital pieces of information that most people look for, so it is natural that Google will too.
If you are a single location business, you should have that information in the footer of your website as well as on the contact us page. If you have a multi-location business be sure that there is a simple way for people to find the business closest to them.
11. Transfer Schema Markup
Schema markup is a simplified code for search engines to read that points out the most important parts of your website. It also allows you to be eligible for special features in a SERP.
The easiest example to see the impact of schema is on recipes, which have star rating, number of votes, time to make, how many calories, and even related content. That is all made possible by schema markup. Not all websites are eligible for these SERP features, but having simplified data for the important parts of your website, like your NAP or FAQs, makes it easier for Google to rank you higher.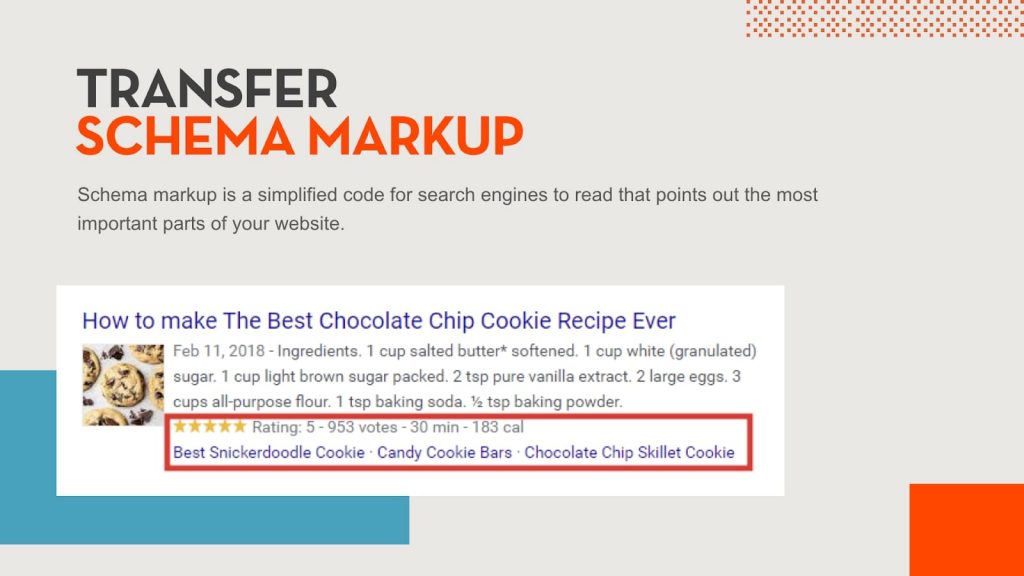 12. Check for broken links and proper internal linking
Links within a website are incredibly important from two perspectives.
Google bots use the links to discover pages on your website and give priority to pages with more internal links.
They invite a user to explore more of your website pages and increases your chances of getting a conversion, because they are able to navigate to the places on your website that help them most.
Broken links create a bad user experience, and while they aren't as bad for SEO now than they used to be (Google generally ignores them), it still isn't an ideal situation.
13. Site speed
Site speed is a major factor in Google's algorithm for 2020. How many times have you bounced from a website and never returned if it took longer than a couple of seconds to load? You do have to balance speed and functionality, but for the most part, if your website isn't loading in under 5 seconds, you are likely to be penalized.
Some things have nothing to do with the actual website itself, like hosting, but there are many things especially with "page builders" that can have a ton of extra code that makes it take longer to load.
14. Do You Know How To Make Edits to Your Site?
Even if you aren't a web developer or SEO professional, you or someone directly on your team needs to know how to make quick edits to your own website. Simple edits like written content or adding an image can make a huge difference to your overall SEO results. Understanding your own website as the digital face of your business is just as vital as any physical structure you have.
15. Tracking
Here's a general overview of the three main tools you should use:
Google Search Console
Tracks organic traffic coming to your website
Easy to filter by pages or queries to diagnose issues
Look for major downward trends to spot problems
Google Analytics
Tracks all kinds of traffic on the site and then tracks the user behavior while on the site
Look for major downward trends to spot problems
Broken Link Check
Do You Want To Step Up Your SEO Strategy?
If you want support implementing this checklist on your own website, get in touch with Oozle Media. We can provide a free SEO analysis and let you know what you can be doing now to improve your online presence. Fill out the form below to schedule your analysis.