Stop Writing to Rank: Leveraging an Effective Content Strategy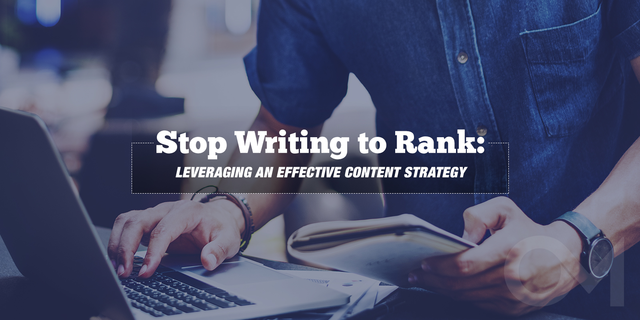 The Changing Climate of Content Marketing
I'm going to be totally blunt with you here. Gone are the days where a smart content strategy includes stuffing keywords in your blog content, URLs, and meta tags, and linking to your content until you reach the ever-coveted #1 ranking.
Marketing just doesn't work that way anymore. Google's algorithms are smarter and stingier than ever before, competition is increasing with more companies starting to delve into digital marketing and SEO, and customers are doing more research online before they convert; basic optimization is simply not enough. Here are a few problems with this outdated mentality.
Google is favoring quality content over content that is "optimized the best".
That mentality narrows the scope of how you might leverage your content in a holistic strategy.
Your page or post ends up being written for bots and bragging rights, not consumers.
That last one, especially, is a biggie.
Don't get me wrong. Honestly, if you aren't doing some basic optimization on all of your content, you're missing out on low-hanging fruit that can sometimes pay off big in the long run. In fact, we've seen a ton of long-term ROI from optimizing our clients' blogs to better target relevant keywords. What we need to keep in perspective, though, is what your website, and more prominently your blog, can and should do more of as a cog in your holistic marketing engine.
SEO Basics
Before I delve into that well-designed, nice, holistic strategy I mentioned earlier, let me give you some of the basic SEO work you should be doing for your blogs.
Incorporate topically relevant keyword phrases that your market is searching for on Google (do research with Google and Moz keyword planners if need be).
Optimize your headlines, page titles, and meta descriptions, but don't just stuff keywords. Write relevant and engaging headlines that are topically focused!
Optimize your images with alt text (image descriptions that tell search crawlers what the image is).
Link out to other credible sources when appropriate.
The reasons why these are important are fairly obvious. If your article is about the difference between cosmetology and esthetics, you want to rank for that search phrase in search engine results pages (SERPs) and snag as much organic traffic as you can.
That being said, the rabbit hole I see far too many SEO and content beginners jump down is writing primarily to rank.
Don't Limit Your Content
High-quality, regular, and relevant content will do more for your brand and inbound marketing strategy than debatably anything else, especially if you're in a competitive market. That's why you need to think beyond SERPs.
Social Media
This might seem pretty obvious, but bear with me here. Social media frustrates a lot of business owners because beyond shoving a bunch of money in Facebook's face and hoping you get enough likes to your page, it can be hard for beginners to build an audience. This frustration is actually the key to a solution.
A well-written blog post that is optimized with calls to actions and smart internal linking strategies can do wonders when shared around social media. Every follower that clicks through to that blog is a potential lead or customer, and your blog should be focused on making sure those readers convert for you. Don't be afraid to get creative with it, either.
People who might not know your company or brand yet will engage well with fun and accessible answers to common questions (i.e. 'What is the difference between cosmetology and esthetics?') or light-hearted blogs and listicles with a seasonal or pop culture element to them.
Additionally, if you put some money behind your post with boosting or ad revenue targeting the ideal consumer of your content, you're killing two birds with one stone. You're getting that content in front of more eyes, as well as adding value to your Facebook page (spoiler alert: that usually translates into more followers and likes).
Email Campaigns
If you're a business that generates any kind of leads, especially if you have hundreds or thousands of leads that sit untouched after a few weeks that your sales staff never converts, you've probably got a killer email list in the making.
If you're willing to drop a few bucks (literally, a few bucks) to get a monthly email campaign service established, a content based email campaign can be an absolute game changer for re-engaging your old leads, and promoting your content.
When you're writing primarily to rank for keywords, you will often lose sight of the overarching goal of providing valuable content to readers. If you're churning out content that's effective, relevant, and optimized to convert, you can leverage it in a content strategy that not only provides small, unique conversion opportunities as you go, but that also brings your subscribers down a funnel from the awareness stages to the customer and advocate stages.
Networking
What's a great way to get killer content in front of a bigger audience? Networking, of course; digital marketing is as much a social game is it as a strategic one.
When you begin to consistently create stellar and useful content for your blogs, you open up a world of possibilities within your market niche. You can start doing some serious link building with great content, which can garner referral traffic for your website as well as increase your domain authority (basically, signals telling Google your site is reputable that tend to help you rank higher in SERPs). Additionally, guest blogging and shares from industry influencers tend to be some fairly simplistic methods of increasing the reach of your message.
Summing It Up
Look, I'm not saying SEO isn't important. Organic traffic and good positions in the SERPs are integral, but don't get caught up in the idea that search engines are the be all end all of your content strategy.
When you're focused on writing relevant and quality content that converts well, not only do you typically see a natural improvement in SERP positions, you avoid pigeonholing yourself into a narrow view of a content strategy and missing out on the many great opportunities and benefits for your business that a holistic approach can provide.
If you want to know more about leveraging content in an effective inbound strategy, or you need help getting it going, please feel free to drop us a line here. We're always happy to help!