Webinar: What Happened to Beauty Schools Online & How To Prepare for Reopening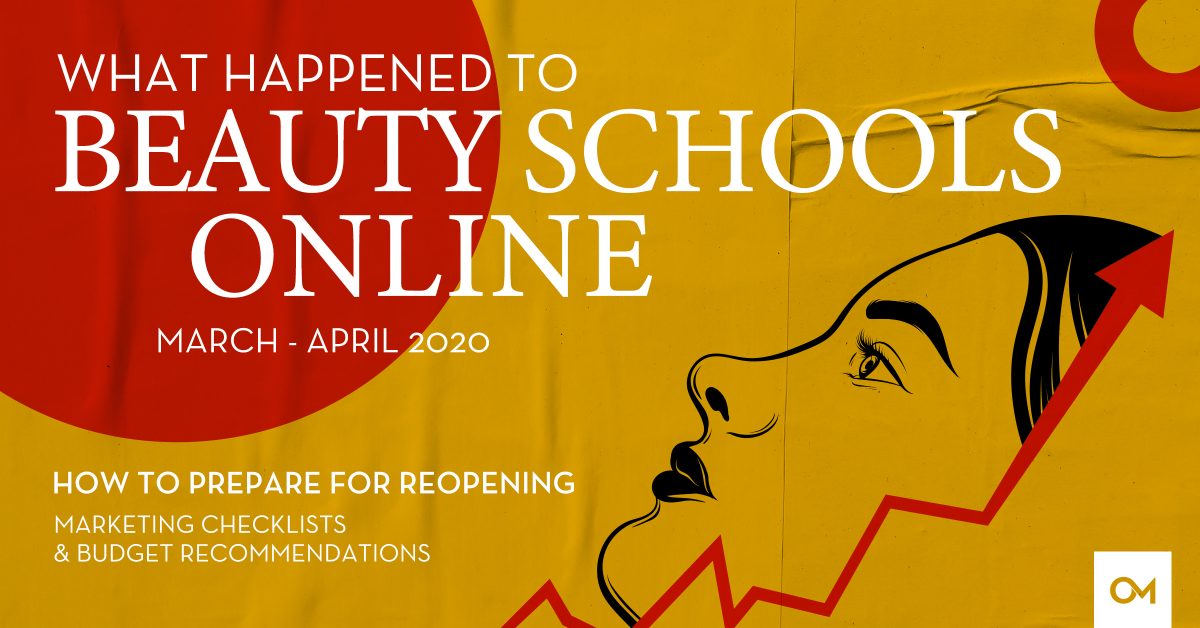 We wanted to share what we saw happening with schools and search terms related to schools from mid-March through April. It felt like a dark, heavy and uncertain time. We knew from the time schools started closing that it would be important for us to track the data and see what happened from the viewpoints we have as an agency that works with many schools all over the nation.
We wanted to see how the virus was going to impact schools, and how it was going to impact the industry. You can watch the replay of the webinar or read a recap of what we talked about below.
Watch the Replay
How Have Search Terms Been Impacted?
Let's start with search terms. We compared a list of terms that are usually the most popular in generating organic traffic and ppc leads for our clients.
We looked at data from January-April 2019 vs Jan-April 2020.
The reason we looked at months and not just April is because we know January is usually a big, seasonal peak. We wanted to get some context, as we know things start to trend down in February. So, we wanted to see what that looked like when there's usually a seasonal dip anyway.
We used Google Trends to see interest. The line at 100 represents peak interest in a search term. The line at 50 indicates that the term is 50% less searched than it was at its peak point.
Cosmetology School
When you look at 2020, it's not surprising to see what happened. The volume dropped and did not come back this year, understandably. It dropped below 50% what this search term usually sees.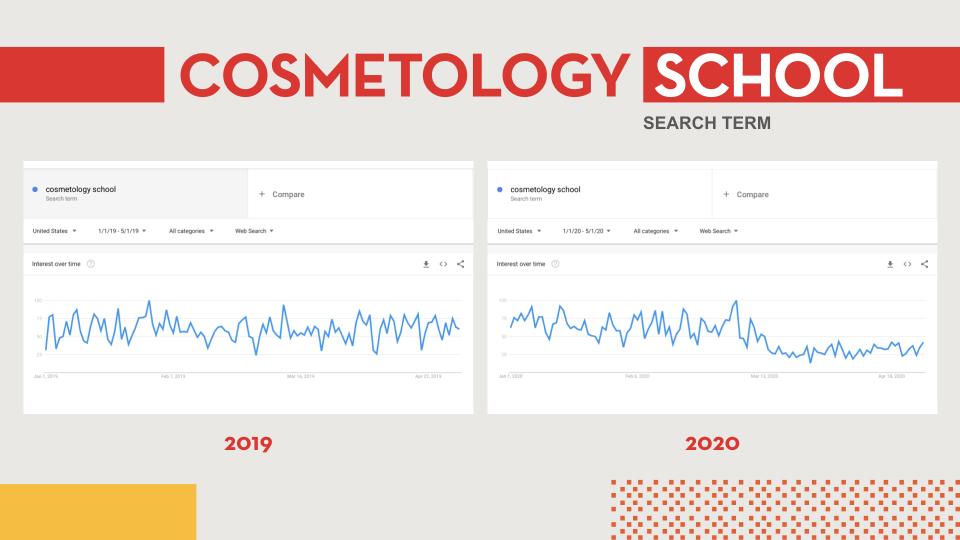 You can really see the drop-off mid March, which is not surprising. Looking at last year, there was a seasonal dip in February and March, but it picks back up again in April. This can fluctuate, as some schools have different start dates that vary every year, which can have an impact. In 2019, we definitely see the peak, another valley and dip that goes through the end of April.
Beauty School
We see a similar pattern here. We were actually looking pretty strong for not just January, but February and the beginning of March as well. In fact, you can see multiple peaks on the graph. However, then it goes downhill once the virus news really hit the States. You don't see this kind of drop in search term normally.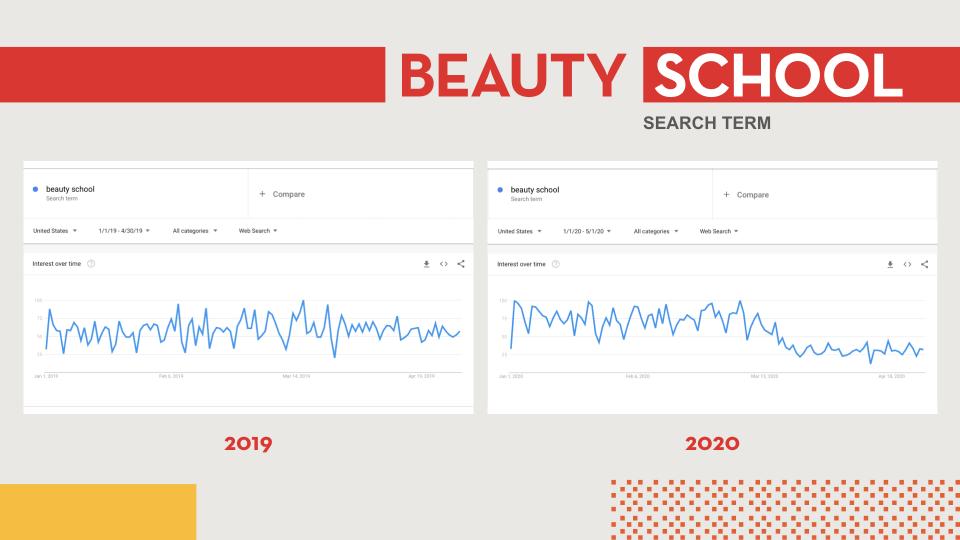 Barber School
This isn't as dramatic as a drop. Again, not surprising. Some of the traffic has been going up and down. But, you can see a strong upward trend at the end of April coming back, which is a good sign.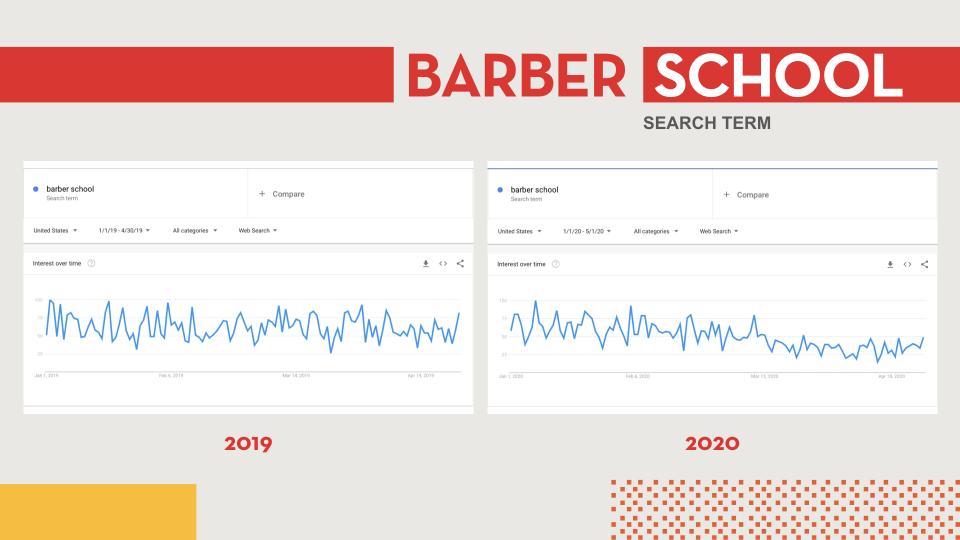 Esthetician School
You can see a bit of an opposite of what happened in 2019 to what happened in 2020. We were kind of seeing low interest, which is kind of surprising since our beauty schools haven't had a hard time filling their seats for their esthetics programs. But, typically, when people are searching for an education in esthetics, they often look for things like skin care or facials when people are still exploring.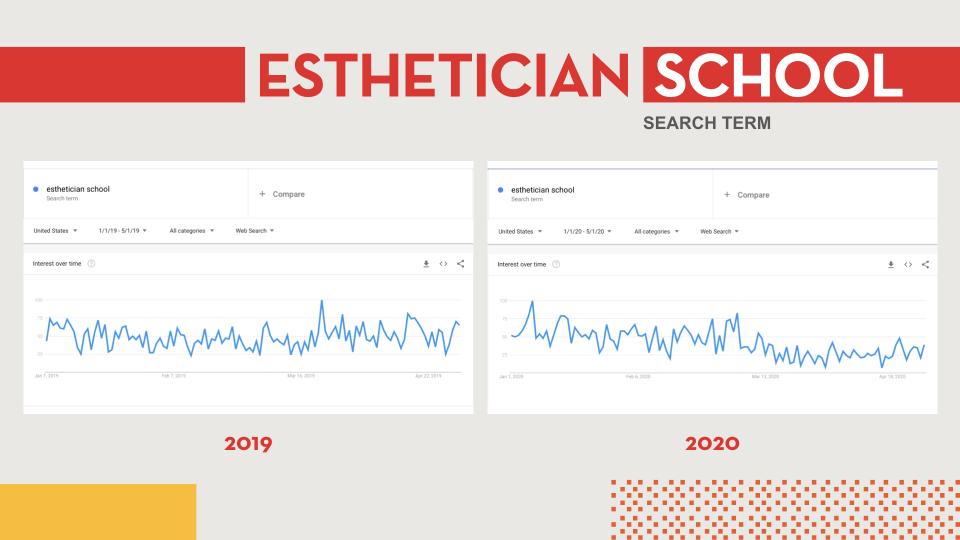 If someone is searching for this term specifically, it's a good sign that someone's closer to the buying phase or decision making phase, and that's why the search is often lower for this term.
Things we're already looking a bit low, and we definitely see a tank when things hit.
We don't think these charts are surprising to any of us, but it's amazing to just see the dramatic drop. And it makes sense, because we were definitely preoccupied with news, and preparing ourselves, and everything else, so we spent less time searching for things online.
Other Keywords
Now, we've included two other keywords that I think are important: online courses and distance education. We really saw unemployment start to rise in early April. The numbers are staggering. And, we knew with people being home, it was going to be a time of self-reflection:
How would life look and feel after this was over?
What did people want it to look and feel like?
For many people who lost jobs in the retail or food industry, there was a chance there wouldn't be a job to go back to. For most people, a career change starts with new skills. And, new skills means learning and education.
Here's what happened with terms like online courses and distance learning.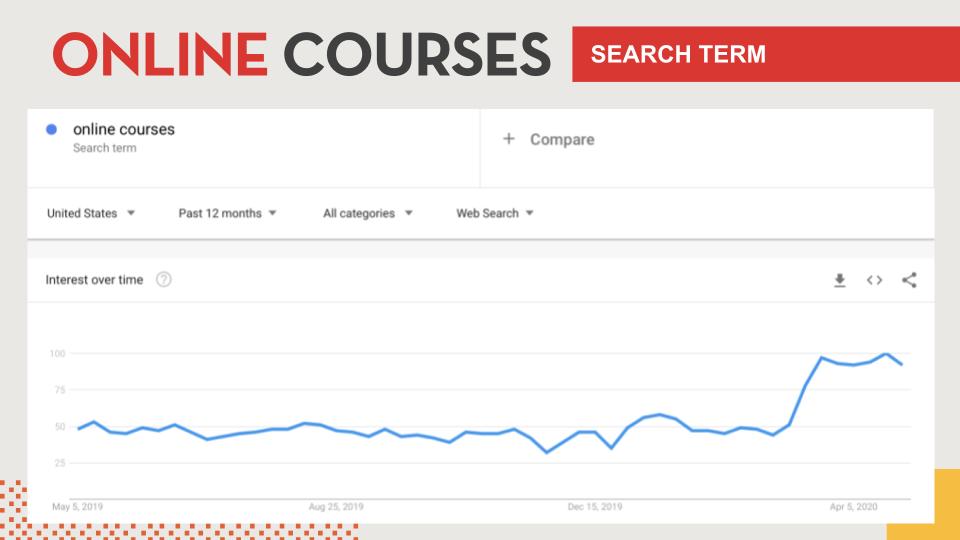 Making changes, making use of this time at home, or the desire to figure out a game plan manifested itself in the interest in online learning. For schools who were able to enroll into online courses and let people know they were offering distance education, there was definitely a benefit.
Even schools that were only doing admissions online, not enrolling into online classes, benefited from the want to start exploring educational opportunities.
Do April Cliffs Bring May Lifts?
We took a random sampling of schools across the nation. We compared website traffic from the previous period (September-December 2019 to January-April 2020). We also compared YOY timelines so we could see how seasonality and the virus impacted schools. We knew how April felt, but what did the data say happened?
We'll go region by region on this data. Even though these are only snapshots of a handful of schools, we feel like they were representative of what we saw happen with schools working with Oozle Media overall.
Northeast
This school was in an area that was hit hard by COVID-19. We are grateful we have a good relationship with these clients, as they were very open with us about the situation for them. This school did reduce their budget by 90% at the start of April. When they saw success with display ads and people coming in the doors, they did bring their budget back up to 50% later in the month.
Some key findings:
Traffic up overall by 13.5%
Biggest drop in traffic came from organic search
Biggest gain in traffic came from display ads
We worked with the school, and directly with Google, to figure out the best ways to optimize and spend ad money. Very early on, we switched our schools to a heavy emphasis of display ads, which act as billboards throughout the web. It's not a hard sell, but it gets your brand in front of people.
We don't often put a heavy emphasis on display because we want to focus on getting people leads. Search network ads are focused on getting the lead, while display ads are focused on awareness. However, after talking with Google, we switched people to a heavy display ad strategy, as other things felt more important, so we just wanted to remind people that we are here.
For this strategy, we wanted to plant the seed and do a gentle popup. When we talk to schools about building their marketing strategy, we use the analogy of planting a seed, as you need to plant and water that seed before you see it grow and get the results.
Southeast
For this school, traffic was similar from last year to now. When display ads were added, the traffic shot up immediately. For this school, the goal was to both mitigate the damage and at the very least maintain YOY results.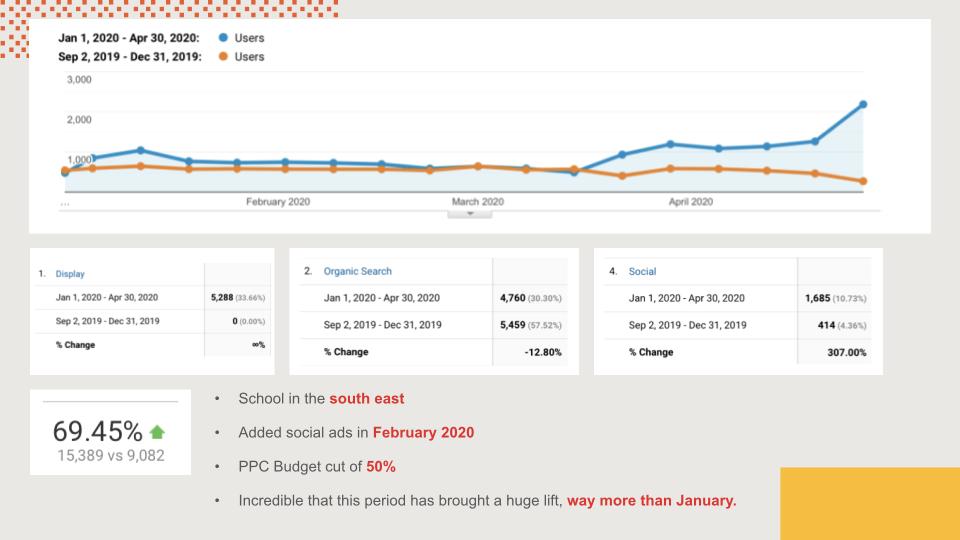 Using this ad strategy, over 80% of the people who visited their site in April had never visited their school before. It was a good indication that we were taking market share with the money they were spending. When they saw the increase in traffic, they immediately asked to increase budget, and we saw:
12.8% decrease in organic search
69.45% increase in traffic to their website
This school did add social ads in 2020, and it helped us by giving us more time to build their brand before everything hit.
Midwest
This school did see a decline and year over year, they had less than a 1% drop in traffic.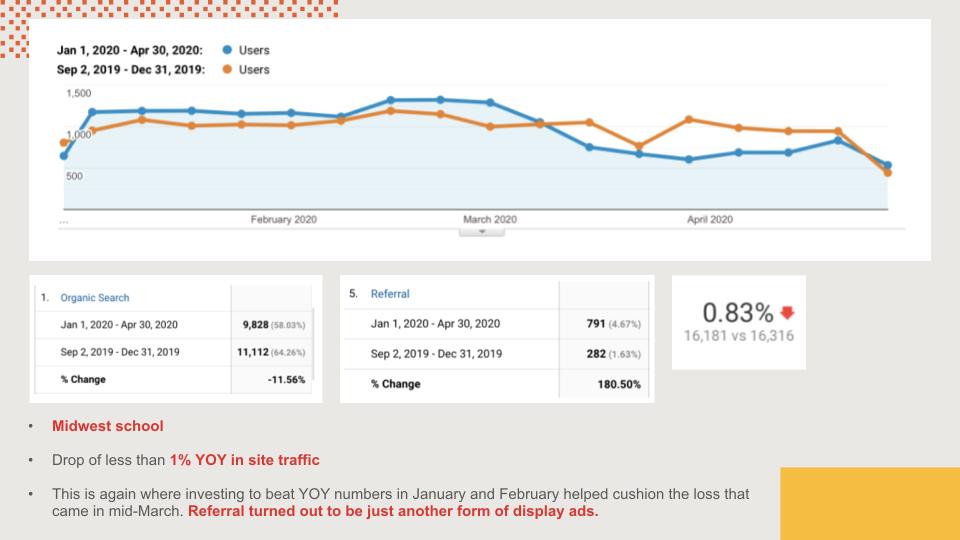 Mountain West
This school did not cut budget, and something interesting is that we didn't see a drop mid march. By mid April, we expected to see a big uptick in traffic, and we wanted to figure out why. We think that there was that time in April where people wanted to look for another game plan and choose to do something for the better, such as an education or new skills.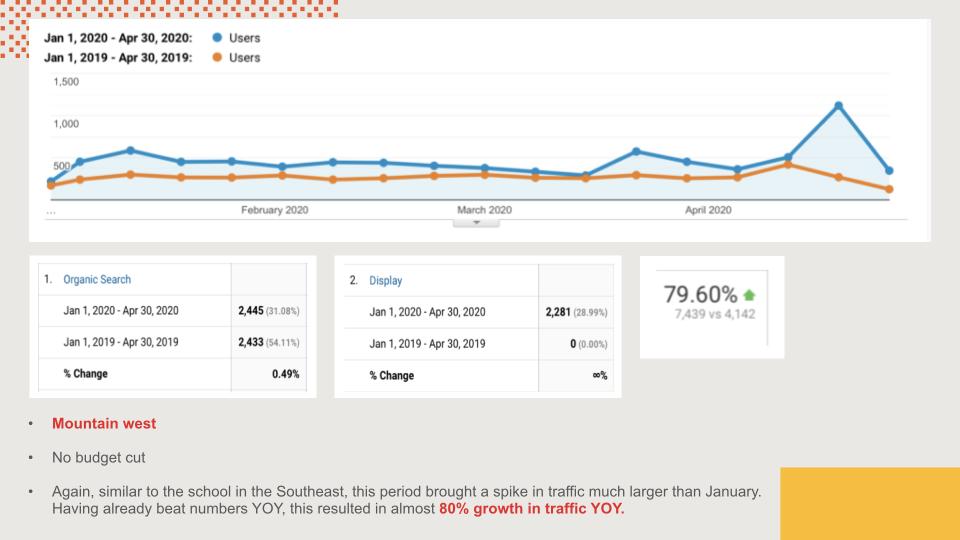 An 80% growth in traffic YOY
Biggest growth happened end of March and through April
West Coast
This school was in a hard-hit state, but they didn't change their budget. Their traffic did take a hit when everything hit, but once things stabilized, there was a big increase. We saw a 50% growth in traffic.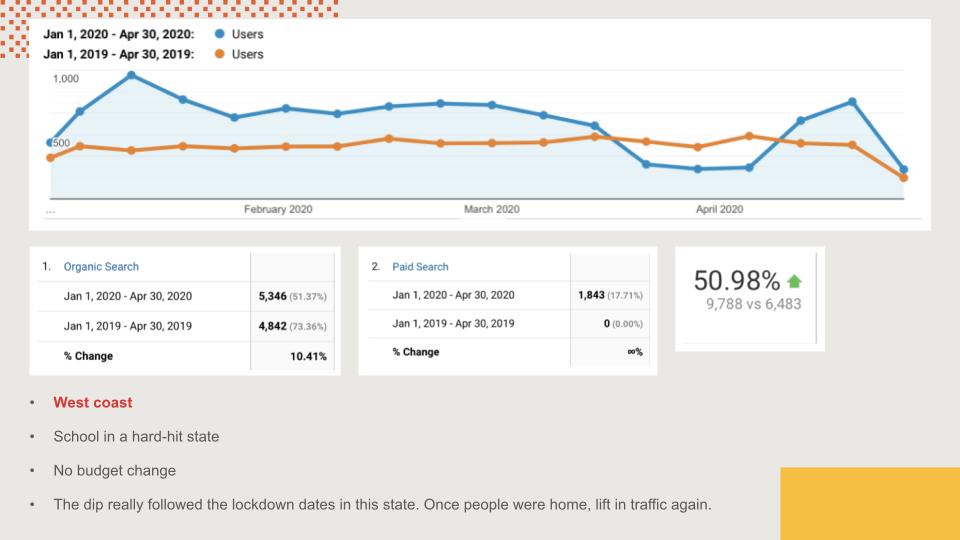 Cuts in Budget vs. No Cuts in Budget
No Cut
For schools that had no budget cuts, we saw pretty good growth year over year still. There are definitely still dips in traffic, especially when things got bad, but they jumped back up. For other schools, the biggest growth was in April, even knowing that we typically see a seasonal dip anyway.
50% Cut
We still saw a gain in traffic, but the dip comes in April when the budget was cut. For other schools, where when budget was cut, the organic traffic dropped 56.71% in April YOY.
100% Cut
For those who dropped their budget completely, we saw:
Almost 30% drop in leads from February to March, with an additional drop of 55% March to April
A 70% drop in leads from February to April
What Are Our Final Findings?
We've seen traffic this low in the past with seasonal dips. The biggest way we were able to help schools navigate this is display ads. Those display ads kept people coming to their websites and kept traffic up.
That is a sign to us that Google ads and social media ads are powerful investments when faced with a crisis.
What Next?
We're hopeful for May. We are seeing things coming back. Interest in cosmetology school is starting to come back.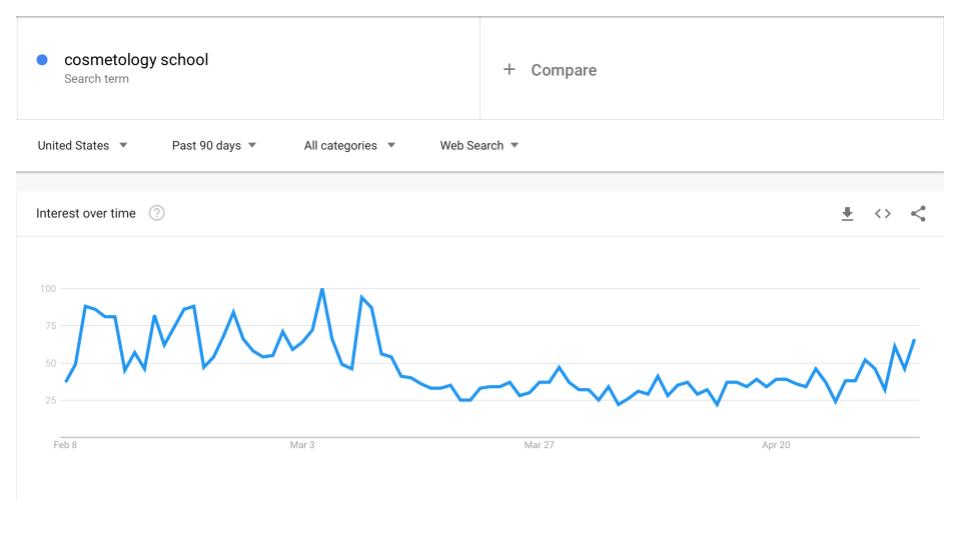 Shout out to the admissions teams who are doing their best actually enrolling students even as they offer virtual tours and don't see potential students in person. We've had schools open up new start dates in May, and those classes are being filled. It's been nice to connect with clients to feel the relief after the stress of April.
Reopening Checklist
Now that businesses are opening, it's time to make sure your messaging matches the changes that are coming. There are things you need to be doing things now to showcase that you are reopening.
Off Your Website Checklist
Google My Business. Make sure you're not marked temporarily closed anymore. Add a post to showcase what you're doing and make all information as accurate as possible when people look for your business.
Social media. Make it possible for people to get all the information they need to see about your business that's easy to find.
PPC and social ads. A lot of schools have hard stop dates when they are required to stop referencing to online or distance learning. Any updates to calls to action with virtual tours on ads should also be changed back when your school is open again.
Signage on doors, windows, and outside the building. If you can stake banners or signage to show when you're reopening and how you keep people safe at your business, you should. Use your physical location to showcase that you're open, too!
On Website Checklist
Landing pages. Any verbiage that you changed to reflect your online education or distance learning needs to reflect new changes on your landing pages.
Blogs. Write a blog to give more robust information on what your school is doing. We wrote blogs in the past about what online learning education looked like, and now we need a new blog on what's going to change and how you're keeping people safe.
Banners. This banner could be something to drive people to that blog, and it can be as simple as "click here to learn how we're keeping people safe."
Pop-ups. We found success with pop-ups to show people we were still open. We can do the same thing as we reopen.
Calls to action. If you changed things to be about distance learning and online admissions, and you're starting to do in-person tours, sweep your websites.
Forms. Change forms that reference virtual tours back to what your school is actually doing.
Website copy. Make the expectation as clear as possible both of what someone can expect from your business and what you expect visitors to do at your business.
Emails. Send emails with a recap of the blog and a similar email for your salon area of what you're doing to keep people safe.
Give people expectations and a process to follow. Let them know what's going to change. Give your guests guidelines on what to expect and what they can do when visiting your business.
We're Here To Support You!
If you have any questions or you need help with anything, let us know how we can help. We are here to support you and your business. We're hopeful and excited to see more and more businesses open as the new normal settles. But, we know things will continue to be a little uncertain, and we want to support beauty schools and businesses the best we can.